There's a lot to like about Longreach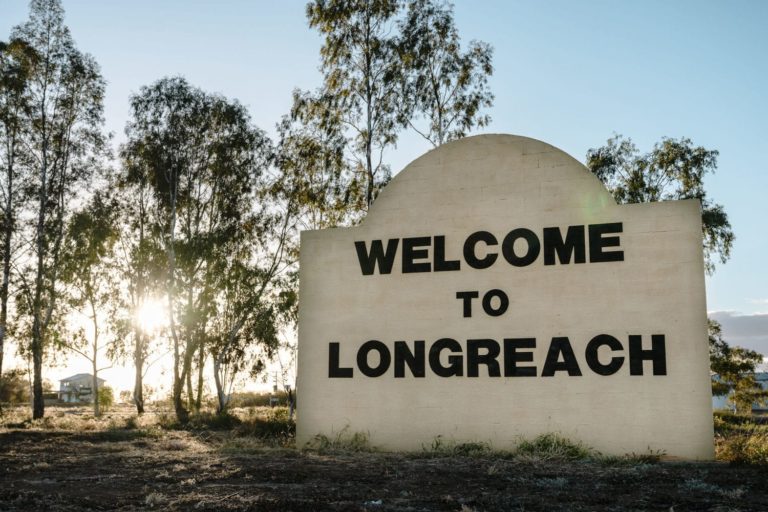 WORDS: Phil Hawkes PHOTOGRAPHY Tourism and Events Queensland
Yes, as Bob Dylan said, "times they are a'changing". And that's certainly true in Longreach,  Central Queensland where we found Mitchell Grass Retreat, a brand new luxury glamping resort at the edge of town close to the airport.
It's brought a touch of class, like an African safari camp, to set a new bar for the region. It's the love child of Tanya and Dave Neal, who have owned and managed several properties around Queensland and finally concluded that Longreach was the place to realise their dream. No giraffes or lions…yet.
Dave told the story of a young Romeo and Juliet who stayed just after the resort opened this year…it seems Romeo popped the question at Mitchell Grass just before they hit the road home. Juliet messaged Dave next day to report that she'd said "yes". Perhaps it's an endorsement of the glamping tents fitted out in luxurious fashion with ensuite facilities (including a bath with a view over the plains), top quality linen, aircon and the most comfortable A.H. Beard beds. This is not roughing it by any means, as you sit around the pool and BBQ with a sundowner. www.mitchellgrassretreat.com.au
In Longreach there's also a lot to like about a tour of the Qantas Founders' Museum and its brand new covered hangar. Here, you can see the historic DC3, then take a "wing walk" on the retired 747-200 plus a stroll through the B707 and the recently refurbed Super Constellation fitted out as a private jet. Best of all is the nightly showing of Luminescent, a spectacular light and sound show tracing the 100 year history of Qantas projected on to the fuselage of the 747…quite a dramatic screen! www.qfom.com.au
In the mood for romance? You can take a sunset cruise on Smithy's "love boat" on the Thomson River, followed by dinner and a show to round off a real Country  & Western evening.  www.outbackaussietours.com.au
On another day we're picked up by Outback Dan and whisked out to the Walker family property Camden Park Station, where the Queen and Prince Philip were hosted in 1970. This is a real Aussie experience with typical bush hospitality;  a tour of the homestead, shearing shed and cattle yards with Dan gives a glimpse of the realities of outback life. Tip:
the zucchini slice made by Dan's mum Lyn is worth the trip out there. www.camdenparkstation.com.au
Local tip: if you want to see a "Longreach love triangle" first-hand, you may be lucky enough to see farmer Hawksie riding down the main street on his bullock Ollie who's led on a rope by border collie Henry…they're a star threesome.
If you've enjoyed your time in Longreach you should make time to visit its friendly neighbouring towns:
WINTON (2 hour drive)
A fan of our unofficial national anthem? Head to Winton's Waltzing Matilda Centre, a well-curated interactive museum honouring one of Australia's favourite bush poets, A.B. (Banjo) Paterson. Fact: this is the world's only museum dedicated to a song. It was rebuilt at a cost of $23 million after a disastrous fire in 2015, and is now a world class attraction. www.matildacentre.com.au
Interested in ancient history? Head to Winton's famous Age of Dinosaurs Museum and say hello to your long-in-the-tooth relatives. www.australianageofdinosaurs.com
In the cool of a Winton evening, we found the ideal sunset excursion with Vicki of Red Dirt Tours exploring the Rangeland Rifts, where narrow pathways lead through eroded rock formations…you may feel you're channeling the characters in Picnic at Hanging Rock. All's well that ends well, with drinks and nibbles as the sun sinks behind the distant hills. Very poetic. www.reddirttours.com.au
If you're heading Winton way in June/July, be sure to have a look at the dates and programmes for the annual festival of Australian films, Vision Splendid, in the outback-style open air cinema…you can't get any more laid-back than that. For something not quite as romantic but lots of laughs in early spring, time your visit for the Australian Dunny Derby, another legendary Queensland event. www.visionsplendidfilmfest.com
www.outbackfestival.com.au
BARCALDINE (90 mins drive)
Don't miss the Desert Dreaming Centre in this historic town known as ''Barcy", the birthplace of the AWU and the Labor Party. The Tree of Knowledge greets you in the main street before you head to Trackers Tours, where owner Cheryl Thompson and partner Paul Stumkat have set up an Indigenous gallery and café plus a new hands-on workshop called My Message Stick, designed to demonstrate how Aboriginal people use their connections to country to tell their stories. From experience I can assure you that learning some corroboree dance moves in the Bora Ring, with didgeridoo and vocal accompaniment from Luke, will impress your friends if captured on video… www.trackerstours.com.au
ILFRACOMBE
The historic Wellshot Hotel between Longreach and Barcy is a great place to stop for a barista-made coffee, or better still, a good old-fashioned pub lunch where you'll meet owner Tracey Hatch with her collection of hats and caps in the bar. Decorating the ceiling are currency notes to be donated to charity every year; if you stay for dinner with more than a few drinks, Tracey will guide you to a romantic (?) night in a converted donga! www.wellshothotel.com.au
GETTING TO LONGREACH
By road, it's about 14 hours from Brisbane or 8 hours from Rockhampton. The "Spirit of the Outback" train with First Class sleepers takes 26 hours from Brisbane. Qantas flies daily from Brisbane and Rex flies twice weekly from Townsville. There are various coach tours as well as some by private charter flight.
INFORMATION AND ACCOMMODATION