One of the strangest elements of a breakfast radio show is interviewing TV stars about the show they're spruiking. As a result, you sometimes find yourself interviewing desperate hosts of struggling TV shows like the mega-ratings flop, "So you think you can knit", or the thoroughly charming, "When hamsters attack."
However, we get genuinely excited when the stars of a quality show like MasterChef decide to come into the station for a chat rather than do the interview down the phone line.
It's fair to say we were cockahoop when the hosts of Masterchef's Matt Preston and Gary Mehigan, decided to come to our studio because we wanted to cook for them. However, we didn't want to just knock out some tucker in our staff kitchenette – we wanted a challenge.
After some excruciatingly bad suggestions I said to my on-air partner, Emily Jade O'keefe, "Maybe we could try to cook some food on the engine block of my car?"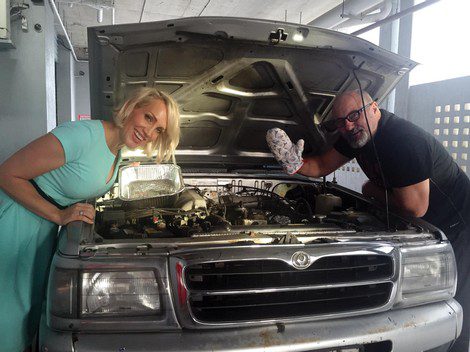 Now, one of the many reasons I love working with EJ is she is bang up for a challenge. As soon as the words were out of my gob EJ yelled, "I'm making a cake!" and with that she was gone to Woolies to buy the necessary ingredients.
I decided on chilli/ginger prawns with a baked egg and cherry tomatoes from my own vegie garden.
We encountered a few hurdles with the publicity people and I have to say so we should have. If I was responsible for the biggest stars on a TV network I wouldn't approve them being force-fed food cooked on a 19-year-old, rusty exhaust manifold either.
However, there was one thing we knew about these blokes: The reason their show is so successful is their utter dedication to chow. They live, eat and breathe it.
We figured if we could cook it well enough, they'd plow in.
We calmed the TV networks fears by lying through our teeth and made our preparations. An hour before Matt and Gary arrived we turned the engine over on my trusty, ageing Mazda ute, carefully placed our food into sealed silver foil trays, crossed our fingers and hoped for the bloody best.
I don't think I can accurately describe the feeling I experienced when the hanging judges of tucker walked down the driveway toward my car with the bonnet up and our meals strapped to the chugging engine. To say I was nervous is an understatement. I suddenly understood how contestants feel on Masterchef, completely over-whelmed.
In fact, it's fair to say EJ and I were both as nervous as a long-tailed cat in a room full of rocking chairs.
After an hour of cooking, we opened our silver foil trays and I stared at my ten prawns the same way I looked at my first child upon her emergence from her mum and EJ was doing the same.
At that moment, the steam filled the air with a gorgeous aroma and Gary Mehigan said something I will always treasure; he said he could see our passion for cooking written all over our faces.
That was when they started ploughing into the prawns and cake and they went very, very quiet.
So quiet.
They did nothing but chew and chew and assess the taste of our dishes.
Matt Preston said EJ's chocolate cake was delicious and moist (a word she truly hates) and gooey in the centre.
Gary Mehigan said my prawns were perfectly cooked and the judges called the Flan and Emily Jade cook-off a draw. I felt it should have gone to Golden Point extra time to find a winner.
If you want the recipe for Chilli Ginger Mazda prawns – cook your marinated prawns for one hour at zero kilometres per hour.
That afternoon we took Matt, Gary and some very lucky Hot Tomato competition winners to lunch at one of my favourite Gold Coast restaurants, Garden Kitchen at Jupiter's Casino.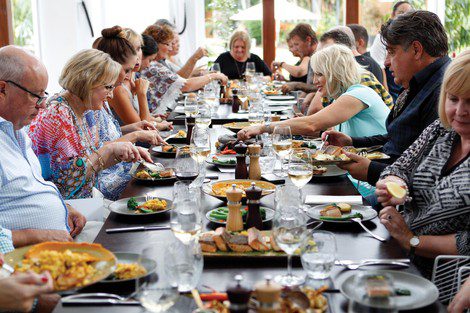 As we tucked into some truly spectacular Garden Kitchen goodies I thought, "Matt Preston and Gary Mehigan just walked into a restaurant, how nervous would the kitchen staff be right now?"
The truth is I knew exactly how they were feeling.
Garden Kitchen and Bar Masterchef Lunch menu
Shared Entrees
Red quinoa salad
Seasonal selection of roasted & raw vegetables, red quinoa with basil vinaigrette
Pork belly
Smoked apple, spiced apple puree crackling crumble
Crab cakes
Mooloolaba spanner crab, crème fraiche, chives
Shared Mains
Gradna beef sirloin
Garden kitchens exclusive beef, fourteen day dry aged, roasted root vegetables, pea tendril, Bosc
pear and walnut salad
Pumpkin risotto
Zucchini, carrot, cauliflower, taro chips
Seared salmon
Tasmanian salmon filet with new potato, kale, fennel and citrus salad
Shared Desserts
Poach pear
Saffron poached pear, moist date cake. Spiced crème analgise
Chocolate patch
Chocolate soil, chocolate mushrooms, iced milk chocolate truffles, flourless chocolate cake, caramelized white chocolate ganache