The Rock Star of High End Jewellery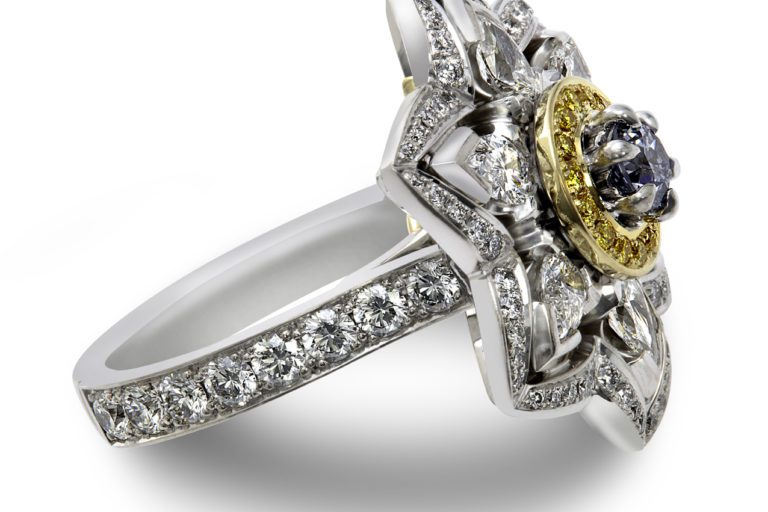 WORDS: Suzanne Simonot PHOTOGRAPHY Brian Usher plus supplied
Master jeweller Mark Cotterell's ability to listen, observe and hear the emotion behind his clients' requests has ensured he remains a cut above when it comes to high-end custom jewellery and engagement rings.
Master jeweller Mark Cotterell exudes confidence – and it's contagious.
Part artist, part alchemist, Mark and his skills instill confidence in his customers. Confidence in the care and clarity he brings to every special, dazzling piece he creates. Confidence in his designs and the superior quality of the diamonds and gemstones he sources. Confidence in his ability to bring his clients' special stories to life in signature works of art.
Honed throughout his almost 44 years' experience as a jeweller, Mark's ability to listen, observe and hear the emotion behind his clients' requests sets him apart. It's more than attention to detail. It's absolute precision.
"I have a saying called comfortable decisions," he says as he sits in the window of his favourite local, James Street Bistro, and casts his keen eye over the lunchtime crowd.
"I actually say to people, if you can't sit with your jeweller and be comfortable about what you're doing, if you've got discomfort in your decision, then get up and leave because you shouldn't be there. You need to be fully and totally engrossed in what you're doing and completely comfortable that what you're going to get back is amazing.
"When we deliver pieces, people are always amazed."
Renowned for designing precision settings with the highest quality diamonds and gems framed by strong curves and lines, Mark and his team of craftsmen create his signature and bespoke fine jewellery from his beautiful boutique in the heart of the bustling James Street precinct, in Fortitude Valley.
His signature style is based on his love of classic design elements combined with a modern, romantic charm and the unique characteristics of his clients.
One of Australia's finest jewellery designers, Mark's work is worn by discerning and successful clients throughout Australia and around the world, his pieces residing in the US, Scotland, Ireland and New Zealand.
While he prides himself on supplying a standard of diamonds far above the norm, it's Mark's innate ability to read and meet his client's needs that truly sets him apart.
"I had a couple come in recently. They're together. They've got kids, they've got everything but they've never had the ring. They only want one ring. They want one piece. They don't want the bands and all the rest of it," he says.
"She had a specific idea. They wanted something that represented their past, their future and their now. So she's gone for a three-stone. But when I got talking to them, the artistic license they've given me on that … I didn't even do a drawing, We just talked about it. I showed them a few photos, a few different pieces, set a budget and they just said 'we want you to make what you do'. What we showed them and the bits and pieces and the details and the intricacies that we put into it – that's what they like.
"Knowing exactly what they needed. That's the art."
Mark's ability to share that confidence with his customers is an art in itself too.
"It's one of the things I have," he says. "God forbid, when it comes to jewellery, I tend to sum up women quite well with what they really like. We watch it all _ the grimaces, the smiles, the arch of an eyebrow. When you see that bit of excitement, you can tap into that."
It's why Mark is so much more than a master jeweller. He's an alchemist, too.
"I was talking to (friend and Supercars ace) James Courtney recently and James said to me 'driving the car is 25 per cent of what we do'," Mark says.
"While my skills set as a jeweller is incredibly high, the other skills set is also incredibly high. It's about having that balance, that understanding of what makes people tick and why a girl is going to gravitate to a trilogy, a three-stone, as opposed to something like a halo design, which is a main stone with diamonds around the outside. Some girls want it stripped back and layered, some girls are traditional, some girls are really out there."
A great listener with a keen eye for detail, Mark is adept at reading and recognising both his customers' wants and needs.
"It's amazing what you can divine from a woman's face _ the shape of her face, the way she wears her hair, the way she wears her makeup, the way she talks," he says.
"I'm not a designer who imposes what I do on people. A lot of designers think 'you have to have what I design'. What we do is listen and watch and see what is in a woman's heart and mind. Guys don't lead by their heart. They lead by their brain … and a couple of other things," he says, laughing.
"Girls … it's all in here," he says, hand on his heart. "You've got to ask the right questions so they let it out because girls are really tricky. They don't like telling you what they really want."
It's a hallmark of Mark's bespoke designs. Freedom of expression.
"Society imposes all these rules and regulations on people. You have to conform," he says. "One of my favourite songs at the moment is Chris Rea's Gone Fishing. In it, he says you can spend a lifetime trying to be what you think you are meant to be and you'll never, ever be happy.
"We all chase what we think we should conform to and society makes us conform. A lot of people come to us and they don't want to conform … especially 'second timers'. They want something different. They've been through the rituals of 'I have to have the diamond ring to get engaged'.
"When you get the latitude to be able to create something for someone based on all your conversations and a couple of photos of pieces you've done, and we're literally linking one piece we've shown them one side, which is completely different to the other piece, and I'm going to do a new version of this other piece with a bit of this in it, but based on them, so the whole piece has got to represent her …
"When we give the piece over she's got to be absolutely cock-a-hoop – 'oh my God'. I'll make her cry tears of joy and he will look like an absolute hero.
"It's about the quality of the whole experience. That's the thing .. that's where the real gold is."
Mark and his team _ "the two boys in the shop. Alonso and Greg, and myself and my wife, Sarah, as backup (she keeps me together)" _ moved to their retail workshop in James Street's high-end retail precinct in March 2019.
"We downsized and came back to a very real proposition," he says of the boutique, which affords customers a bird's eye view of him and his team at work.
Mark says 75 to 80 per cent of his pieces are 'made for the client'.
"There's nothing more priceless than when we're sitting there and talking about making this beautiful or delicate ring and Greg starts hammering gold on the bench with a hammer," he says, laughing.
"I quite often get people who want to actually see the progress of their piece when it's being done and I have to calm them down a little bit and make them realise it's not the Kardashians _ you can't just see everything in real time.
While some customers find the thought of venturing inside a high-end jewellery boutique intimidating, Mark and his team actively encourage prospective customers through their doors.
"A lot of people see photos (of Mark Cotterell designs) on social media and go 'wow, this stuff's so good it must be really expensive'," he says.
"But then, when they come in, they realise that the photos are only taken on our phones. There's no photoshopping. It's the real thing. So when they come in, what they actually see is even better. And then they feel the weight of them and they see the love and the detail in them and that's when they really fall in love.
"When people buy a piece of our jewellery, the gems are incredible. The workmanship is incredible. It doesn't matter whether it's $5000 or $250,000 or $300,000 or more – people want something special. We use Australian gold. The bulk of what we sell is designed in house. It's made in-house. We use two diamond setters, three occasionally. These guys are the top of their game. They're the best you get.
"These days, most of what we do is rings in Australia. Covid has changed people's lifestyles so people aren't travelling and have got money to spend and they're putting it into jewellery because at least it is worth something. People have looked at their bank accounts and have money because they're not travelling and they're spending it on cars, boats and jewellery."
For Mark, jewellery design has much in common with engineering _ the link between his day job and his passion – 'motor racing, especially MotoGP and Formula 1'.
"I used to have a love for making hinged bangles – stuff that has mechanics in it," he says. "But what really excites me is motor racing and anything fast. I get off on engineering. Every good jeweller I know is a frustrated engineer.
"Jewellery making is high-end engineering – the process of it. A lot of the stuff the Formula 1 teams use is carbon and that's why we have a carbon collection. We developed our own carbon which is the same stuff that's used in high end race cars and luxury yachts and that goes in rings.
"I made a pair of cufflinks for (Supercars star) James (Courtney) and we're going to do some high-end men's bangles, and incorporate the car and a bit of tech and a bit of racing, with a bit of nuts and bolts and titanium."
"It's all about stories. That's what makes people come in," Mark says.
"If people walk in and it's all about dollars to them, they're in the wrong shop. Don't come in here if it's just about dollars because we're not interested.
"If it's about your partner, and how she feels, and the quality of the piece and you can give us enough love, which is enough money, to do the job properly the way you want it done, we're your person.
"But if it's all about numbers and figures and stuff, go find someone else."
Confidence. The most beautiful thing you can wear.

B.R.M.
Master jeweller Mark Cotterell is proud to have become an official retailer for bespoke luxury French timepieces from Bernard Richards Manufacturing.
Born in 2003 and machined, assembled and finished by hand at B.R.M.'s headquarters, in the French Vexin Regional Natural Park, the chronograph timepieces combine traditional watchmaking craftsmanship and high precision techniques.
An essential partner of French and international motorsport, B.R.M. timepieces feature meticulous work and handmade finishes that reflect the racing spirit of the brand's creator – and Mark.

"Part of B.R.M. is you can actually personalise your watch. You can order it with a certain dial, a certain background _ you can even order the hands," Mark says.
"The bands are custom made, so they are tailored to the client. You can have them various lengths. You can do all sorts of stuff. They're high class. They're high quality pieces. They're a pretty bespoke watch.
"I think there is one (other Australian) supplier in Sydney somewhere but they're rare. And that's what I like. I like doing stuff that people don't expect."

B.R.M. broadened its scope in 2017 with a series of watches, specially designed for playing golf, which integrate a full-floating system to allow complete shock absorption for freedom of movement.
"As soon as we put the girls' watches in the window, we had three women walk in and say 'I really, really like that'. Having something that someone else hasn't got … that's important," Mark says.