WORDS: PHOTOGRAPHY
SERVES 4
The farmers' markets in the Byron Bay region are excellent thanks to passionate farmers who grow some of the most delicious produce I've ever tasted. One of my favourite markets is in Mullumbimby. It's a social gathering as much as a weekly shop, with everyone chatting away and tucking into coee and market food under a big, beautiful fig tree. And not a mobile phone in sight! It takes less than 30 minutes to make but packs a punch in terms of flavour and nutrition. I love it with brown rice and minty yoghurt. Thank you to all the farmers that nurture and grow our food!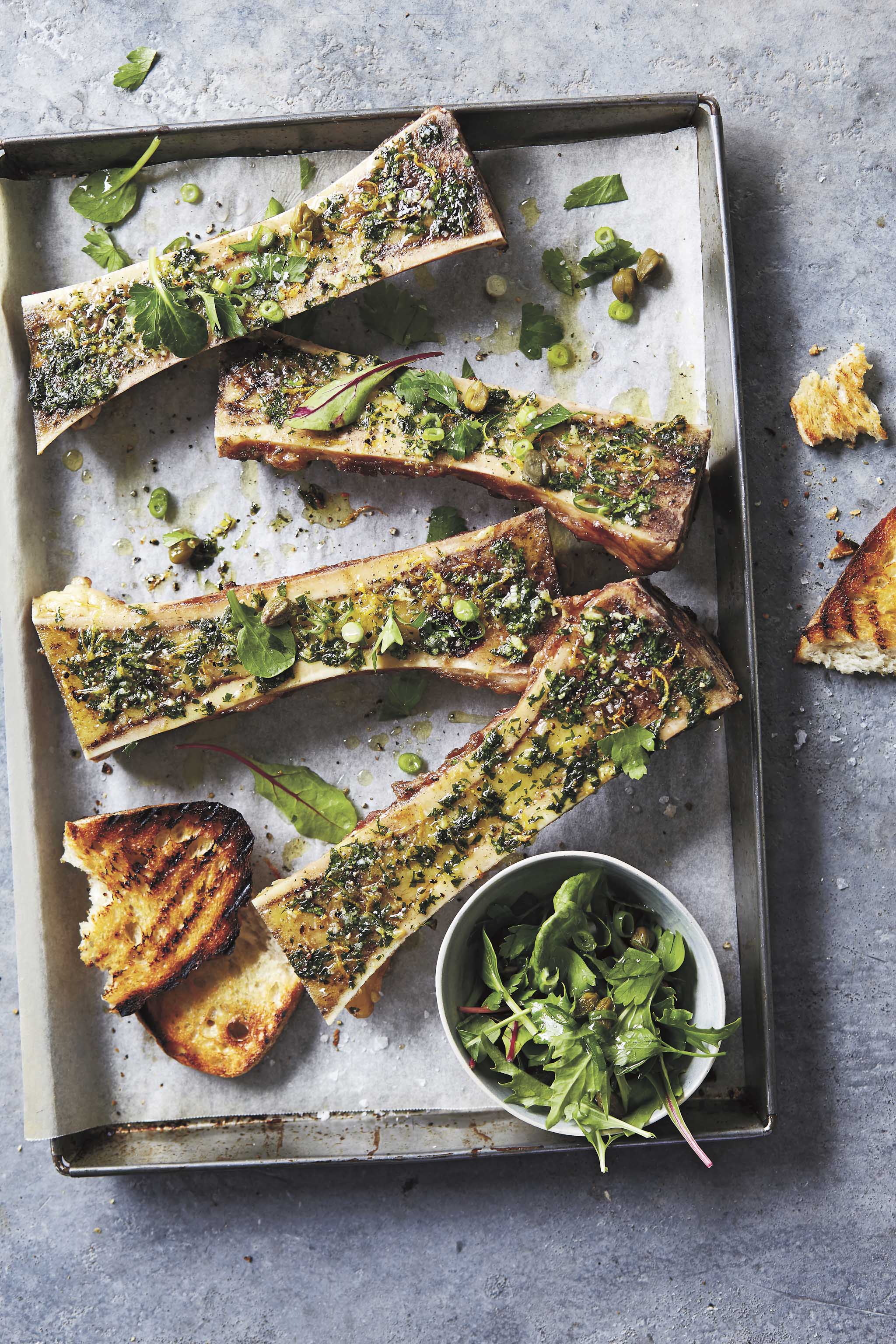 200 g (1 cup) dried chickpeas
(see note)
2 tablespoons yoghurt,
whey or lemon juice
2 tablespoons coconut oil
12 curry leaves
2 teaspoons yellow
mustard seeds
1 teaspoon cumin seeds
1 large onion, sliced
3 cm piece of ginger, finely grated
2 garlic cloves, crushed
11⁄2 teaspoons ground coriander
1 teaspoon garam masala
1⁄2 teaspoon ground turmeric
pinch of ground cinnamon
2 long green chillies, sliced
2 tomatoes, finely chopped
50 g (1⁄2 bunch) coriander, roots
and stems finely chopped,
leaves reserved to serve
1 x 400 ml can coconut cream
400 g butternut pumpkin,
peeled, deseeded and cut
into 2 cm pieces
500 g cauliflower florets
200 g green beans, trimmed
and halved
120 g baby spinach leaves
cooked brown rice, to serve
Minty cucumber yoghurt,
to serve (see page 192)
Place the chickpeas in a bowl with plenty of water and 2 teaspoons of
yoghurt, whey or lemon juice. Cover with a tea towel and leave to soak
overnight. They will double in size, so you'll end up with about 2 cups
of chickpeas.
The next day, drain and rinse the chickpeas and place in a saucepan.
Add enough water to cover the chickpeas by about 3 cm. Bring to the boil,
reduce the heat and cook, uncovered, for 1–11⁄2 hours or until tender.
Heat the oil in a heavy-based saucepan over medium heat. Add the curry
leaves and cook for 30 seconds until bright green and crisp. Use a slotted
spoon to transfer the curry leaves to a plate. Set aside.
Add the mustard and cumin seeds to the pan and cook, stirring, for 1 minute
until the seeds pop and become fragrant. Add the onion, ginger, garlic,
coriander, garam marsala, turmeric, cinnamon and chilli and cook, stirring,
for 3–4 minutes until the onion softens. Add the tomato, coriander roots
and stems, coconut cream, pumpkin and cauliflower, and cook for a further
3–4 minutes until the vegetables soften. Stir in the beans, chickpeas and
spinach, season and cook for a further 2 minutes or until the spinach has
wilted and the vegetables are tender.
Spoon into serving bowls, top with the coriander and curry leaves and serve
with brown rice. A dollop of minty cucumber yoghurt is a delicious offset
to the heat and spice.
NOTE
If you can get your hands on a 2 cm piece of kombu or wakame (types of seaweed that
you can find in most health-food stores), pop it into the liquid when you're soaking and
cooking the chickpeas – it helps to soften them.
Magdalena Roze's debut cookbook is all about enjoying food, the natural way. It is also about achieving a balanced lifestyle with simple rituals that nourish the body and soul, and teach us the importance of slowing down, bringing an element of simplicity and wholeness into our lives.
Magdalena's food is simple, nutritious and delicious. Many of her recipes are based on traditional wholefoods or 'foods with a function' that not only taste great but also have great health benefits…
HAPPY AND WHOLE
Wholefood recipes and ideas to nourish the body, soul and home.
Published April 2017
RRP $39.99 / Paperback
"This book is about the joy of cooking and sharing food, slowing
down and moving towards a more natural and balanced way of
nourishing ourselves. It's all about a commonsense approach
that focuses on real, unprocessed, nutrient-rich foods that make
us feel good and are as close to their natural state as possible." – Magdalena Roze