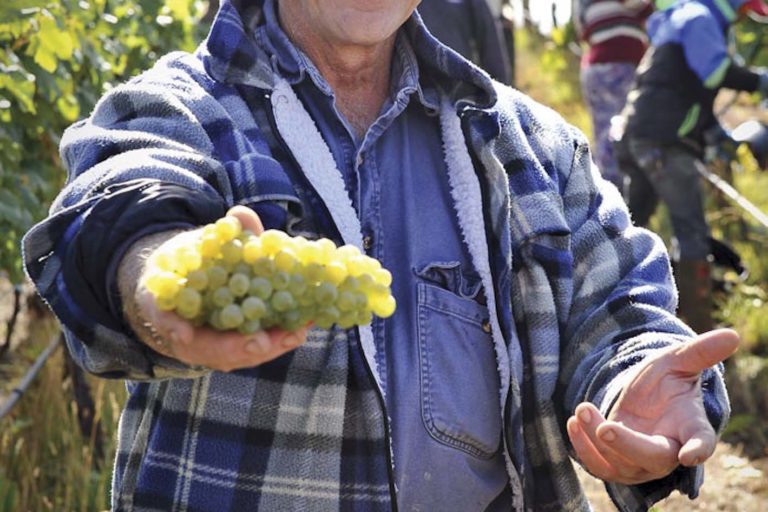 WORDS: PHOTOGRAPHY
There are more than 40 producers of Grüner Veltliner today; they are peppering our landscape. It suits our lifestyle, our food — and it tastes delicious.
Eight years ago, I wrote a piece on Grüner Veltliner asking the question: was this grape going to be the next big thing? My answer was probably not, but it didn't matter as both the Australian wine industry and wine consumers would no doubt give it a go.
Enter 2019 and sadly the Australian wine consumer is a long way from embracing alternative grape varieties.
In fact, based on James Halliday's 2019 Wine Companion, shiraz followed by chardonnay, cabernet sauvignon, merlot, and then sauvignon blanc still lead the way in production and consumption in Australia.
So why focus on Grüner Veltliner now? The simple answer is it's time.
In 2011, there were only a handful of local producers; eight years on and there are now more than 40 producers peppering the Australian landscape. Also, Australia is importing more Austrian Grüner Veltliner and it is not uncommon to find at least one in any respectable retail outlet.
The variety is gaining momentum, and I for one like Grüner Veltliner — it suits our lifestyle, it goes well with our food, and it tastes bloody delicious.
What is Grüner?
Grüner Veltliner is an ancient grape variety discovered more than 2000 years ago in Austria. The grape is synonymous with Austria and pervades the countryside to the point where more than 35 per cent of all grapes planted are Grüner Veltliner.
Recent DNA testing has confirmed the variety is a natural crossing of savagnin (not sauvignon blanc, but rather an ancient Traminer variety). The grape is thick-skinned, has medium-size berries, is yellow to fox yellow in colour with medium to large conical clusters and is prone to high yields if not regulated properly. It likes to grow in deep loess soils (rich dust-like soils containing equal parts of sand and silt, but also containing clay and minerals mica and quartz) and is late-ripening.
As Madeline Puckette of Wine Folly fame states, Grüner Veltliner produces fresh, crisp wines that are usually dry, light- to medium-bodied with low tannins and high acidity.
However, the style spectrum ranges from light no-oak treatment to fleshy, leesy, full-bodied oaked or unoaked styles not dissimilar to chardonnay to finally botrytis-affected sweet wine that can age for a very long time. Visually, in the glass Grüner Veltliner can often be translucent or pale, with a green tinge when young or light yellow and straw to a deep golden colour for aged examples.
On the nose and palate, Grüner Veltliner displays citrus (lime, lemon, grapefruit), pear, green apple, and other herbaceous nuances as well as ginger, white pepper, nutmeg, all spice, tarragon, and radish. Like a riesling on steroids, Grüner Veltliner has piercing acidity and drying minerality.
Alcohol levels vary depending on the style, but usually they are around 11.5 per cent — although can hit the 13.5 per cent mark for the full-bodied styles. The wines can be enjoyed young and fresh, but will age extremely well over time. So, in short, the variety is all about zesty acidity, texture, and savoury spice.
Grüner Veltliner grows in a wide variety of soils and in particular loess and clay soils (which tend to produce rich, robust, creamy wines), but it will achieve tremendous results in slate, gneiss, granite, and limestone geology. Note it is a thirsty grape and loves water and will achieve outstanding results with topsoils that retain moisture. Generally speaking, cool climate and warm days, slow-ripening conditions, cool evenings, and moderate rainfall (or irrigation) suit Grüner Veltliner.
These terroir elements influence site selection, and it's no wonder it grows well in Austria.
Where does it grow best?
Grüner's historic birthplace is Austria, and with only around 40 registered grape varieties and a long history of growing grapes, it's little wonder the grape is both farmed and vinified to perfection. Along with its wine-making history and limited grape varieties to focus on, Austria offers the perfect terroir and climatic conditions for growing Grüner Veltliner.
Outside of Austria, Grüner Veltliner is grown in the Czech Republic, Slovakia, France, and Hungary in Europe. But elsewhere, New Zealand's Central Otago region is doing some awesome work with Grüner Veltliner, and both climate and soil is critical to its success.
Here in Australia, where the variety was first planted in 2005, several regions shine, including Queensland's Granite Belt, Tasmania, Clare Valley, Eden Valley, Hilltops, Canberra, Langhorne Creek, McLaren Vale and, of course, Adelaide Hills. In fact, the Adelaide Hills is where the bulk of Grüner Veltliner is grown, and again it's no surprise really given the climate and terroir of this region.
Why Grüner Veltliner?
Grüner Veltliner is simply right for Australia, including our climate, our lifestyle, and our foods. It is one of the most versatile white wines that can be consumed young and fresh or aged like an older riesling. Regardless of style, the wine suits our hot summers and mild winters primarily because of its crisp, zesty acidity. Also, Grüner Veltliner can tolerate being served ice-cold unlike many other white varieties. It is also reasonably priced, including the ones imported from Austria.
Furthermore, this Austrian superhero is incredibly food-friendly, again due to the array of flavours, texture, and spice. Think Grüner Veltliner with Asian food. Specifically, try it with sashimi and sushi — OMG so good! — or try it with Vietnamese or Thai dishes with coriander, mint, and basil. Simply sublime. Grüner Veltliner will also handle flavoursome mild Indian curries and pulses. But why stop there: the Austrians drink Grüner Veltliner with pork schnitzels and Vienna sausage, so the fleshier types handle meats to perfection.
Try Grüner Veltliner with soft cheese such as brie and camembert or even goat's cheese (especially the creamier styles) — you will not be disappointed! Also, you will find it a perfect grape variety to pair with the most difficult of foods such as asparagus, bitter greens, and artichoke.
What to consider
Consider Fred Loimer's Lois Grüner Veltliner from Kamptal, Austria (one of the key Grüner Veltliner regions). Fred was voted Austria's Winemaker of the Year in 2002 and owns a 70 hectare biodynamic certified property. The grapes are not only organically grown, but are hand-harvested off five- to 50-year-old vines; they are macerated in whole clusters for up to four hours and then undergo wild-yeast ferment in stainless steel. Ageing is in stainless steel tanks on fine lees for four months. The wine is on the lighter style, and on the nose there are notes of apple and green herbs, while the palate is showing crunchy red apple, citrus, crisp acidity, and peppery spice. This wine will go particularly well with a Vietnamese salad or freshly prepared sashimi.
From New Zealand's Central Otago try Rudi Bauer's Quartz Reef Grüner Veltliner. Rudi is also Austrian and an early pioneer of Otago. He has won New Zealand's Winemaker of the Year award twice and more recently a leadership award from Gourmet Wine Traveller. His vineyard is certified biodynamic and produces some of New Zealand's best sparkling wines and pinot noir. It doesn't surprise me that he makes a fabulous rich style given his Austrian heritage. Quartz Reef grapes are hand-picked and undergo slow wild-yeast ferments. Unlike Loimer, Quartz Reef Grüner receives 11 months of lees ageing, is a tad sweeter (but not sweet), with approximately 4.7g/L of residual sugar and is consequently richer and more textural. Try it with white meat or, dare I say it, a good schnitty!
From Australia, and there are far too many to list here but I really like the Hahndorf Hill Grüner Veltliner from Adelaide Hills. The Hahndorf Hill Winery was established by Larry Jacobs and Marc Dobson, both originally from South Africa. In 2010, they were one of the first to produce Grüner after importing clones from Austria. Their 2017 Gru Grüner Veltliner has won a gold medal at the Australian Alternative Varieties Wine Show 2017 and received 96 points from James Halliday. The wine shows vibrant citrus on the nose and hints of spice and a long, crisp, minerally acid finish on the palate. Just a pure delight to the senses, and it pairs well with chilled fresh seafood.
Enjoy, and happy but safe drinking!
About the author
Peter Panousis works for Mezzanine Wine. He has a degree in hospitality, is WSET-trained and has undertaken extensive wine education. Raised on the Gold Coast, Peter is an experienced operator of restaurants and cafes, which has included owning two award-winning restaurants. Peter is also a member of the Australian Society of Viticulture and Oenology (ASVO) and an Associate Fellow with the Australian Institute of Management (AIM). You can catch him on Facebook, Twitter, and Instagram as @peterpanwine