WORDS: PHOTOGRAPHY
Gone are the days when surgeons had to literally be hands on. These days, with amazing technological advancements, human capabilities are being exceeded as robotic technology comes to the fore and confidently leads the way forward.
"In the future I believe we'll be doing the majority of surgery robotically," Dr Ross Warner, Colorectal Surgeon at John Flynn Private Hospital tells ORM. "Since starting robotic surgery I've done about 95 per cent of my operations this way. It's an entirely different way of operating with the surgeon sitting at a console a short distance away from the patient. I guess this is less "hands on" in a way. Typically a surgeon completes years of training and throughout their career skills are further developed and honed. However there is often a lot of apprehension about new techniques that are "untried" or "unproven" and many will not attempt these. There is a lot of emerging published literature that is supporting the benefits of robotic surgery over laparoscopic surgery. John Flynn is at the forefront of robotic surgery in Australia. I am privileged to be a part of this from a colorectal point of view and look forward to an exciting future."
John Flynn Private Hospital invested in da Vinci Robotic technology three years ago. It has established itself as a centre of surgical excellence and offers almost every surgical speciality to thousands of patients a year.
Dr Ross Warner grew up in Southern Sydney, studied Batchelor of Medical Science at the University of Sydney and continued onto his Bachelor of Medicine and Surgery. While a registrar he completed a Masters of Surgery and in 2011 obtained his FRACS. He moved to the Gold Coast to undertake two further specialist training years in laparoscopic colorectal surgery and took up VMO positions at John Flynn, The Tweed and Murwillumbah Hospitals three years ago. He trained in robotic surgery in 2015 and since November has already successfully performed over 25 operations.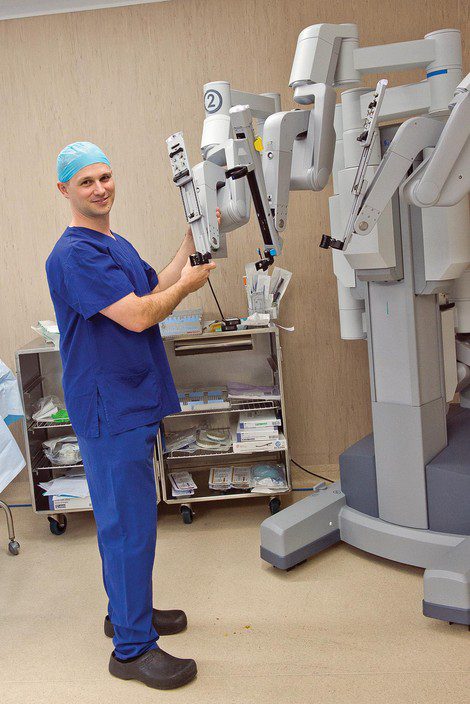 "All my patients ask why I chose to become a colorectal surgeon – I'm yet to have a good answer to that. I always knew I wanted to be a surgeon and during training you certainly get a clear idea of types of surgery you don't like. For me, the robotic procedures are fascinating. The three dimensional imaging is phenomenal and enhances accuracy of the performing the operation. I love to watch robotic videos that other surgeons have put on YouTube.
"Training was an involved process over nine months but as soon as I started with these operations it felt very much like second nature. We did three operations on my first day back to back, from 7am through to 5pm. It was a fantastic day, quite the experience. The benefits I've seen for my patients has included shorter hospital stay with overall faster recovery, less blood loss, fewer wound complications and less pain.
"I'll soon have done 30 operations and I'm keen to establish myself as a tutor in this field. We have a robotic conference in Brisbane in June that I am excited to be a part of with some excellent local and overseas robotic surgeons."
Dr Warner is a surgeon with incredible focus. What does he do to wind down? "My family is my most important focus. I have four kids aged between five and 11 so we're certainly busy. We're just back from our first overseas family holiday in Singapore. It was another successful operation; they all ate well and travelled well! Serendipitiously a robotic conference was on while we were there and I was able to meet a lot of South East Asian robotic surgeons who are on the same journey. One of the senior Korean Professors said something that encompassed robotic surgery really well. He said, 'Even though our body is away from the operation our soul should remain above the patient.'"
A heart-warming ending to a story of commitment to advancement, and sheer dedication.

What is Robotic Surgery?
The surgeon controls the da Vinci robot, which has four arms fitted with wristed instruments, from a seated console. Their hand movements are scaled down to perform tiny movements within the body.
Why is it superior?
This surgical System expands the doctor's human capabilities. Routine and complex procedures can be performed minimally invasively. Optimised 3D vision, magnification and motion tremor control all allow the surgeon to operate high-tech instrumentation with greater dexterity and precision.
John Flynn Private Hospital provides one of the most comprehensive robotic surgery services in Australia. Read more on their website: www.johnflynnprivate.com.au or call 07 5598 9000.