THE CSIRO Chunky barley, vegetable and chicken soup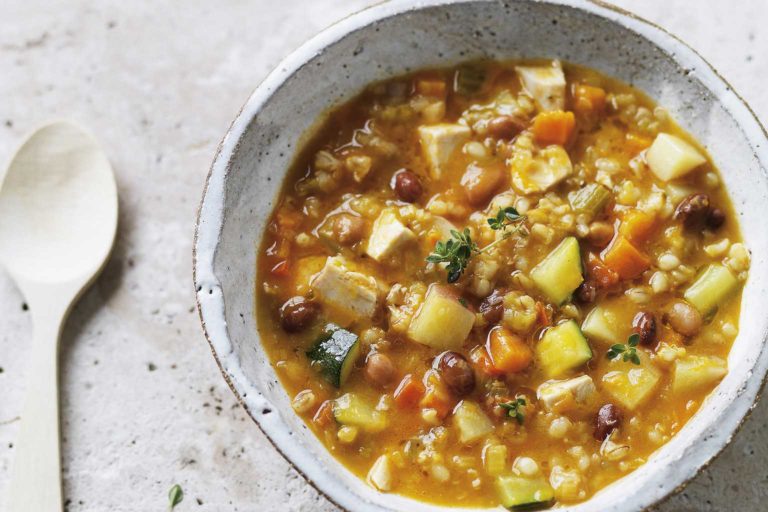 WORDS: PHOTOGRAPHY
HEALTHY GUT DIET
Our gut health has an enormous impact on our overall health and therefore our quality of life. This book was written by a team of CSIRO researchers, nutrition and behaviour scientists and dietitians who offer simple, practical advice and a wide range of tasty, easy-to-make recipes designed to benefit the gut and overall health. Keep your gut wall nourished and strong with these taste testers.
The Csiro Healthy Gut Diet, Pan Macmillan Australia, RRP $34.99, available from all good bookstores or online www.publish.csiro.au/book/7878
Chunky barley, vegetable and chicken soup
SERVES 4
PREPARATION 20 minutes
COOKING 2 hours, plus prep cooking time
Ingredients:
olive oil spray, for cooking
2 leeks, white part only, finely chopped
2 carrots, finely chopped
3 sticks celery, cut into thirds lengthways, thinly sliced
2 tablespoons salt-reduced tomato paste
150g pearl barley, soaked in boiling water for 15 minutes
2 sprigs thyme (optional)
2 litres salt-reduced chicken or vegetable stock
2 desiree potatoes, cut into 1.5cm dice, steamed, chilled
1 small sweet potato, cut into 1.5cm dice, steamed, chilled
275g chicken breast fillet
125g tin salt-reduced four-bean mix, drained, rinsed
1 zucchini, cut into 1.5cm dice
method:
Heat a large heavy-based saucepan or stockpot over medium heat and spray with olive oil. Add the leek, carrot and celery and cook for five minutes or until softened. Stir in tomato paste to coat the vegetables. Drain the barley, then add to the pan with the thyme and stir to combine. Pour in 1.5 litres of the stock and bring to the boil over high heat. Cover, then reduce the heat to low and simmer for 45 minutes.
Add the potato and sweet potato and another 1 cup of the stock, then return to the boil. Reduce the heat to low, cover and cook for 45 minutes, then add the chicken and remaining stock to the pan and return to the boil. Reduce the heat to low and simmer, covered, for a further 20 minutes or until the chicken is cooked through. Remove the chicken from the pan and either cut into bite-sized pieces or shred with forks.
Return the chicken to the pan, along with the beans and zucchini, and cook for five minutes or until heated through. Remove and discard the thyme. Ladle the soup evenly into four bowls and serve.