WORDS: PHOTOGRAPHY
Take a day trip to Kingscliff during the Comm Games for some fresh coastal air away from the crowds, fantastic coffee, brilliant breakfast, luscious lunch and tasty tapas – its all here and served with a smile!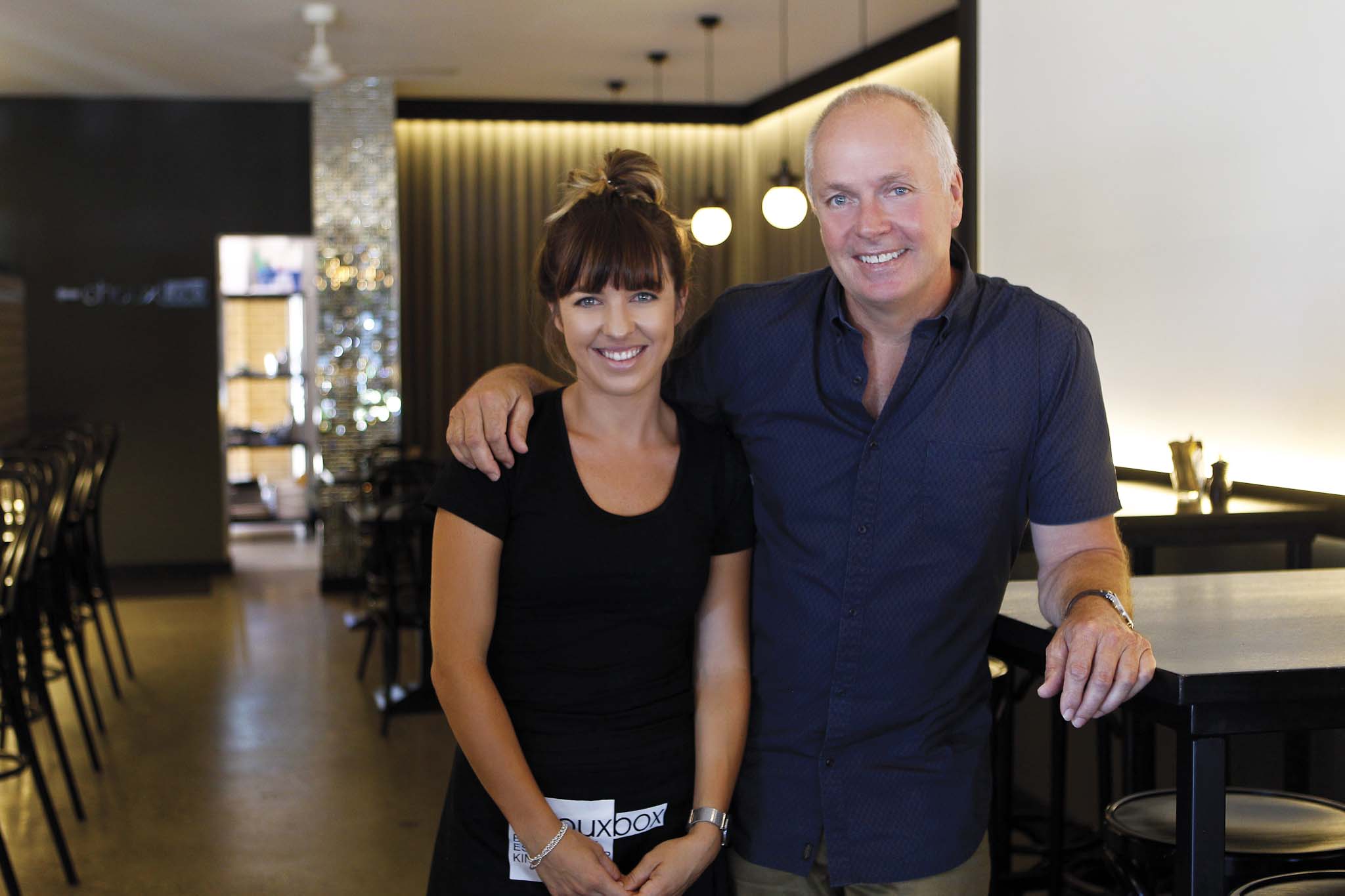 When a family business has been running smoothly for a few years, you know it's doing something right. When it's been successful for 24 years and recently expanded, it's doing a lot brilliantly.
Choux Box café, established in 1993, has loyal regulars who start each day with a coffee here at 6am. Sharp. The breakfast choice is varied from Sweet Potato Fritters, Poached Eggs and Pan Tossed Haloumi to Nasi Goreng, which keeps regulars and Gold Coast day-trippers happy.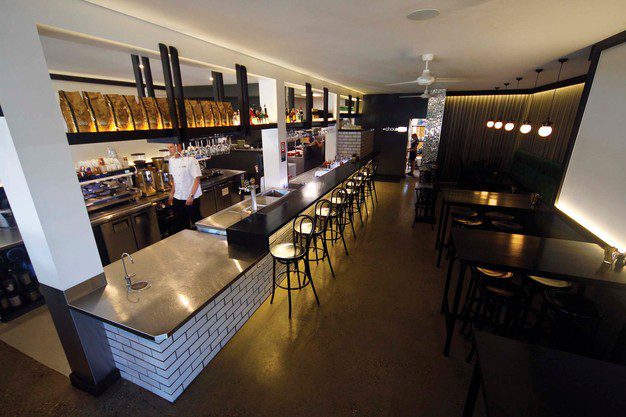 Breakfast runs though to lunch – and when you fancy you can enjoy a beer or wine to accompany your meal. A mixture of table options ensures you can settle in for a long lunch, if the mood takes you. Would recommend Barbeque pulled pork burger with crispy slaw and fries.
"When we first opened, it was the size of a shoe box, hence our play on words. Around every eight years we've stripped it out and done another fit-out to create another wave of interest," owner Brett Freedurn tells ORM over a delicious Mocha. "We're really proud of what we've achieved here. All key staff members had input into the design and we enlisted a local architect as our guide." Brett is a chef by trade and experienced in hotel management. He also learned from his parents who owned a restaurant for ten years in Sydney.
"We wanted to make sure there are areas with different feels within the cafe," his daughter Cenza, 28, who has worked here since she was 14 years old, says. "In renovating the new space we've up-sized from seating 80 to 160, so we've doubled," she says. Now, a roomy dining room area styled with statement green velvet booths and striking pendant lighting is an inviting space to meet friends.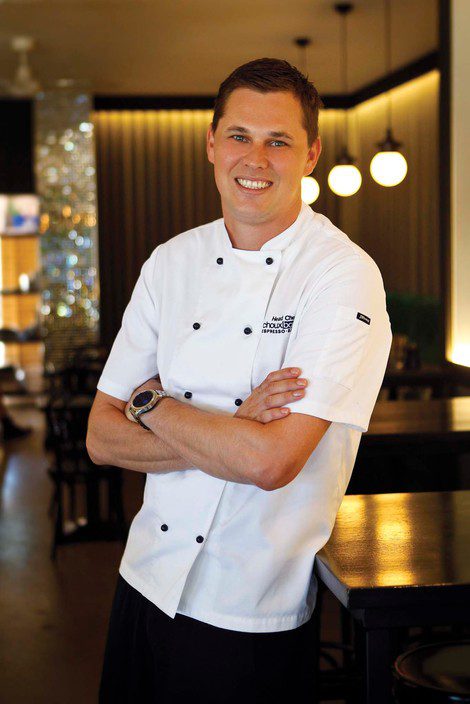 "We're very careful and selective hiring staff because we're such a well-oiled machine here. We run like clockwork and we run on respect. Staff culture is really important to us. The front section is great for families, back here it's more of a bar feel." Of course, when you're running a team of four chefs (at weekends) and 38 staff, it has to run smoothly.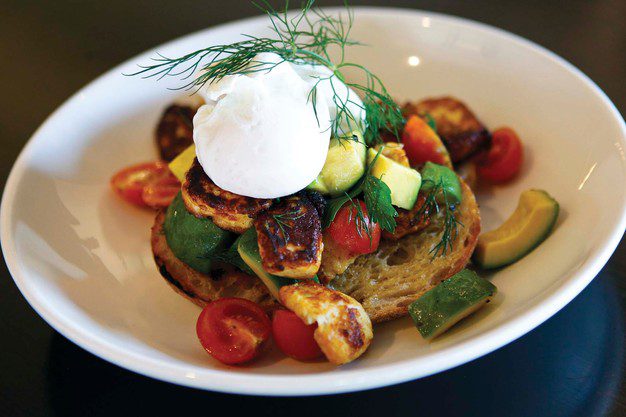 Kingscliff Beach on the Tweed Coast has a fresh and interesting vibe, not weighed down with the bustle of Byron; the council here has committed huge multi-million dollar investment to the park adjacent to the beach. Shops are springing up, bringing business to the casual, laid-back surf culture.
Chef Tony has been with the family run business since he was 16. He's now 33 – that underlines how deeply loyalty runs here. Day in and day out Tony has balanced the regular favourites on the menu with rotating new innovative ideas. "I'm lucky because I have the opportunity to be versatile with my cooking. Breakfast, lunch and then being innovative with Tapas – there is always a fresh challenge. And, of course, it's rewarding that regulars keep coming back because they can rely on us to consistently deliver."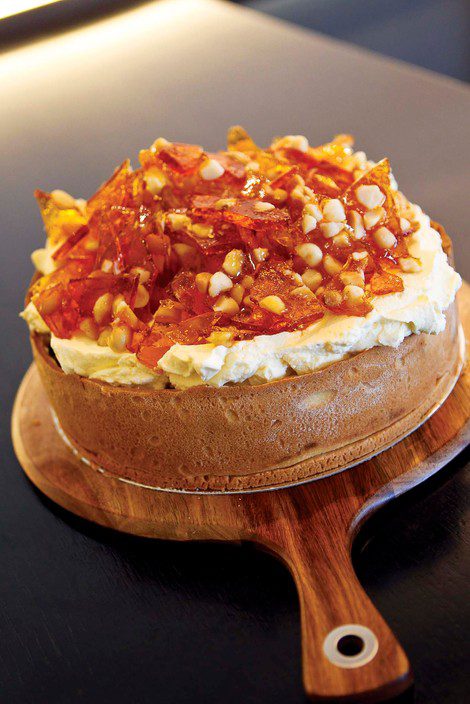 As the sun sets, another wave of customers arrive to enjoy amazing tapas and cocktails. "Our Espresso Martinis are incredibly popular," says Cenza. "That's The Choux Box signature. Lime Margarita's and Mojitos are frequent favourites, as are our passionfruit Caprioska (passionfruit shaken with lime quarters and vodka – heaven after a day at the beach)." You'll also find beers bottled and on tap here, along with a wide range of wines and spirits.
On the Tapas front Charred Broccolini, Roast Pumpkin Wedges, Pan Tossed Chorizo, Squid and Potted Prawns are all popular.
Choux Box
84 Marine Parade, Kingscliff, NSW 2487
T: 02 6674 1993
Mon: Thurs 6am – 4pm
Friday: 6am – 10pm (Tapas menu from 5pm)
Sat & Sun: 6am – 4pm
* Gluten free options available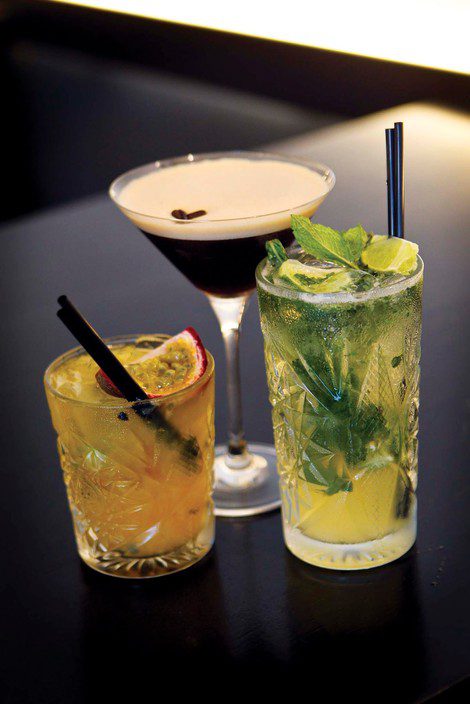 Tony started with a one-year traineeship at the age of 16, then 4-year apprenticeship.
"Our Baked Banana Custard has evolved over the years. It was in the shop when it very first opened and what you see today has become so good people travel a fair distance to buy it! We get through at least one every day," says Tony.
Bite-sized desserts such as Lemon Baked Cheesecake, Chocolate Mud Cakes and Berry Shortcake are perfect to takeaway.
"The Choux Box Sweet Potato Fritters are really popular," says Tony.
On an average weekend, The Choux Box will serve over 300 breakfasts. Each one will be on table within seven minutes of ordering.
Adam Carlos runs meet and greet, front of house. "He's a crucial part of the formula," says xxx.
The Choux Box uses as much locally sourced produce as possible. Everything is made fresh and from scratch – including all bread and sauces.