The actual science of relaxing at Mavis's Kitchen
WORDS: PHOTOGRAPHY
If you could do with a break from the kids and a weekend away with your partner, then I have the perfect place, only half an hour down the ocean road…
It's also a great place to take the family, but let's listen to the science behind slipping down there without the kids.
Psychology professor Dr Nava Silton (I know, me neither) says taking a break from parenting and getting away with your partner is very good for you and your kids.

Just because we've never heard of this professor before doesn't mean we should ignore her sage advice. In fact, we should harness it for our own selfish purposes.

The parents in their 40s and 50s who take these wondrous mini-breaks are being called 'Honeyboomers'. It's like a celebrity couple name for if a honeymooner married a Baby Boomer.
Out of a survey of 2300 people, 60 per cent of Aussie parents have either taken a break from the kids recently or are planning one in the near future.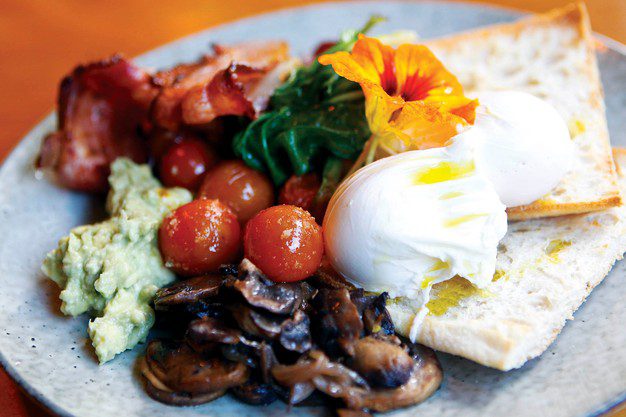 The other 40 per cent of parents burst into tears every time their kid says, "I'm not eating vegetables. I ate them last year. Do we have to have vegies every year?"
Make that Nan and Pop's problem this weekend.

So where should you go?
If you're going to spend your hard-earned honeyboomer money on a weekend escape somewhere down the ocean road, then you want bang for your buck. And you get it at Mavis's Kitchen.
One of the owners physically moved his childhood home — a beautiful Queenslander, already a successful restaurant in Southport on the Gold Coast — placed it gently on a truck, and moved it to Northern NSW somewhere near the village of Uki in a subtropical paradise where it's gone gangbusters again.
This is where to relax and watch the chef pick your food from the garden and smell it cooking on hot coals guaranteeing that something on every plate is grown on-site.
I had that sensation in Hawaii at the zone of inversion, halfway up a volcano. The rainfall there is impressive, as is the local produce. The same is true of Mavis's.

You are acutely aware that you are being fed, nourished, and energised by the goodness of the ground you are standing on. They host weddings and musical afternoons and cultural events. It's a brilliant and beautiful place.

I've built on Professor Silton's work, and based on my research I'm supremely confident my honorary doctorate will arrive in the mail any day now. Elevation to an esteemed academic life seems assured due to the findings from my most recent study into the effects the fine food and farmhouse lodgings at Mavis's Kitchen have on human relaxation.

As ever, I have conducted the experiment on myself and my partner, Lisa, to ensure the safety of others and to properly analyse the physical and mental effects great food and beautiful surroundings have on the world's two happiest lab rats.
In fact, during this intense two-day study conducted at Mavis's Kitchen, we were not quite lab rats. Our role was much better defined as 'crash test tummies'.
For two days, we ate every meal at Mavis's Kitchen, and each one was noteworthy.
There was something very special about having a late breakfast on the balcony and smelling the roast pork lunch roasting while the chef picks food from the garden. Oh, the waft of Sunday roast on coals.
Now, most parents would agree that not having to produce a meal for their young is brilliant, but the best bit is having yours cooked for you and then, ultimately, watching while someone else does the washing up. Now that is sexy.

Ricky, the Italian manager of the restaurant at Mavis's, sets a brilliant tone speaking three languages: Italian, English, and fluent rooster. I'll come back to that.
We had a brilliant meal, then a lovely night in the farmhouse — then we got monstered. The rain began to fall. It teemed down and it made the weekend all the more spectacular and romantic.
In fact, the rain stayed longer than a second cousin at Christmas. Yet the fire crackled and so did the conversation.
The rain put paid to any talk of morning walks. It made me so happy. We hung out on the large verandah with the tree growing through it so not one of us showed the slightest sign of cabin fever. The sunrise through the misty, subtropical valley was a spellbinding highlight.
It's a special day in my academic life as this research paper is now published in the highly respected, newly minted, and somewhat-of-a-surprise-to-the-editor Science section of Ocean Road Magazine.
Welcome to the science of relaxation. In this field — and this field alone — allow me to introduce myself… I'm Professor Flan.
Mavis's Kitchen was just the thing I needed to freshen up, and I'm sure it will do the same for you.
The big question I kept asking myself was, 'Why do I feel so at home away from home?' The answer is because it always was a home and still is.
If that's what you or your relationship need, or if it's just what you want, then go stay a couple of nights at Mavis's Kitchen and climb nearby Mount Warning or do what I did: pray for rain and relax with your partner and your mates and do nothing.
Relax by the fire, talk without being interrupted by someone tiny who wants you to do the toilet 'paper work' for the world's worst job. Just read a book, watch Netflix, play guitar, do whatever you want, or do sweet FA. And sleep. And sleep perchance to dream without being woken by a little one.
That little one is waking Nan and Pop up right now. Roll over. Smile. Go back to sleep.
There's magic in Mavis's house — always has been. The magic is in the attitude, atmosphere, and the feeling good food gifts you.
If I was stressed before I came to Mavis's Kitchen, then the fire and my friends and the sunrise through the mist put me back to my factory settings. I was watching that sunrise when Ricky came to collect the eggs for our breakfast. As we chatted, the rooster spoke up for the first time.
I'm not kidding. We all heard it.

Everybody heard Clem the Rooster speak, and we were all laughing so hard we thought we'd burst a poofle valve. We all agreed that not only does the rooster speak English, but Clem the Rooster sums up Mavis's Kitchen perfectly when he says, "Fuckin' beautiful!"
Now, Professor Clem might be a rude rooster, but his findings are spot on.
Why not go see for yourself?

Then email me, [email protected] and you tell me what you reckon the rooster says.