The 3 Hottest Makeup Looks for Summer
WORDS: Models supplied by Que Models - www.quemodels.com PHOTOGRAPHY Brian Usher
These 3 summer makeup trends have us feeling ready to relax, enjoy the festivities and soak up the warmer months. The summer months are a great time to get a little more creative and feel inspired. Also included are a few simple summer makeup hacks to keep you looking fresh all summer long.
These trends have been seen on celebs, are extremely wearable and simple to achieve. Plus you never know what you'll love and what could even become your signature look. Here are 3 summer makeup looks brought to you straight from a professional makeup artist.
The Trend:
Copper Eyeshadows
This flattering shade is always a winner, but the festive yet sultry shades of copper, deep reds and burnt oranges are also on trend this summer. As an added bonus, this summer eye makeup look is extremely wearable.
It makes blue eyes pop, will bring out the green in hazel eyes and compliments any skin tone. The best thing is that there are so many eyeshadow palettes to choose from that include these colours.
How to wear it
Layering is the key to building up a well blended copper eyeshadow look. Before applying shadow to the lid, first apply an eyeshadow primer. Add the lighter shades first, including a lighter colour under the brow bone and a transition shade in the crease. The transition shade helps the bold copper shades blend into the brow bone area effortlessly.
For a rich colour, build up deep red and burnt orange eyeshadow shades. Blend these into the crease. Finally, add copper shimmer to the inner corner and middle of the eyelid. Feel free to use your finger to slide the shimmer straight onto your lid for maximum colour payoff. Keep the look summery by avoiding the use of excessive dark brown and black shades.
The subtle, natural lash look is out, and bold lashes are in for this summer. Be sure to accentuate the lashes with some false lashes, or at least a few layers of mascara. In the summer heat, opt for a smudge proof mascara.
During this time of year, less is best when it comes to using products on your face. A heavy foundation can feel like a bit too much in the heat. Instead, opt for a CC Cream or tinted moisturiser.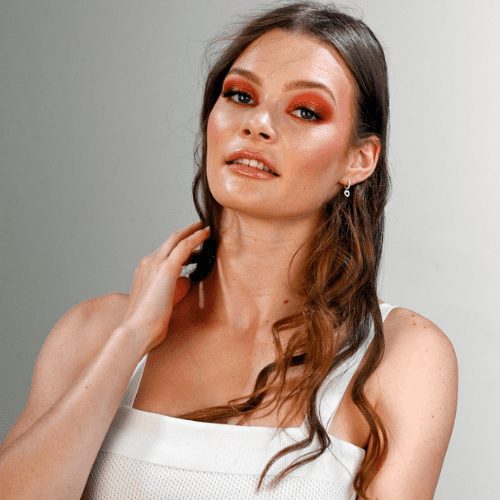 TIP: For a refreshed, awake and flawless look, tap in a small amount of concealer under the eye and just use enough to cover any blemishes.
If required, use only a small amount of powder to set the look, without going overboard. The goal is to have a fresh, hydrated looking complexion.
Choose a soft and subtle summery shade of pink lip gloss or lip tint. The best lip shades to compliment the look are soft pinks, nudes and peachy colours.
Lastly, don't forget a dusting of blush and highlight for a fresh summer skin glow.
The Trend:
White Hot Liner
Who knew that white would be the eyeliner colour of the season? If you like to have that little bit extra, white eyeliner is calling your name. Sported by celebs such as Margot Robbie and Rhianna, it's also super on trend.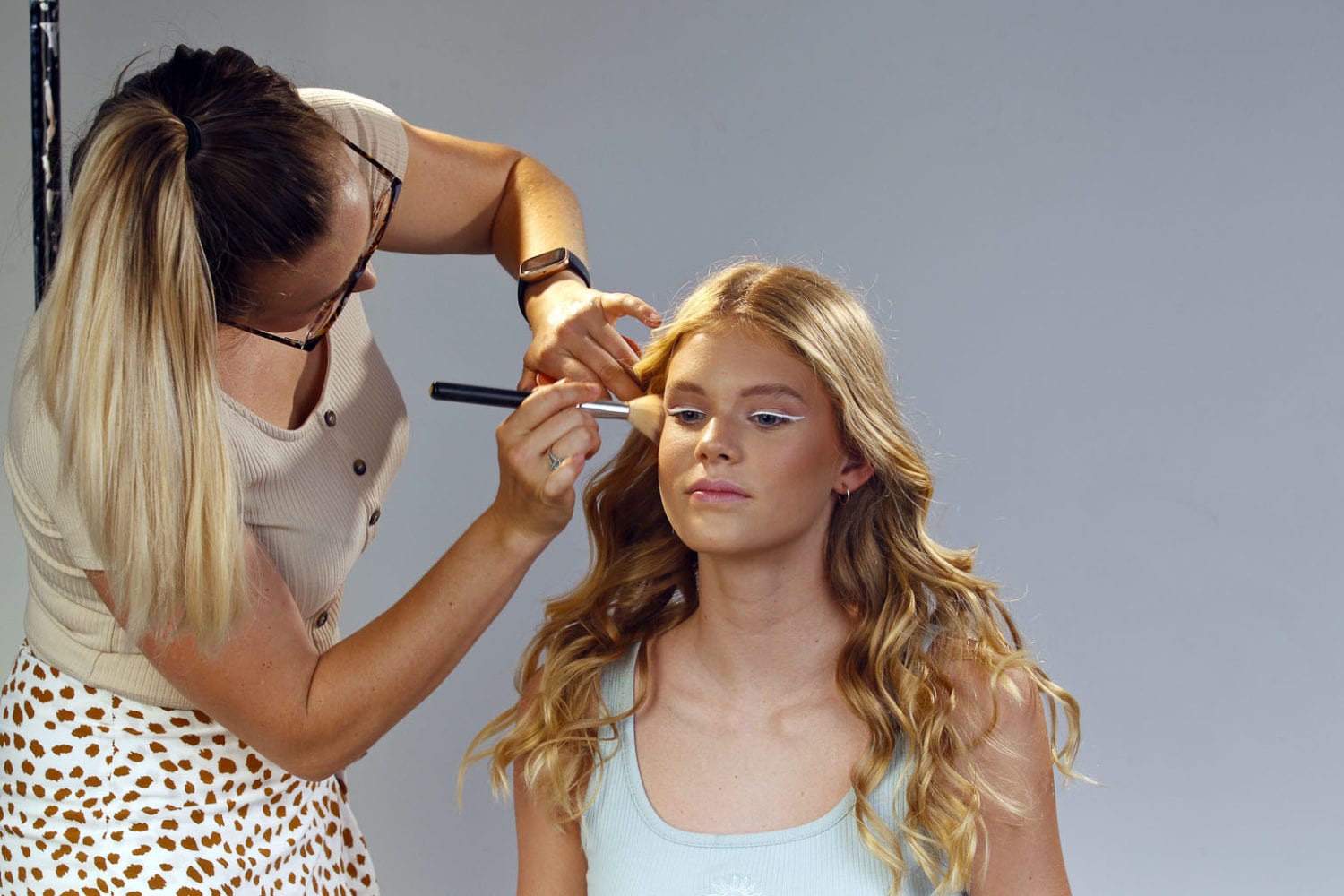 How to wear it
White liquid liner, paired with a soft blush shadow, blushed cheeks and soft tinted lips is such a summery favourite look. Blush has made a comeback from the 80's and now a subtle, naturally flushed look is an on-trend summer essential.
Barely there lip colour is also on trend this summer. Lip tints and lip stains are great on hot summer days as it's low maintenance and effortlessly cool. With this white liner look, the focal point will be your eyes and it's the perfect opportunity to sport a subtle lip.
There are so many cool and unique ways to wear white liquid liner. We opted for a soft pink eyeshadow, a medium sized white wing and a little black mascara. For the makeup experts out there, you could also create a graphic or floating liquid liner. Alternatively, line the eyes first with a black liquid liner and then add a white line just above it.
And for those that are not quite sure about the white liquid liner, there is an alternative option. Ditch the liquid liner all together and use a pencil liner in your lower waterline to open up your eyes making you look more awake. The waterline is the small ledge between your lashes and eye. You can use this in conjunction with your regular makeup routine.
TIP: Avoid having your makeup smudge on hot days and opt for waterproof makeup. Waterproof mascara and waterproof eyeliner will both help this makeup look last all day. You'll be able to remove waterproof makeup at the end of the day with a high quality eye makeup remover. If you don't have that in your bathroom cabinet, one of the simplest makeup hacks is to use a small amount of coconut oil as a makeup remover instead.
The Trend:
Bright Pink Lips
Forget bold red, its bright pink lips that have stolen the show this summer. When it comes to choosing summer makeup colours, these bright shades look good on almost any skin tone. Bold and feminine, this summer shade will be the focal point and pop of colour that completes your outfit.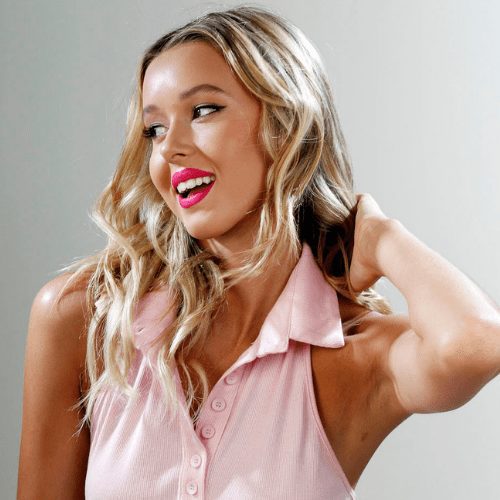 How to wear it
This hot summer look is perfect for day or night, for the office and for the weekends. The key to figuring out the right shade is to simply try a few to find your favourite one.
To perfect the bold pink pout, first outline the shape of your lips with a sharp lip liner. Choose the same shade or a shade darker than your lipstick. This will define your lips, creating a crisp line and will also prevent your lipstick from bleeding into fine lines.
For extra lipstick staying power, choose a matte or semi-matte lipstick. If you've found a shade you love, but it's in a regular lipstick, blot your lips with setting powder as your final step to your makeup. With a colour this bold, you'll be wanting it to stay put all day.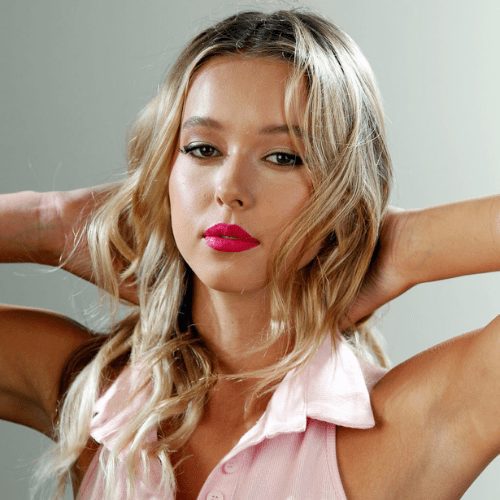 In the day time, keep the bold lips the main focus with a more subtle eye look. Use a soft neutral eyeshadow and add a subtle brown winged liner. Brown liner, rather than black liner this summer, is a great option to keep it looking classy and cool. Add a few layers of mascara and just a few individual lashes to the outer corners.
For the rest of your face, keep everything a little more natural. Opt for a light summer coverage. Then add plenty of blush and a touch of highlight to keep everything looking dewy and radiant.
Skin prep is key for fresh summer skin. Ensure that the skin is well moisturised morning and night. For those with dry skin, spritz a hydrating setting spray as the final step of your makeup routine. For those on the more oily side, keep a small stash of blotting paper in your purse to fight excess shine.
TIP: It's simple to go from day to night with this look. Add some extra smokiness to your eye shadow with deeper brown tones and add a little extra blush.