WORDS: PHOTOGRAPHY
There's a fresh and alluring new tune wafting down from Songbirds Rainforest Retreat on Tamborine Mountain.
The award-winning hinterland retreat and restaurant is undergoing an exciting transformation, having recently changed ownership. It's now in the hands of a passionate new owner who is intent on making Songbirds even more of an iconic destination for diners, day-trippers, and holidaying guests.
The Michelin-starred Songbirds restaurant — a seven-time winner of the prestigious Australian Good Food & Travel Guide Chef Hat Award — helped put Tamborine Mountain on Australia's culinary map.
Now, with an extensive facelift and the appointment of two-star Michelin chef Meyjitte Boughenout as executive chef, Songbirds is treating guests to a stunning new dining experience.
"The restaurant was only upgraded two years ago, but it's been fully renovated by the new owner who is also building two additional villas to enhance the luxury accommodation offering," Songbirds marketing manager Ruth Gardner says.
"No expense has been spared on the renovation, with features including a fully suspended 360-degree fireplace handmade in the south of France. A lot of the new furnishings came from Europe, and we worked with a designer on a stunning colour palette that highlights the green of the rainforest."
Securing a head chef of the calibre of Meyjitte, Ruth says, was a "huge coup" and a reflection of the esteem in which Songbirds is held in culinary circles.
"As a two-star Michelin chef, Meyjitte has an incredible CV, working in some of the finest restaurants in his native France and running his own highly successful fine-dining restaurants in Australia," she says.
"He has a really clear vision for Songbirds and has definitely brought his flair for amazing degustation cuisine to the restaurant. It's really inspiring and exciting to be working with him."
Ruth describes the new menu devised by Meyjitte as "Queensland dining done differently".
"We are using as much local produce as we can, especially from our own organic garden on-site here at Songbirds," she says.
"Under Meyjitte, we are creating food that is delicious and very memorable, but also has a sense of fun. It is modern Australian dining with some real cutting-edge techniques and flavours that push the boundaries and really showcase Meyjitte's amazing skills and talents."
While the menu at Songbirds will be ever-evolving according to the changing seasons and availability of the freshest produce, some signature dishes are already creating a buzz among customers.
These include the Golden Egg — an exotic dish infused with 24-carat gold leaf — which invites guests to guess the other ingredients simply by taste.
Then there's Asprin, a quirkily-named but tantalising palette cleanser that also evokes a sense of mystery and fun.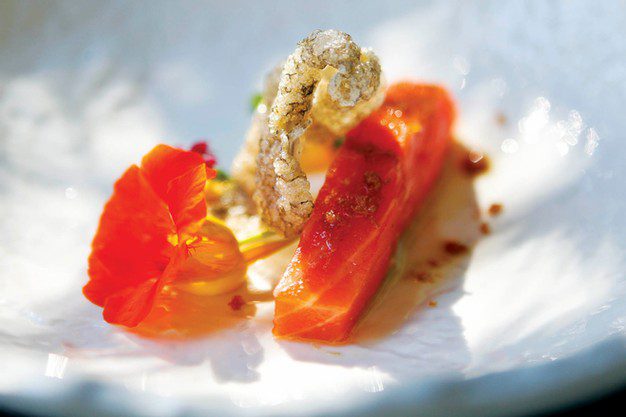 The menu at Songbirds is complemented by an extensive wine list comprising some 70 labels from both Australia and overseas.
"Our sommelier, Alex Menzies, has spent 15 years working in fine-dining restaurants and luxury hotels and has a real talent for wine-matching," Ruth says.
"Alex is also very passionate about sustainable, biodynamic wines. Our cellar features a lot of interesting international wines as well as some really fantastic wines from small Australian producers.
"We also have a really interesting range of cocktails and some wonderful whiskeys and cognacs."
Songbirds offers à la carte lunch dining Thursday to Sunday, with dinner Thursday to Saturday a degustation menu. Private dining, including a special 15-course chef's degustation menu, is available by request.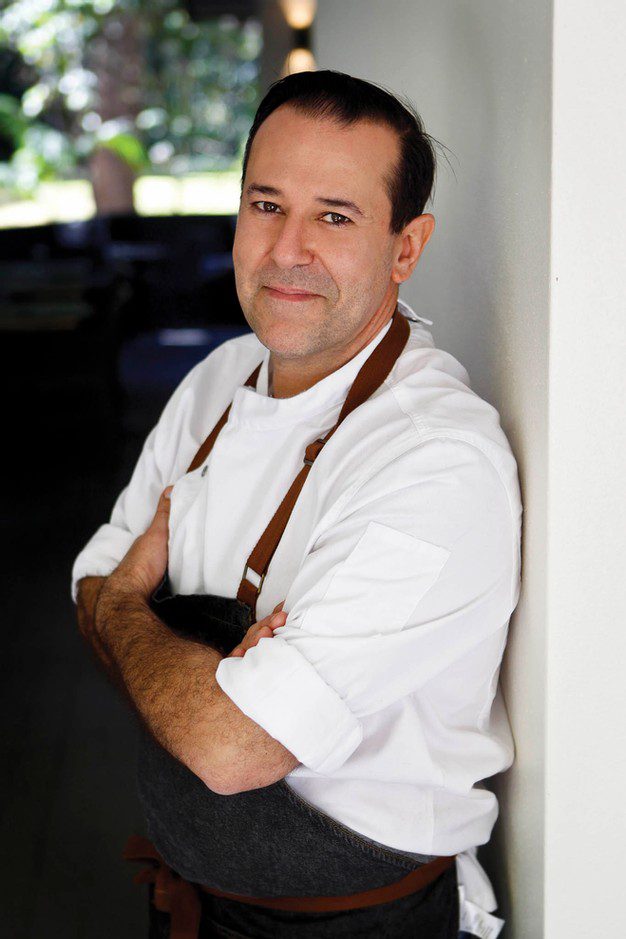 With al fresco and indoor spaces, the restaurant is also perfect for social events and special occasions.
Singing for supper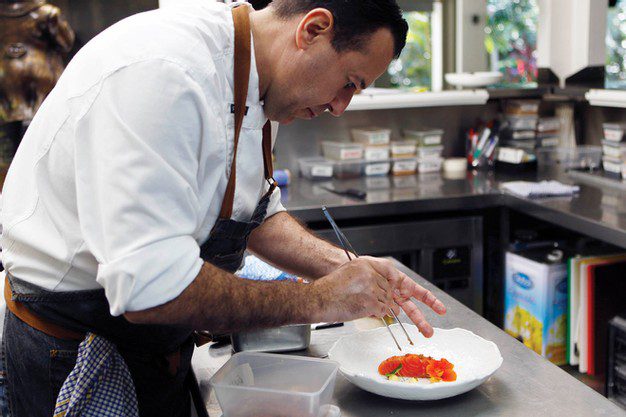 One of Australia's most talented chefs, Meyjitte Boughenout, is back in the kitchen after a four-year sabbatical.
Diners at Songbirds Rainforest Retreat on Tamborine Mountain are the lucky ones lapping up the two-star Michelin chef's long-overdue return to the Gold Coast culinary scene.
Meyjitte has taken over as executive chef at the newly reopened Songbirds after a well-deserved break following his departure from Absynthe, the multi-award-winning fine-dining restaurant he established in Q1 and ran for a decade.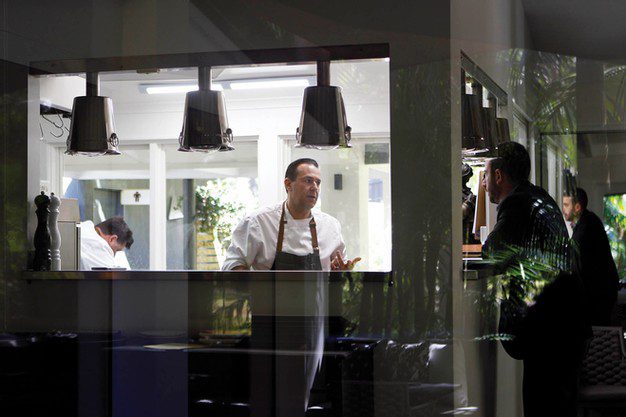 Disillusioned with the fine-dining movement, and needing a break after 30 gruelling years in the industry that began in his native France, Meyjitte exited Absynthe in 2015 to refresh and recalibrate.
"I'd basically been cooking since the age of 13 and never really stopped to have a break," he says.
"I needed some time off to stop and reflect. I wasn't really looking for another opportunity until I had a call from Songbirds. I'd been there as a customer and the chance to re-open the restaurant under a committed new owner sounded intriguing.
"I knew Songbirds had its own garden, and it gave me flashbacks to my time working in Belgium and also Tasmania, where we were all about paddock-to-the-plate cuisine."
Meyjitte comes to Songbirds with a CV that is beyond impressive. Upon graduating from school, he sought out renowned chefs in restaurants with three Michelin stars — L'Auberge du Pere Bise, Restaurant George Blanc, and Restaurant Pierre Gagnaire in Paris.
By the time he was 25, he was executive chef at Belgium's Restaurant Scholteshof and the proud holder of two Michelin stars.
Meyjitte moved to Australia in 1995, with acclaimed Sydney chef Paul Merrony assisting his residency application, and landed a position as executive chef at the Ritz-Carlton Hotel.
Meyjitte then worked at some of Sydney's top restaurants before taking over the historic Franklin Manor in Strahan, Tasmania.
He later brought his talents to the Gold Coast, establishing Absynthe in 2005, which went on to win a string of accolades, including being named Australia's top regional restaurant by Gourmet Traveller magazine. In addition, Meyjitte opened the Absynthe Bakery at Circle on Cavill, Absynthe Patisserie at Paradise Point, and Bubbles Wine Bar and Cellar at Sanctuary Cove.
Meyjitte says his philosophy at Songbirds is to provide customers with "real food, not based on any fashion or movement".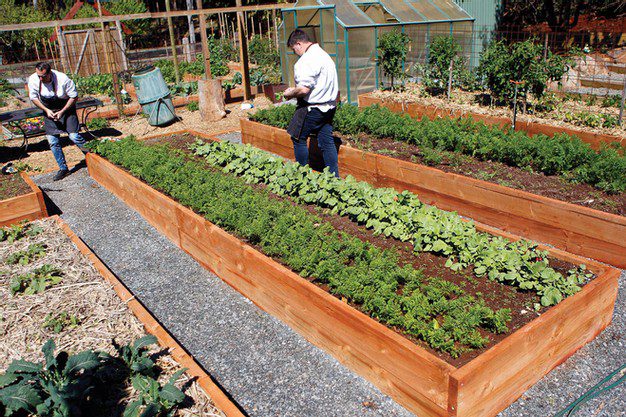 "It is classic produce-to-the-plate cuisine," he says.
"In Australia, that is difficult to achieve with suppliers, unlike in, say, Italy where you can put your name on a wheel of parmesan and leave it there for 12 to 24 months to age. This is what I want to do at Songbirds, by establishing special relationships with our suppliers and using produce from our own organic garden, which we have quadrupled in size.
"We have two full-time gardeners, and the garden currently supplies about 70 per cent of our fresh produce. Our aim is to expand that even further."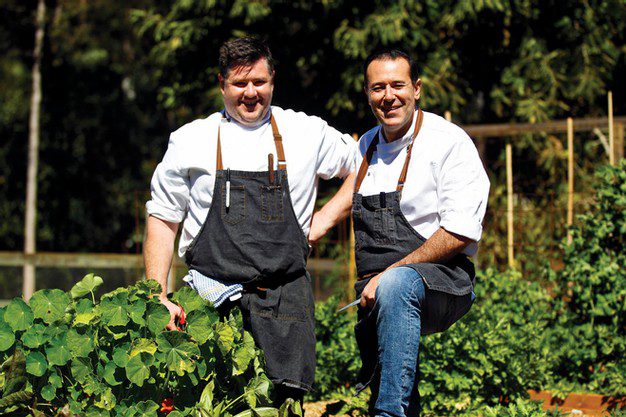 Meyjitte says one thing he set out to do with the menu — which is three-course à la carte for lunch and six- to eight-course degustation for dinner — was to add an air of mystery.
"Too many restaurant menus describe dishes in great detail, listing all the ingredients — it's too much and leaves nothing to the imagination," he says.
"I wanted to simplify the menu, with just the name of the dish, to keep people guessing. It also allows us to tweak ingredients slightly according to seasonal availability and add a little bit of mystery and intrigue.
"What we are really doing is classical dishes reinvented. We aren't following anything else that's out there."