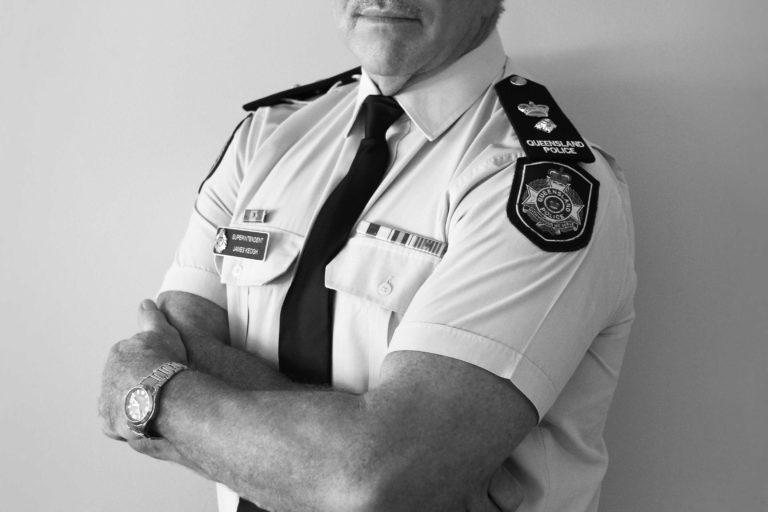 WORDS: PHOTOGRAPHY
After thirty-seven years in the Queensland Police Force, Superintendent Jim Keogh has handed in his badge. For the first time, he can talk about that infamous bikie brawl in 2013 – and how the police brought law and order back to the Gold Coast…
It was the job Superintendent Jim Keogh never wanted. The former head of the bikie busting squad tried to politely decline his post as head of the Rapid Action and Patrol Group – but destiny would not be denied.
Days after the infamous brawl in September 2013 where dozens of Bandidos in full club regalia roared into the Broadbeach, attacking patrons and threatening to slit an onlooker's throat – the Gold Coast landscape shifted.
Terrifying footage of the brawl sent shockwaves across the country and lifted the veil of a dangerous and savage bikie culture that controlled Australia's tourist playground.
Premier Campbell Newman demanded action, ushering in some of the world's toughest anti-gang laws and the task of executing those laws, of bringing law and order back to the Gold Coast, fell on the shoulders of Jim Keogh.
In the twilight of his career, it wasn't a job he wanted.
After a career spanning almost four decades in the Queensland Police Service, Superintendent Jim Keogh has handed in his badge, but those days of heading the bikie taskforce have become the highlight of a highly decorated career.
"At first I said no. There was no hint of legislative change, no sign of what was to come," he tells ORM. "I was on more money in Brisbane where I was posted at the time and I had a lot fewer headaches so I said 'thanks, but no thanks'. I said, 'what's the point? You go down there, make arrests and the bikies are back on the streets in the blink of an eye'. Two hours later they rang back and said: 'You start Monday'.
"But this time it was different; it wasn't just empty promises and rhetoric. I was given unprecedented resources. I was given new legislation. I was given everything I asked for to take on organised crime. We got RAP, we got the intel from corrective services. We got everyone into one building. I said give me 50 police and eventually they gave me 100 because it was so successful. We got the job done.
"The highlight of my career was having the officers – some of them with just two years in the job – win that battle. How do we know we won the battle? It's not through statistics; it's through the community. If the community feels safe and is happy to go out to a hotel or a nightclub or to take the kids into Surfers Paradise at night and feel safe – that's when you know you've won."
But it was never going to be easy. Bikie gangs have been entrenched on the Glitter Strip since the Finks first opened the first clubhouse in Surfers Paradise the 70s.
"The difference on the Gold Coast is the clubs were condensed into a tight geographical area," says Keogh. "Eight clubs initially and this town just wasn't big enough for the lot of them. The bikie business plan and their recruitment strategies were sound. Even down to territory. The clubs met and boundaries where drawn, just like we have policing divisions, the bikies divided turf thorough a parliament of their own, but the prime areas were the Finks controlling Surfers through security and nightclub drug activity. The Bandidos had Broadbeach which became the cocaine capital of the Gold Coast. The city was the honey pot, the golden triangle for bikies, the town was always going to erupt at some stage. It was inevitable."
Also inevitable would be the pushback. Police dismantled multi-million-dollar drug trades and at least one contract was taken out on the Superintendent's life.
"It does take a personal toll," he says. "Contracts were taken out and there have been threats – there was a lot of money at stake. Personal security had to be an issue. It is a slow consistent grind but your body and your mind adapts."
The days of RAP were a highlight to a stellar career that began in 1980. Incredibly, the QPS rejected Supt Keogh's first tilt to join the service.
After leaving school at 15, he first worked in corrective services as a prison guard.
"There were a lot of problems in the prison system at the time, riots were commonplace," he remembers. "You must understand that jails in that time were housing prisoners the likes of John Andrew Stuart and James Richard Finch (Whiskey Au Go Go fire which killed 15 people). What a great introduction because I got to see all these hardened criminals. I could look at their lifestyle and see what they were all about. It was interesting I stayed there for two years, then went to the police."
After just two years in uniform, Supt Keogh was handpicked to become a detective and join the CIB before becoming part of the consorting squad.
He says, "The squad looking after pubs, clubs race tracks brothels and discos and they were good hardened detectives. In those days the service lived in fear of another Whiskey Au Go Go and for all his faults, (police commissioner) Terry Lewis was adamant there was never to be another Whiskey a go go and the strategy was to ensure the Sydney underworld stayed out of Brisbane."
The squad would ultimately lead to the Fitzgerald Inquiry and more than half of the detectives would be named during the investigation, but Jim Keogh was not one of them.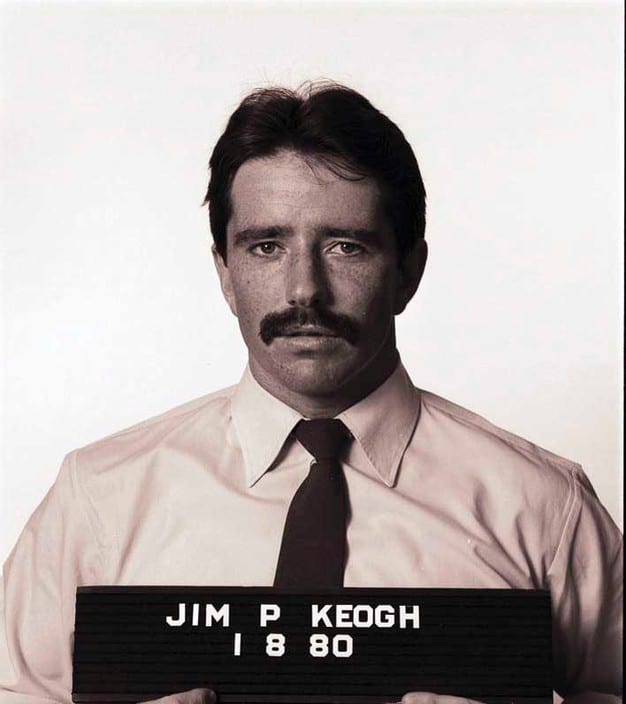 In such a long career, there was one crime which has stayed with him as he raised his own family: "I remember being called to a domestic once that I will never forget it because we got to the driveway and it had the old tracks, not the slabs, and as we were walking through, there were two dead children, aged about three and six, stabbed to death. Their dad was taken into custody. Some cases were sadder than others."
By 2000, Supt Keogh became a commissioned officer and was transferred to the Gold Coast. "The city certainly had a reputation, but it didn't faze me," he says.
Now after 37 years, Supt Keogh has become Mr Keogh. His first and possibly greatest challenge a policing detox. "My time is up. I'm more than happy to hand over to a new set of eyes, bright up and comers. The laws have changed and the proof will be in the pudding as time progresses. No idea what's next, politics is always on the agenda, but I want to adjust the body clock and just relax for a while."