Surfers Paradise Marriott Resort Celebrates 25 Years of Culinary Excellence
WORDS: PHOTOGRAPHY
Surfers Paradise Marriott Resort is celebrating its 25th Anniversary this year with much to be grateful for in these past few decades. The Resort's longstanding reputation is a testament to the brilliant culinary team that drives the indulgent cuisine experience that the Resort is famous for.
One of the Resort's key points of difference is the extraordinary diversity of the Chefs. Executive Chef Andrew Fraser, elaborates,
"One of our greatest assets is the diversity of our team. Our chefs are proud of their origins and are delighted with having the opportunity to bring some of their home cooking into the Resort's Kitchens. We can source true authentic dishes and mother's classic recipes creating that personal touch."
These cultural influences play beautifully throughout the Resort's three restaurants;
Citrique – Home of the renowned International seafood dining experience and popular buffet breakfast, featuring the signature spanner crab omelette. At Citrique we believe in stimulating the senses and making every visit an occasion. From food to atmosphere to personalisation and conversation, we believe everyone deserves a little of the unexpected.
A seafood lover's dream, Citrique is famous for its opulent selection of ocean treasures including locally-caught ocean fresh prawns, scallops, sweet fleshed bugs, mussels, Tasmanian smoked salmon, plump oysters and crab. For those preferring their food from the land there is a wonderful choice of artisan antipasto, succulent roasts, Asian inspired dishes, wood-fired pizza and European classics. To finish, indulge in a fantasy array of edible desserts and delicacies put together by the talented pastry team.
Misono Japanese Steakhouse – Step inside and live the moment. The highly trained Misono chefs are known as entertainers as well as culinary maestros, creating an unforgettable dining experience every time as they slice, dice and juggle. Embark on the wild culinary show that is fire, tossing prawns and egg towers all whilst the maestros master a range of teppanyaki banquets prepared on the teppan table. If you were taught never to play with your food then perhaps it's time to break the rules. Expected the unexpected…amplified at Misono.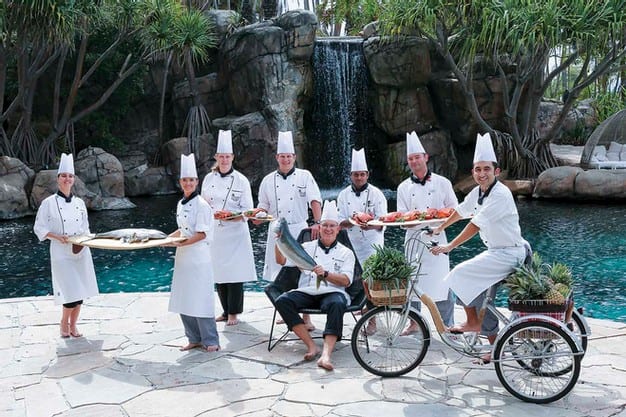 Chapter & Verse bar and lounge – the newest addition to the Resort, offers a relaxing, sophisticated environment where guests can enjoy "Storytime" in the nucleus of the Surfers Paradise Marriott Resort social hub. Arrive early for a freshly ground cappuccino and oven baked croissant or stay around after dark and treat yourself to hand crafted drinks and locally influenced tasters including the crowd-favourite spanner crab cakes with avocado and char-grilled sweet corn salsa.
Cultural diversity and Chef creativity have also largely contribute to the success of the Resort's wedding, conference and events market over the past 25 years. Surfers Paradise Marriott Resort's Chefs work closely with Director of Events, Louise Bradfield, to personally tailor wedding menus and create perfectly appointed catering menus to suit every occasion and dietary need. Cultural Weddings have become a specialty of the Resort with Sous Chef Selvakumar Gopalakrishnan "driving menus like a Ferrari" says Andrew Fraser. Selva has a large contribution to specialty themed events; he says,
"I am from Tamilnadu, which is of the Southern Coast Region of India. My roots in this ancient part of the world have helped me bring really unique flavours and recipes to various cultural events and promotions throughout the Resort."
Working collectively continues to be the key to Surfers Paradise Marriott Resort's culinary success. Food brings guests together and stimulates conversation, and the Resort is fortunate to have a variety of restaurants and unique event spaces where laughter is celebrated, conversation applauded and friendships last a lifetime. Surfers Paradise Marriott Resort is proud to have been part of the celebrations and events throughout the Gold Coast for the past 25 years, providing a destination where food lovers go to indulge, discover and explore in effortless style.
• Book your next special event, wedding or celebration with Surfers Paradise Marriott Resort today. Call 07 5592 9800 or email [email protected]
Chef Uncovered
INTERVIEW WITH EXECUTIVE CHEF Andrew Fraser
How has the culinary experience evolved over the past 25 years? What parts have remained the same and why?
During my 12 years here at the Resort, the culinary experience has certainly evolved from what was once high-detail, fine dining, nouvelle cuisine to now the more rustic, full flavoured, natural presentations allowing the food to talk for itself. We are seeing this in the mighty popular Indian food as well as the return of flavoursome slow cooked meats.
Citrique's seafood buffet remains to be one of the iconic culinary draw cards here at the Resort. We are known for delivering fresh, locally sourced produce and it remains to be the number one focus. If it cannot be sourced locally, it is an easy decision to remove it from the menu.
Local produce is matched with new products on the market to add the flair. This season, a favourite amongst the chefs was micro herbs and samphire, a native succulent. Crunchy in texture, samphire gives a salty fresh burst of flavour which is reminiscent of asparagus. It pairs well with our abundant seafood and is wonderful in salads, pesto and salsa verde or simply as a garnish.
Right now, it's all about sustainable foods. Farmed prawns, barramundi, salmon – people can't get enough. We source a blend of farmed and wild seafood, including wild bugs and wild oysters to maintain the variety of texture and flavour to harmonise our guests' preferences.
If you haven't been to Misono Japanese Steakhouse yet, I couldn't recommend this restaurant enough. However, I may be bias, so we let the people speak the truth. Misono continues to be the #1 Restaurant in Surfers Paradise on TripAdvisor. To hold this title whilst being a restaurant located on the third floor of a hotel without any street signage… Misono has done well! It's still a favourite on the Gold Coast for families, group dining, special occasions and everything in between.
What do you feel sets your culinary experience ahead of the rest?
We have twenty-five nationalities in the kitchen and it's this chef diversity that gives us the ability to create authentic international dishes of the highest caliber and cook them well every time. Surfers Paradise Marriott is renowned for providing that 'home away from home – but better' experience. We believe that 'homely cooking' contributes to the comfort and emotional connection our guests experience during their stay or dining experience. And we are all about making a personal connection.
The kitchen team is always open to guest feedback and conversations on flavours and product satisfaction. It's clear our chefs love what they do– it comes through in the guest comments. Guest satisfaction is primary and when it comes to dietary requirements, these are always met – no request is too big or too small.