Surf contest puts the fun into fundraising
WORDS: Greg Pride PHOTOGRAPHY Supplied
With the border reopened at last to all of NSW and Victoria, the organisers of the second annual Usher Cup charity surfing contest are set to welcome a record field to the southern Gold Coast.
SURFING legend Wayne 'Rabbit' Bartholomew and Gold Coast construction industry identity Theo Vairaktaris are frothing with excitement.
Their 2nd annual charity surfing contest, the Usher Cup, is shaping up to be even bigger and better than the spectacularly successful first edition held in early 2021 at Rainbow Bay. And to say 'Rabs and Theo are pumped' is an understatement.
The pair are oozing enthusiasm when Ocean Road catches up with them at a beachfront cafe on the southern Gold Coast, having spent the morning visiting some of the 10 charities the Usher Cup will benefit this year.
It's a significant step up from the four charities the tournament aided last year to the tune of $60,000. This year, 10 local charities will receive a guaranteed minimum of $10,000 each.
The number of boardriding clubs competing in the unique event has also dramatically increased, from 19 last year to 28 this year. And the prize money has also been ramped up to more than $73,000, with the male and female individual winners pocketing a cool $7000 each and the champion club collecting $5000 to donate to its charity of choice.
The idea for the Usher Cup came about in mid-2020 at the height of the COVID-19 pandemic, after a meeting of minds between former world champion Rabbit and Theo, the big-hearted boss of Arundel-based painting services giant the Usher Group.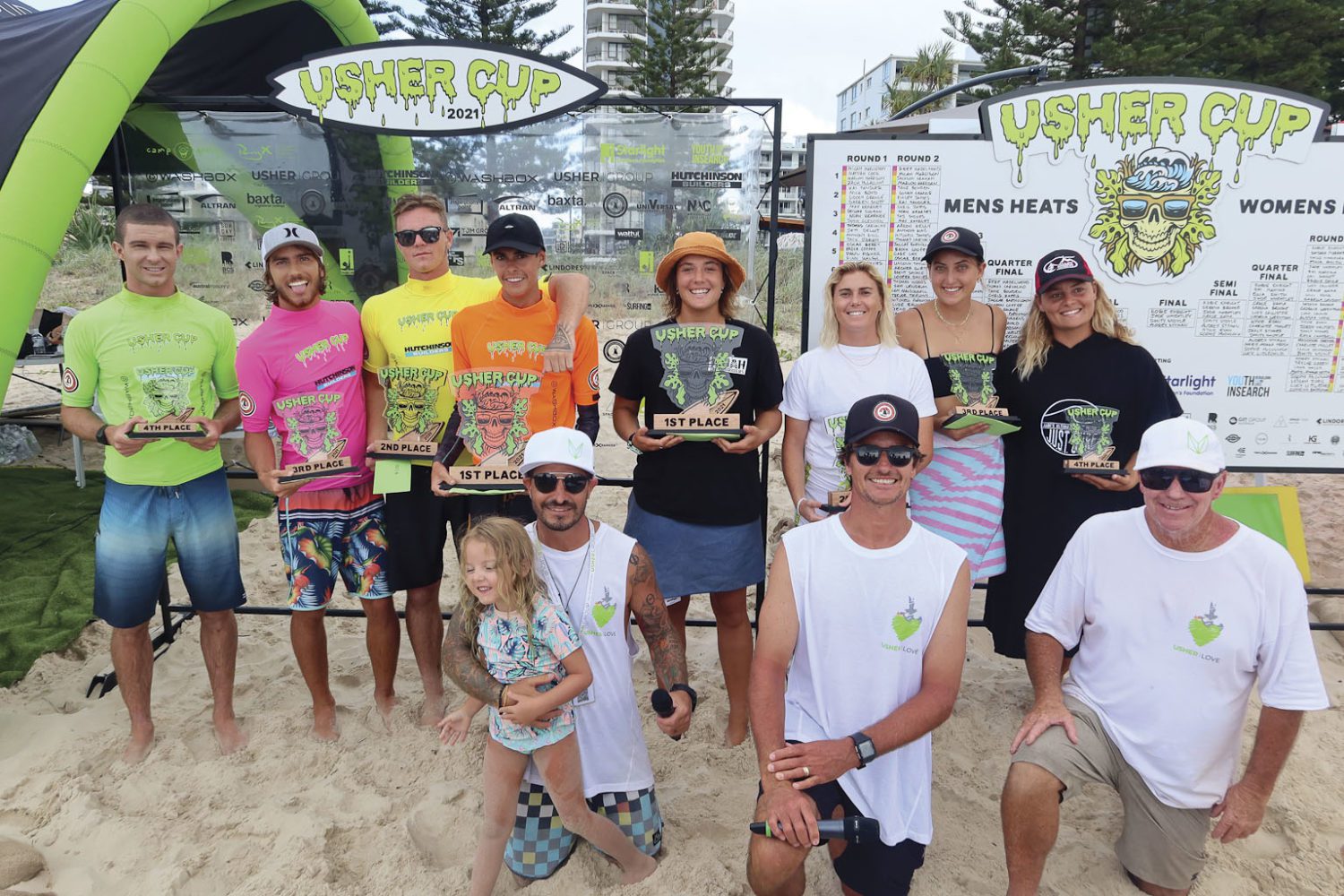 Rabbit, now an elder statesman of the surfing scene, and Theo, a keen surfer who's renowned for his charity work through his Usher Love benevolence arm, were concerned at the impact of the pandemic on the young surfing community.
"Everything was shut down and the kids weren't able to attend their local boardriding clubs because there were no contests," Theo says. "There was no community club support that these kids needed and we were seeing a lot of drug and alcohol abuse. They weren't even training anymore because there was nothing to train towards. We wanted to create something that brings these kids and clubs together and gives them a purpose."
Concurs Rabbit: "People were losing hope. There was no idea how long Covid would last for. We had to do something positive."
What started out as a plan for a 'tiny little event' soon snowballed and the Usher Cup was born. Instead of hitting up the cash-strapped surfing industry for funds, Theo used his extensive contacts in the painting and construction sector to drum up the funds to bankroll the charity component.
"We had $60,000 pledged within two or three hours, which was incredible," he says.
"Rainbow Bay turned it on for the three-day event. It literally produced rainbows. We had three days of epic surf, epic weather and huge community spirit. All the boardriding clubs had tents pitched, barracking for their surfers. We had equal prize money for the men and women, with $5000 each for individual winners. The girls were rapt!"
Rabbit: "As surfing contests go, it didn't really fit into any pigeon-hole – it's a hybrid event that's part charity, part inter-club and part individual. But we still managed to get specialty sanctioning from Surfing Australia."
Angourie Boardriders took out the inaugural Usher Cup in style, with their star surfer Dakota Walters also winning the men's individual event. Audrey Styman-Lane, from Duranbah Boardriders, was a well-deserved women's champ.
This year's Usher Cup will again be held in the Coolangatta area from January 28-30, with venue options including Duranbah, Snapper Rocks, Rainbow Bay and Greenmount – or even Kirra if the surf's pumping! With the border reopened at last to all of NSW and Victoria, organisers have invited the top clubs from both states to compete. They include leading Sydney club North Narrabeen, Newcastle powerhouse Merewether Boardriders and Victoria's Torquay Boardriders. They will join the best clubs from northern NSW and southeast Queensland fielding four-member teams (three males and one female), plus wildcards.
The women will have their own one-day contest, with 48 competitors.
Among last year's competitors were Burleigh's Liam O'Brien and Duranbah's Callum Robson, who both recently qualified for the 2022 World Surf League championship tour.
"It just shows the calibre of surfer the Usher Cup attracts and the pathway it can be for young surfers," Rabbit says. "Many of today's top young competitors are unsponsored because the sponsorship pool has just dried up in Australia, but this is a chance for them to earn some very handy prize money to chase their surfing dreams as Liam and Callum have done."
Theo becomes passionate when he talks about the charities the Usher Cup is helping.
Charities like Arcadia College, which offers innovative education programs for young people who have disengaged from mainstream schooling.
"The stuff they're doing for our local Gold Coast youth is incredible," he says. "They have things like this amazing arts program to help kids find their passion and their purpose to keep them engaged and motivated and stop them from doing all the dumb s..t that can lead them down the wrong path.
"There's the Animal Welfare League, which does things like help homeless and disadvantaged people with veterinary care for their pets. Or Friends With Dignity, which is not only helping victims of domestic violence but also the perpetrators to try and break the cycle by changing abusive behaviours.
"Another of our charities is the Currumbin Wildlife Sanctuary, which is doing incredible stuff with a vaccination program to save koalas from being wiped out by chlamydia. The passion of the people involved in these charities is infectious. It just makes me want to do more and more."