WORDS: PHOTOGRAPHY
A chance encounter in a local shopping centre inspired Support the Girls Australia founder Jane Holmes to empower disenfranchised women one bra at a time.
Jane Holmes has experienced many difficult situations in her life, including personal adversity and traumatic events throughout a 10-year career as a New Zealand Police crisis counsellor. However, nothing compared to being approached by a scared and homeless 13-year-old at a Gold Coast shopping centre.
The 2018 Women in Business award finalist was not only shocked by the hardship experienced by disenfranchised females, but could relate due to her own personal experiences. After discovering the lack of services providing women in crisis with professionally-fitted bras and sanitary products, her charity Support the Girls Australia was born.
"It all started in 2016 when a 13-year-old homeless girl asked me at Australia Fair if I had sanitary products," Jane says.
"I went straight into 'mum' mode. I insisted on buying her lunch, and that is when I heard her story. She had run away from a sexually abusive environment at home — the perpetrator being her stepfather, and her mother was not taking any notice of her pleas for help.
"So she ran away and felt safer on the streets. After buying her lunch and then sanitary items, I asked her to show me where she was living. The young girl then took me to her home under the Sundale Bridge, and that is where I met her friend, Lilly, who had severe ganglion wounds from not wearing a bra.
"Having worked as a crisis counsellor with the New Zealand Police, I should not have been shocked, but it honestly was horrendous. The other lady with them had no bras either.
"Living in a tropical climate, their health concerns really concerned me. I tried to find support services to help these women, but there were none.
"That was the birth of Support the Girls: a charity supplying women in crisis with bras and sanitary products. I started off the Facebook page and gave myself a year. I followed my heart and walked away from my career to focus on putting my complete soul into it.
"The response was mind-boggling. When you talked to people, the same old thing is always said: 'I never thought of anyone not having a bra'."
Founded in 2016, Support the Girls Australia encourages self-esteem and wellbeing in disenfranchised women by providing pampering services, lingerie, and toiletry care packs at events held on the Gold Coast, Hornsby, Sutherland Shire, and Marrickville.
The charity has been built from a place of understanding. Jane knows first-hand how easily life can change.
After her husband took his life in 2005, Jane was left as a single mum with three children. She has experienced the stress and hardship caused by loss of income due to serious medical issues and to this day still lives with PTSD after multiple life-changing events.
However, all of the challenges she has faced have ignited a passion to give back.
"I have gone through a lot in the past 15 years," Jane says. "I want to give back because I have been there, and I am still in that boat. It has not been easy, but if I can help women to have the same self-belief, then I have done my job. I want to help women find their purpose."
Helping women from all walks of life to find their self-confidence and purpose is a top priority for the Southport-based charity.
"It shouldn't be, but it is a luxury to own a bra, sanitary items, and clean underwear," Jane says.
"The average Australian woman has a drawer full of bras and access to tampons at that time of the month, but for women in crisis it is out of reach. Women are not wearing bras, [they are] wearing their underwear three days in a row, and using rags or paper towel as pads and tampons.
"This is not just happening to women living on the streets — it is a bigger issue than you think. Hygiene gives a woman confidence and a sense of dignity.
"Support the Girls Australia hopes to break down the stigma surrounding homelessness, to allow women to feel confident and healthy, and provide solutions to help women rebuild their lives."
Bra Gifting Days held each month in Sydney and the Gold Coast are "where the magic happens", Jane says.
The Bra Gifting Days welcome 100 women from the community to be professionally fitted and supplied with bras, receive new underwear, a toiletry care pack, a free haircut, and other pampering services.
BreastScreen Queensland and NSW BreastScreen have collaborated with the non-for-profit charity allowing women in crisis to book their free mammograms.
In Jane's eyes, the most important aspect of these events is the opportunity to connect with women.
"It is so much more than giving women bras; it is about connecting with women and empowering them to find their self-worth and purpose," she says.
"Mentoring women to find self-confidence and motivation helps lead them back to independence and taking a valuable place in the community. The Bra Gifting Days are a great opportunity to bring women together in one space where they are welcome and where they feel valued, feel comfortable, and can trust people.
"When we talk to these women, we can start to help, empower, and mentor them. We can connect them with relevant services to help re-establish their lives."
One such recipient of transformative support is Kathy, 43, who sought refuge on the streets after struggling to cope at home surrounded by the memories of her children who were no longer in her care. Kathy says the gift of hygiene products and one-on-one mentoring helped turn her life around.
"When I met Jane, I was living in my ute and at the point of suicide," Kathy tells ORM.
"I had no shoes, no bra, and no direction. You don't realise, but a bra does uplift you, literally.
"However, it is more than a bra — it is about connection, love, and support. Jane gave me the tools and confidence to find employment and my self-worth. I am now a baker and own a home in Tasmania. I call Jane my friend. She is my angel."
Support the Girls Australia volunteer Diane Groweg says Jane's loving nature transforms the lives of women every day.
"To me, she is just Jane — what you see is what you get," she says. "She is a genuine person who has gone through so much herself, but still puts others first. Jane treats each and every person like her friend, and that is special."
Bra fairy Di has been with Support the Girls from the beginning. Her dedication and passion to help women in crisis is infectious. Jane says that she "would not be where she is today without her wingman extraordinaire".
According to the 2016 ABS Census of Housing and Population, 280,000 Australian women do not have secure housing. Jane says homelessness is a complex issue, and the community needs to understand what it really is.
"The most important thing is to remember that these women are human beings and their circumstances of their homelessness are so varied," she says.
"As a community, we need to come together, we need to stop the judgement, and we need to stop stigmatising people. The drug-addicted and alcohol-fuelled image that is portrayed in the media is far from the truth.
"It could be you or your mother, sister, grandmother, or daughter. No one is immune. The biggest reason women are homeless is due to domestic violence and elderly women who do not have superannuation and cannot afford rent or basics like a bra and incontinence products.
"Furthermore, as we know, women tend to put themselves last, so we also see mothers seeking our services who cannot afford bras and hygiene products after paying for rent, food, and looking after their children. Women should not have to choose between food and hygiene."
Last year, Support the Girls Australia spread beyond the confines of the Gold Coast and Sydney, with Jane and her bra fairies travelling to farming communities in regional Queensland to support and empower women and their families who are doing it tough.
"Farming women have a very different mindset to city women," she says.
"We know when we give a farming woman money, she is going to spend it on her kids and husband. We needed tangible products. We took family care packs, sanitary products, and a selection of bras out to St George in collaboration with the Likeminded Painters Australia Hay Bale Run. The response was amazing, and this is something we want to continue."
Extending the reach and impact of Support the Girls is Jane's ultimate goal for the charity. Thanks to the Dignity Fund, Support the Girls Australia now has a van that will act as an outreach program supporting women and girls on the street throughout Australia. They are hoping to supply women with on-the-spot fittings, face-to-face support, and connections to local support services.
The Australian community is getting behind the initiative. BrasNThings collaborated with the charity asking the community to donate unwanted bras in return for a discount in-store. Along with other donated products, the lingerie company donated more than 4000 bras. Gold Coast artist Tracie Eaton and Jamberoo Soy Candles have also jumped onboard donating proceeds from products sold.
However, Jane says to continue their work they desperately need financial support to reach more women.
"We just want to survive and continue to branch out to outer areas, and financial help is critical," she says.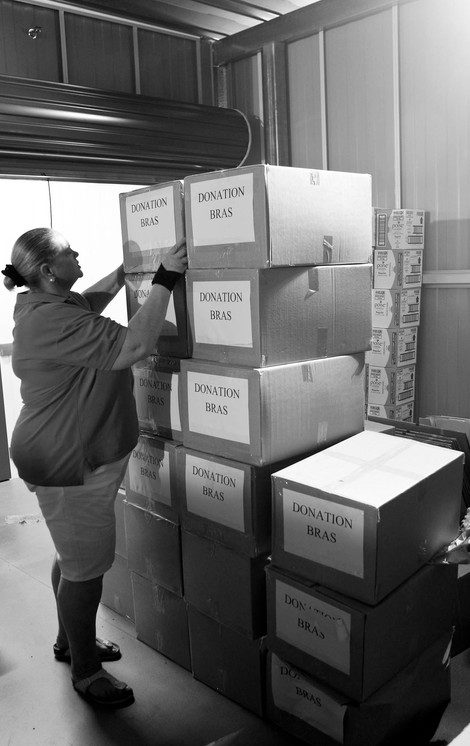 "In 2019, we need to continue to help women empower themselves. What we really need is prevention — to support women and help them prior to becoming homeless.
"We also need to connect women and girls with services, build up their own self-esteem, and give them the skills to rebuild their lives and get them back in the community. 2019 is going to be an incredible year."
If you ever have the privilege of meeting Jane Holmes and Diane Groweg, you will understand the love and passion behind the home-grown charity.
Jane and Di are trailblazers for all Australian women. For Jane, it comes down to "if you see a need, act on it", saying if she can do it, anyone can.
How to Support the Girls
If you want to help, you can donate bras or even become a Bra Fairy — head to www.supportthegirls.com.au for more information.
To make a tax-deductable donation:
Support the Girls Australia Ltd
Bendigo Bank
BSB: 633 000
Account Number: 159 130 467