STRENGTHEN YOUR CORE AS WE GET TO THE CORE OF MENTAL HEALTH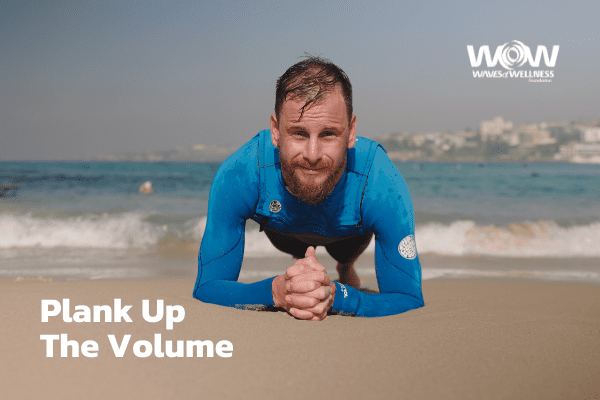 WORDS: Lauren Della Marta PHOTOGRAPHY Supplied
This April 1-9, Waves of Wellness Foundation (WOW) is challenging you to make noise about mental health by planking for nine minutes each day, representing the nine lives lost to suicide each day in Australia.
The annual plank challenge, 'Plank Up The Volume', will kick off this year on the first of April and raise funds for WOW's mental health programs. For nine consecutive days, participants will plank for nine minutes (throughout each day) to represent the nine lives that are taken by suicide daily.
The plank challenge is about holding space for mental health and encouraging transparent conversations.
Suicide is the leading cause of death among people between the ages of 15 and 44 (Australian Bureau of Statistics, 2021), and for each life lost to suicide, the impacts are felt by up to 135 people including family members, work colleagues, friends, and first responders (Lifeline).
"A plank challenge is fitting as planking is something we refer to when learning to surf. We use our core stability when planking to protect the spine, and this challenge is a reminder that we also need to work on our mental fitness to protect the mind," says CEO Joel Pilgrim.
Plank Up the Volume is an accessible challenge for people of all ages in all locations.
For more information and to sign up, visit https://plank-up-the-volume-2022.raisely.com/ and make sure you follow our socials for updates.
About Waves of Wellness (WOW) Foundation
Waves of Wellness (WOW) Foundation is Australia's leading mental health surf therapy charity, committed to transforming lives by delivering for-purpose, innovative support programs for people experiencing mental health challenges. WOW delivers free clinical-based group programs on the beach with a learn-to-surf component.
Since starting in 2016, WOW has saved lives and helped over 2,100 people across NSW, VIC, QLD and WA.
Waves of Wellness Foundation Ltd.
320 Pitt Street, Sydney, NSW 2000
[email protected]
foundationwow.org
@foundationwow