WORDS: PHOTOGRAPHY
Since opening in May, the new Cooking Inspiration Gallery at Harvey Norman Bundall has been busily inspiring locals and ensuring culinary flair continues to flourish in homes on the Gold Coast.
The impressive gallery showcases the very best in cooking technology and you'll find a range of famous faces welcoming you too; from Masterchef favourites Gary Mehigan and Shannon Bennett, to the outstanding Sydney renowned Neil Perry.
For over twenty-five years, owner Steve Cavalier has steered the team at Harvey Norman Bundall and led the store to becoming the number one store in Australia.
Appliances span from readily achievable to the luxurious with prices ranging from $369 cooktop to an oven that sells for $15,000.
Chef 1
NEIL PERRY KITCHEN by OMEGA
In the prestige concept corner, Neil Perry's designs wow. One of Australia's leading and most influential chefs; he's possibly best known for his amazing Sydney restaurant, Rockpool and heading the Qantas Airways menus. He owns seven restaurants, has written eight cookbooks and won a huge list of award both here in Australia and overseas.
This outstanding professional chef has personally designed everything in his range and was given a blank canvas to use his knowledge and experience to create a range that he knew was entirely functional.
The Neil Perry Kitchen brings the power, performance and control of the commercial kitchen to domestic cooking appliances. Ovens, cooktops and range-hoods are designed for those looking for precise control in their home kitchen.
This is a foodie's heaven; brass burners that will never clog, large trivets are locked into cooktops ensuring they don't move and you can slide your pans the entire way across the top. Large control knobs are covered in rubber so if your fingers are greasy, they won't slip. Ovens reach full heat in 4 minutes and have different controls for the top, bottom and back. If you're cooking crackling, you have control over the top. If you're baking a cake, you can ensure you are creating perfection and not burning the top. Incredible!
Chef 2
GARY MEHIGAN FOR ARISTON
Gary Mehigan is best known for inspiring talented chefs as one of the judges on MasterChef Australia, the show that's captured imaginations and created futures. Away from the TV, he's been running successful restaurants for over 30 years.
Ariston is the appliance of choice in the Materchef kitchen and Gary also has it in his own home. He installed Ariston appliances in his first cooking school 'Fenix', the relationship blossomed and is now in its 6th year.
"When you find something you love and trust, stick with it. I trust Ariston," says Gary.
Ariston appliances are Italy's no. 1 brand and exclusive to Harvey Norman, Australia wide.
Chef 3
SHANNON BENNETT FOR MIELE
Shannon Bennett's Avant-garde style is summed up by the theatrical dining
experience at his much-lauded Vue de monde restaurant, spectacularly
located on the 55th floor of Melbourne's iconic Rialto building. Vue de monde has been awarded an unprecedented 19/20 from The Age Good Food Guide and has repeatedly been named Australian Restaurant of the Year.
Having worked under Marco Pierre White, Miele Brand Ambassador Shannon
was awarded 'Best New Talent' by Australian Gourmet Traveller in 2003. Given his belief that a great meal is best achieved with excellent ingredients and quality equipment, his synergy with Miele is a natural one.
In his role as ambassador, Shannon has trained a team of Miele Culinary Experts, inspiring them with his cooking techniques, recipe suggestions and passion for quality. When you attend an appliance demonstration, a Miele Home Economist will in turn pass this knowledge and expertise onto you.
Shannon has also created a collection of delicious recipes to complement the features of Miele appliances. Access them exclusively through Miele a la carte and recipes.miele.com.au
RANGE HOODS
Australians love open spaces and entertaining. We're so fortunate with good weather, we like to invite friends round and enjoy long, warm evenings in the comfort of our own homes. To really enjoy home entertaining, it's essential to have a well-ventilated kitchen without the distraction of unpleasant noise. Range hoods prices can vary from $99 to thousands of dollars, with the premium range providing some very unique benefits.
You'll find three premium range hood brands at Harvey Norman Bundall:
SIRIUS
Established in 1996, Sirius has spent the last two decades developing and refining top-end exhaust solutions. The company has raised the bar and taken products one-step further with its new down draft system. The impressive system has combined a touch control induction cook top with a telescopic downdraft range hood that hides away when it is not in use. The downdraft has four different speeds and has an LED lighting strip that provides lighting while you are cooking on the cook top. This system is manufactured in Italy so you know you are getting a quality product.
http://siriusbrand.com/
SCHWEIGEN
The Schweigen Paradigma range hood is designed to be hidden from plain sight. The Paradigma is installed in the ceiling above an island cooking space so there is nothing to block of the view in an open planned house. The Paradigma has built in lighting that can be used when the range hood is not on so it is aesthetically pleasing as well as fulfilling its first role as a ventilation system.
http://www.schweigen.com.au/products/rangehoods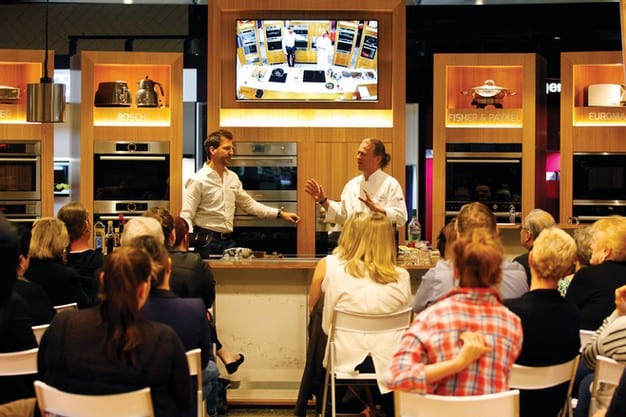 QASAIR
Qasair have been manufacturing premium quality range hoods out of Melbourne for the last 40 years. With German designed motors Qasair range hoods can move a whopping 900m3/hr of air. If that is not enough, some range hoods have the option of having two motors all the while being one of the quietest range hoods on the market. If traditional style is not what you are after Qasair can custom design a range hood for your individual home to give that unique feeling to any kitchen.
http://www.condari.com.au/indoor-living/qasair-rangehoods/
If you're looking for inspiration, the dedicated team at Harvey Norman are regularly trained and can answer your questions. Ask in store for more information about pre and post cooking demos on specific brands.
Harvey Norman Cooking Inspiration Gallery, 29-45 Ashmore Road, Bundall. Tel: 7 5584 3111. http://www.harveynorman.com.au