Spotlight on Paul Dellit O.A.M. Producer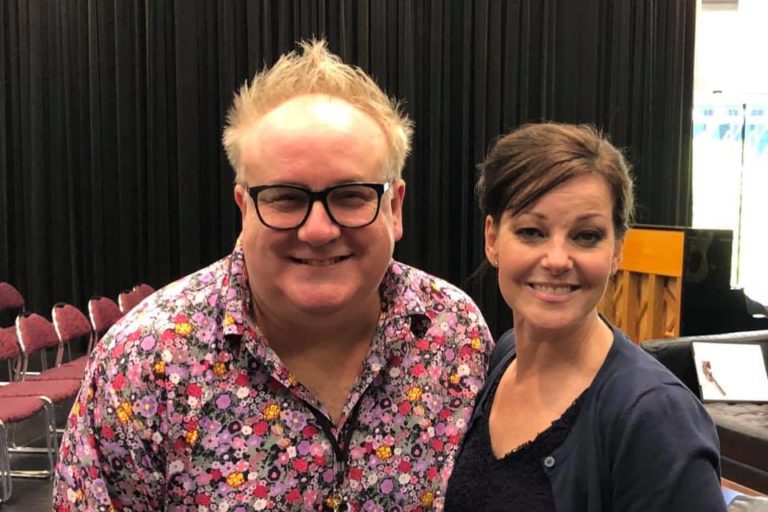 WORDS: PHOTOGRAPHY
Our spotlight is with Paul Dellit  who has to be one of the hardest workers in Queensland Arts as well as to being a true pro in the sense of the word. His dedication and care to all who work in the industry of entertainment and as to achievements are many and continue to build.
Being part of Qpac as their producer since 2009, to being the mover and shaker in many other productions and arts festival,  and to all the amazing work he has helped with serving  Actors' & Entertainers' Benevolent Fund (Qld) Inc. for almost 30 years – for the last 16 years as President. Paul is an inspiration and we delighted to have him in our spotlight.
1. Where were you born and raised and what are your fondest memories growing up ?
Although I was born on the Gold Coast I grew up at the beachside city of Redcliffe just north of Brisbane. As kids we spent a lot of time swimming at the beach, fishing from the jetty and playing along the banks of Humpybong Creek. I loved that part of my childhood. Life was so much simpler back then. Such happy memories. My Grandfather also built and ran the Redcliffe Squash Courts, which was one of the first set of Squash Courts built in Queensland and when he retired my parents took over running them. So we lived in the house in front of the squash courts.
2. What was the first job and pay you ever had and what age were you ?
After 8 years of piano lessons I had my first professional job at the age of 16 playing a bright enamel red upright piano in a Chinese Restaurant that was part of a pub owned by football legend Artie Beetson. Those were the days when everyone was allowed to smoke in restaurants and I used to come home stinking of stale cigarette smoke. I owned a collection of brightly coloured shirts that had a print of a piano keyboard across the back. I also thought I wanted to be a Chef and for a while had a trial job as a kitchen hand in the once famous Brisbane restaurant Scaramouche, run by the infamous Brisbane restauranteur Peta Hackworth. It was located in an old church in Turbot Street and just about every famous entertainer or rock band that visited Brisbane dined there. It was the place to go and be seen.
3. When did you know you wanted to be creative how did it all began?
I went to see a community theatre production of the Rodgers & Hammerstein musical 'Oklahoma!', and when I came home I played the melody line of the song "Oh What a Beautiful Mornin'" by ear on an upright piano we had in the lounge room. My parents then sent me off to have proper piano lessons. I also grew up watching the Kings of Australian late night television – Graham Kennedy, Don Lane, Mike Walsh, Jimmy Hannan and the legendary Bert Newton who used to compere the TV Week Logie Awards. He was the master of the clever quip and quick adlib. I learnt so much from his impeccable comic timing and his ability to read an audience. So when I left secondary school I knew I just had to pursue a career in the arts and entertainment. So after graduating as actor from QUT my professional career began.
4. Who have been your main mentors or influencers over your life so far?
Both of my parents have been a major influence on me, providing me with so many great opportunities in life including access to a well-rounded education and the opportunity to travel overseas at a young age. These opportunities helped shaped the person I am now. In my career the late Tony Gould (Founding Director of QPAC and Artistic Director of the first five Brisbane Festivals) was a huge mentor to me in my career as a producer. His vast knowledge of the performing arts and his industry experience was something that he was always willing to share with me. Tony is someone I greatly respected and admired and I managed to learn a great deal from him. Tony offered up so many insights and advice which I will continue to carry with me for the rest of my career.
5. With all the different managing roles you've had in major companies in Queensland is there anything you would change or do different looking back?
During my career I have been very lucky to work with some of Queensland's leading arts  companies, including my current position as a Producer at QPAC, a role I've been lucky enough to work in for the past ten years. Two other roles that stand out are working as a Producer on several Brisbane Festivals and setting up and managing the QUT Gardens Theatre in 1999, which I hear may be headed for demolition at the end of 2020. Managing the QUT Gardens Theatre was something I enjoyed very much, but at that time there wasn't any budget for arts programming, it was really just a venue for hire and for the acting and dance students from QUT Creative Industries to perform their major productions in. I would have liked to have had the budget to schedule an annual arts program. Although there were several major arts companies that hired the venue during my time including Queensland Theatre, Queensland Ballet, Brisbane Festival and Harvest Rain Theatre Company.
6. You been a driving force for Actors' & Entertainers' Benevolent Fund QLD that you became involved with 30 years ago and have been the President of for 16 years, can you tell us more about what this means to you and to the industry and how is it coping at the moment with Corona Virus ?
I can't begin to describe how passionate I am about the Fund and my commitment to its principles. The late Alan Edwards (founding Artistic Director of Queensland Theatre) invited me to join the management committee of the Fund in 1990, which he had helped to establish in 1975. The volunteer committee was made up of likeminded industry professionals who all had a passion for the industry and especially for the performers who worked in it. As a young actor I felt honoured that he had asked me to join such an important industry organisation – and I've been proud to be involved ever since. When the Corona Virus descended upon us, the Fund made a conscious decision to start a special COVID-19 fundraising campaign, because we realised early on that we would inundated with more requests than our cash reserves could cope with. The arts and entertainment industry has been decimated by the cancellation of all live performances, and requests for assistance from the Fund have increased tenfold. At this stage due to the generosity of many we've managed to raise approximately and additional $150,000. Every cent raised will go directly to assisting those affected by lost job opportunities.
7. As a producer over your years you have met and worked with some of the best and am sure not without drama, can you share if you had highs and challenging times that come with the role?
I have been extremely luck to work with some of the best and most talented performers in the arts and entertainment industry. These have included a mix of local, national and international artists. Whilst I'm not prepared to name names, there have been several "divas" (both female and male) that I have worked with over the years. But if they deliver the goods and give the audience a great show, you can usually forgive them. But that doesn't necessarily mean I would want to work with them ever again. When I was an actor and was self-employed, there were many times I was exploited by some unscrupulous people in the industry. Recently I added up all of the money I was owed, but never paid, and I estimated it came to about $100,000 – which came as a shock to me. I guess if you amortise it over a 35 year career you don't tend to notice it. But that has been one of the disappointing things about this business.
8. How have you coped with Corona Virus and what have you been doing while in lock down?
As a self-confirmed workaholic I have always been used to working long hours, whether it be self-employed or for an organisation such as QPAC, so my home has always been the place where I have been able to escape to and relax. However, having to work from home at the moment has presented quite a few challenges. It has become my QPAC office and the hub of the Actor's & Entertainers' Benevolent Fund fundraising activities, so the ability to switch off is really challenging. The whole self-isolation thing has been difficult. On average I usually attend at least three live productions a week, but of course that hasn't been happening, so thank goodness I managed to get the NBN and Netflix just in time. As someone living with bipolar disorder my mental health has also taken a bit of a battering, but luckily there have been plenty of opportunities for me to get out and work in my garden. Great for exercise and great for clearing the mind.
9. What is your truth and how would you best sum up life to pass on your advice to our generation now.
Work hard and pay attention to the detail; always be prepared to give back; don't be afraid to ask for advice; never feel embarrassed that you made a mistake; share your knowledge and experience; and never say no to a job, until you're too busy to say yes. These are all things I continue to live by every day.
10. Achievements so far are outstanding and you received an OAM in 2017 which is so well deserved, what was the feeling for you when you got the award,  and when you look back to all you have done what stands out for you mainly in all you have created and helped with the industry?
When I heard that I had been nominated for an Order of Australia Medal as part of the Queen's Birthday Honours I felt completely overwhelmed. Then I had to keep it a secret until it was officially announced by Government House in June 2017. The presentation then took place at Government House in Brisbane. The most exciting part about receiving the medal was the opportunity to take my mother to the ceremony at Government House. The medal was for services to the performing arts in Queensland which I have been part of for more than 35 years. During this time I have been lucky enough to be employed professionally as an actor, musician, composer, director, musical director, agent and producer. But apart from merely working in the industry I have also been very active in delivering quite a number of major industry fundraising events for Oz Showbiz Cares/Equity Fights AIDS and the Actors' & Entertainers' Benevolent Fund of Queensland; serving on several industry boards and committees; and arranging numerous public memorials for major arts industry figures.
11. What are three of your favourite things and 3 not so favourite?
There are many things that I can call my favourite things but I can cull them all down to the following: the ability to continue working in the arts and entertainment industry; generous people; and my friends and family. However my three not so favourite things are all fairly closely related and they would be in no particular order: bullies; selfish people; and thieves.
12. Share one of the best lines you have ever heard in theatre in your time so far?
You hear quite a few great lines working in the theatre, some of which I couldn't possibly repeat here because I would hate to identify the people who've said them. But one of my all time favourite stories, which isn't my own, was the time there was a major charity concert being produced and televised from Brisbane, and one of the high profile leading ladies brought the wrong shoes with her for the show. So she went into an absolute panic, saying she had to have them; she simply and couldn't go on without them; she didn't want the audience looking at the shoes she had brought. That's when another high profile leading lady piped up and said: "Darling. If the audience are looking at your shoes, you're doing it all wrong". I love that line. It always makes me laugh.
13. What is on your Bucket List?
There are many things in my life that I have been fortunate enough to cross off my proverbial bucket list. I've been able to meet some of my entertainment heroes and then work with many others. However, if I had to choose a couple of dreams still yet to be achieved, I would still like to host my own talk-back radio show on a commercial radio network. Then there is also my desire to work in New York on Broadway productions in some capacity as a producer. But one of my dreams is for the Actors' & Entertainers' Benevolent Fund of Queensland to be able to raise the funds required to build and operate a retirement home for performers. A place where they could live out their autumn years in comfort and be repaid for all of the joy and pleasure they've given audiences over the years.
Brought to you by Hush Hush Biz Online Entertainment & Magazine