Spicers private Blue Mountains Retreat, Sangoma, opens restaurant AMARA dining to visitors.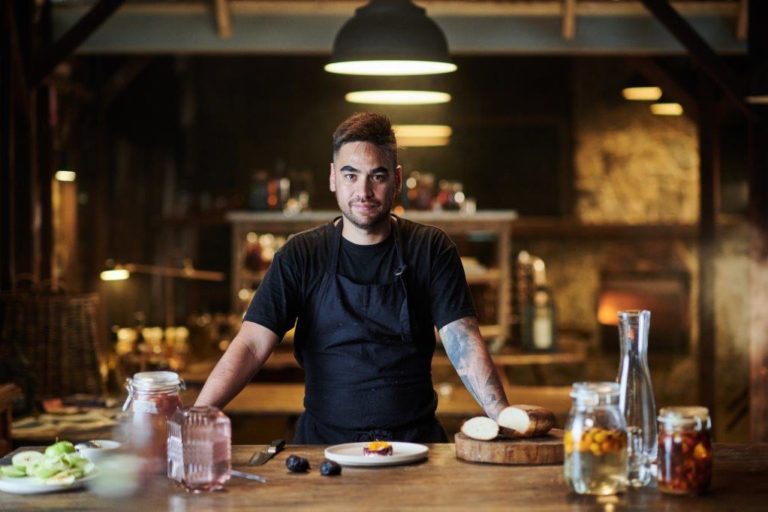 WORDS: Elaine Millar PHOTOGRAPHY Supplied - Spicers Retreats
From Friday 5 March, Amara Restaurant at Spicers Sangoma Retreat, in the foothills of the Blue Mountains, will be taking bookings from guests who simply wish to dine – to experience the intimate, personalised degustation dinners and lunches by head chef Will Houia.  No longer is there a need to stay inhouse to indulge in Will's culinary expertise, impeccable creativity and signature emphasis on locally sourced produce.
As the Zulu word for 'grace', Amara puts diners at the centre of an ecosystem of local producers and sustainable on-site practices, which together serve up an incredible elegant and graceful dining experience in harmony with nature and the alluring bushland surrounds.
Every day the Amara Restaurant team creates a dinner degustation menu of seven courses, and for lunches on Friday to Sunday – a five course degustation all based on the freshest organic and seasonal meat, cheese and hero produce available within 100km (or one-hour drive) of Sangoma, among the historic and highly fertile Hawkesbury region. Affectionately called the 'Harvest Menu', the shared lunch concept, offered on Monday to Thursday, focuses on one succulent protein and four of the freshest organic vegetables, mostly sourced from local friends at Harvest Farms, followed by an irresistible dessert.
Houia's food philosophy embodies a simple, ultimately natural approach to cooking, preferring traditional cooking techniques with charcoal and fire over gas and electricity, and the use of controlled dehydration to prepare fruit and veggies, as well as indigenous ingredients to add subtle layers of flavour.
Ready for your arrival
Spicers Sangoma Retreat lives up to its name – a Zulu word for 'healer'. Whether you're a guest or visitor, the tranquil location nestled in the Blue Mountains with views over Sydney makes a visit to Amara the centrepiece of an unforgettable journey.
Just over an hour's drive from Sydney, Sangoma Retreat has been ECO certified by Ecotourism Australia since 2016 for their sustainable practices and high-quality, nature-based tourism experiences, including rainforest hikes and canyoning for the perfect city escape.
Discrete, private entry to the gated Sangoma Retreat and intimate Amara Restaurant is by appointment only to guarantee a spacious, unrushed atmosphere that's in tune with your needs. Each reservation of visitors is greeted by their host, Ty or John, and are ushered to the top lounge for welcome drinks. When ready, guests are then seated at their table in Amara for a unique culinary experience looking out over Sydney framed by the Blue Mountains.
Freshness and harmony in all things
Head chef Will Houia was part of the team at one of Queensland's most awarded restaurants, Homage at Spicers Hidden Vale under executive chef Ash Martin. It was Homage, where most of the menu is locally sourced or grown on the property, that amplified the young chef's passion for farm-to-table fine dining.
"We have built incredible relationships with our local suppliers," said Houia, "and work together to deliver the finest produce the region can provide and bring out it's best in the kitchen. We're very lucky that Spicers has so much support for standards we set in Amara."
Amara sources as much of its produce as possible from Harvest Farms, a community supported agriculture (CSA) project that supplies local restaurants and fruit and veg boxes for the public, from two organic farms in the Hawkesbury: the Bilpin farm for delicious veggies and Mt Tomah farm for berries, figs and nuts.
Amara's meat and seafood include ethically grown Melanda Park Pork and beef and poultry from Wilberforce Meat Co., and they support the GoodFish project to only serve seafood from sustainable fisheries.
All of the fresh produce for Houia's Heirloom Tomato, Basil, Cucumber Granita, Chamomile dish are source from the organic Harvest Farm, and expect to be tempted by the Squid Over Coals, Turnip, Chicken Broth or the Braised Lamb Shoulder, Butter Beans, Broccoli, followed by, of course, desserts the likes of Smoked Ice Cream, Praline, Raspberry, Dulce, Milk Skins.
Spicers Sangoma Retreat has its own in-house Green Team to ensure nothing is wasted and one-use products are avoided. The main structure sports solar panels and rainwater tanks, and an in-house compost machine supplies a local farm with high-grade, ready to use compost in exchange for fresh seasonal fruit and veg. They even keep European honeybee hives on the property, tended to by team member Kate, a qualified beekeeper, who supplies the kitchen with honeycomb.
Showcasing nature's bounty
Will Houia has honed a fierce respect for local, organic and sustainable produce through a 14-year career that has led him into some of the best kitchens in Australia, New Zealand and Europe.
Kiwi-born Houia was classically trained in Auckland before arriving in Australia and joining executive chef Ash Martin at Queensland's hatted Homage restaurant at Spicers Hidden Vale, where he was named as a finalist in the prestigious Josephine Pignolet Young Chef of the Year Award.
After three years at Homage, Houia joined Christian Puglisi's acclaimed Relæ in Copenhagen, a Michelin-starred restaurant that has featured on multiple top 100 in the world lists; and Magnus Nilsson of Fäviken, Sweden (now closed) has been an inspiration to Will, as is Ben Shewry from Attica.
From Denmark, Will ventured back to New Zealand and worked at the progressive and plant-centric three-hatted Roots Restaurant, Lyttleton, under Giulio Sturla and also with Ed Verner at Auckland's tiny and inventive Pasture, another of New Zealand's three-hat set.
A peaceful, intimate escape
Spicers Sangoma Retreat puts you centre stage in a tranquil nest of natural luxury, with six suites of four different types, each wrapped in its own unique character and comfort.
Perfect for small, intimate events for business or pleasure, Sangoma's luxury is unfussy and in touch with the beauty of nature. Guests can seek peace in the pool, sauna and spa with a range of unique, Australian bush-inspired treatments.
Special arrangements are taken care of: Champagne, flowers, directions to scenic picnic locations and spectacular drives. Experiences at Spicers Sangoma Retreat take full advantage of the nearby national parks, offering a range of packages including outdoor adventures like abseiling and rock climbing, as well as relaxing rain forest walks, yoga, meditation and painting, and indulgent gourmet food and wine experiences.
Sangoma offer all-inclusive packages for a minimum two-night stay, with all exquisite dining and beverages, and a premium mini-bar replenished daily. Guests and visitors can enjoy a flight of wines paired with each course, or peruse the wine list, which features a well-planned balance between prestige and more innovative labels that's always evolving with new selections, organic and limited releases to keep it interesting.
ESSENTIAL DETAILS
Restaurant Amara, Spicers Sangoma Retreat,
WHERE                 70 Grandview Lane, Bowen Mountain NSW 2753
WHEN                   In-house guests – 7 days
Breakfast, Harvest Menu Lunch Mon-Thurs & 5 Course Lunch Fri-Sun, 7 Course Dinner
WHEN                  Amara dining only guests – an intimate fine-dining experience by appointment
Dinner – 7 course degustation. 7 days 6pm-9pm $125pp
Lunch – 5 course degustation. Friday to Sunday 12.30pm-2.00pm $105pp
Lunch – Harvest Menu. Monday to Thursday 12.30pm-2.00pm $85pp
DIETARIES             Please advise any dietaries at the time of booking.
RESERVATIONS    [email protected] | P 1300 352 190
AMARA                https://spicersretreats.com/restaurants/sangoma-retreat/
SANGOMA          https://spicersretreats.com/retreats/spicers-sangoma-retreat/
ROOMS                https://spicersretreats.com/retreats/spicers-sangoma-retreat/rooms/
OFFERS                 https://spicersretreats.com/retreats/spicers-sangoma-retreat/current-offers/
EXPERIENCES       https://spicersretreats.com/retreats/spicers-sangoma-retreat/experiences/