WORDS: PHOTOGRAPHY
After 30 years on the Gold Coast, Newnham Constructions has left its creative stamp on projects all over the region, crafting a legacy of quality and excellence from renovations to commercial housing developments. ORM met with the founder and family to find out more.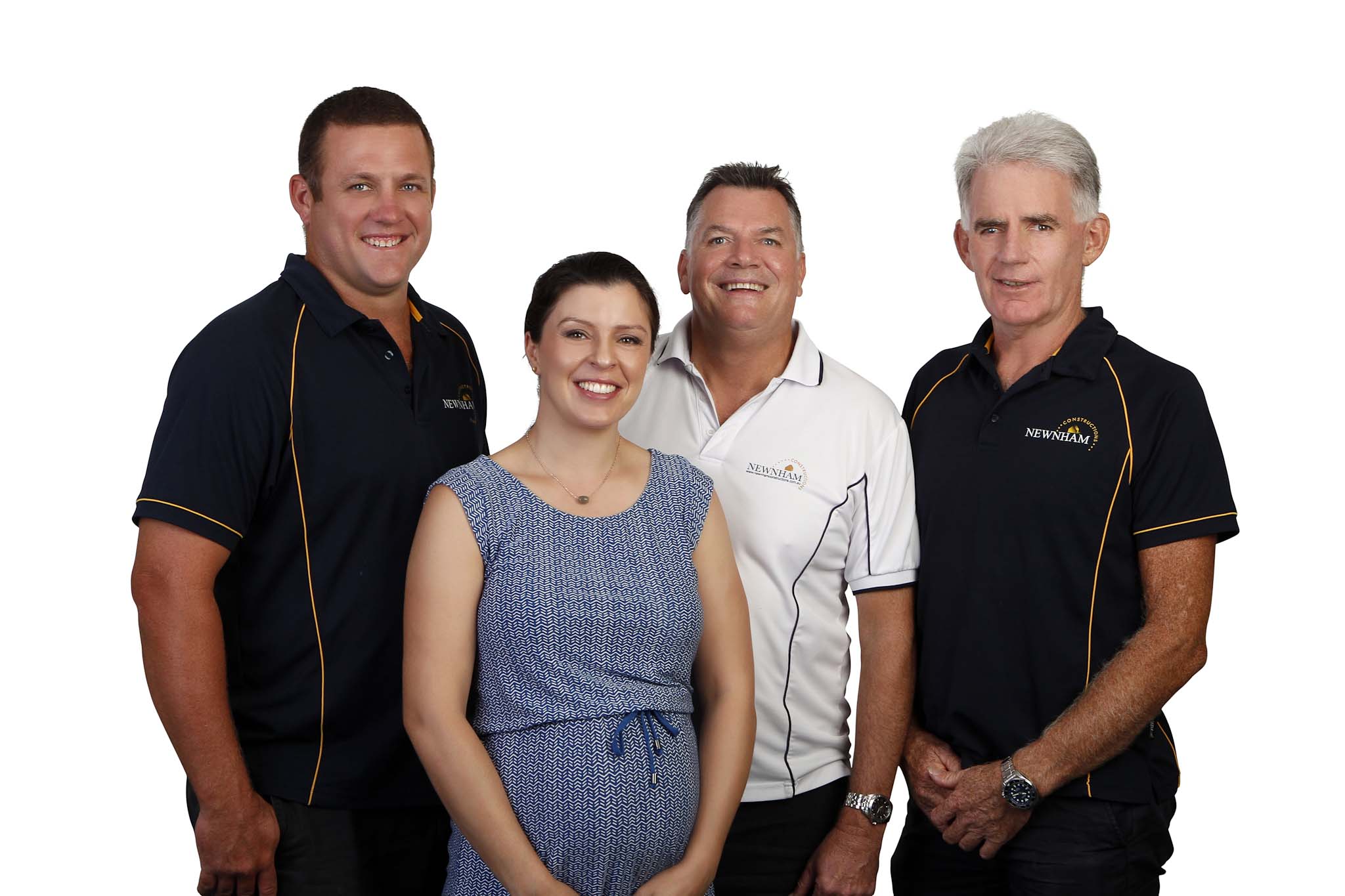 There's often a feeling of Zen about a home that has been built or renovated to perfection. The minute you walk through the door, you're struck with a sense of awe: superb workmanship, quality finishes and a design that flows seamlessly, creating a flawless image that makes a living space seem just right.
These are the characteristics that have become synonymous with homes by award-winning Gold Coast building company Newnham Constructions. After more than 30 years on the Coast, the firm has produced a legacy of quality constructions – from exclusive build and renovation projects at Hope Island, Sanctuary Cove, Sovereign Islands and Brookwater Estate – to commercial housing developments at Mudgeeraba, Coomera and Southport.
In an era of mass-produced housing where superior finish is often compromised for cost- effectiveness, Newnham Constructions stands apart with its philosophy, "if it's worth doing, it's worth doing properly". It's a professional approach that has won the company a legion of satisfied customers and referrals, and 12 Queensland Master Builders awards, including two for Gold Coast House of the Year.
A master builder for more than 40 years, company founder Frank Newnham says integrity, quality and impeccable customer service are far more important than the cheapest quote when it comes to choosing a builder.
"I've seen the 'fly by night' builders who quote cheap but don't deliver," Frank says.
"Very often, eventually you end up with problems of some type because the tradesman might have rushed the job to come in under quote and the work is not of a high caliber"
"We operate on the principle, if it's not right, we do it again until it's perfect."
A perfectionist approach is the foundation of this fourth-generation family business. In the 1960s, Frank's grandfather Kevin Newnham built properties in Sydney. Frank's father Reginald continued the tradition in the 70s, building homes all along the east coast of Australia. With building in his blood, Frank joined the trade at the tender age of 15 when his father put him to work as an apprentice carpenter… and the rest, as they say, is history. Today, four of Frank's five sons work in the building industry, with Daniel and Shane at the forefront of the next phase in the Newnham Constructions evolution.
Company general manager and site foreman Daniel Newnham and his wife Rafaela – an interior designer with the family business – have just returned to the Gold Coast after five years in Emerald.
It was a hectic time for the younger Newnhams, who supervised and carried out repair and rectification work on scores of homes and businesses that were damaged or completely destroyed in floods.
"We probably would have stripped and repaired more than 200 homes and businesses in Emerald, Mackay and Bundaberg, and we also repaired homes after the freak cyclone that hit The Gap, in Brisbane," Daniel says.
"Having your home destroyed is a very traumatic experience to go through. To many families we were more than just builders and tradesmen; you were really helping them to get their lives back on track. We've created some long-lasting relationships in those towns."
Daniel, Shane and Rafaela also amassed a folder of thank you letters, with many flood-affected home owners expressing gratitude to Newnham Constructions for their 'outstanding workmanship', 'knowledge' and the 'personal care' shown to families whose lives were turned upside down.
"In Emerald, people were just throwing furniture on rooves, packing up and trying to leave town," Rafaela recalls. "The whole town was flooded in. You couldn't get food in. A lot of these people had their homes flooded twice in two years.
"It was a challenge helping people to rebuild, but it was also very rewarding."
Although buoyed by their experience in central Queensland, the younger Newnhams are glad to be back on the Gold Coast. Thanks to the region's rebounding economy, growing population and a jump in construction activity, it's the perfect time to focus on their passion: building and extensively renovating prestige homes.
"Now people are spending money on their existing homes to update them to today's style and create their dream home," Rafaela explains.
"For example, we had one house at Sanctuary Cove that was a Tuscan, wrought iron timber-windowed house, and the overseas client wanted it to be completely transformed into a stunning ultra-modern, almost futuristic home.
"We had a generous budget for that home, which gave us the freedom to be able to source quality finishes; from one off stone slabs to handpicking the planks for the spotted gum flooring. Throughout the construction process, we sent dozens of before and after photos back and forth to communicate with the client. We were more than happy to keep them informed every step of the way, and in the end, they were extremely happy with the result," Rafaela says.
As well as drafting detailed plans, Rafaela designs kitchens and bathrooms plus outdoor entertainment areas and elaborate landscape zones. She also uses her interior design flair to help clients create their own signature design aesthetic, meticulously sourcing ceramic tiles, timber flooring and light fittings and even custom designing furniture to suit individual needs.
"I've designed bespoke TV units, indoor saunas, hand-picked custom made mosaics for pools and hand detailed a fully functioning bar with a myriad of craft beers on tap. We think outside the box," Rafaela explains.
"We look at everything from design to ergonomics. We have some clients who are very tall so we design and build walk-in robes and kitchen benches that little bit higher to suit their requirements. It's the little things that make a big difference to livability."
As long-standing members of the Queensland Master Builders Association, and with decades of accumulated construction experience amongst the team, Daniel says Newnham Constructions has the skill and commitment to complete even the most challenging renovation.
"Particularly when people have a bigger budget, it just opens up the scope for creativity," Daniel says. "For instance, incorporating prestige finishes such as 40, 50 and 100-millimetre benchtops in a home really adds a wow factor. With the right budget, passion and creativity, it is quite amazing what you can create for the owner.
"If they want to do something that's outside the ordinary, we'll find a way to make it happen, whereas most builders would say, 'it's not going to happen'."
Building veteran Frank agrees, saying the Newnham Constructions team works with clients within their budget, carefully collaborating with building designers to devise a detailed construction plan that matches the client's vision.
"We can take them right through to the landscaping and interior fit-out which is what we've done for overseas clients," Frank says. "Communication is really important throughout the construction process as well as personal supervision of every project. Our reputation is built on our high standard of building and the way we treat our clients. That's how we've done business for more than 40 years, and that's how we plan to continue going forward."