Sneak preview of Iconic Skyline defining $200 Million development set for Kangaroo Point
WORDS: Tabatha Willis PHOTOGRAPHY Supplied
One of the most long-awaited residential apartment offerings seen in Brisbane is set to hit the market in coming weeks, bringing a unique level of design and opulence to the clifftops of Kangaroo Point overlooking Brisbane city.
Pikos Group's $200 million luxury Skye Residences will feature a floating 1,000sqm Sky Deck and an iconic new restaurant for the city as well as 70 luxury residences targeting the luxury downsizer, at one of the city's most iconic sites at Kangaroo Point.
The project will tower over the famous Kangaroo Point cliffs on a site once earmarked for a luxury resort by luxury Singapore brand Banyan Tree until it was sold to Pikos Group last year.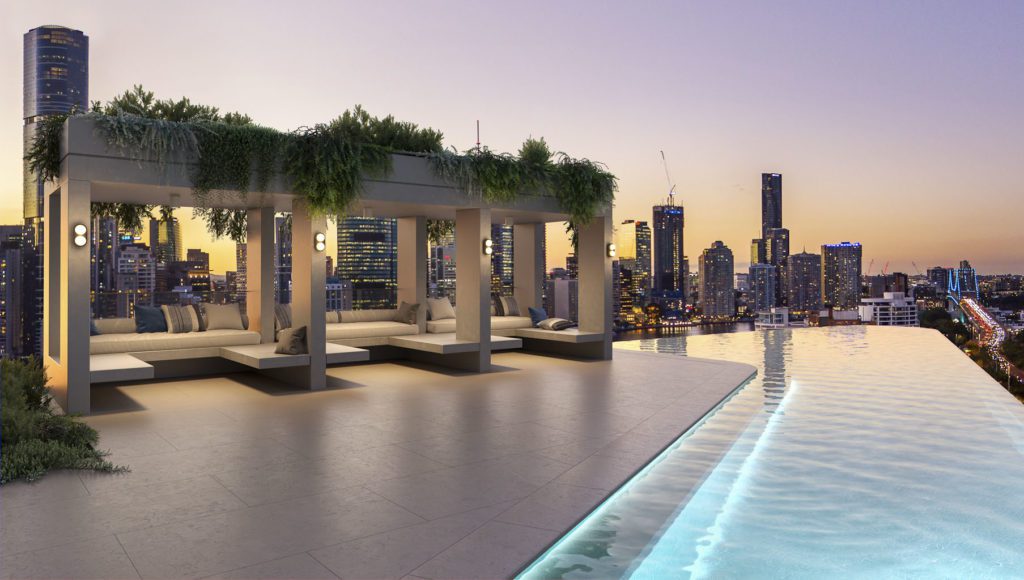 Skye Residences will also raise the bar on luxury living with a sprawling two-storey penthouse and exceptionally designed apartments tailored to maximise and complement the sweeping views of the Brisbane river and city skyline.
Pikos Group, headed by well-known Brisbane businessman Pedro Pikos, is bracing for Brisbane's exponential growth.
The company has development portfolio of $1.2 billion including residential projects and a hospital and medical precinct with 25,000 square metres of floor space at Annerley.
"Queensland Government projections estimate Brisbane will need to increase the amount of floorspace needed for medical services by 50 per cent over the next 20 years to meet demand," says Mr Pikos.
"This is based on a forecast population growth of 2.3 million people in Queensland over this period.
"We definitely see plenty of upside for Brisbane's prestige market given the price disparity we are seeing, particularly for high-end, ultra-luxury residences on premium locations like where we are developing Skye.
"When you take into account that the market hasn't moved dramatically in Brisbane in the latest boom cycle, the strong migration to Southeast Queensland since the pandemic lockdowns, and the likelihood we are going to get the Olympics in 2032, we certainly see plenty of opportunity."
Brisbane's prestige apartment market is grossly undervalued compared to Sydney and Melbourne with new research showing large price disparities for premium product.
Urbis research reviewed either recently completed or high-end projects currently being marketed in the three major cities.
Its data showed a price disparity of up to 35 per cent between premium projects in Brisbane and Melbourne and a staggering 258 per cent differential compared to Sydney.
The research showed Brisbane's average square metre rate for 'high end' product ranged between $9,113 – $15,421 per square metre (average $11,586 per sqm) compared to Melbourne's $10,056 – $20,771 per sqm (average $14,730 per sqm), and Sydney's $21,468 per sqm – $55,206 per sqm (average $37,269 per sqm).