Sneak peek inside some of the most exclusive clubs for the Gold Coast's rich & famous
WORDS: Madison Cooper PHOTOGRAPHY Supplied
The Gold Coast has long been known as a playground for the rich and famous, with its beautiful beaches, high-end shopping, and world-class dining. It's no surprise, then, that many of the luxury developments popping up along the coastline are including private resident clubs as part of their offerings.
These exclusive enclaves provide a range of amenities for residents, from state-of-the-art fitness facilities to tranquil spa retreats, and are designed to cater to the indulgent coastal lifestyle that so many of the Gold Coast's elite flock to. Here are the top three private resident clubs in developments on the Gold Coast.
First on the list is Espirit by S&S Projects, a $130 million Gold Coast-first residential wellness retreat.
The resident-only wellness hub, Club Esprit, provides a Gold Coast first in rooftop amenity offerings, providing buyers the opportunity to reconnect, renew and replenish their mind, body, and spirit.
The exclusive wellness hub spans over 1,100m2 and encompasses every wellness and recreational amenity desirable to cultivate the ultimate daily routine, including a fully equipped gym, yoga lawn, remedial treatment room, ice bath, infrared sauna, steam rooms, 25-metre lap pool, and poolside cabanas.
Next on the list is Chevron One Residences and its Club One residents' amenities.
The development encourages residents to live in a constant holiday state of mind, and Club One offers everything residents could possibly need for a healthy and balanced lifestyle. It includes a fully equipped gym, yoga studio, outdoor pool and spa ensconced by landscaped greenery, sculpture garden, Residents' Lounge, and elegant dining area designed by Shannon Bennet.
But the most exclusive and luxurious resident club on the Gold Coast is the Ocean Club in the $250 million Masthead Ocean Club development.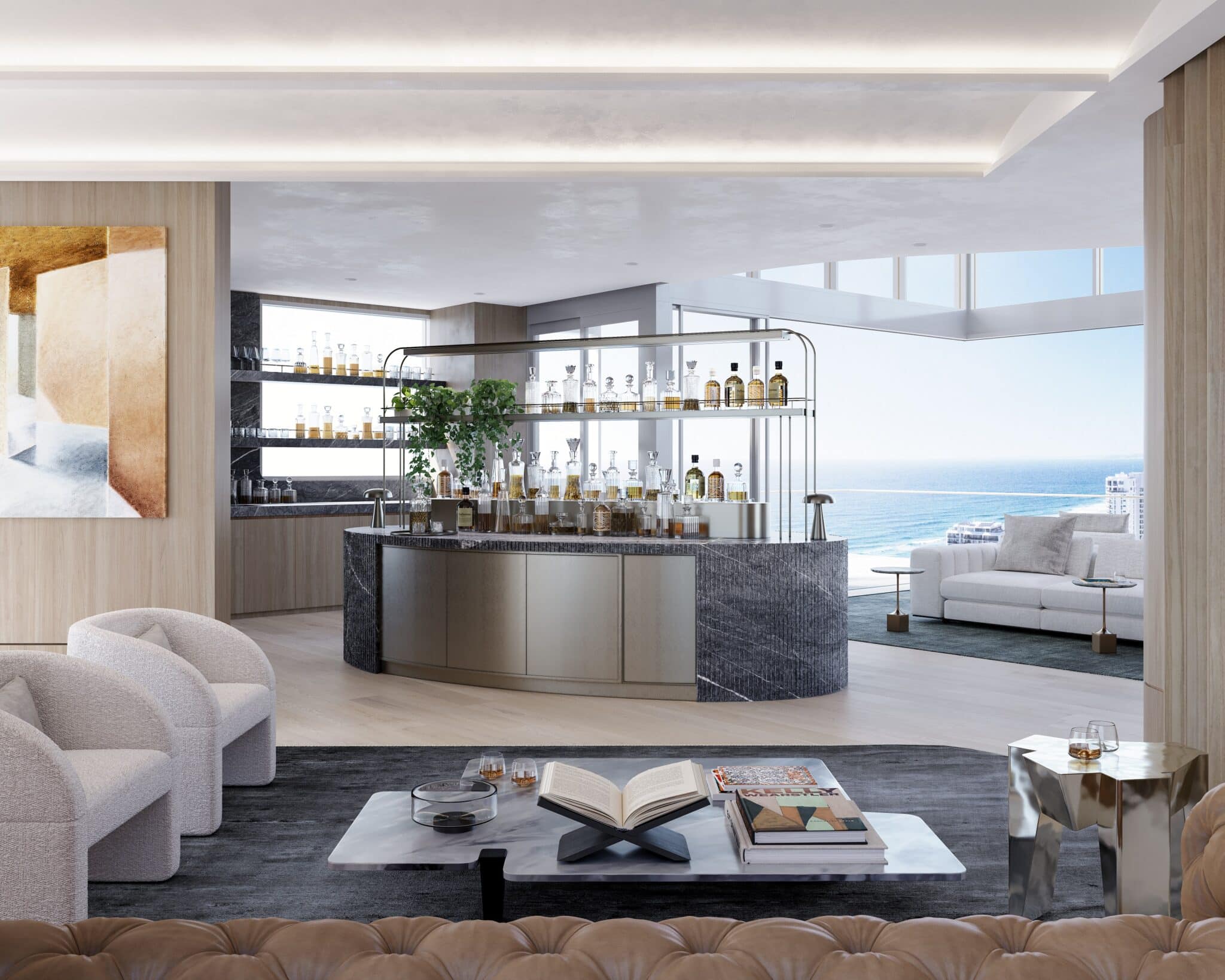 Dubbed as the "Rolls Royce" of resident clubs, it offers unparalleled amenities and hotel-like benefits never before seen in a residential development in Australia.
Only available to Masthead residents, The Ocean Club provides members with unique in-house amenities, including a sophisticated wine and champagne lounge, whiskey and cigar room, private dining space, coffee bar, sky-high library, and business meeting areas.
Ocean Club members will also have 24/7 access to a world-class Health & Wellness Club, including a heated wet edge pool, marbled hot and cold plunge pools, spa, steam room, sauna, gym, yoga, and pilates studios.
"We want our buyers to understand that they are not just buying a home, but an exclusive lifestyle and experience that is completely unparalleled in the market," said the sales agent for Masthead Ocean Club, David Highland of Highland.
"Members of the Ocean Club can start their day with a private workout in the gym, followed by a refreshing swim in the pool, and then unwind in the sauna.
"Residents can then retreat to the coffee bar and library for some quiet time before ending the day in our exclusive full stocked wine and champagne bar, where they can mingle with other like-minded residents.
"At Masthead Ocean Club, our residents can enjoy a full day of activities without ever having to leave the building, all while enjoying the ultimate in privacy and exclusivity."
In addition to these exclusive amenities, each home purchase at Masthead Ocean Club comes with a BMW, making it easy to travel in style and comfort. Residents will also receive an exclusive membership to the Levantine Hill Chairman's Club at Yarra Valley Winery and invitations to intimate Newgate race day events in their very own private suite with syndicated thoroughbred ownership.
Once complete, Masthead will comprise an ultra-boutique collection of 28 whole floor apartments – a quad level Super Penthouse, two dual level Sky Homes, five sky residences and twenty further full floor residences capturing sweeping, protected views of the Pacific Ocean, Broadwater, and Hinterland.
Each whole floor apartment will provide 313m2 of luxury living, picturesque views from every room, private direct and secure lift access, double garaging, outstanding interior design, and state-of-the-art technology.
Residences are priced from $6 million and set a new benchmark for luxury living in Main Beach.
"In my view, members of Masthead Ocean Club will receive premium living, spectacular
picturesque coastal views, state of the art amenities, exclusive club membership and real value for money," said developer of Masthead Ocean Club, Rory O'Brien.
"A purchase in Masthead which includes 650 square meters of Ocean Club, is like getting 2 apartments for the price of one."
All sales enquiries can be directed to exclusive selling agents Highland on 1300 176 070.