Siera group launches $110 million 'Tapestry' on Chevron project with an artistic flair
WORDS: Hannah Matchett PHOTOGRAPHY Supplied
Inspired by Chevron Island's urban renaissance alongside the emerging cultural precinct, Brisbane-based Siera Group has officially launched its debut project for the Gold Coast, a landmark $110 million residential development with an emphasis on community.
Aptly named Tapestry, the development stands to reflect the essence of Chevron Island's eclectic village community.
Hanging within the resident's lobby will be a specially commissioned piece of art featuring three unique paintings created by local artist, Tania Blanchard.
"We engaged Tania to create this unique piece of art that provides a visual representation of the community and this stunning location," said Siera Group founder, Brent Thompson. "Tania has her own distinctive signature style that we felt best captured our vision for the project and, when hung in the lobby, would add to the sense of place for our future residents who call Tapestry home"
Siera Group has already embraced the arts precinct and the cosmopolitan vibe of nearby Surfers Paradise by creating an informative guide, known as "Exhibit", which uncovers local eats, arts and events.
"The name Tapestry evolved from our desire to embrace the architecture, arts and culture that HOTA brings to Chevron Island, mixed in with our focus on community and creating a sense of place. A Tapestry is continually woven, connecting its threads until the true artistry of the entire piece is revealed, which is how we have approached this project," said Mr Thompson.
Tapestry has been designed to deliver owner occupier residences that integrate seamlessly with Chevron Island's village community.
"Key to the design brief for Tapestry was adding value and connection to the local community," said Mr Thompson.
"We believe this is very much linked to HOTA and the emerging cultural precinct as well as the vibrant and tight-knit community that can be seen and felt throughout the high street."
The exterior design of Tapestry, with its curved slab edges, floor to ceiling glass and vertical blade walls are complimented by the buildings articulation, which is inspired by the Voronoi geometry featured throughout HOTA.
"We have incorporated various architectural aspects from HOTA throughout the Tapestry design, from the Voronoi geometry through to the landscape palette," said Mr Thompson.
"The goal of this was to allow the idea that residents could take a short walk from Tapestry to the 17-hectare grounds and feel that this is an extension of their home.
"Embracing the arts and commissioning our stunning artwork by Tania Blanchard was our way showing our commitment and gratitude towards the new arts and cultural precinct that has provided so much inspiration for Tapestry."
With an extensive portfolio of premium residential developments in Brisbane delivered over the last 7 years, Siera spent a great deal of time and effort understanding what it was that local Gold Coast buyers were looking for and ensuring that Chevron Island ticked all of the right boxes. The site is superbly located with view corridors that are well protected, and the location provides great walkability.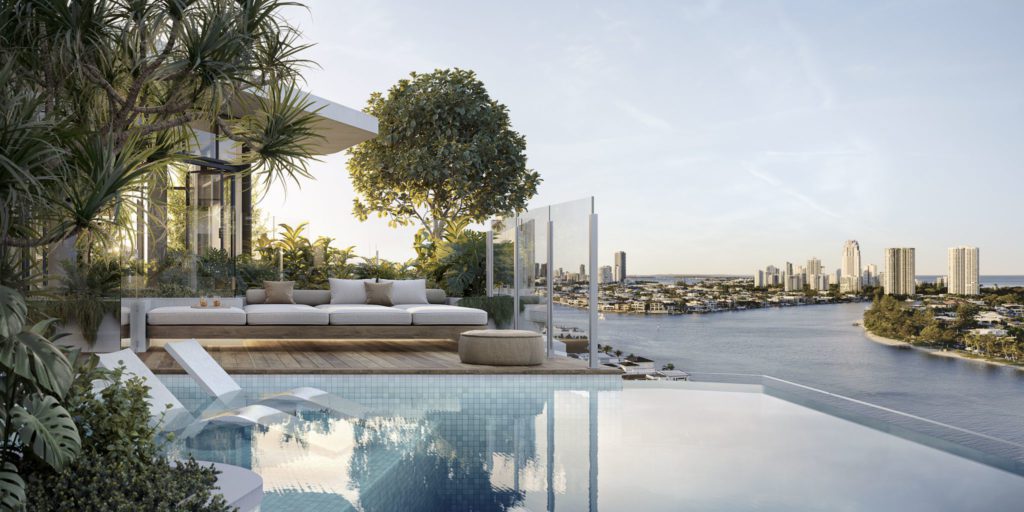 The development will deliver a mix of 113 residences over 22 levels at 39 Darrambal Street, located on the prized eastern side of the suburb. These comprise of 38 two-bedroom and two-bathroom residences; 37 with two-bedrooms, a multi-purpose room and two bathrooms; and 38 with three-bedrooms plus two bathrooms.
Apartments will be priced from $679,000 to $1.9 million, with two-bedroom plus multi-purpose room apartments priced from $779,000.
Siera Group has infused Tapestry with a host of sophisticated residential amenities including a spectacular rooftop area that will offer resort-style swimming pool and daybeds, complete with an alfresco barbecue area, gym, sauna and steam room. The rooftop will also have its own community vegetable garden set alongside a landscaped private lawn.
Private terrace dining for business or pleasure will be available for residents and their guests, along with a bookable residents' office space and meeting rooms.
Siera Group recently opened its on-site sales display for Tapestry which generated strong interest from the local community and apartment buyers. For more information, visit sieragroup.com.au or www.tapestryresidences.com.au