Shopping by the sand… at The Strand-Fashion
WORDS: PHOTOGRAPHY
Since The Strand's impressive redevelopment in 2014, it has been one of ORM's favourite shopping destinations with boutiques and major retailers, sought after fashion labels and on-trend homewares all under one roof. The coastal theme of many stores reflects the centre's idyllic position, beachfront at Coolangatta.
With an exciting range of new arrivals in fashion, beauty and homewares ready to impress, The Strand is making it easy to makeover your life – with $2000 to spend at The Strand up for grabs. All you have to do is spend $30 or more in any fashion, beauty or homewares store between 11 and 24 April to enter – and the makeover of a lifetime could be yours. For details visit strandcoolangatta.com.au
In the meantime, ORM headed to the lifestyle capital of the Southern Gold Coast to check out what's on offer…

The unique lifestyle in this region lends itself to the shop fronts you'll find at The Strand. Boasting an impressive range of independent boutiques and major retailers, accessible style is at your fingertips…
Concrete Lines
This is a quality specialist skate shop with a huge range of skateboards from trick boards to carvers, longboards and electric skateboards as well as clothing, parts, tools and accessories. Leading street brands Spitfire, DGK and Deathwish sit alongside major brands such as Nike and Adidas. Owned by husband and wife team Melanie Morin and Les Graue, this is the place to come for all your skating needs and knowledgeable staff are perfectly placed to answer questions from avid skaters. "My husband long boards and all of our staff here have their specialities. Jonath uses carvers which are great for people who surf. Zane recently came second in the World Championships and he's only 15! We have customers of all ages in here from kids of 5 years old up to 65! Our shoe selection in the window is another strong drawcard."
Pictured: Jonath Prevost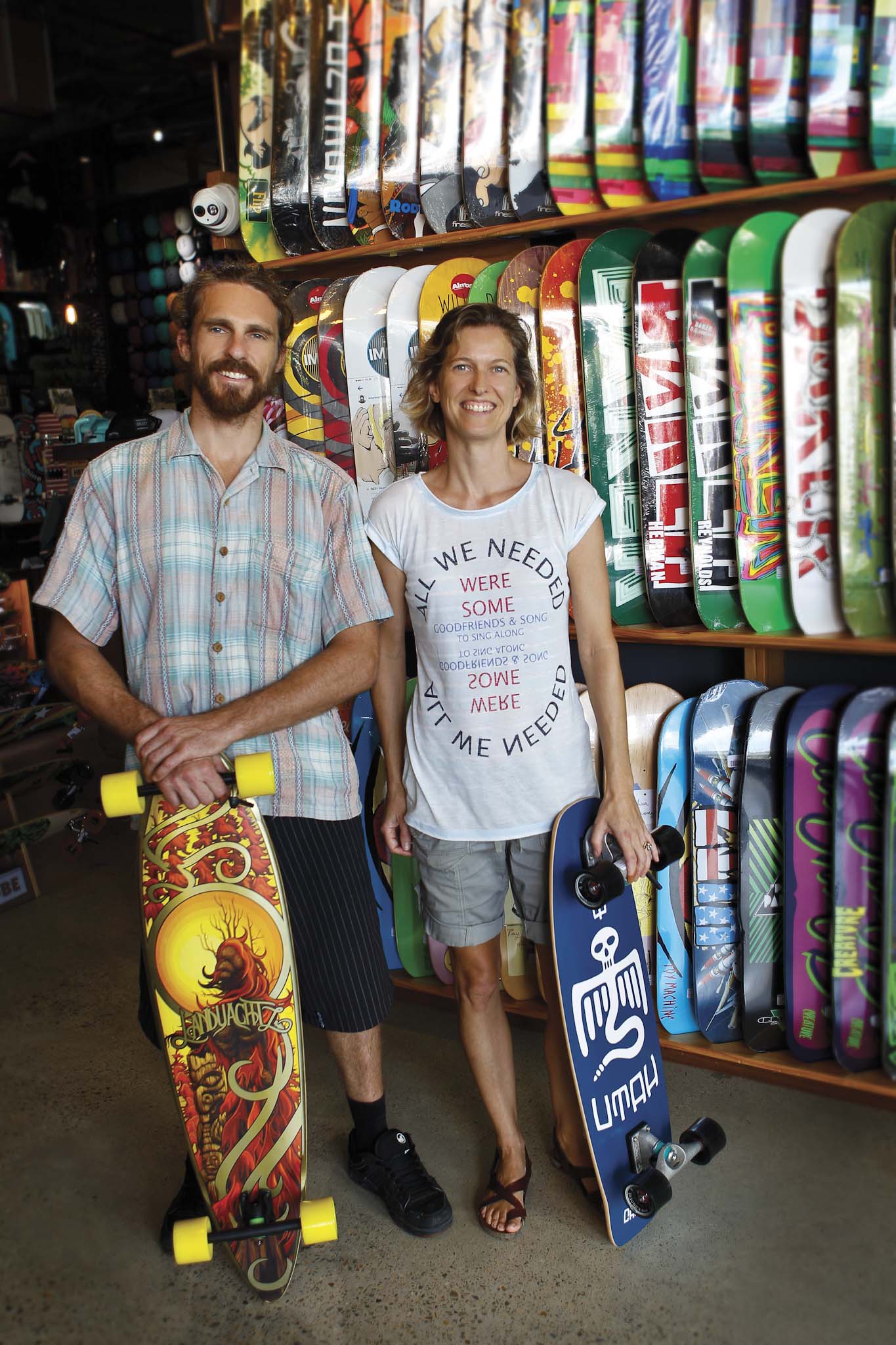 Stock and Supply
This store strives to provide a unique shopping experience for the discerning shopper and prides itself on selling 'quality goods for good people'. "We stock independent labels for independent thinkers," Myles Secomb, owner tells ORM. "We really pride ourselves on the quality and diversity of our range of small independent brands. We've got everything you need, from brands you didn't even know you loved yet! At the moment we're stocking about 80% menswear, 20% women's wear." Here, you'll find cool, quirky clothing, tees with attitude, trendy dress shirts, hoodies and Vans shoes, to name but a few gems.
Moelleux
This is a stylish, suave and sophisticated boutique as the French name suggests. The minimalist décor houses a unique collection of distinctive designer labels for men and women which can be hard to find on the Gold Coast including Camilla and Marc, Bec and Bridge, Nobody denim and Victoria + Woods. Expect contoured lines, contemporary wardrobe staples and premium quality from this store run by Jenna Sammut and her partner Bryn Nelligan. "Everything we stock is classic, chic and aspirational," says Jenna. "Prices range from $100 to the higher end around $1000 and we attract customers with city style which makes a change from beach chic here in Coolangatta."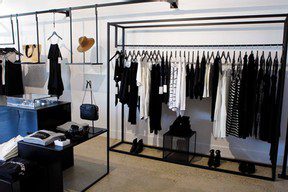 Boo Boo's
Fashion for women of all ages is on offer at Boo Boo's boutique. "We ensure we have a good mix of stock in all sizes," Connie Pepperdene, owner says. "We have a huge range of casual tops, dresses and pants so there's plenty to try on and customers are welcome to do so. Lots of our stock is eye-catching brights and we have plenty of patterns. Our stretch pants are also very popular at the moment." After you've chosen your ideal outfit you can turn your attention to accessories. From clutches to belts, scarves to handbags, there's stacks to choose from all under one roof.
Ritzi
You'll be dazzled by the clothes as soon as you walk into this store – and the lighting. "My husband and son are lighting engineers," Jill Marshel, owner tells us. "They've masterminded the lighting, there are 243 pieces in each fitting." This lively lighting is the perfect choice to showcase bright clothing which is aimed at women aged 30 to 90 years old. "Clothes here are for the young at heart," says Jill. "I love our bedazzled and bejewelled kaftan range and our tops and skirts are popular too. We also have shoes, bags and jewellery so women can come in looking for an outfit for a wedding and I can style them up from head to toe. They love that. I had my first shop when I was 20, now I'm 65 and doing it again! My daughter helps out too so it's a real family run business."
Esteem's Boutique
This is a mature, modern women's clothing shop which caters for all sizes 10-22. "We like to keep a mature woman looking modern," Karen Debelle, owner tells ORM. "Ladies can come in here and find a whole outfit as we also stock bags, shoes and jewellery. We're an eclectic store, you can lose yourself in here enjoying going through all of our treasures! All of our staff are attentive and will ensure that you enjoy a good level of service as you find a style and size that works for your body shape. We're a family owned business, my daughter loves retail too and we all have a good eye for quality clothing with quality service."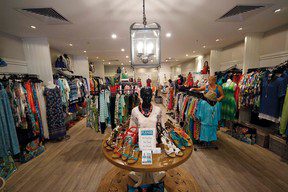 Shoe Rack
All the latest looks for men and women for less are available at Shoe Rack. Established in 1997, this is one of Queensland's best value footwear destinations, offering a fantastic range of footwear brands at outlet prices every day. Planet, Churchill, Therapy, Catwalk, Earth and Marlow are just a few of the stylish brands on offer. "We specialise in comfort shoes at affordable prices," Jenny Gillies, store manager says. "For instance, Planet uses quality leather uppers with moulded foot beds for arch support and padding beneath. Julius Marlow is a men's range made from the highest quality materials which provides comfort and style." If you're on your feet all day, you'll find happiness in here!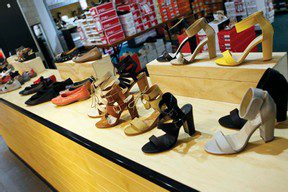 Sunburn
Stylish swimwear is synonymous with Sunburn stores across Australia but you'll find something a little special here which reflects the coastal town setting of Coolangatta. "We've created a relaxed, bright, beachy feel in this store as our customers' lives are very beach orientated," Kym O'Neill, manager tells ORM. "We're owned by Seafolly and we also stock Milea, Jets and Sunseeker and a small amount of Billabong. In addition to the swimwear most people expect from Sunburn we're also extending into a lifestyle active range including walking vests and shorts." Also in store you'll find kids swimwear as well as bags and shoes.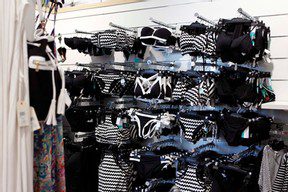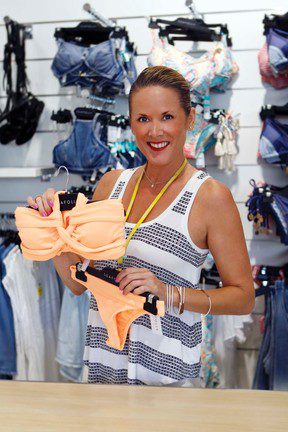 Sole Integrity
If you're looking to walk with a comfortable, supportive spring in your step, you'll find a fantastic range of stylish orthopaedic shoes at Sole Integrity. "Comfy chairs, comfy shoes; happy customers," Cass Nicholson, store manager tells ORM with a smile. "We stock key brands including Echo, Merrell and Arcopedico in store. We're here to help customers with their feet and make sure they find something suitable. Loyal customers rely on us for comfort and I frequently help regulars from all over the country including Melbourne and Sydney as we stock specific shoes that can be hard to find. Our new location is brighter, bigger, we love it here and our customers are very happy too!"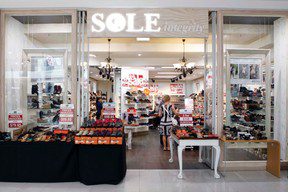 Lorna Jane
Lorna Jane is on a mission to empower women to lead an active lifestyle and you'll find essential clothing and kit to get you started in this large store. Gym lovers will snap up hi-tech performance fabrics and leading technology from the inspirational collection. Accompanying your shopping experience, The Strand's Lorna Jane has the Gold Coast's first ever active living room offering fitness classes and a 'Nourish Café' for healthy eating to encourage a move away from dieting into nourishing. Pilates, yoga, boxing and boot camp are taught every morning and evening here frequently heading over the road to the beach to make the most of the magical location on the doorstep.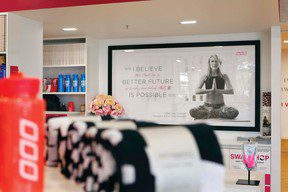 Just Sunnies
If you're seriously about sourcing sunnies, head here first. With over 50 sunglass brands on offer you're sure to find a style that you fall for in store. Manager Janice Brown says, "We stock a huge range from babies and kids to adults, fashion brands, sports brands, all at a price range that caters for everyone from $20 to $500." Guess, Prada, Miu Miu, Versace and Sass & Bide all walk on the fashion side. They're joined by leading sports brands Oakley, Spotters, Otis, Ripcurl and Spy. Up and coming, new kid on the eyewear block AM is also stocked here to make sure you turn heads and you'll also find snow goggles with the very latest technology. All sunglasses come with a full manufacturer's warranty.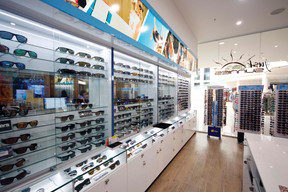 Boardriders
Prepare to be wowed this mega impressive flagship concept store developed by Quiksilver which showcases brands including Quiksilver (of course), Roxy and DC shoes. An impressive overhead carousel features over 500 surfboards, most of which are for sale with the exception of Kelly Slater's and a handful of other pros who are there to stay and be admired with wide-eyes. Take the weight off your feet and chill out in a comfy seating area with free wi-fi, head to the café and licensed bar, Café 28, or you can even take advantage of the Uppercut Delux Barber Shop in store. Matty Risbridge tells us, "We're about bringing the surfers' lifestyle into retail, we're here to make it all tangible out of the surf!"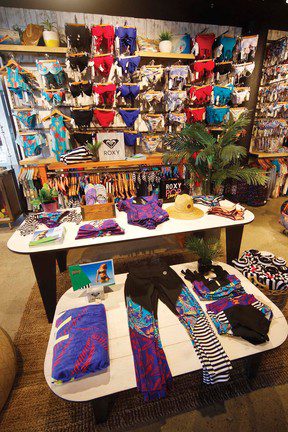 My JuJu Dance Fever
For all things dance, My JuJu is a must-visit 100% Australian owned dance speciality store. Jazz, tap, ballet, ballroom, Latin, dance sneakers, character shoes and Rock 'n' Roll shoes sit alongside super cool retro dresses that will be perfectly at home at Cooly Rocks 50s inspired festival. Owner Ben Ge tells ORM, "My mother was a ballroom dancer, it is a passion for our family. We manufacture our own shoes and we offer an exclusive customisation service so we can fit different heels, change fabrics or colours. We have the whole range here, you'll find everything from petticoats to sit underneath dresses to give them shape to men's shirts. Our price ranges from under $30 to around the $100 mark."