Shopping by the sand… at The Strand – Health & Beauty
WORDS: PHOTOGRAPHY
Take time out to treat yourself, there are plenty of pampering options at The Strand. Or, simply catch up on your beauty regime when time is of the essence.
Esteem Medi Spa
This beautiful boutique salon is at the very forefront of innovation in medical skincare. Clients can enjoy a selection of clinical skin treatments, anti-ageing therapies and state-of-the-art laser procedures. A skin analysis machine is used to assess clients' skin and enable a recommendation for treatment to be made. A team of doctors and registered nurses offer injectables. "This centre is an extension of our business in Brisbane. Post treatment, clients make their way to the makeup room where science based mineral makeup with high sun protection factor is applied to ensure they leave us feeling confident and ready to face the world again," Katrina Withers, Clinic Manager says. "Each Wednesday, Dr Nelson Sucgang, a cosmetic doctor with over 20 years' experience, takes appointments for injectables and skin cancer and mole checks."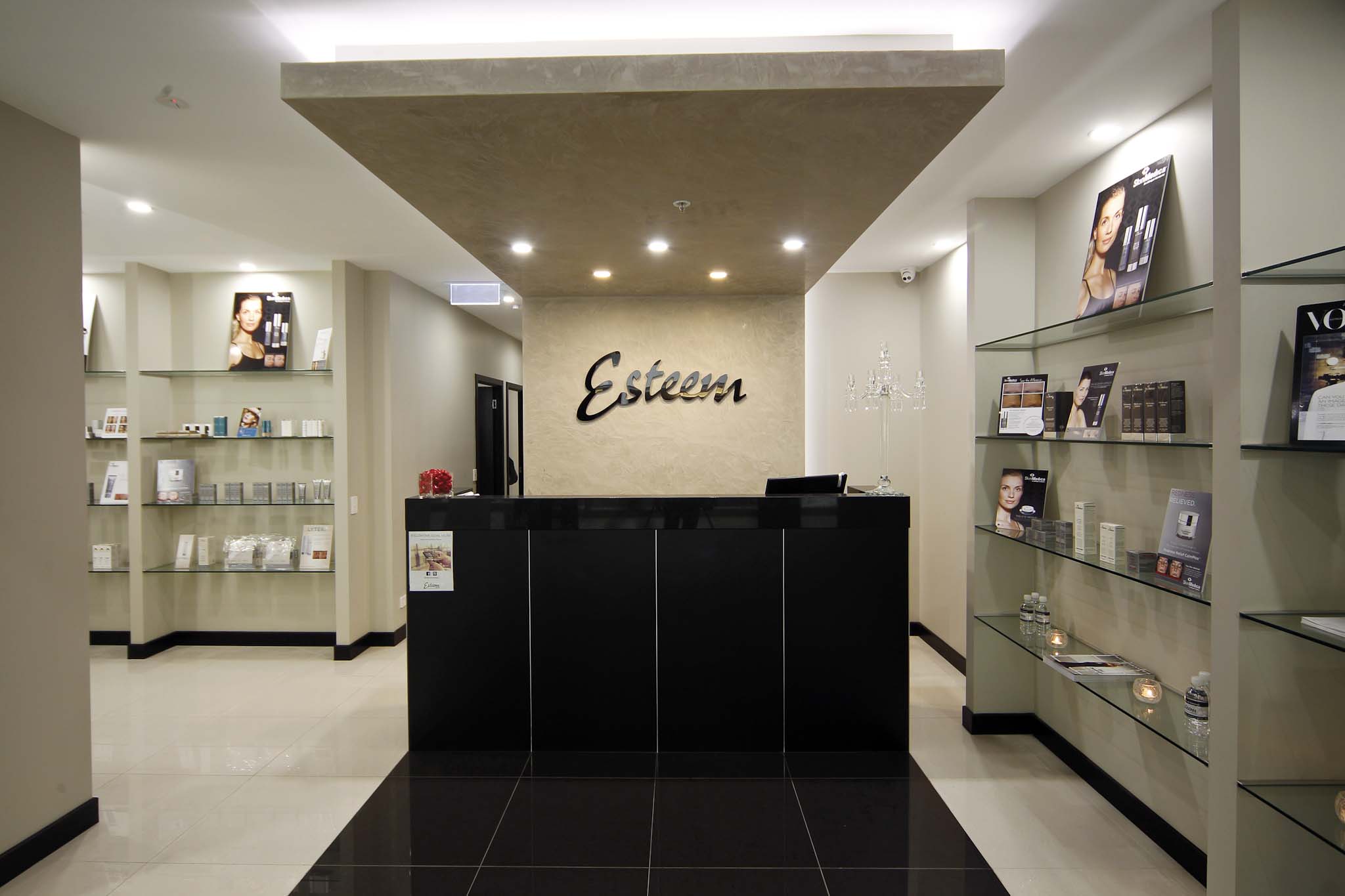 Marcus Edward
It's clear that the owner, Marcus Edwards, has an excellent eye for design. This is a classy, sophisticated salon with earthy tones and comfortable lighting to ensure clients feel relaxed from the second they enter the salon. Everything hair is on offer here, including Keratine straightening. At the back of the salon you'll find a retreat area for brow tinting, facials, waxing, lash and brow tints. "We have clients who travel from Brisbane to use our expertise," stylist Cherry-Blossom Dolan tells ORM. "We opened here at the beginning of February so we're building our new local clients which is fantastic. We're offering a luxurious service here with senior stylists who can deliver what clients really want."
Pictured: Cherry-Blossom Dolan

Vibe Hair
This cool, earthy Balinese inspired salon is a busy hub for styling and up-styling hair. Experienced, talented hairdressers here all work under one roof to ensure whatever you'd like is possible! "We specialise in creating beautiful hair, we know hair incredibly well here," Erin Nelson, senior hairdresser says. "We do everything from cutting to colour and extensions. We also have a brilliant beautician who offers clients facials, massage, waxing and lash extensions. One Friday each month we offer Botox and we have other beauty services coming soon to meet with our clients' requests."
Pictured: Carly Hammond, stylist

VIP Nails
If you're looking for a state of the art nail salon, look no further! This is a spacious, bright, inviting salon with a relaxed vibe and large comfortable seating area with where you can flick through magazines before your appointment. Light pours in through the glass fronted store and striking chandeliers make a strong first impression. The stunning new store opened at the beginning of 2016 and is already attracting a flow of regulars with acrylic nails, gel nails, nail art, gel polish and shellac which are all on offer on the extensive menu alongside the opportunity to treat yourself with a pamper package (manicure and spa pedicure, $50). Waxing and massage are also available and children under 13 receive 30% off.
FashioNails
On one side of this salon you'll find a fast and friendly nail bar while on the other side comfy salon chairs await for your relaxing, pampering pedicure. This is the perfect choice for anyone who wants their nails done swiftly and professionally. Store manager Cathy Pam tells ORM, "We offer everything nails here! From Shellac to SNS which is a healthy brand, odor free with vitamin E and calcium for healthier nails. We have lots of regulars who come here for our range of nail services." For nails that make a speedy statement, FashionNails nail it!
Healthy House
Everything you need to make yourself and your whole house healthy is in this store from skincare to homeware, books and body brushes to cleaning products and whole foods. Run by husband and wife team Tammy and Geoff Jacobs, Healthy House has been going strong since last May. "We wanted to open a one-stop market place for people to be able to look after themselves. We both have a passion for health and strive to be healthier; I was a yoga and pilates instructor," says Tammy. "And we're very careful to keep competitive pricing." Bulk bins here stock nuts, seeds, grains and all things healthy! Activated roasted mixed nuts and vegan dairy free chocolate covered coconut are among popular choices. You'll also find a consultation room where Saara White, natropath offers a wellness menu including consultation ($75 initial, $60 follow ups) and iridology $50.

Eyebrow World
Eyebrow experts in this comfortable daylight flooded area offer threading and tinting as well as facials, hair braiding and henna tattoos. Threading is an ancient method of hair removal for eyebrows which can also be used to remove other facial and body hair. Xena Ulak, resident beauty specialist tells us, "Threading has become increasingly popular as more and more people are realising it's less painful than waxing. Every time you wax a layer of skin is removed whereas with threading, the entire hair is removed from the follicle and you won't be left with redness. Results will last for 4-6 weeks." There are three experts here who can ensure your eyebrows make the right statement and the team is set to grow to keep up with demand.

Base Gym
Tucked away underground, Base Gym makes working out as easy as possible in a more relaxed, un-interrupted environment. Owned by former Mr Australia Greg Williams, it's impressively equipped with all the machines you could wish for to ensure your workout leaves your body at its best from treadmills and exercise bikes to weights. Five personal trainers each have different specialities from boxing to clean eating meal plans and weight loss management. There is an emphasis on health and wellness here so alongside fitness classes you'll find yoga and pilates. Becky Tyson, manager tells ORM, "We're opening a crèche to make exercising more accessible for mums, it's important to us to be family friendly. Also in the pipeline for us are 30 minute children's fitness so parents can work out with their children."