WORDS: PHOTOGRAPHY
He's the low-profile Gold Coast surfboard shaper who's making waves in the cut-throat international surfing industry. Ocean Road went to meet Dan Macdonald.Credits
He might not have the big name or boast a stable of star team riders like some of his peers, but Dan MacDonald counts among his fans the likes of 11-time world champion Kelly Slater and Australia's own triple world champ, Mick Fanning.
From his Currumbin base, MacDonald is turning out boards that are regularly sought out by some of the world's top surfers, thanks to his revolutionary use of carbon fibre technology to create cutting-edge wave-riding equipment. It's an innovation that has seen the world's largest surfboard manufacturer, US-based Lost Mayhem, not only sit up and take notice but form an exclusive partnership with him.
His business, DMS (Daniel MacDonald Shapes), has become such a labour of love that these days, he struggles to find the time to go surfing, something he never could have envisaged back in the 1990s when he started a carpentry apprenticeship after leaving school on the Gold Coast.
"I was doing (surfboard) ding repairs in between working as an apprentice 'chippie'," he recalls now, sitting in the office of his large surfboard factory in the Currumbin industrial estate.
"I never finished the apprenticeship. I started doing more dings, laminating boards and learning to shape. I travelled through Europe, surfing and making boards. Aussie shapers were paid pretty good money so I was making a decent living to fund my travels."
MacDonald later moved to the US and worked with Lost Mayhem, which was launched in the mid-1990s by Californian surfer/skater Matt Biolos and was taking off in a big way.
He learned about techniques including resin tinting from some of California's master shapers like Timmy Patterson. "It was the biggest condensed educational period of my life, a massive learning curve" MacDonald says. He also roved through Central America and Mexico on a surfing and shaping sojourn.
After returning to Australia, he landed a job with high-profile Gold Coast surfboard shaper Jason 'JS' Stevenson, whose team riders include top professionals Joel Parkinson and Julian Wilson, as well as surfing legend Mark 'Occy' Occhilupo.
MacDonald then had a shaping stint at Honulua Bay, a surfboard and Stand Up Paddleboard label owned by surfing giant Billabong.
He honed his talents shaping everything from retro single fins, twin fins and 'fish' designs through to longbards and SUPs, experimenting with different materials such as carbon and bamboo to make boards stronger, more flexible and responsive.
About seven years ago, MacDonald opened his own factory at Currumbin which has expanded to its present location, with as many as 14 staff working for him at one time. Surf stars including Slater, Fanning, Dean Morrison and Dane Reynolds have visited the factory and test-piloted his boards.
A couple of years ago, MacDonald and DMS team rider, Adam Bennetts, began 'playing around' with ideas to give boards more 'flex'.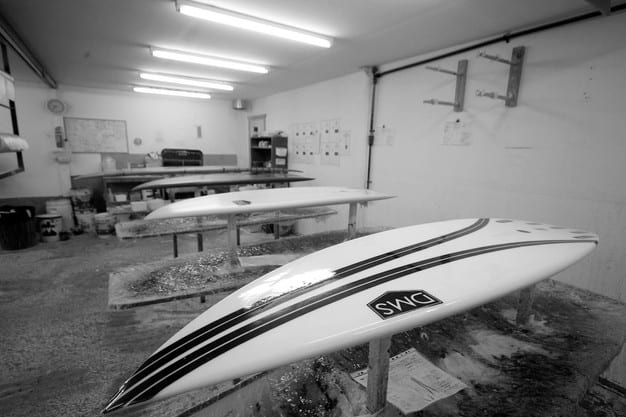 MacDonald hit upon the idea of the 'carbon wrap', a carbon 'ribbon' that is laminated onto the board and eliminates the traditional need for a reinforcing 'stringer' running down the centre of the board.
The innovation makes surfboards 'a lot more lively', according to MacDonald.
"It just gives you that extra drive and spark out of your turns, whether you're a beginner or a pro," he says.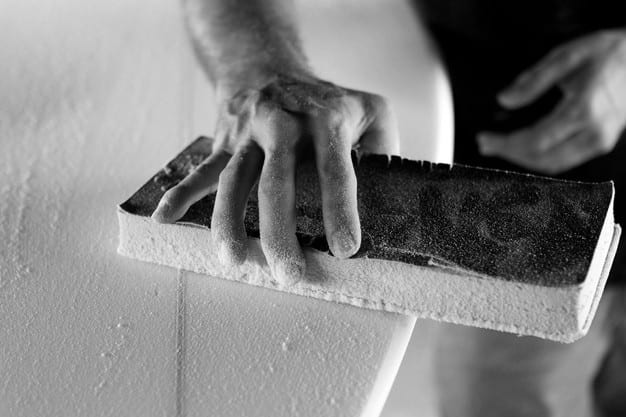 "We're using the carbon wrap technology in everything from longboards to high-performance shortboards and the feedback we're getting is fantastic. Customers are blown away how much more responsive the boards are."
Carbon wrapping has generated such a buzz that MacDonald recently signed an exclusive partnership with Lost Mayhem to use the patented technology on its boards across the globe.
"It's pretty exciting, as Lost has some of world's best surfers on their books, including Taj Burrow, Kolohe Andino, Tyler Wright and (newly-crowned women's world champion) Carissa Moore.
"To have surfers of this calibre with my technology under their feet is a huge boost for my business and a sign that carbon wrap technology could be the next big thing in surfboard design."
MacDonald is looking at outsourcing some of his production so he can focus on more innovative R & D, as well as concentrating on his own DMS shapes.
And hopefully, spending a bit more time in the water!