WORDS: PHOTOGRAPHY
To watch Ellie Brooks surf her home break at Coolangatta is to watch harmony in action…
As she cuts and glides left and right, moving up and down the wave wall, there is a seamless connection between water, board, body and mind. She's at home; a natural in nature.
Back on the beach, ask Ellie what the ocean means to her and she returns to the day she surfed for the first time.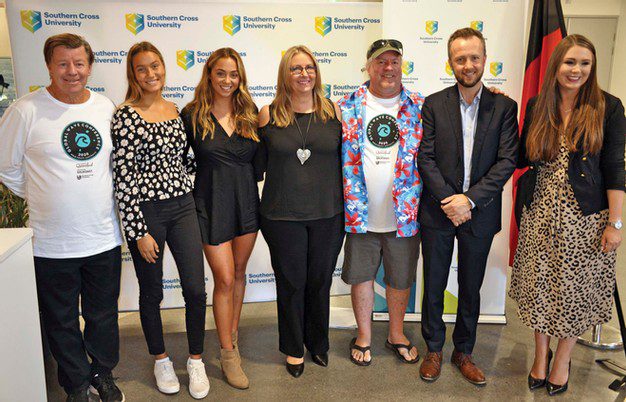 "I was 10," she recalls. "My dad, James, was a surfer and that day we were at Palm Beach. I caught a wave, stood up first time and then just rode it in a dead straight line all the way into the beach. In my memory, I still see it as the longest wave in the world. It was the start of everything for me."
Then she pauses, before adding: "For me, the ocean is everything. I live for it. I wouldn't be who I am without it."
This obvious affinity fuels Ellie, now 22, in the early days of a professional career in the ultra-competitive World Surf League, where eventually she hopes to emulate the likes of multiple world champions Layne Beachley and fellow Gold Coaster Stephanie Gilmore.
Such commitment will also inform Ellie's role as Official Ambassador for the 6th biannual Global Wave Conference 2020 to be hosted by Southern Cross University on the Gold Coast next February 10-15.
Ellie will feel right at home there too. As well as being in the second year of a Bachelor of Business Management at the University's Gold Coast campus, she is a member of the University's Elite Athlete Program, which supports students striving for academic excellence while pursuing sporting careers.
"Southern Cross has been fantastic because my competition schedule is really demanding, but I also want to succeed in my studies and perhaps one day launch my own business," says Ellie.
"The University has a great appreciation of surfing and its importance here on the Gold Coast. It's all part of a really strong environmental focus here, both in terms of education and general philosophy. And you have to admit, it's not a bad place to study when you look at the views from the Gold Coast campus across to Kirra Beach."
Ellie loves surfing Kirra, but it's just one of many amazing beaches she's visited recently to compete alongside the best female surfers in the world on the best waves in the world. Those destinations include Europe, Japan, Mexico, the US and El Salvador — "the best wave I've ever surfed; just incredible" — and, of course, Australia.
In April, she secured the only wildcard entry into the Boost Mobile Pro Trials (formerly the Roxy Pro) to compete at Snapper Rocks, just down the road from Southern Cross University. And she'll be back in the US in July for the WSL's Qualifying Series event at Huntington Beach in California.
From a sporting context, it's an exciting time for Ellie. Yet she is just as excited about the Global Wave Conference 2020 and the opportunities it holds for advancing issues around the protection of the oceans.
It's a message not lost on another Southern Cross University student, Andrew McKinnon, who also happens to be the organiser of next February's event.
A much-loved Gold Coast surfing identity, a former world longboard champion and recently elected Chairman of the Gold Coast World Surfing Reserve Inc, Andrew is thrilled the conference is coming to Australia for the first time.
"The combination of the Gold Coast, Southern Cross University and the proximity to some of the world's most famous beach breaks makes it such a perfect location," says Andrew, who is studying a Bachelor of Arts (Social Sciences).
"We're hoping for about 400 attendees and they will include environmental and social scientists, world surfing legends, conservationists, academic and indigenous groups, surfing industry representatives, experts in sustainability and more."
With its theme of "Seeking Solutions for a Safer, Cleaner and Healthier Ocean Environment", the conference will advance the GWC mission statement to: highlight growing threats to waves and surfing habitats worldwide;
facilitate global coastal environmental and sustainability initiatives;
increase leadership from the surfing community on the protection of waves, oceans, beaches and marine ecosystems.
"Up for discussion will be future solutions for surf sustainability, the recycling of surfing products, the removal of plastics, and ways to make our oceans safer, healthier and cleaner for future generations," says Andrew. "It's also a great opportunity with surfing entering the Olympic movement in Tokyo in 2020. We will be riding that wave of Olympic momentum to seek better solutions via education for the sake of our oceans."
For Ellie, there are many more waves to be surfed around the world in the months leading up to the conference and then beyond. And each time she'll be out there for her profession, her pleasure and her passion.
"When I'm out there," she says, "on a wave or waiting for a wave or just gazing around me and out to sea, my heart is there. I feel I'm with the ocean. That's why I always want to respect and protect it."
* For more information, go to globalwaveconference.com.au