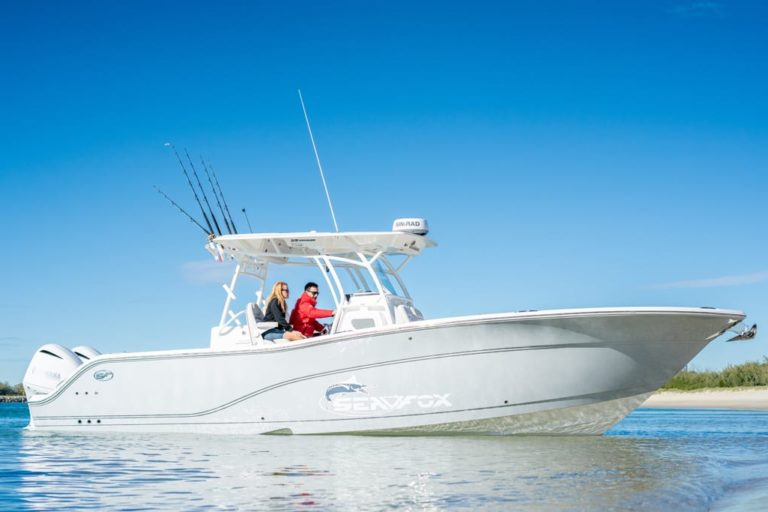 WORDS: PHOTOGRAPHY
There's no place like our own backyard to test the all new stunning Sea Fox 328 Commander.
If you were lucky enough to see this new bad boy out cruising the beautiful waters of wave break a few weeks ago, feel privileged as it's only been in the water once!
I was invited by Oliver Bennett from Sea Fox here on the Gold Coast to go on board and experience first hand what this amazing sports fishing boat powered by the twin Yamaha 300hp engines can really do.
When Sea Fox designed this 33' member of its popular Commander series, the builder addressed every major need for the serious angler and incorporated a layout that leaves ample room for the crew to stretch out. The elegant appearance and the soft-riding stepped hull add to the appeal of this big sturdy centre console.
From my first step on board, I was struck by the attention to detail in the well-designed centre console package.
The 328 Commander features plenty of fish-fighting room around the console and comes with a port side dive door that facilitates releasing big fish – something that I probably won't have to worry about!
The more I gazed around the boat the more stylish the details became. As we headed past Wavebreak Island we throttled up the twin Yamaha F300s to 33mph. The 328 easily handles anything put in front of it meaning the Broadwater is simply no challenge for this outside vessel.
Throughout my journey along the Broadwater I sat in one of the three helm chairs, which allows clear vision of all controls that are on display for the captain and passengers.
The dash holds dual Simrad touchscreen 16" displays, LED gauges and an array of switches. A three-tiered, integrated footrest provides added comfort for the skipper. Triple bucket seats with flip-down arm – and footrests supply the helm seating for the skipper and two companions.
Being a high-end fishing boat I probably should have bought my fishing rod. The large areas around the whole boat allow you to fish with clear vision and keep an eye on your mates to make sure they are not getting the edge on you.
There's a place for EVERYTHING
The 328 features storage and convenient cubbies for all kinds of gear. A door on the side of the helm unit opens to offer two drawers and storage for three tackle boxes.
At the bow, a huge two-person lounger opens to reveal dry storage for safety items and tackle. Hatches below the forward cushions open for more gear.
In protected waters, we reached plane in about seven seconds using no tab. We hit 30 mph in 10 seconds. Optimum cruise came in at 30.5 mph, turning 3,500rpm resulting in using 1.34L/Klm..
Sea Fox designed this boat to handle rough water and gave it 22 1/2 degrees of deadrise at the transom, more than any of its previous hulls. The vessel has a stable feel and carves sharp turns as if on rails.
The tackle storage and bait-prep centre within the fibreglass helm-seating pod incorporates a double sink with a stainless steel bait tray and cutting board. Plus in the aft there are two pressurised live bait tanks, lighted and finished in calming blue with clear lids. One of which sports an aquarium-style window to monitor baits.
You need to experience this for yourself! The team at Sea Fox will be sure to explain in more detail by phone (07) 5529 2616 or

[email protected]
Sea Fox 328 Commander Performance Specifications
Power:             Twin Yamaha 300hp
Load:   Three crew, 400L fuel,
full water tank
Top Speed:     53mph
Time to 30 mph: 10 seconds
Best L/Km:      1.34L/Km @30.5mph
(3,500rpm)
Sea Fox 328 Commander Hull Specifications
LOA:    33' 9" / 10.3 m
Beam: 10' 8" / 3.25m
Deadrise:        22.5 degrees
Dry Weight:     8,975 lb.  / 4,071 kg
Draft:   24" / 0.6 m
Fuel capacity: 311 gal. / 1,177 L
Max Power:    700 hp