Roasted Cauliflower & Green Tahini Dressing Dressing
WORDS: PHOTOGRAPHY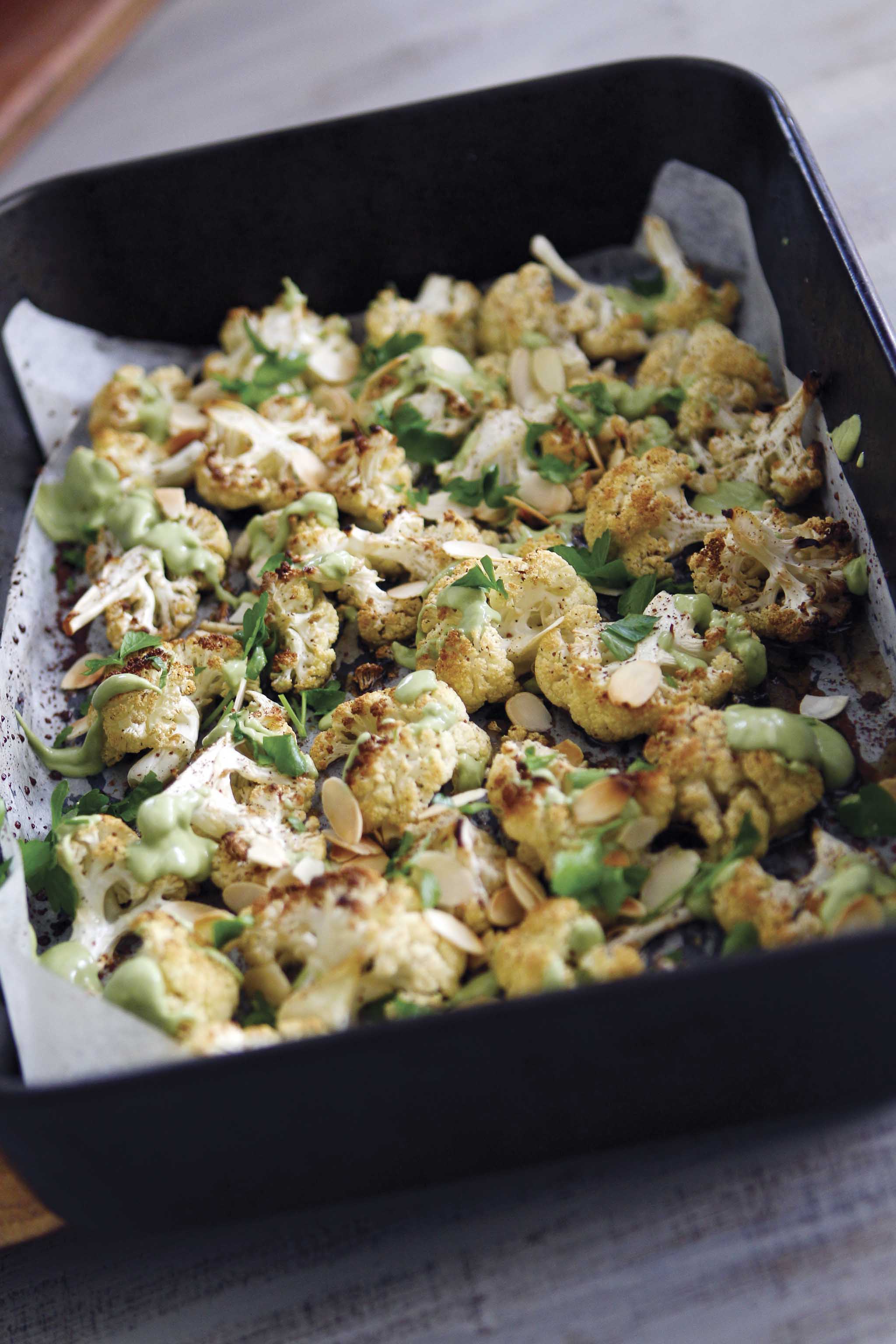 1 packed cup baby spinach
1/3 cup lemon juice
1/4 cup Apple cider vinegar
1/4 cup tahini Good pinch salt & pepper
1/4 cup olive or avocado oil
1 tbs raw honey/maple syrup
1 head cauliflower, roughly chopped
1 tbs sumac 1/2 cup flaked almonds, lightly toasted
1/2 cup parsley, chopped
Preheat your oven to 180C. Line a baking tray with baking paper and pop the cauliflower pieces on it. Sprinkle the cauliflower with the sumac and a good drizzle of olive oil then use your hands or whatever you like to mix it around to coat. Bake for 40mins or until golden on the edges. Remove from the oven and set aside to cool slightly. Pop all the dressing ingredients into your food processor or high speed blender and blend until smooth. Pop the cauliflower onto a serving platter, drizzle with the dressing then sprinkle with parsley & almonds.
Mum, bacon addict, coffee lover and food, health & wellness blogger over at My Food Religion.
I have a passion for pure, unadulterated food; food that is good for the body and the soul, food that makes you feel good from the inside out.
It's my goal to help people to get comfortable again in the kitchen through cooking classes, workshops and easy recipes and empower people to take back control of their own health, starting with food. Did you know we are now one of the fattest nations on Earth?
I want to help create a nation of people who are nourishing themselves and their families so that they can thrive not just survive and that start with the concept of JERF- Just Eat Real Food.
Every time you eat is an opportunity to nourish your body.
Let's be honest though, some days adulting is hard and you really have neither the time nor the inclination to go getting all "Masterchef" in the kitchen and you're fresh out of fermented-sprouted-activated- supercharged-unicorn dust to rustle up any kind of magical super food extravaganzas.
I get it and I want to help you nourish the little (and big) bodies in your life with as little fuss and as much nutritional bang for your buck as possible because eating healthy food doesn't need to be time-consuming or expensive and it absolutely doesn't require always incorporating the latest super food on the market. It all starts with real food. The stuff you find at the fruit shop, or the butcher, or the fish market. The stuff that doesn't come packaged with an ingredient list a foot long. You know, that stuff that your great grandparents would recognise as food? That's the stuff that makes you feel good from the inside out and when it comes to fuelling all the bodies in our lives we all want them to feel and be the best they can and that starts with food. Here's a couple of my favourite go-to recipes when I need minimum fuss but maximum taste & nourishment.
You can find my ebooks here https://www.e-junkie.com/ejm/252080
My website www.myfoodreligion.com and get on over to @myfoodreligion on FB, Instagram, Snapchat and Twitter to stay up to dates with workshops near you.