Restaurant Review Jimmy Wahs
WORDS: PHOTOGRAPHY
It's a chilly but beautiful Gold Coast winter's day. I'm down heading to Burleigh Heads for a lunch that's long overdue.
Jimmy Wahs is a modern Vietnamese restaurant situated in the thriving culinary precinct of Burleigh. When you arrive there's a light casual ambiance to the room that makes you feel welcome straight away. The culinary prodigy of Chef Jake Cooley (formally of Social Dining, Broadbeach) and Restaurateur Shelley Greaves is now in its second year and still getting rave reviews.
The top of the menu reads Vietnamese cuisine with a modern Australian influence and this flavour is reflected well through all the dishes. Jimmy Wahs is one of those places where every dish just must be tasted so I go for the special menu and let Chef Jake decide.
The fun thing about leaving your menu up to the chef is that firstly, you don't know what is coming and secondly they might send you something you would not think to try which is something I enjoy!
First to come out was a stunningly presented entre. Generous slivers of yellowfin tuna sashimi with radish, shiso dressing and a contrasting crunch of crumbled wasabi pea, all of which complimented the freshness of the tuna.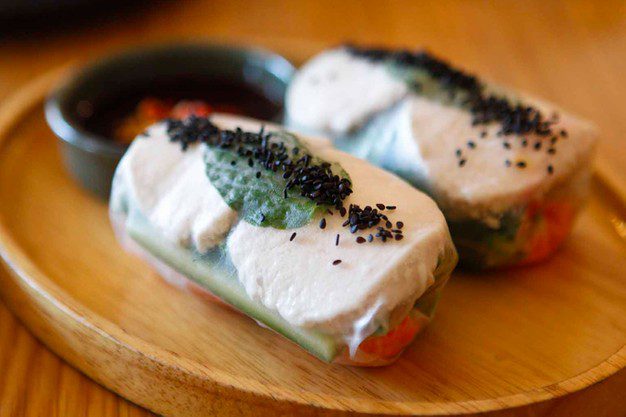 For my next course I had the soft poached chicken, soft herb and vermicelli rice paper rolls with nouc cham, (a staple dipping sauce found on every table in Vietnam). Two generous rolls filled with tender chicken, shredded lettuce and fresh herbs. This is a great dish for sharing.
More authenticity comes through in the grilled, rare and finely sliced Angus oyster blade steak served on a betel leaf with crispy fried taro, daikon and carrot pickle. All these ingredients together in a leaf reflect the simplicity in Vietnamese eating.
Next, grilled giant octopus raised the stakes again. Tender with delicate spices coming through and served with puffed wild rice and a Thai basil emulsion.
Why do chefs save their best till last? The Vietnamese pancake (banh xeo) was amazing. A deliciously light crepe like egg pillow filled with crisp lettuce, bean spouts and tender prawn meat mixed with a variety of fragrant Asian herbs is fresh and fulfilling.
At Jimmy Wahs, all the dishes are designed to share which works well for couples or large groups. There are also plenty of gluten and dairy free options for those who struggle to find a restaurant where the dishes don't have to be totally reconstructed to meet their dietary needs.
All being said, this popular local restaurant is a must for every Gold Coaster's dining bucket list.