Once in a lifetime does a city have an opportunity to reset itself and forge ahead to become one of the premier cities of the world. This is our second chance to get it right.
History is littered with examples of 'tipping points' for nations and cities where a series of converging factors are either exploited or ignored. How these factors were dealt with by their citizens lead to either a golden era or decline.
The City of Gold Coast is in this moment, according to chair of Sports Gold Coast (SGC) Geoff Smith, and if we do not seize the opportunity, it will be a blemish on our generation.
The challenge is not easy and requires hard work, commitment and, above all, collaboration.
As a young city, the Gold Coast has much to be grateful for. We are strategically located in the only nation on our planet to occupy a whole continent and in the fastest-growing economic powerhouse in the world, Asia. To further the point, we also lie in South East Queensland – the fastest-growing region in Australia.
The Gold Coast region has diverse and abundant natural resources and world-class sports infrastructure. Australia hosts the Women's World Cup in Football in 2023 and the likelihood of the Olympic Games being held in our region in 11 years will only enhance the positive reputation built on the back of the Commonwealth Games.
Sport has a unique ability to act as a catalyst for change and build something unique and long lasting. SGC, representing Gold Coast entrepreneurs, is not wasting any time in galvanizing the business community to get behind sport and ride the wave of this exciting opportunity.
In this spirit, SGC recently launched its seventh and possibly most ambitious sports project to date – Gold Coast Women in Sport.
This initiative aspires to make the Gold Coast the 'home of women's sport'. Ambitious? Yes. Hard work? Yes. But something that is certainly achievable and much needed in a city that struggles for a sense of purpose and identity.
The project launch was attended by the Mayor and Lady Mayoress, Federal Member for Moncrief Angie Bell and a long list of political, sport and business leaders. At this event, Chairman Geoff Smith made the point that the Gold Coast has the highest density of entrepreneurs of any city in Australia and should thus be a powerhouse for harnessing sport to promote business activity.
SGC, representing business, needs to work with all levels of government, education and sporting bodies to develop a strategic plan and implement it immediately.
Along with the Women in Sport project, SGC has taken significant strides in other projects including e-Sport, yachting, cricket and football.
Through a model of attracting like minded and visionary corporates to work with government, education institutions, council and sporting bodies, SGC has achieved many important milestones to date. Women in Sport will surely be no different.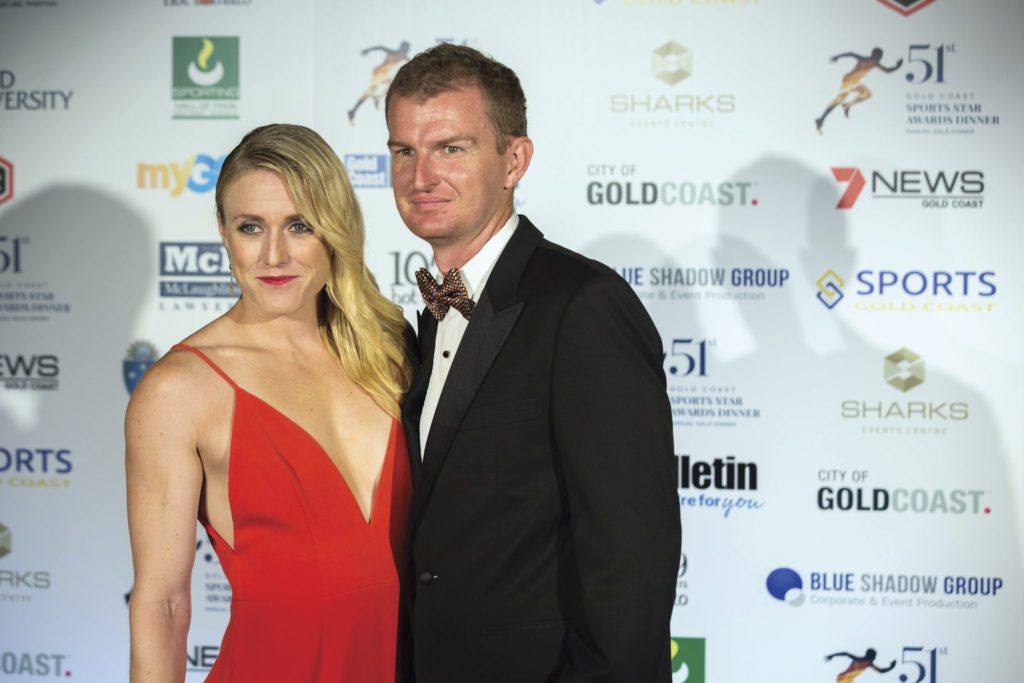 So, from Sports Gold Coast's perspective, the question for Gold Coast corporates now is how do you want to be judged in 50 years' time?
Will you be seen as courageous, wise and creative – the instigators of the period of change and something great for our city? Or selfish, apathetic and complacent – lacking the foresight to help the Coast reach its potential.
Through the support of this Women in Sport project, we are certainly taking a step towards the latter.
Project
Goal
Outcomes
Women in Sport
Make the city of Gold Coast the 'Home of Women's Sport'
●      Our city becomes the benchmark for proper remuneration of sporting women

●      Winning the AFWL Premiership

●      Securing a W League Licence in Football

●      Establish a world-class Academy for Women's Sport

●      Secure a Women's Big Bash Licence in Cricket

●      Establish a Women's World 7s Rugby Tournament

E-Sport
To make the CoGC the Hub for international e-sport tournaments with a world-renowned Centre of Excellence

●      Attract international gamers from Korea and Japan

●      Attract students to our universities

●      Develop IT industries around e-sport

●      Promote our city on the world stage by developing a team

Yachting
To attract major super yachting races e.g. America's Cup Challenge
●      Generate millions of dollars for our marine industry

●      Attract high-end, big-spending tourists