Rescuing turtles is my day job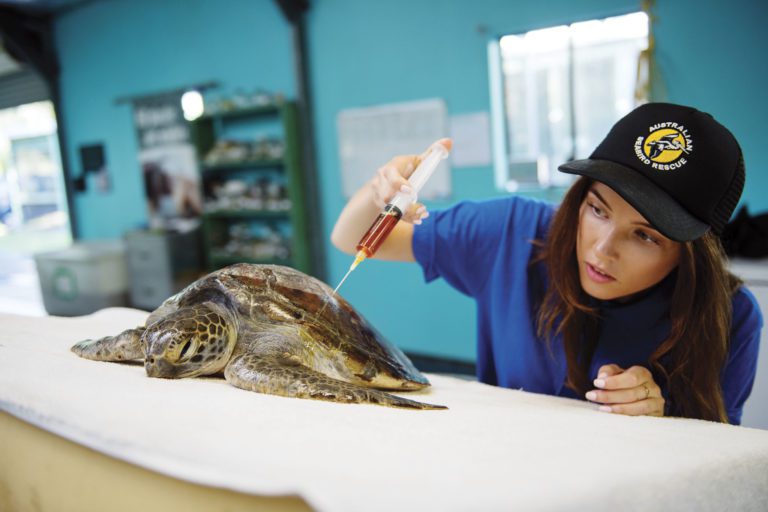 WORDS: Lee Adendorff and Jessica Nelson PHOTOGRAPHY Supplied - SCU
Meet two inspiring young Southern Cross University marine science graduates performing crucial work together in the marine science space.
IT'S the morning of the release. The sky is an oily grey and the sand is still heavy with last night's rain. A small crowd has gathered on the beach, no more than 20. They smile as they walk down the beach with their large heavy buckets, one person on each handle.
They gather several metres from the shore and unwrap their precious cargo. A volunteer takes hold of the shell by the tip and the tail and walks down to the water's edge. The turtles are released in groups of two and three, flapping instinctively into the surf as soon as they hit the sand. In a flash, they are gone, into the breakers and away to deeper water as the group lets out a collective whoop. Previously, when they put these events on Facebook, hundreds of people turned up to share in this genuine, feel-good moment.
Olivia (Olly) Pitt, a Southern Cross University marine science graduate, grins from ear to ear. "It just never gets old," she says. "We've released hundreds of turtles and every time it's exactly the same feeling."
Olly is the general manager of Australian Seabird Rescue, the Ballina-based organisation responsible for rescuing and rehabilitating these turtles as well as seabirds, shorebirds and sea snakes. Her assistant, Kelsey Ayo, another Southern Cross University marine science graduate, is also there soaking in the moment.
The turtle release has been quick, but Olly says getting a sick animal to this point is a process that can take months. When the turtles first arrive, they are placed into freshwater to get rid of the barnacles and other growths that have set like concrete on their shells. They are given a name (Guava, Horatio, Jolene, Manuka, Rainbow and Kale among them) which is added to a whiteboard.
"Some of the names are pretty funny and I vet them so we don't get double-ups but names are important. They help people identify with an animal," says Olly.
The turtles are then examined by a vet at the Byron Wildlife Hospital and medicated if needed – antibiotics for infections, wound care or something else. The patients pass the next few days or weeks in small shell pools in the rehabilitation centre in Ballina, where they are painstakingly hand-fed, their food carefully weighed and charted. As their condition improves, they are placed into progressively bigger tanks where they have to compete for food as they would in the wild, before they are eventually released back into the ocean.
Many sadly arrive with stomachs full of plastic. Inside the rehab centre is a wall full of glass jars, each of which contains the plastic retrieved from an animal's stomach. Some are as big as a large pickle jar and stuffed to the brim. They call it the wall of shame.
The increase in sea turtle rescues has been dramatic, from about 10 per year a few years ago to upwards of 80. "We don't really know what's happening, but there are some indications that climate shifts are a cause," says Olly.
Created by a philanthropic foundation, Australian Seabird Rescue (seabirdrescue.org.au) is supported by donations and powered by a small army of volunteers who turn up every day to feed and care for the animals. They also rescue countless pelicans and seabirds with injuries that range from ingested fishing line and hooks to propeller strikes and even attacks from other animals such as goannas or dogs.
For Olly, it's a dream job. "After graduating from my Bachelor degree, I did an Honours year and some volunteering and landed the job here and I love it. You never know what's going to come in – we might be monitoring pelicans, scrubbing down turtles, working with our fantastic volunteers. No two days are ever the same," she says.
"Our volunteers are the backbone of this organisation. We simply couldn't run without them. These are people who truly love caring for animals, from those who've never even seen a sea turtle before to those who have experience as vet nurses. They clean the tanks, feed turtles. Being involved in animal care is also really positive for people's mental well-being. We have people from so many different backgrounds, including some amazing people with disabilities and their support workers who volunteer together."
Originally from the Gold Coast, Olly hadn't planned to study at university after leaving school  – until she watched a documentary on shark conservation and thought 'I could do that'. At age 21, she left her job at a pet shop and moved to Byron Bay to enrol in Marine Science at Southern Cross University Lismore campus.
"I wasn't the best at school, but I realised later that you don't have to be the most educated to pursue a passion once you discover it a bit later in life – and I think it's important for people to know that," Olly says. "I made that change at 21 and enrolled in uni. I knew that I could knuckle down to study and use my passion to do something powerful for the environment.
"The great thing about Southern Cross Uni, unlike the huge high school I attended where there wasn't much-personalised help, is that the lecturers know you by name and are very interested in your learning journey and helping you succeed."
Byron local Kelsey graduated high school and travelled the world for a few years before a friend suggested she enrol in Southern Cross University's award-winning Preparing for Success Program. The program got her back into the swing of study and gave her a pathway to a Bachelor degree in marine science.
As a child, Kelsey remembers having a strong love for the ocean and taking part in Nippers at the Byron Bay Surf Life Saving Club.
"When I was about 10 I was involved in a Nippers swim race where you swim out around the buoys – but I remember I was dawdling compared to the other swimmers. When my mum asked me about the swim I was so excited to tell her about the incredible fish I had seen out in the ocean and she just laughed and knew that my real passion was the animals, not for the competition."
When Olly moved to Byron, she and Kelsey met through mutual friends and stuck together in their first university class. They realised they were similar and shared common interests and soon became best friends. Many of their classmates say they seemed more like twins. They moved to Coffs Harbour as roommates to study their final year at Southern Cross University's National Marine Science Centre, under the tutelage of scientists such as Professor Kirsten Benkendorff and Dr Anna Scott.
"I was really inspired by Dr Anna Scott. She showed me that you can be a younger female doing inspiring work in the marine science space and in research. She's a great teacher and I think it's great she's inspiring a lot of young women to pursue careers in this area," Kelsey says.
For Olly, highlights included working with her honours supervisor Associate Professor Danny Bucher, an expert in marine taxonomy and anatomy, as well as a final-year field trip to Heron Island, on the Great Barrier Reef, where she and Kelsey were able to learn from Southern Cross University's Distinguished Professor Peter Harrison, a world-leader in coral reproductive ecology and restoration.
The degree's practical components and volunteering experience have proved invaluable.
"Southern Cross University has a good reputation for being out in the field and every subject we did had fieldwork involved. That was excellent preparation for the kind of work we are doing now," Olly says.
Olly and Kelsey both volunteered at Australian Seabird Rescue (ASR) during their studies and despite being warned not to get too attached, both fell in love with the turtles they rescued and rehabilitated.
Kelsey went on to work at Lord Howe Island, off the coast of Port Macquarie, while Olly took up a paid position at ASR while completing her Honours studies, going on to become the organisation's General Manager. When Kelsey returned to Byron, she volunteered with the organisation again and eventually secured the assistant role, living and working her dream.
Kelsey says ASR offers placement opportunities to Southern Cross University students and others who gain real-world experience and make a valuable contribution to the organisation.
When restrictions allow, Kelsey says, ASR runs educational tours of the facility for preschool, primary, secondary and university class groups, senior citizens, the general public and school holidayers. She recalls the story of a young family swimming and snorkelling near the Bream Hole, at Lennox Head, recently when they saw a green sea turtle moving quite slowly.
"Thankfully the family had previously attended one of our tours, so they knew the signs to look for as well as who to call," she says. "The father called us and we asked him whether she was moving slow enough for him to capture her, so he was able to grab it and rescue her and hold her until we arrived soon after to bring her in for treatment.
"Apparently a rainbow appeared at the same time they rescued her and so the daughter, who was about nine and had helped with the rescue, named her 'Rainbow'. We could tell right away this female turtle had been attacked by a shark – and while it's natural and normal for sharks to go for turtles, turtles are usually pretty good at getting away unscathed. It's not fair game when the turtle is slowed down by a stomach full of plastic.
"When she was back in our care, Rainbow started pooing out plastic which was a clear indication of why she was sick and slow-moving – eventually she passed a whole litre jar full, including blue plastic bags which haven't been sold or used in this area for many years, which shows how long-lasting and devastating the impact of plastic in the environment can be.
"Not only that, but this turtle had an injury to her back flipper from the shark and that had to be amputated, but thankfully they can adapt very well with three limbs. We determined she was somewhere between five and 10 years old and so for a turtle that usually lives to 80 to 90 years old, she still had plenty to look forward to.
"When she was super healthy and ready to be released, the family came and met us at the boat to say goodbye to the turtle they'd rescued, then we released her out at Julian Rocks. For the first couple of weeks she was a superstar, swimming around among the divers and snorkelers who recognised her and gave us updates, and eventually, she went on her way."
While turtles can take weeks to rehabilitate, treating seabirds and shorebirds is usually more time-sensitive and critical.
"With injured birds, we have to act fast and get them into positive rehab in the first 24-48 hours. Usually, the injuries they sustain are fishing related, so sadly we see an increase during school holidays and peak holiday times when people who are not as familiar with fishing, and particularly the casting action, accidentally injure birds," Olly says.
"We had a shocking month in July with 10 birds coming in for care and others reported that sadly couldn't be captured and brought in. We have a campaign at the moment – 'don't cut the line' – to get the message out there to people not to cut the fishing line if they accidentally hook or injure a bird. Instead, they should hold on to it and not panic, then call us or a local rescue group, and talk through the best course of action so the bird can receive medical attention."
Further south, Southern Cross University has joined forces with the new Ocean Warriors Australia (OWA) organisation, to help improve outcomes for sick, injured and orphaned marine wildlife on the Mid North Coast. Based out of the University's National Marine Science Centre in Coffs Harbour, the partnership will use University expertise and resources to bolster rescue and research efforts for marine animals, alongside important community education and outreach activities.
Ocean Warriors Australia CEO Dr Duane March is also a Southern Cross University PhD graduate and marine veterinarian and has worked closely with Australian Seabird Rescue general manager Olly.
"We're thrilled OWA has a partnership with Southern Cross Uni and we at Australian Seabird Rescue are in talks with them regarding how best to collaborate in the future, as it's so important to bridge gaps between conservation groups and research," Olly says.