Renovations, Awards & A Radio Host
WORDS: PHOTOGRAPHY
"That's bloody delicious – it gets me in the gills right there," Sean 'Flan' Flanagan enthuses as Simon Gloftis' flavour-filled lemon fish soup appetiser hits, and quickly tantalises, his taste-buds.
The award-winning breakfast radio host and award-winning restaurateur are shooting the breeze (it would be wrong to say chewing the fat, but more about that later) at Simon's acclaimed Nobby Beach eatery, Hellenika, for the latest in a series of Friday lunch chats with fellow Gold Coast identities that he hosts for Ocean Road.
We find both men at the top of their game.
As Sean and Simon sit down for lunch, Flan and Hot Tomato colleagues Emily Jade O'Keefe and David 'Christo' Christopher have just been crowned the best on-air team in provincial radio for their Flan and Emily Jade with Christo breakfast show, at the Australian Commercial Radio Awards (ACRA) in Melbourne. They were also No.1 in all three Gold Coast radio surveys in 2017 as Hot Tomato maintained its dominance as the city's top-rating station.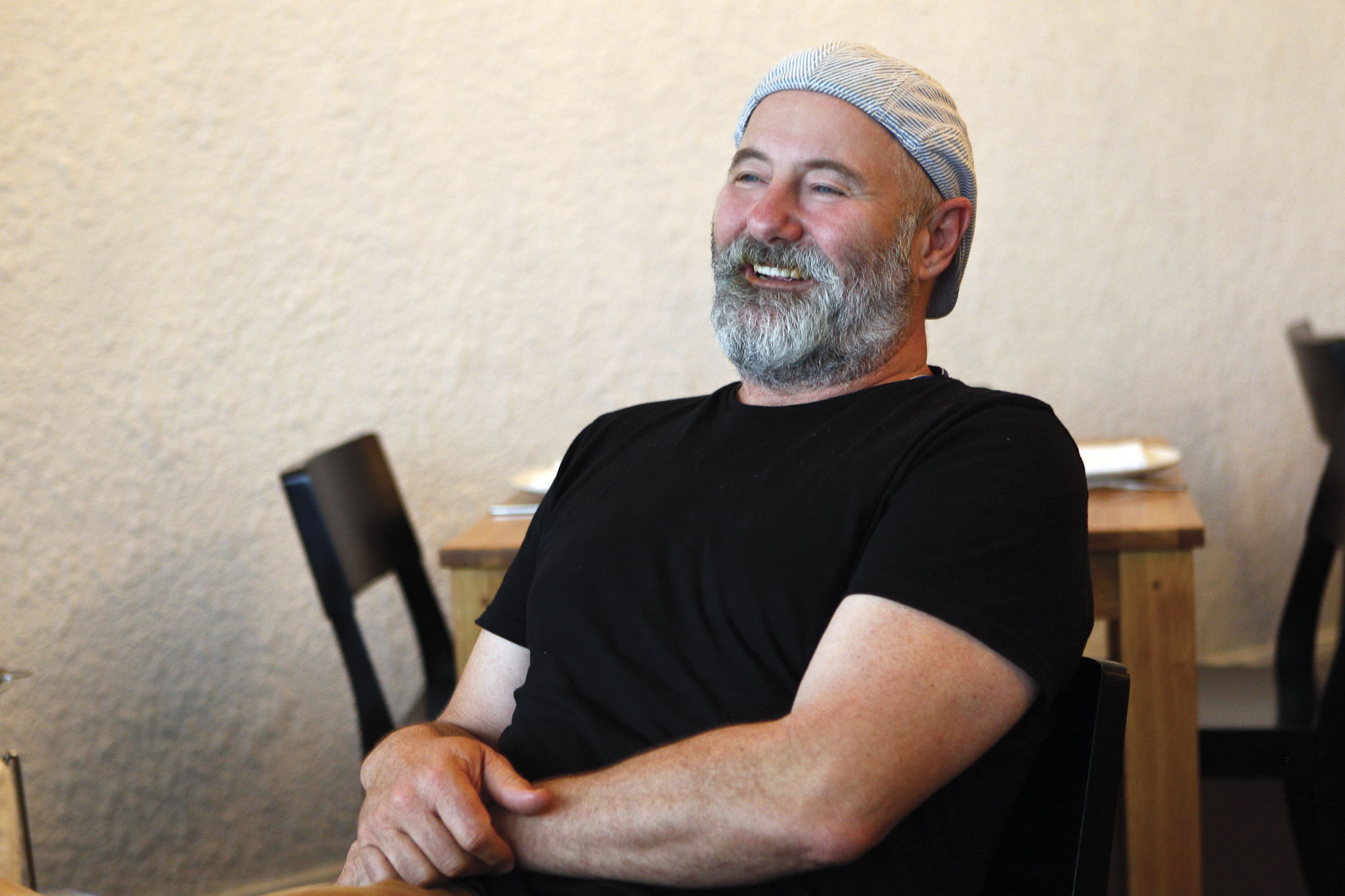 Hellenika, meanwhile, has just been named one of Queensland's top 20 restaurants by Delicious magazine and continues to go from strength to strength, with a spectacular renovation including a new rooftop bar and function room. And in an exciting move for the Gold Coast, Simon and entertainment guru Billy Cross are preparing to open a stylish rooftop venue in The Star casino's new six-star hotel/apartment tower, dubbed The Darling, ahead of the Commonwealth Games.
A waiter brings a delectable dip accompanied by freshly baked, crusty bread and lays it on the crisp, white tablecloth as we crack a Stone & Wood and get down to business. "Simon, I've praised your fish soup beyond words, but you know when you put these dips down in front of a large group of people? The bloody olive always stays there (uneaten) in the middle!" Flan chuckles.
"That olive there is a traditional Greek garnish but it's not impolite to eat it," Simon retorts with a laugh as Ocean Road publisher/photographer Brian Usher snaps away candidly.
"Our Kalamata olives, we get them from Greece, and the (feta) cheese," Simon continues. "I'll tell you how you can always tell if a Kalamata olive, or any olive, is fake. You cut into it and if the colour is the same all the way through to the pip, it's been dyed. It's bulls..t and they shouldn't be allowed to do it but they do – I kid you not."
As we digest that shocking revelation, Flan asks Simon about when he first got into the restaurant trade.
"I was cooking in a kitchen in Robina actually," Simon says. "I was washing dishes, doing kitchen-hand stuff, cooking and delivering pizzas. Then the chef got sick or something so I started cooking on the actual line (chef's station). I always had an interest in food and just taught myself. I've stolen a couple of Mum's recipes, mainly the desserts (laughs)!
"My first café was Three Beans in Broadbeach when I was 22. I had that with my brother. We only had it for a year but people still remember me from that because we took it from just a little café to a place that was really pumping. Then we sold that and I opened up Little Beans at Nobbys, expanded it and then sold that. Then I opened up Piccolo (next to Miami Surf Club) and sold that to Robbie McEwen, the (former professional) cyclist. Then I went to Greece for a while, came back and opened Hellenika."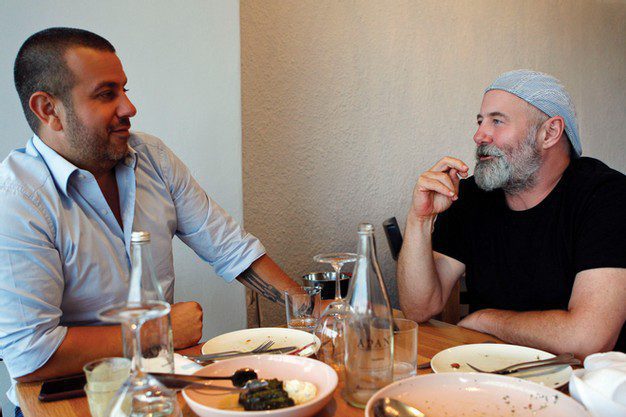 That was eight years ago – ironically the same amount of time Flan has been on breakfast with Hot Tomato.
Simon reveals that Hellenika was originally going to be where the Fish House (the superb seafood restaurant he established several years ago but has since sold) is located at Burleigh Heads.
"Thank God it didn't happen because Hellenika suits here and Fish House suited there," he says.
Flan: "What was your thought when you opened Hellenika? What did you want it to be?"
Simon: "I wanted it to be Melbourne-specific style Greek taverna. Hellenika now, after these renovations, is an estiatorio (upscale Greek restaurant). It's more of a restaurant now, the red bricks are gone. There's no plate smashing and that sort of cliched stuff. I really wanted to make sure that we weren't a Greek restaurant where all the food comes out on the one platter and it's all slapped together.
"We get some of the old-style Greeks from Melbourne who come up," Simon continues. "They'll say, 'that's not a Greek salad', but you've got to understand, in Melbourne, they Aussie-fy a lot of Greek cuisine. I've gone back to traditional Greek. I've gone real Greek. I send over my Greek manager Theo, who's straight off the boat from Athens, to explain the philosophy of what we're about. He goes and talks to them and they can't even understand his Greek sometimes. Half of them come to the Gold Coast and they think 'this can't be good because it's on the Gold Coast'. That's the mentality straight away. Some people still can't imagine how Hellenika can be so good. With King George whiting, for example, we're buying the same fish as (top southern restaurants) Rockpool and (Bondi) Icebergs. People say the food here is 'good … for the Gold Coast'. No, it's just good – good produce. We don't mess with it too much."
As the beers flow, the banter turns to cricket, and Brian's suggestion that Simon would a prime candidate to join Jesus Brian – his indoor cricket team of non-flannelled fools that also includes Flan, former England one-day cricket team captain Adam Hollioake and Trevor Butler, of Big Brother fame. Despite the promise of even more fame and fortune, Simon 'politely' declines the offer, revealing that he's still mentally scarred by his last sporting misadventure – an indoor soccer game that left him in a cast for six months after he rolled his ankle on the ball. "I needed three operations and put on 20kgs," he says ruefully. Flan reckons Simon's decision not to join Jesus Brian is 'probably for the best'. "We always seem to find a way to lose and it wouldn't be good for your reputation," he says to laughter all 'round. "We did win the premiership last season but that was a rare day when we managed to put it together. Our normal captain was out and I wasn't playing, so we won."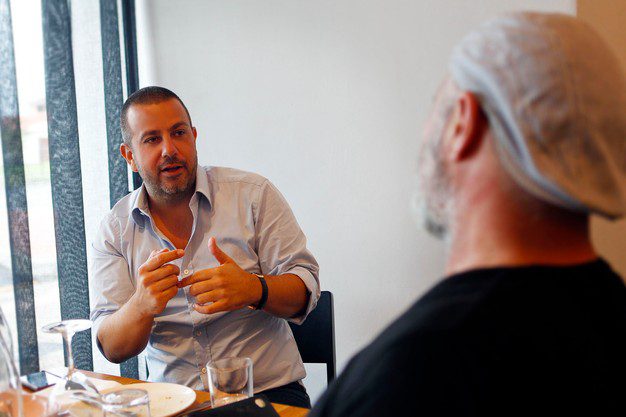 During the week, another high-profile Greek has been in town – controversial free speech advocate Milo Yiannopolous – for a gig at the Gold Coast Convention Centre. Simon observes: "I'll give him one thing, he has got some front, that bloke – but what a loser!"
Comparisons are drawn with Donald Trump, and Brian jokingly suggests that Flan's a fan of the bombastic US president. "I do not love Trump, but I'm highly amused by him," Sean says.
Simon: "I was in LA when the last (US presidential) debate was on. LA is probably the most left-wing part of the States. I'm in a taxi going to dinner and the driver said to me 'did you watch the debate?' I said 'yeah' and he said 'who do you think won?' and I said 'oh Hilary (Clinton), easy'. Mate, it was like the biggest blow-up you've ever seen. He was like 'no she didn't!'. The cabbie lost his s..t. That's when I thought, 'mate, Trump can win this (election)'."
From politics, it's back to a topic far less controversial and much more fulfilling: food.
A keen home-cook himself Flan remarks that he used to watch a lot of cooking shows and was always fascinated by the 'yes Chef!' autocracy of many kitchens.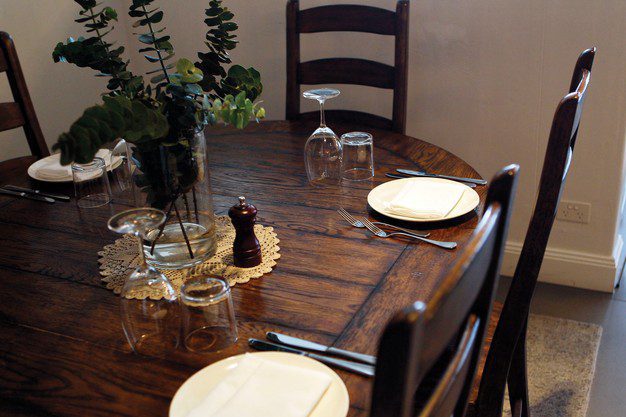 Simon says: "We had one chef here for a while, he thought he was Gordon Ramsay. It doesn't work here. The Fish House was a lot more regimented. Here, when the calamari is at its premium, it goes to the straight to the table. I want it out when it's at its best."
Flan also muses that, while women traditionally are queens of the kitchen at home, restaurant kitchens seem to be male-dominated domains.
Simon agrees. "We've had some great female staff over the years but you're right, predominantly it's still men," he says. "I went to an amazing Indian restaurant in Vancouver and the proprietor only hires older female Indian women. The kitchen's got 25 female staff in there and they all make their specialty, and the restaurant has a line-up out the door every night for like three hours. It's amazing. I'll tell you now, I consider Hellenika's food some of the best Greek food in the country but it would be even better if I had 10 of my grandmothers here. They cook by touch, by instinct. I'd ask my grandmother – she's passed away now – for a recipe. How much salt, I'd say? And she'd say 'that much' (indicating a generous dash). The Greek nonas (nannas) know because they've been doing it for so long. They don't experiment, that's one thing about old Greek ladies. They just do what they've done for 30 years. The same every time, and it's perfect every time."
The waiter brings out three Hellenika specialties: mouth-melting veal dolmades, succulent Greek salad and the most tender, flavoursome calamari we've ever savoured. "My whole life I've hated them, I've never liked them," Flan says of dolmades. "But these are bloody beautiful and I can't figure out the difference. The taste is exquisite." Simon says many Greek restaurants use a seasoning – 'a Greek MSG' – which is banned in his kitchen. "It's worse than Chinese MSG and most Greek restaurants put it in everything. After eating it, your mouth is dry. You'll never have that here. It's horrible; it gives me nightmares and makes my mouth so dry. I feel like I've just got to skol water."
Flan asks Simon about the secret to his Greek salad. "There's no lettuce in it, that's the big one," he says. "It's got the cucumber, tomato, onion, dill, Kalamata olives and feta. You marinate the onion in the olive oil first with plenty of salt."
As for the calamari, Simon says it comes in fresh from South Australia and is hand-cleaned at the restaurant. "It takes someone four hours a day just to clean it."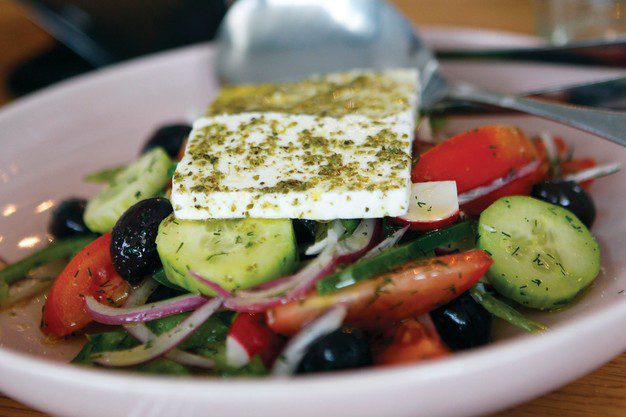 With signature dishes such as saganaki (fried kefalograviera sheeps milk cheese and lemon) and kolokythia (zucchine chips and kefalograviera), Flan cheekily suggests that Hellenika might be 'one of the best vegetarian restaurants on the Coast'.
Simon: "Thankyou for saying that. It's really clean, healthy food but people have in their heads still 'oh, Greek cuisine, that's greasy food'. It's not greasy here at Hellenika– we add olive oil, that's all. Basically, 90 per cent of Greek food is gluten free. Gluten-free, dairy-free … only one or two dishes on the whole menu use butter. It's all olive oil."
Flan: "My experience with many Greek restaurants is you feel sick, you're loosening your belt. It all arrives at once. But not here."
A focus on top-quality produce, together with presentation and service, is the key, Simon says.
"I want it to be a restaurant where I don't worry about the money," he says. "It's probably to my detriment but I've never given a s..t about my food costs. Most restaurant owners walk into the kitchen and say 'why are the costs so high?' When I walk in, the costs go up because I'm like, 'I saw some lobster that's fresh, let's fly this in tomorrow'. I get excited because I'm in the kitchen 90 per cent of the time with the boys. That's my place. I want to just try and make people realise that Greek food can be elegant, it can be really super high-end produce and not just slapped on a platter.
Anyway, Simon says to Flan, enough about me – what about you, Mr No.1 of Gold Coast radio?
"I've been there (at Hot Tomato) 10 years, eight on breakfast," Flan says. "Four years ago, Emily Jade came on board and we had a traditional breakfast team with a man/woman anchor. We're just very much at the right stage of life and our skills are all complementary. There's someone in the room doing something well when we need it. It's just been easy from day one. We've been No.1 for three years. This year, I won my second ACRA award, which is very satisfying. Emily and Christo skills, they're radio – that's what they do. I don't have the first idea about radio. But I was a voice actor and a stand-up comedian, that's a good mix on radio.
"I think as long as you're keeping it real, you're OK. When Emily Jade came on board, I just felt super-comfortable immediately. And more than at any time in my career, I've been myself more – more relaxed, more able to think in the moment. That's what radio is, the immediacy. We're super proud of it mate. We're a very stand-alone station, we're independently owned, and our opponents (SeaFm/Gold Fm) are a big company (South Cross Austereo)."
Flan insists he takes no notice of his rivals.
"All I really give a rat's arse about is that tomorrow (on the show), I'm funny," he says. "That's what I try and do every day. You might not succeed every day. But you have a craft here and when the team gets together and does it right, it becomes a quasi-kind of art."
Brian jokes that Flan used to be funnier when he was fatter. How much weight did he lose?
"About 30kgs," Flan says.
Having your beautiful wife go down with breast cancer will do that to a man.
"When Lisa got breast cancer a couple of years ago, all hell broke loose," Flan says. "She had two or three procedures and the results were getting progressively worse. She was going downhill. She just looked at me one day and I said 'I don't know how to help and I feel really frustrated'. She said 'do me a favour, this is scaring me, so please lose some weight. I feel like this could get me and I wouldn't want to you to have a heart attack and within a really quick space of time, our kids would have no parents'."
In typical Flan fashion, black humour kicked in. "What I did say to her was, 'is there anything easier I could take on?'. But in all seriousness, it was a pretty horrific time in my life, and I had that all going on in the background while trying to be professionally funny on a daily basis (on radio). When you've got that in the back of your head … that's probably the greatest challenge of my life."
Simon: "Do you think it's harder for the person going through it (cancer) or their partner? Or is it equally tough on both?"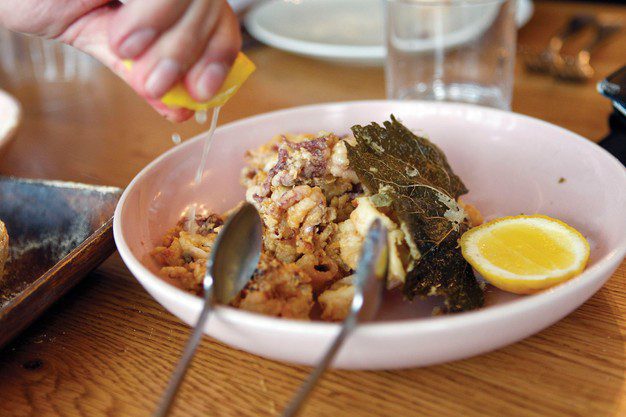 Flan: "I don't know if I can answer that. You (the partner) might feel a pain in your chest from all the anxiety or whatever, but to literally face your own mortality … I've no idea what that's like. I do know that when it happens to the person you love – the mother of your kids – it's terrifying. I adore Lisa. She's funny and kind and all those things you kind of look for in a partner. And she's a beautiful mother. She's so dedicated. With that castle threatened, it was at times terrifying, mate. At work, you've really got to go back and lean on your craft because some days you don't feel that funny. You just feel sad mate, you know – or scared."
Flan's friends, Brian and wife Melissa among them, rallied to help.
"All of our buddies, all of the wives – good Aussie birds, mate – it was amazing what they did," he says. "Within two days of Lisa's diagnosis, our fridge and freezer were filled with food, our house was being cleaned and our kids cared for."
Hellenika holds a very special place in Flan's heart. Numbed by Lisa's diagnosis, it was the restaurant they went to try to process the grim news two years ago. And it was Hellenika where they celebrated the news that she was cancer free.
"That's one thing about a restaurant," Simon says. "We see it all. We see the happy, the sad, the celebrations, the break-ups, the chaos. I've seen a crazy amount of stuff over the years, crazy."
Late last year, Flan hosted a breast cancer fundraiser at Hellenika.
"That was a no-brainer for me," he tells Simon. "What you've created here, mate, is a big deal for me and my family. It's like a landmark for us. It's been a really big part of our journey."