Re-thinking Refrigeration
WORDS: PHOTOGRAPHY
Liebherr is known across the world for delivering unequalled refrigeration performance. Now you can head to Harvey Norman Bundallto check out the impressive new integrated refrigeration display. See for yourself how it all works – and how it can work for you.

Since opening May 2016, the Cooking Inspiration Gallery at Harvey Norman Bundall has been ensuring culinary flair continues to flourish in homes on the Gold Coast. Harvey Norman Bundall is not only a large operation; it's the largest company store in the country. Now, there is an exciting new addition to the gallery, which is sure to inspire the many who have their eye on renovating their homes. The newLiebherr integrated refrigeration displayshowcases concepts, product types; here you'll find the very best in integrated Liebherrrefrigeration solutions. "This is a project that's been in the pipeline for around 12 months," Andrew O'Brien, National Sales Manager Liebherr tells ORM. "Bundallis the Gold Coast's store – and aswe're the leading brand in this country for premium refrigeration appliances, it's the perfect location for us to show what Liebherr products can offer. Liebherr integrated solutions run along the renovation concept. We spent time creating the perfect design for our 7 and a halfmetredisplay to ensure we offer customers a glimpse of what can be achieved. We want to inspire them. For instance, here, customers can see handle-less concepts and try them for themselves."These are high-end, clever designs. Liebherr started the integrated kitchen buzz before it became a trend and these integrated refrigeration appliances ensure uninterrupted design for your entire kitchen. "Having a stand-alone metal fridge in the kitchen is simply not what people want anymore, they want the fully integrated look," O'Brien says. With nearly 60 years experience in this field, Liebherr offer unrivalled performance and the ultimate in reliability. Liebherr specialises in the development and production of the very finest refrigeration appliances, which offer the highest quality and superb design. Innovative ideas really push the envelope when it comes to the final finishing touches of perfection for your fully integrated kitchen. Products are designed, manufactured and tested to preserve the integrity of the merchandise stored inside – whether that is fresh fruit, cured meat or beverages. All Liebherr integrated refrigerator and freezers are tropical climate rated and tested to ensure they perform in the most demanding climatic conditions. So simply the temperature does not falter – even in a scorching Queensland summer! Many of the Liebherr refrigerators on display feature the unique BioFresh fresh food storage system. These zones keep produce at just above 0°C and can be combined with either high or low humidity levels to perfect environment to lengthen the storage life of fruit, vegetables, meat, seafood and dairy products.
ECBN 6256 91cm French door with custom cupboard fronts & handles."These French doors will slide open, offering another option for your refrigeration design," say O'Brien.
2 x ECBN 5066 75cm side by side to create a 150cm concept – with stainless steel doors and handles. "Liebherr integrated refrigeration is all about offering a range of design concepts," says O'Brien.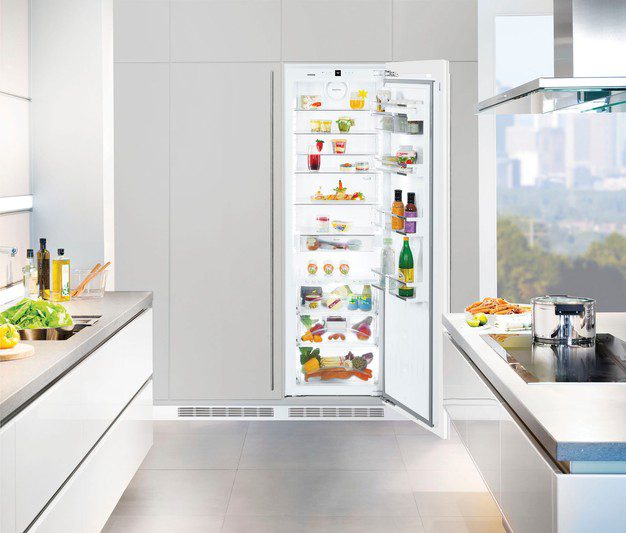 4 x 60cm integrated refrigeration, SIGN3576 + SIKB3550 package, SICBN3366 + SICN3356 package, all handless design with cupboard fronts."Customers looking for inspiration can look to Liebherr," says O'Brien.
EWTdf 3553 integrated wine cabinet installed between the two integrated packs and is installed with a HettichEasys door automatic door opening system, allowing handle-less installation."This is a brand new product we are just bringing to the market," O'Brien says. "We have a good relationship with Hettich and have worked with them to be able to showcase this automatic door opening system to customers.
UIK1620 & UIG1313 installed under bench with integrated door fronts. "Whatever the design of your kitchen, wherever you need your fridge to sit, Liebherr has an answer," says O'Brien.
Are you renovating and looking for inspiration? Come and check out the new Leibherrdisplay at Harvey Norman, 29-45 Ashmore Road, Bundall. Tel: 7 5584 3111. http://www.harveynorman.com.au