Point Danger Welcome's $42 Million Sell-Out Following Record Breaking Sales Run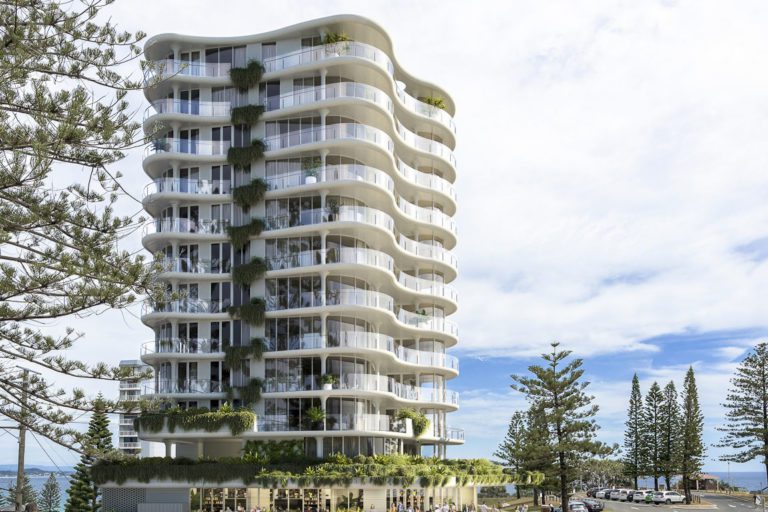 WORDS: Tegan Morris-Collie PHOTOGRAPHY Supplied
An exceptionally rare opportunity to live at the pinnacle of luxury atop Point Danger has officially vanished from the market following the lucrative sell-out of S&S Projects' 'Awaken' residences.
Set atop one of the Gold Coast's highest and most spectacular beachfront locations, Awaken sold out its boutique collection of nine full floor apartments in a $42 million sweep, with apartments going for between $4.15 million and $8.15 million apiece.
Awaken barrelled its way through a spree of record-breaking sales, securing a $8.15 million penthouse sale – the highest apartment price ever recorded south of Mermaid Beach on the Gold Coast – and accruing an average sale price $4.7 million for its 9 apartments.
Whispers of S & S Project's visionary plans for the Point Danger site quickly spread, seizing the attention of buyers both interstate and internationally in a clear indication of product supremacy in an already blistering marketplace.
Two international buyers purchased in the building, including a US couple who purchased the penthouse, while three of the remaining apartments went to Sydney buyers and four to local buyers.
"Awaken triggered something I've never witnessed before in the market," said Jayde Pezet of KM Sales and Marketing.
"We had multiple international buyers rushing to put their name to an exclusive piece of Point Danger luxury, evidently recognising the rarity of such a phenomenal location and product."
"The rate and magnitude of sales we've achieved is a true testament to S & S Project's continued ability to deliver the highest standard in coastal living set in desperately-sought after locations."
The sell-out of Awaken backs up the developer's $74 million sell out of Flow Residences last year and comes just weeks after the S&S Projects' $130 million Esprit project, located in the heart of the Rainbow Bay village, received the green light from council.
"We certainly have an affinity for Rainbow Bay, and we're incredibly grateful for the opportunity to deliver a sophisticated string of projects that capture the essence of the coastal lifestyle in some of the area's most remarkable locations," said head of S & S Projects, Paul Gedoun.
"With each project we have a vision to construct a collection of residences that compliment the area's natural amenity, and it's highly rewarding to see that vision resonate so strongly with our buyers."

The project will rise at 275 Boundary Street and boast an unprecedented panorama of 360 views across the Gold Coast, northern NSW beaches and the Tweed hinterland.
Café Dbar that previously occupied the clifftop site is set to return to its stunning Point Danger location, even bigger and better than before with a ground floor café and first-floor restaurant within Awaken.
One of Australia's most popular contemporary artists, Lindy Lee, has been appointed to undertake a massive integrated artwork set to feature at Awaken Residences, combining an international flair with the elements of the local laidback coastal lifestyle of Coolangatta.
Demolition works on site now completed with construction on Awaken underway with an expected completion in mid 2023.