Peter Doggett – Last Word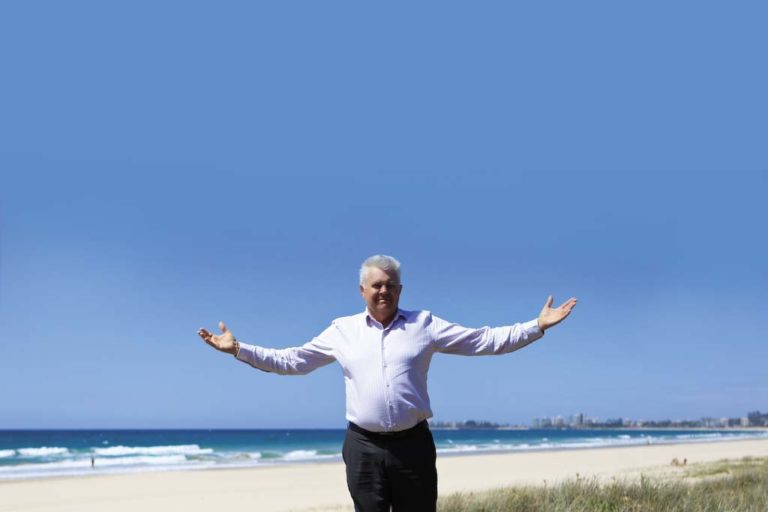 WORDS: PHOTOGRAPHY
Peter Doggett is the CEO at Connecting Southern Gold Coast, an organisation charged with promoting tourism, events and economic development across the eight 'villages' between Currumbin and Rainbow Bay. It's a fitting role for the Gold Coast's own 'Mr Tourism', whose career in the industry has spanned more than three decades, from international marketing at Sea World Resort to senior management positions at Warner Village Theme Parks and running his own tourism marketing consultancy. Peter is Chairman of the Southern Cross University Regional Tourism Advisory Board, a member of the Griffith University Regional Tourism Advisory Board, and an honorary Life Member of both Gold Coast Tourism and the Australian Tourism Export Council. He also sits on Joint Marketing Committee for the 2018 Gold Coast Commonwealth Games.
You've had an extensive career in tourism. What have been some of the highlights?
Initially, supporting pioneer Kerry Watson in positioning the Gold Coast into the international market of Japan from 1985 until 2009. This was a major turning point for the city and one I was proud to be a part of. Even more so was pioneering Australian and Gold Coast tourism into Taiwan and South Korea in 1991. The opening of Sea World Nara Resort in 1988, followed by Warner Bros Movie World in 1991, were also highlights and I spent until 2009 marketing the two theme parks internationally, followed in early 2000 with Paradise Country and The Australian Outback Spectacular.
Where were the most interesting places you visited throughout your career in tourism?
I was fortunate to have visited over 25 countries throughout my career, many of them through Asia and the Middle East. Japan and Canada are two places that stood out in my mind. The lessons I learnt in Japan helped me in many other markets around the world. I liked Japan for the people, food culture, scenery and especially for the way they conduct business. Seeing the need for building and maintaining relationships, particularly in tourism, was a real learning experience for me. Canada would be my favourite place in the western hemisphere, not only for the country's natural beauty and people but Australians appear to have an affinity with Canadians and vice versa . Like Australia, Canadians love their sports and enjoy the wide open spaces.
After a career that has taken you around the world, why the Southern Gold Coast?
There is something that draws you to the relaxed lifestyle here. It's a great place for small and micro businesses, and we're seeing a lot of success in developing that area. Attracting a 4.5 or 5-star international hotel, as well as providing more 'meeting' space are high on my list. There is also the challenge of selling the wonders of the iconic beaches and the contrasting hinterland, just 15 minutes from the coast – it's a diverse destination!
What's your favourite coffee shop?
At last count we have 63 coffee shops on the Southern Gold Coast – all uniquely different – and I continue to work my way through the list! There's a strong coffee culture on the Southern Gold Coast and I encourage your readers to come and experience it for themselves.
How do you like to spend your down time?
There is never a dull moment on the Southern Gold Coast with such a diverse and expansive region to look after, as well as year-round festivals and events, so it's rare that I get much free time. However, when I get the chance I just take the opportunity to chill out, or take a drive to Freeman's Organic Farm at Tomewin Mountain for a coffee and to buy some true organic fruit & veg.
Do you have any words of wisdom on the tourism game?
I have long believed the golden rule of tourism marketing is to: firstly sell the destination, secondly build the relationship and then thirdly promote your product. Throughout my working career I have followed the philosophy: 'adopt, adapt, and improve'!