PALM BEACH GOLD COAST MOVIE REVIEW
WORDS: PHOTOGRAPHY
No matter what knowledge or viewpoint you have on attending movie premieres, there is nothing quite like attending one with your magazine editor and chief. Now I have said before, that I have known Brian Usher for over 20 years, which he constantly reminds me about "that you get less for murder."
Now our relationship as friends, does not impede my viewpoint of him, that he is in fact a talented photographer and publisher and I jump at every opportunity to drink a free champagne on his dime. So on the 6th August, invitation in hand, I rock up at his house dressed in a socially acceptable dinner jacket, bemused by the fact, that Brian is wearing the same jacket and jeans that he wore to our last outing at Polo by the Sea, complete with Champagne stain on the arm. He brushes me off with his nonchalant wave and proceeds to gather his weapons of mass interruption, (his camera). Now I may not be the head of neurology at the University Hospital, but I suggest I am smart enough to know that the chief photographer for the Ocean Road Magazine, would rely heavily on his camera equipment? So, I do not feel that I was being judgemental about laughing at Usher fumbling around his camera bag, looking for a charged camera battery, to no avail? Instead throwing his champagne stained jacket arms in the air and saying, "bugger it, I will shoot it on my phone."
Ocean Road Magazine Editor & Chief – Brian Usher
Journalist and Movie Reviewer – Hamish Mitchell
There was no grand limousine waiting for us at the Usher residence in Tallai, (or the Hollywood Hills as he so aptly refers to it), instead we piled into his family car, my head resting on the dashboard, I comment, "do you have a dwarf in the family, my seat is so close to the engine, my feet are sweating" He laughs and reminds me that they have a four year old son, which I remind him should be sitting in the back seat. We venture off down the hill with a warning engine light on, toward my first Movie Premiere on the Gold Coast, Rachael Wards and Bryan Browns latest Australian Flick entitled Palm Beach.
We arrive early at the Pacific Fair Cinemas, we wander in hoping someone will notice us, we spot a few socialites and a couple of real celebrities enjoying a champagne at the bar and so we mingle our way to the front to get our free drink on arrival. I am unsure of the cost, (because the drink is free) but it tastes good in its plastic vessel because of that value. I spent the next ten minutes trying to work out how I get another first free drink on arrival to no avail.
We are approached by journalists and movie critics from other publications, they shake Brian's hand, it is what we do at this type of event I am told. I smile when Brian has to field questions about the whereabouts of his camera and so we pose for an awkward red-carpet photo in front of the Palm Beach billboard, blinded by the gigantic circular mozzie zapper light placed at the front, it took about an hour for the black dots to leave my vision. I realise that the intensity of this photography light is essential to wash out any wrinkles that may appear on the celebrities posing for photos, and so I now have a 24-year old version of myself standing in a photo at a movie premiere. I sent the photo to my mum, and she text back, "you look so pale, are you eating right?"
We enter the wrong cinema and realise that it is not the movie we are here to see and make our way to the correct cinema. Bryan Brown and Rachael Ward are sitting at the front of the room being interviewed by Emily Jade from Hot Tomato. We take our seats near the front and listen to Bryan and Rachael introduce their movie.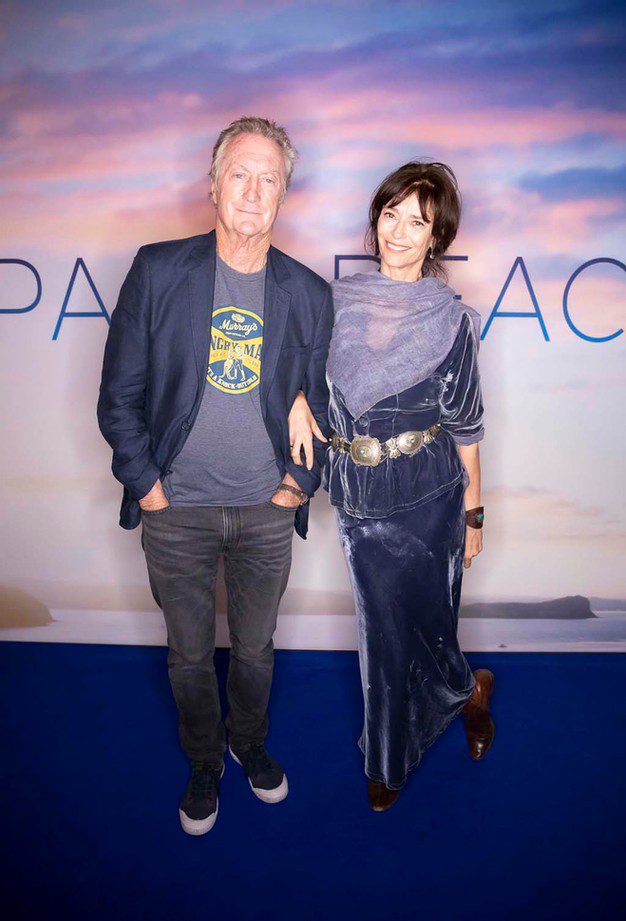 Bryan Brown & Rachael Ward
I have a deep feeling of familiarity when listening to Bryan Brown speak, possibly due to the fact that he is been in a 100 movies in his career, and being from the bush I identify with his rustic strayla accent, his sharp and powerful overtones belt out over the microphone, he is more charismatic than I would have imagined.
It is well known that Rachael and Bryan have been in movies together in the past and as a husband and wife director/actor partnership, they have become an Australian institution, their longevity proclaims them that honour. I doubt there has ever been a movie that they have worked on together, that resonates so close to the bone with their own mortality than it does with this movie. Rachael quipped a reference in her pre movie introduction, "that we wanted to show that actors and artists of our generation still have something to offer, regardless of our age".
Palm Beach is their latest venture and it is set in the highly valued suburb of the same name 41km north of the Sydney CBD.
The movie is a human journey of three mates, that never quite grew into their baby boomer's generation. The burning questions are still very much alive amongst them about who was actually to blame for their failed tilt at rock stardom back in the 1980's. They have come to Palm Beach to celebrate Franks (Bryan Brown) Birthday.
There is a series of undertones throughout the movie that cross the pages of love and lost relations, success and failure, friendship and marriage, the humour and fragility of aging. The movie is beautifully written and directed and the cinemaphotography by Bonnie Elliot will surely add a few zeros to the real estate value in Palm Beach.
The movie is blessed with a stellar cast including Brown, Sam Neill, Greta Scacchi, Jacqueline McKenzie, Richard E Grant and Aaron Jeffery.
Watching this Film, you will experience first-hand and through numerous scenes the explicit moments of life, that circulate within our friendships and our relationships. The set design, the conversations, the food, the wine, all place you at the table amongst the actors in a reality TV show similar to Big Brother, albeit with a million-dollar budget. One gets the feeling that the characters cannot leave the house, it is a contest of survival until the raw bone has been chewed, unfinished business the subliminal message, tip toeing around the real story of our lives and what we potentially might end up thinking of our friends and family as we enter our twilight years.
Like many, I've been disappointed with most "preaching to the choir" type Australian movies in the past. Movies that try to identify a way of life and specific culture unique to the Australian demographic, movies that push you and starve you of viewer intelligence. I was pleased that this movie allowed me to organically evolve and take the journey with the actors, although it crossed a bridge on occasion, for the better part though, the elder audience laughed out loud watching themselves. For some reason, the styling and setting reminded me a little of the Mamma Mia movie, to the point where I expected Pierce Brosnan and Meryl Streep to become intruders in the house, the dappled sunlight, good people going about their everyday business, nice cars and houses, all of it floating about. Don't get me wrong, the film is well made, the passion and dedication of everyone involved is evident throughout. The script is literate yet natural, the directing style straightforward and workmanlike—I thought of Clint Eastwood's low-fat, high-protein formula for delivering a story—the cinematography, production values, and casting are top-drawer and the directing of Ward carries the film triumphantly, in a just world she would be showered with accolades and awards, but this is not a just world. I doubt she cares at all really, as she immerses the viewer through her exceptional film-making craft. Rating 4.0 stars