WORDS: PHOTOGRAPHY
As soon as the new 420 Outrage arrived on the Gold Coast, ORM was there to climb aboard. This is the largest boat the company has ever built and it's brimming with incredible features…
Andrew Bennett, the Dealer Principal for Boston Whaler Australasia was excited to inform ORM that his New 420 Outrage had landed – and was ready to show off in the local Broadwater.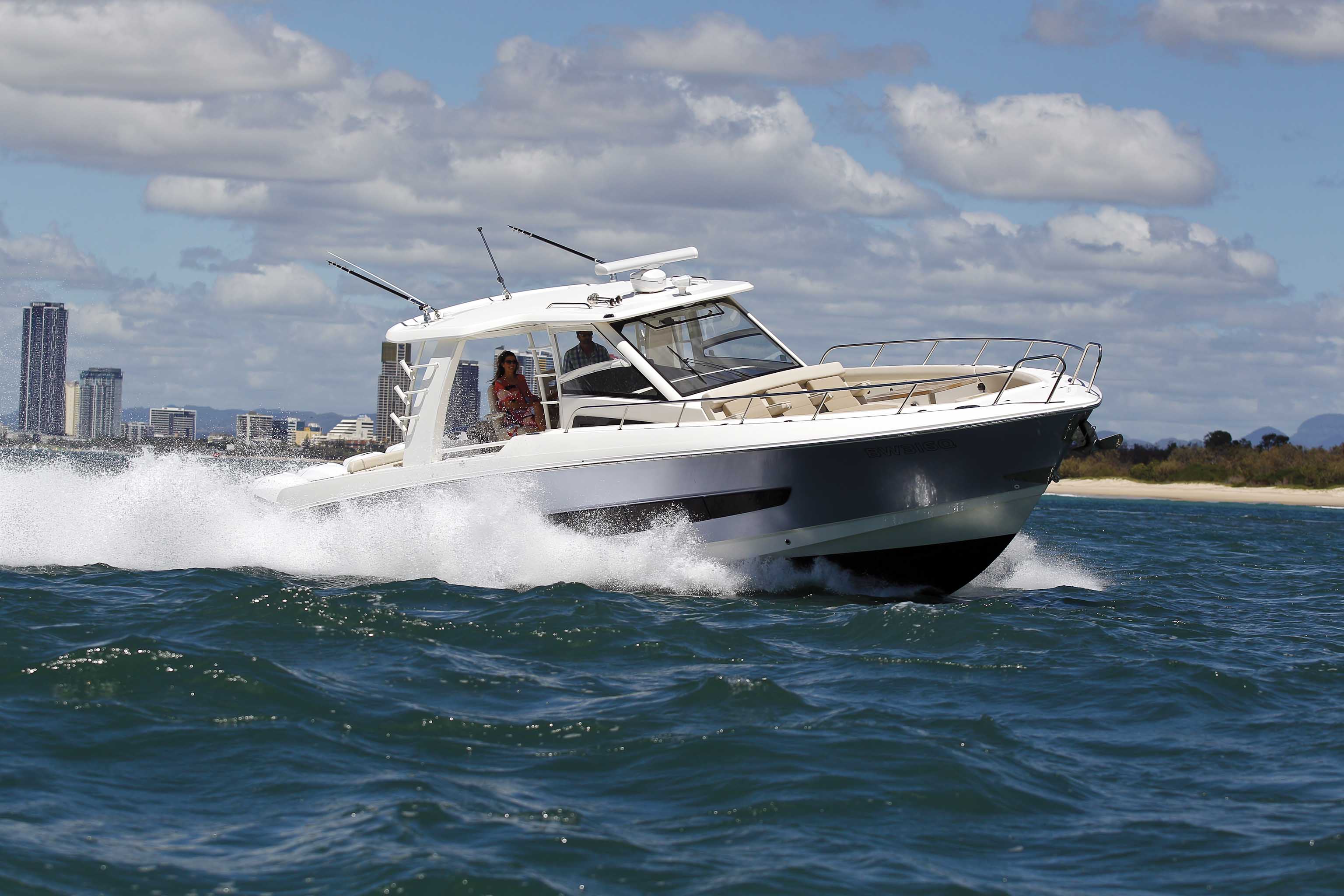 So it didn't take me long to except the offer to climb aboard this amazing piece of craftsmanship and share a wine with both himself and his lovely wife Olivia as they both talked me through this amazing open yacht vessel.
As I approached and tied up to the rear of the boat in my 20 Foot Baja, it was our tender and looked like a small tinnie behind this rig, which soon became very clear just how big and bold it really is when in the water.
What soon became very obvious to me was just how passionate Andrew was, when talking about this boat. Andrew has been in this game for over 20 years of which we have known each other and the passion and enthusiasm was simply oozing out of him.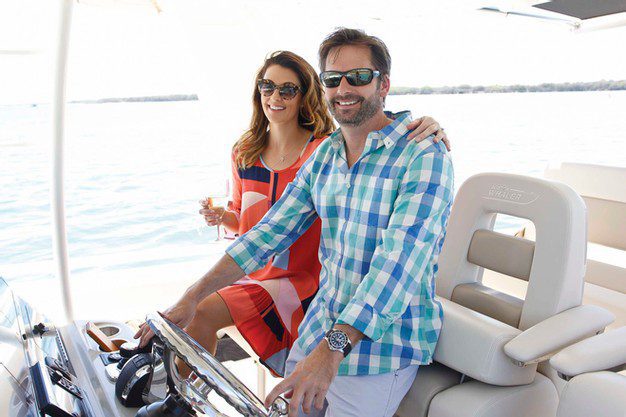 "The 420 Outrage represents the largest boat the company has built and it seems the brand has thrown everything it has to offer into this vessel," Andrew told ORM. "She'll fish the seas for days, and just as easily convert to hosting formal cocktail parties, and then transition to a family cruiser heading to your favourite getaway. Once there, it can serve as a dive platform for the kids. There really is no other boat like it."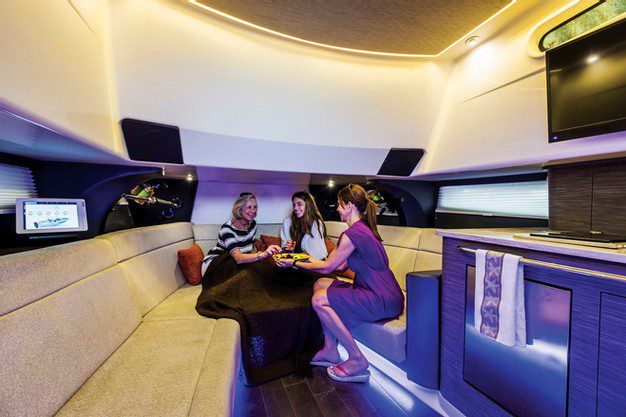 Huge comforts, legendary capability and unmatched state-of-the-art features make the 420 Outrage a boat like no other in its class. From the expansive bow with innovative seating galore, to the well-designed convertible helm and cockpit areas, the 420 excels at both on-board entertaining and pleasure cruising. With so many inviting spaces to settle in for the day here on the Broadwater, this is the yacht you'll want to enjoy with family and friends whilst most will only observe and wish they were on-board…
The all-new 420 Outrage is described by Boston Whaler as an "open yacht" that can do "almost" anything demanded of any other boat in this size range short of ocean passages.
Certainly, all-day trips to distant fishing grounds and staying there for extended periods are high on her list of capabilities.
As an entertainment platform, her on deck "summer kitchen" permits outdoor cooking which is very much the ultimate lunch on board any boat. With her opening hull side door it makes an ideal dive platform complete with storage for dive tanks if required.
Under floor freezer plates makes for easy entertaining as you can always carry access stock just in case the party continues on into the night… Andrew and Olivia both had very big smiles on their faces when telling me of this feature. I can only assume this boat has seen some serious entertaining already that have required the excess stock down below!
"The Kids enjoy this boat the most with the roof transformed into a Very Popular Dive Platform…"
"Looking for your ropes and about to park ? Just press the hook button and the GPS will automatically hold its position controlling all aspects off the boat"
Horsepower
Quad 350hp L6 DTS White Quad Mercury Verado FourStrokes with Joystick Piloting.
Cruising at 35MPH with top speed of 50+mph.
More to come on the engines
With joystick functionality, Andrew was able to dock this boat in extremely tight confines with literally a touch of a button. It responds well to slight touches of the control head, so the key is to use light pulses and let her momentum do most of the work. With the mindset of directing that momentum things will be kept smooth and slow with no harsh contact with the dock, or any surrounding boats which is always handy , and even the most novice boat handler should look like a pro every time, so there is hope for me yet…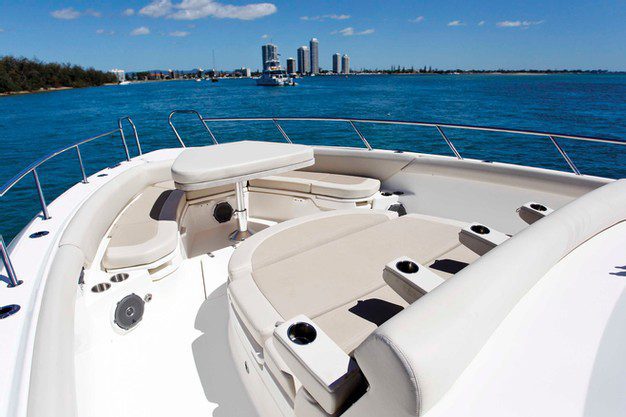 With local networking, all of the vessel's functions can be controlled from an iPad. There's even the ability to add specific profiles and name them as desired. Andrew created "romantic" that dimmed the lights, turned on the blue courtesy lights, and added some favourite music, I always knew he was a romantic at heart!
What good is having a premium level fishing machine if you can't haul a huge fish aboard? With the 420 Outrage, there's a standard hullside door, 24″ (61 cm) wide that will serve the purpose nicely. Additionally, there's a swing-out grab handle to the side and a reboarding ladder that can insert into a socket in the deck making this serve double duty as a dive door.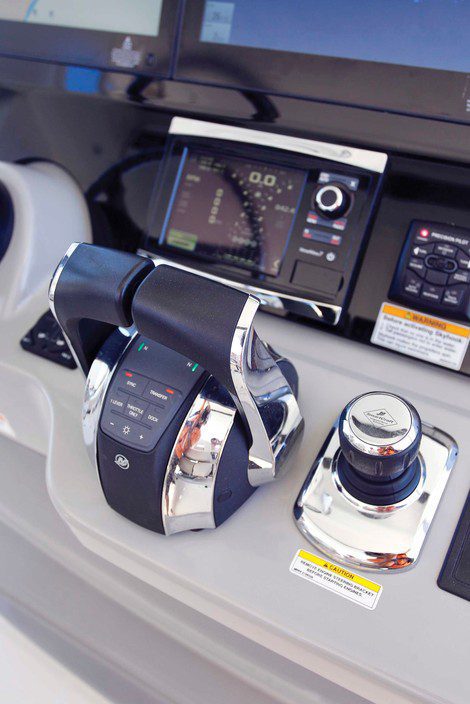 Getting fish hooked up usually doesn't happen right away, so we need a place to sit while keeping an eye on the lines. Pullout bench seats don't solve the problem, deck chairs get in the way, and a dedicated fighting chair also isn't without its problems. Boston Whaler's solution is clever, easy, and solves virtually all problems. The three across seating at the helm features two observer's seats to each side that can swivel around to face the stern providing a place to sit, watch the lines, and even put feet up for added stabilization. This is a very well thought out.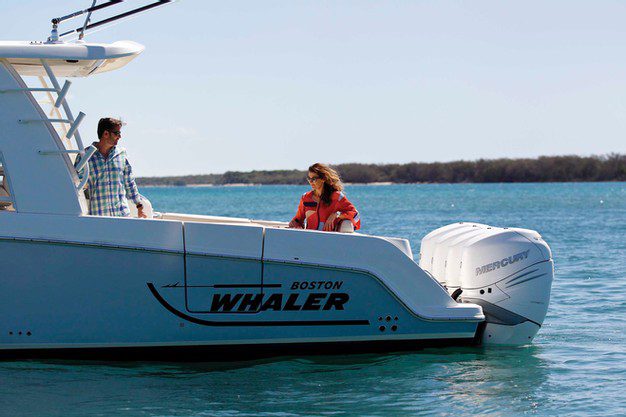 The bow has wraparound seating that can convert to chaise lounges. The centre of the three across lounger flips up to form another seat closer to the forward bow seating. A stereo remote is just behind the port bow seating. This "module" also includes a switch for the blue courtesy lights and an actuator for the electric lift hi/low bow table, allowing it to convert to a sun pad. The latch just to the right is to release the seat cushion to form a chaise.

The cockpit has 55 sq. ft. (5.1 sq. m). It easily converts to a seating area for cocktail parties or just hanging out with the standard flip-out bench seat across the transom and an optional fold-out bench seat for two in the starboard side. Ladies will like these seats which can hold five people. Men won't mind seating on the gunwales to port – which means as many as eight adults can be entertained in the cockpit.
It allows for grilling the prawns while never having to leave the party!
A grill to the starboard side is standard equipment and the lid is on a micro-switch that shuts off the electricity to the grill when closed – all very state of the art and super safe. Just below is a cockpit refrigerator, again eliminating the need to leave the party to get guests their chilled drinks.
It seems I have heard about everything this boat can achieve, from horsepower, the serious fishing, the kids playground on the roof, and of course the very serious entertaining facilities.
The big question I have – what doesn't it have?
It's really the ultimate vessel. It simply has to be seen to be appreciated. Andrew and Olivia have been the ultimate hosts and I feel very privileged to have experienced such a beautiful boat.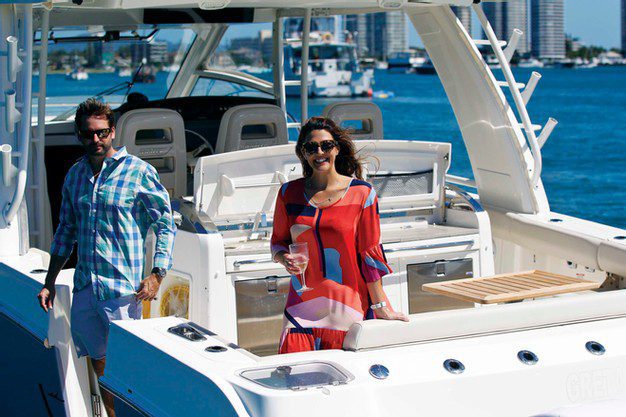 Andrew and his team at Queensland Marine Centre have big plans for 2017 with some new showrooms in the pipeline, so stay tuned. For a personal viewing of this boat please call 55917032 or visit the showroom at U10, 71 Shipper Drive Coomera or visit the website at qmc.com.au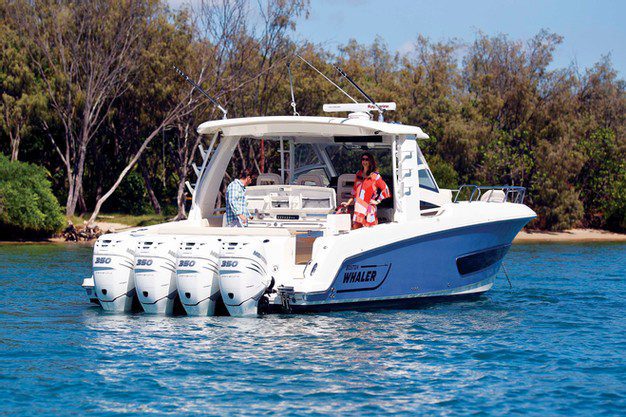 Features
Helm seating accommodates 6 people and converts easily to face forward or aft.

Cockpit sunshade deploys electronically and features black Sunbrella® canvas.

Enclosed head includes electric VacuFlush™ toilet and an enclosed shower with rain shower head.

Spacious cabin with V-berth offers 7 feet of headroom and two available colour schemes.

Convertible aft bench tucks away to expand the cockpit with even more fish-fighting room.

Quad Mercury® Verado® 350s with Joystick Piloting offer incredible power and precision.

Mercury's integrated SmartCraft® VesselView display, power steering and digital throttle and shift combine for sophisticated, seamless command.

Dynamic Running Surface hull technology, featuring automatically adjusting trim tabs, lifts ride quality to new levels.

Blue LED courtesy lighting in cockpit

Molded fiberglass boarding/dive door port side with removable stainless dive ladder with storage

Fusion stereo with full function remote control

Deluxe leaning post with bait prep area with cutting board

Electric grill with hinged solid surface lid

Pressurized livewell with viewing window, clear lid and blue interior

Fold-away stern bench seat

Flip-up backrest at forward end of lounge providing wraparound seating

Insulated in-floor storage/fishbox with drains

Convertible double berth with filler cushion