WORDS: Emily Hastie PHOTOGRAPHY Ellamay Fitzgerald
Some of the Gold Coast's most innovative creatives have pooled their talents to unveil the artist-run Mint Art House – a splendid new gallery space in Burleigh Heads.
NEWLY minted collaborative studio Mint Art House is the brainchild of 16 Gold Coast artists, each at various stages in their career, with the unified mission to support one another and bring arts to the wider community.
The artists, who range from ceramicists to painters and sculptors, are powered by a shared belief that art isn't meant to be experienced exclusively in a white-walled gallery.
The Mint Art House team believes creativity is free for all – and best expressed openly.
The gallery, at 5/87 West Burleigh Rd, Burleigh Heads, incorporates an artist-run studio, shop and exhibition space, with artist-run workshops and exhibitions to the public.
Visit www.mintarthouse.com to view the gallery's event guide, current exhibition details and shop for art prints, ceramics, and unique gift ideas.
THE MINT ART HOUSE CREATIVES …
Dion Parker: Illustrator/Painter/Sculptor
insta: @dionsribs
A Gold Coast-based multidisciplinary artist, Dion is known for his humorous, innocent yet cheeky and beautiful works predominantly featuring his signature character, 'Lil Dusty'. Dion and collaborator Andrew Cullen won the 2018 Swell Sculpture major award for 'Prickles the Unhuggable Bear', a 4m- tall teddy bear made from recycled barbed wire and reo bar that now resides at M-Arts Precinct in Murwillumbah. Dion has created sculptural trophies and posters for the Gold Coast Music Awards for the past five years, with winners including Tones and I, Amy Shark, Karl S Williams and Saint Lane.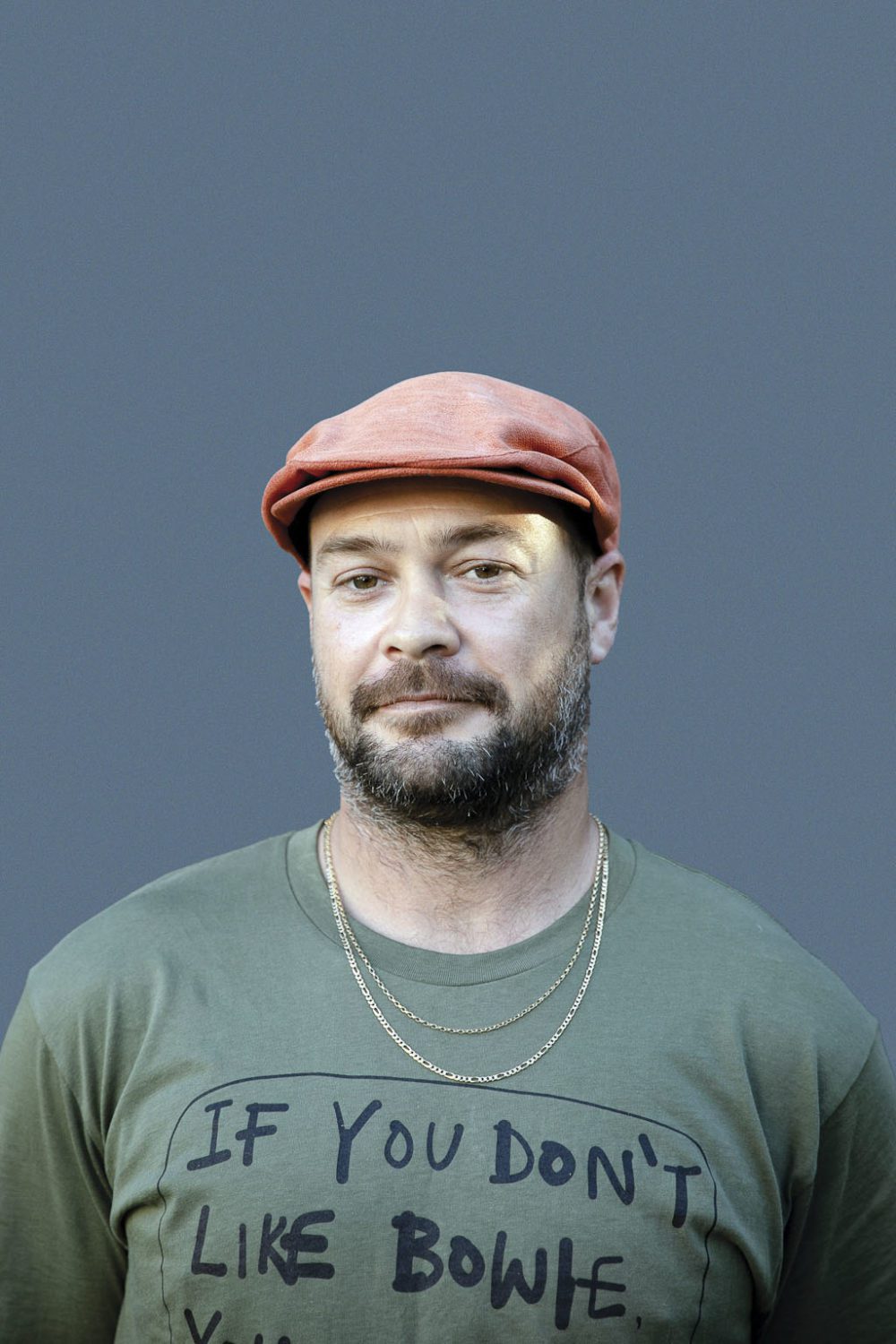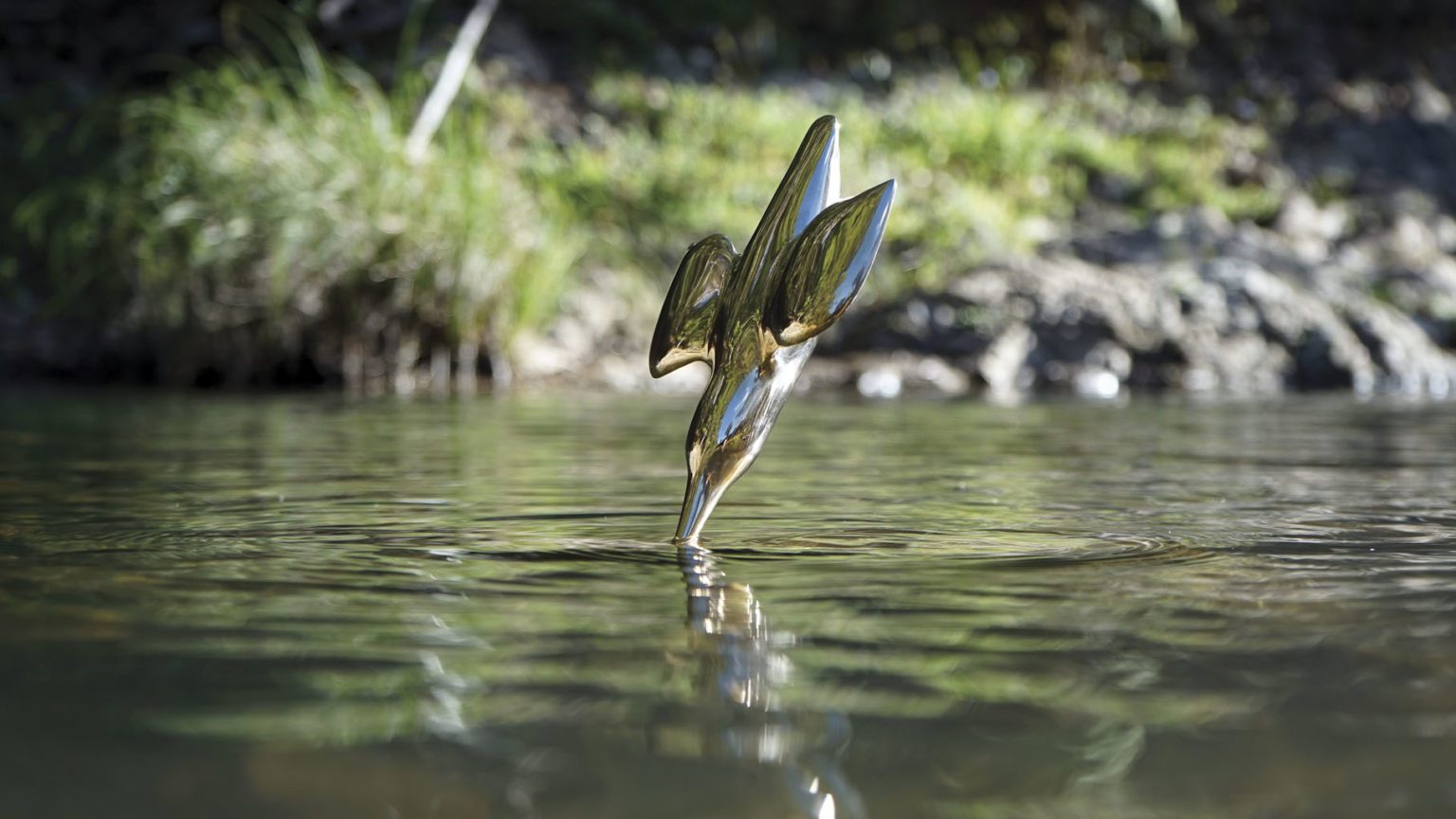 Emily Rose Hastie: Pyrographer/Artist
Insta: @emilyrosehastie
www.emilyrosehastie.com.au
Mint Art House co-founder Emily Rose Hastie is a home-grown Gold Coast talent whose art practice moves with freehand drawing, painting and pyrography (wood burning). Emily's work explores the interconnections between humans and the natural local landscape, with artwork exhibited in the Tweed Gallery Border Prize, Dust Temple Portrait Prize, Burleigh Brewery, SOFA and Level Up Gallery. Her work often seeks to generate awareness of the regional fauna and flora we share our habitat with, and more recently, how this landscape has shaped the people of our region in her acclaimed solo exhibition, Legends of the Surf.
Natalie Popovski: Painter
insta: @natpop
Self-taught Natalie Popovski, AKA Nat Pop, is one of the co-founders of Mint Art House. Her paintings revolve around the mundane, highlighting its significance as an insight into society and culture. Natalie uses her art as a way to explore humankind and the subtle forces that shape and guide us.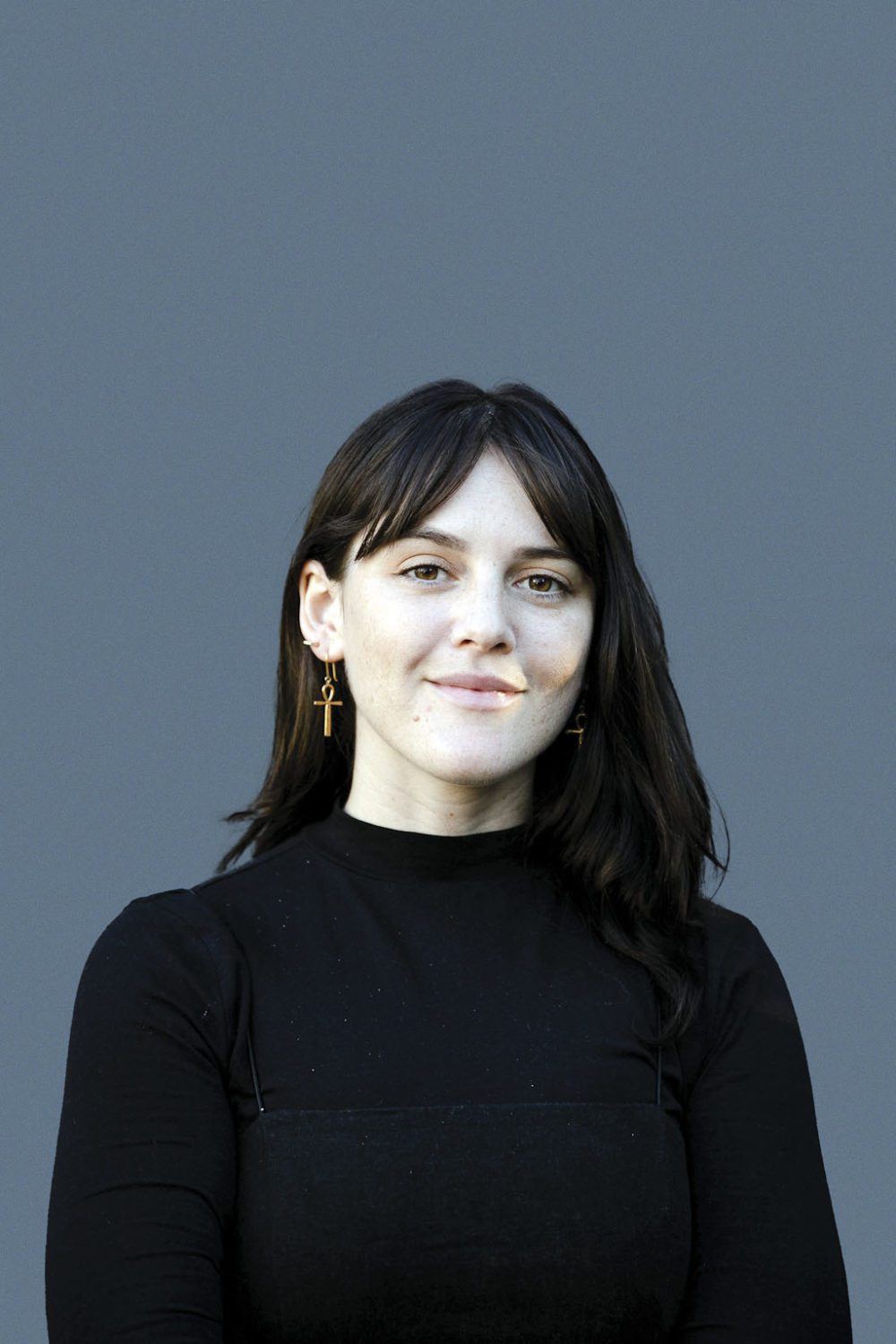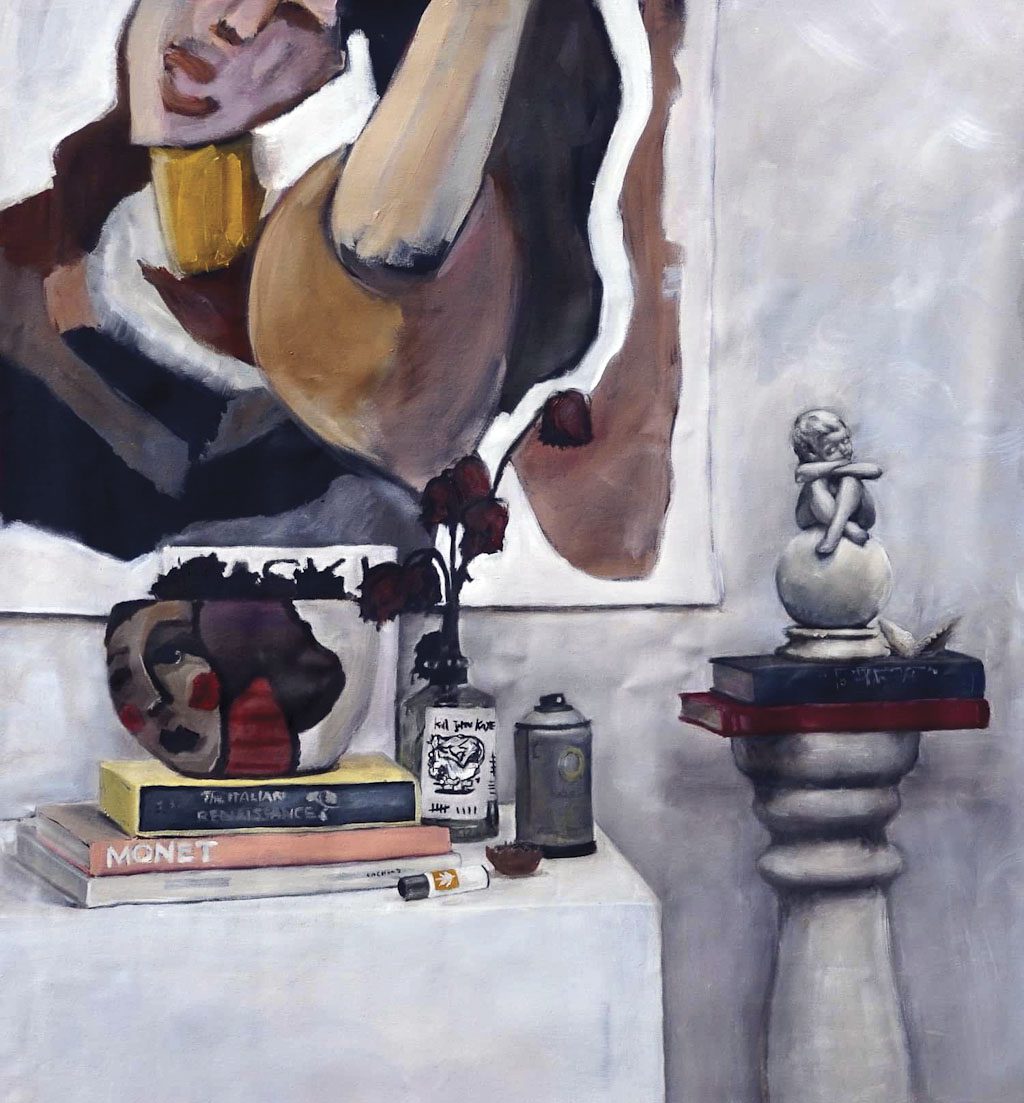 Owlet AKA Cara Sanders: Artist/Muralist
insta: @owlet.art
Cara Sanders, also known as Owlet, is a self-taught artist and muralist based on the Gold Coast. Owlet's practice is a love of process inspired by a connection to the natural world and a curiosity for life. Abstract and expressionistic, her compositions are energising and sensual landscapes translated by moods and experiences. Owlet has undertaken public art projects across Australia and received support from Mackay City Council to undertake mentorship in a 20m high water tower mural in North Queensland. A member of the HOTA (Home of the arts) Gallery Visual Arts Youth Advisory Group, Owlet recently launched her new collection, The Untamed, at Mint Gallery.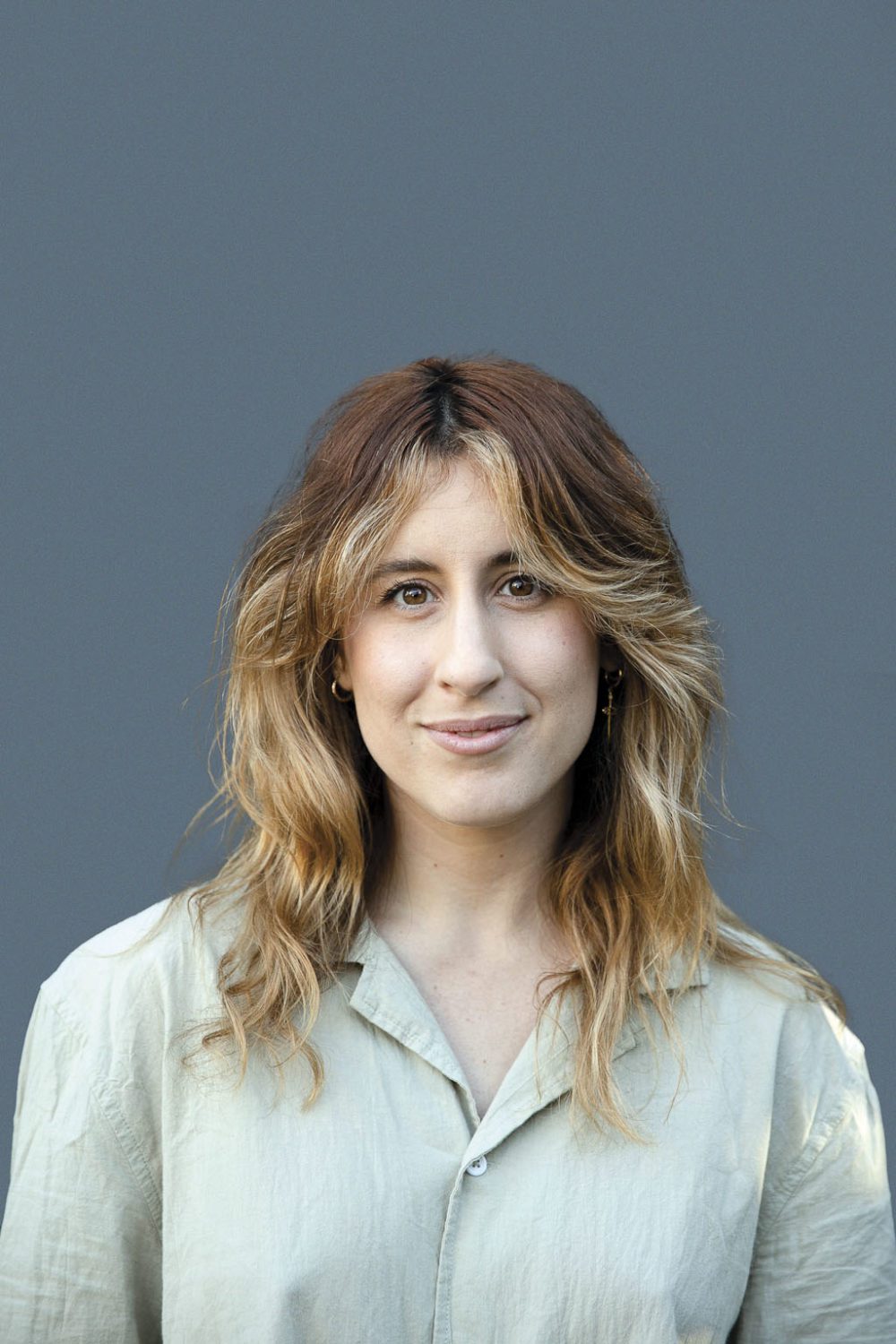 Dean Brockett: Ceramist
Insta: @deanbrockett
Driven by a mission to explore and experiment with the explosive alchemy of ceramics, Dean Brockett is inspired by a broad range of forms and aesthetics. Drawing inspiration from ancient Japanese methods, Dean marries the ancient with the modern to create abstract pieces inspired by obscured yet familiar household objects.
Jude Mud-Wife: Ceramist
insta: @madeinburleigh
A midwife by day, Jude is a ceramist working in both domestic ware and sculptural forms. Although her work is not figurative, she is deeply inspired by the primitive instincts present during the birthing process. Jude feels humankind's connection to the Earth and has an endless fascination with Tallebudgera Creek; its rhythms and the seasons, the change of winds and the movement of species that inhabit it. "When I look to nature, I feel all the answers there, right under our feet, and so often we choose to ignore them. Everybody looks to the stars but I tend to look at the Earth for the answers."
CRT: Painter/Muralist
insta: @crt.designs
CRT is a visual artist who utilises artistic tools across the creative spectrum from spray paint, brush and stencil to sculpture design and most recently, clothing. Connecting the contemporary world with bygone eras and heavy references to the '70s and '80s, her work is inspired by vintage comic advertisements, religion, Basquiat and the bright pop colours of Andy Warhol. Regularly commissioned to paint large-scale murals at cafes, bars and local businesses across the Gold Coast, CRT was commissioned by HOTA to paint a 9m x 7m mural of her desire in 2019. CRT often exhibits in group exhibitions including Swell 2019, Melbourne CAMArt Show 2018, Art Gallery of NSW Belle Art Prize 2019 and Sand Safari 2020.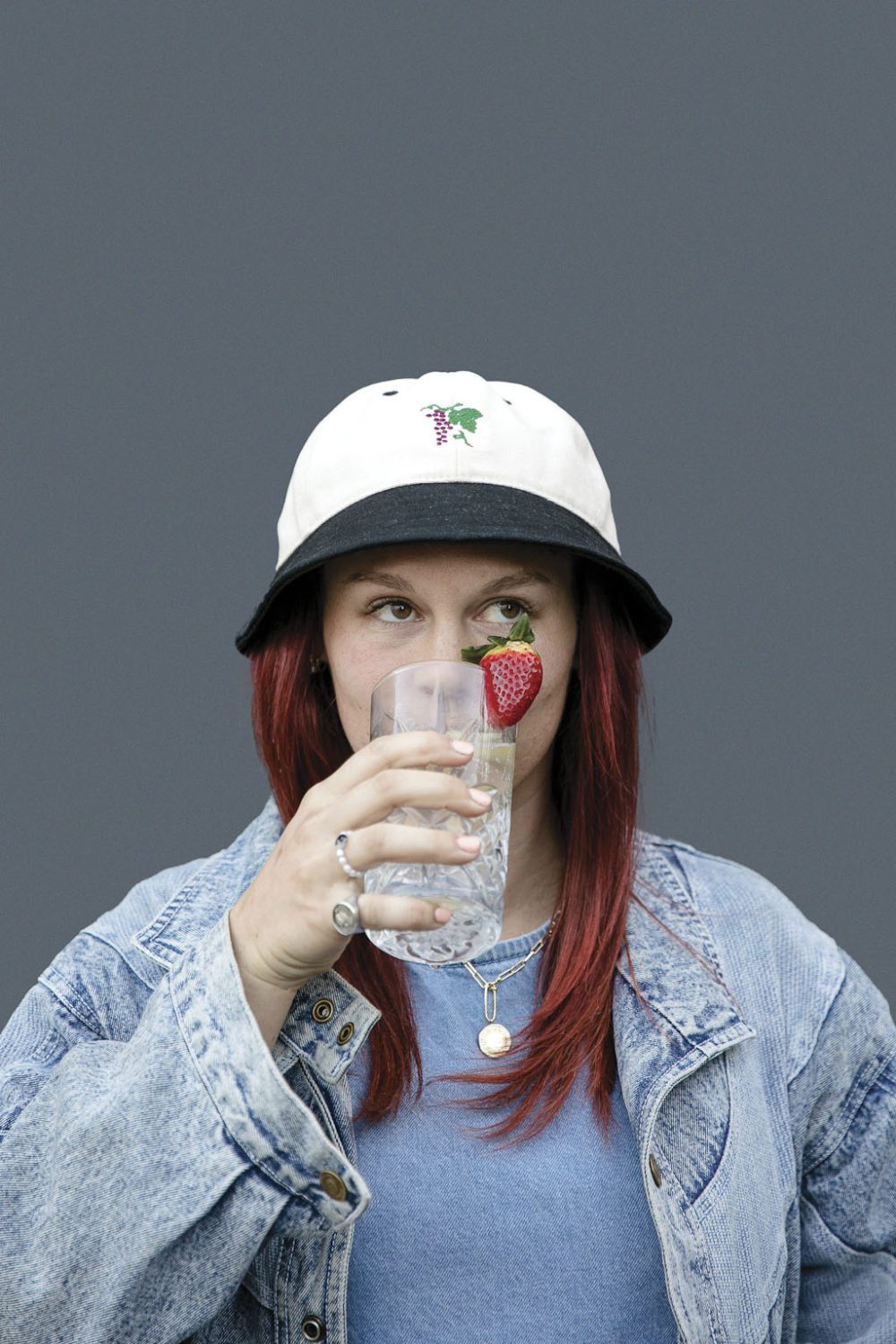 Camile Manley: Illustrator/Muralist/Painter
insta: @camillemanley_art
Camillemanley.com.au
A graduate of UNSW Art & Design, formerly the UNSW College of Fine Arts, Camille is a multi-disciplinary artist who specialises in illustration, murals and visual art. Awarded a HOTA Artist Fund grant in 2020, she has created artwork with the City of Gold Coast, Brisbane Street Art Festival and Sydney Festival. Combining digital illustration with contemporary acrylic and gouache techniques, Camille uses vibrant colours and depth to share dynamic visual stories, often involving figures intersecting with nature. She sees art as crucial to engage, inspire and challenge broader audiences and conversations. Her debut illustrated picture book, Goodnight, Toes, written by Justine Adams, will be published in September.
Ellamay Fitzgerald: Photographer/Artist
@ellamayphoto
Ellamay Fitzgerald is an Australian-Thai photographer living and working on Yugambeh land, in Queensland. Her work explores the human condition through experimental imagery of the female form and flora, linking connections to her own cultural identity and the natural environment. Ellamay uses her arts practice to challenge social norms and elevate people from diverse cultural backgrounds and under-represented voices.
Ellamay studied a Bachelor of Photography at QCA Brisbane, graduating in 2014. She launched the 'Self Love Project' in 2019, offering nude figure photography and group shoots to women of all sizes, ages, ethnicities and backgrounds to create a safe space for women to openly express themselves, encourage self-acceptance and promote inclusivity.
Ellamay has presented works both solo and collaboratively for The Walls Art Space, Generate GC 2021, Bleach Festival 2020, Placemakers Gold Coast, Mint Art House, Level Up Gallery, Level One Seventeen Gallery, Running Duck Theatre Company, SUNSTUDIOS Sydney and QCA Brisbane. Ellamay is currently a member of the Youth Advisory Group for the HOTA Gallery.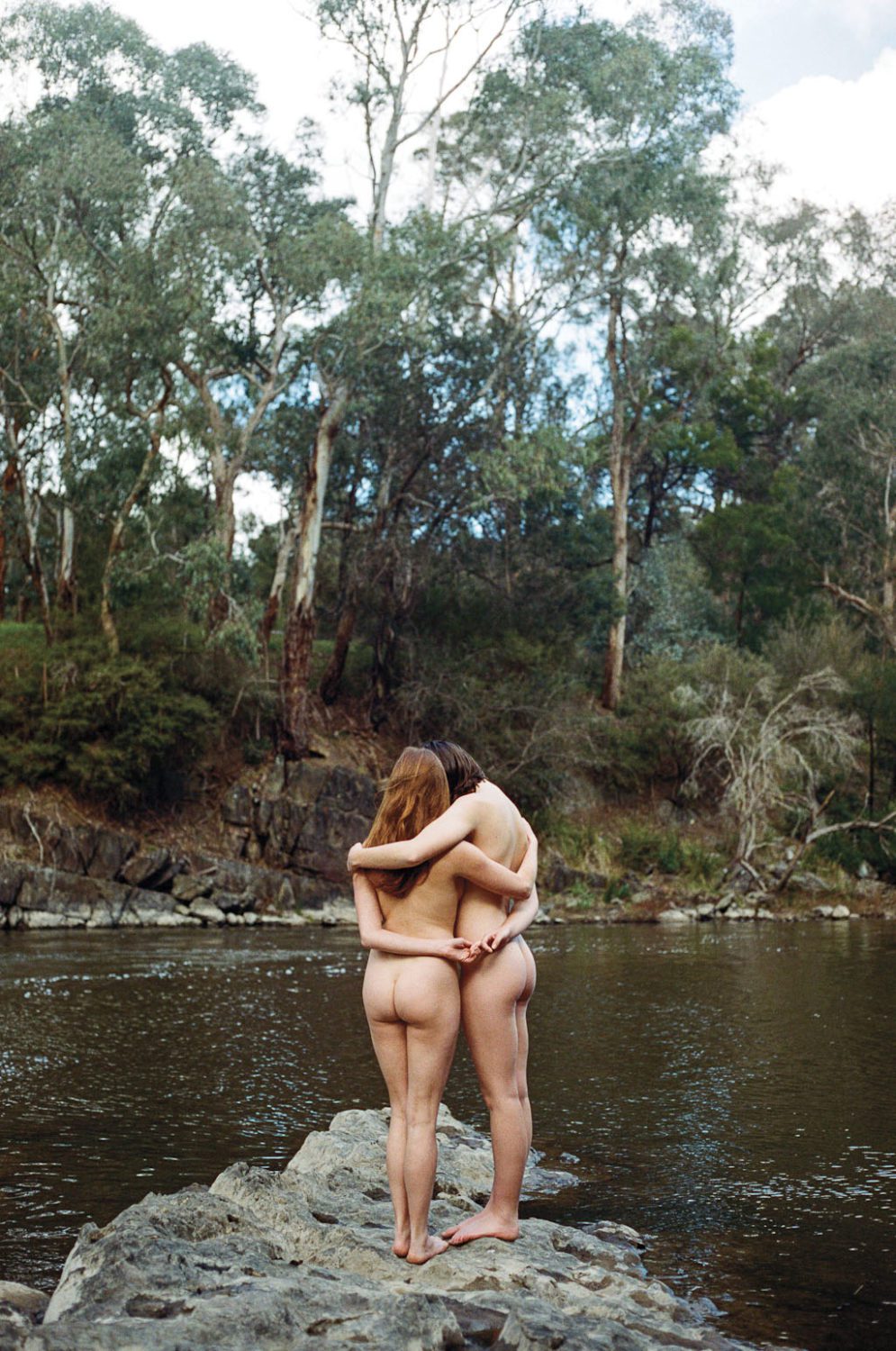 Shmick: Artist/Designer/Muralist
insta: @shmick
Shmick (Michael Motteram-Smith) is an Artist/Designer best known for his large scale murals. Inspired by the coastline, rainforest, native animals and stunning surroundings. His style largely consists of dreamscape compositions, expressionism, while incorporating a delicate balance of surrealism and realism.
Steve Gorman: Artist
insta: @gormanism
0405 759 425
While he's predominantly self-taught, Steve studied for a short period at Julian Ashton's School of Art in Sydney. His current focus is on landscape and figurative compositions. Steve has won several first prizes and was recently a shortlisted finalist in the Dust Temple portrait prize, the 2020 Lethbridge 20000, and was a gallery finalist in the 2021 Lethbridge Landscape and 2020 Clayton Utz art prizes.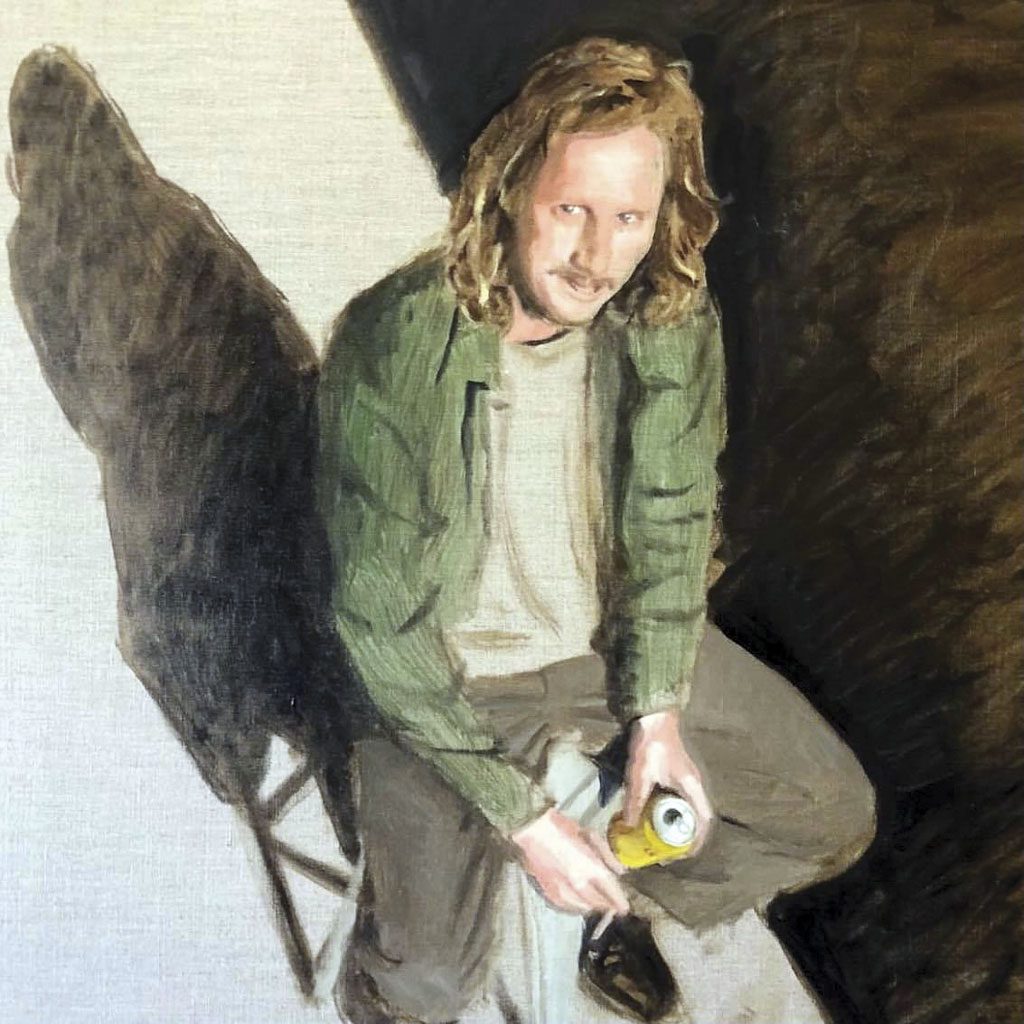 Thea Skelsey: Artist/Graphic Designer
insta: @theaskelsey
Thea Skelsey Art is the result of trying to stuff a creative (circle peg) into the confines of the corporate world (square whole). Her experience stems from working as a graphic designer for marketing, PR, and travel companies to running away to foreign countries such as The Netherlands, Argentina and Mexico. The result, she says, was 'a crippling need' to create in abundance for herself and an aesthetic inspired by her home on the Gold Coast, culture, language and design. Through the use of acrylic and material, her work portrays feelings that words cannot describe; like the pressure of breathing deeply, or the uncertainty of travelling in foreign countries.
Lucy Moore: Illustrator/Photographer
insta: @lucy.muse
www.lucyrachaelmoore.com
As a child, Lucy played for hours between giant leaves and flowers in the large, enchanting tropical gardens her parents created. Now, as an adult, she uses her love of nature as inspiration for her artistic practices. She collects plants as studies for drawings and enjoys visiting tropical greenhouses to photograph the greenery. While Lucy's current practice is mostly highly detailed female and botanical works, she is also exploring more minimalist illustrative motifs and would love to learn new mediums for her work. Lucy is also revisiting a past practice of millinery and plans to launch her first collection this year.
Georgina Lamperd: Illustrator
Insta: @georginalamperd
Georgina Lamperd is a low-impact illustrator and installation artist. Investigating sustainable art practice through recycling, she reconstructs entities into newly processed forms, focusing on the origins of paper. Her ink on paper works analyses the structured detail found in various nature scenes. Georgina's installations explore the relationship between viewer and material; handmade recycled paper. The former Melbourne artist, now based on the Gold Coast, has exhibited in several group shows, including her first solo exhibition at Neon Parlour, in Melbourne, in 2017.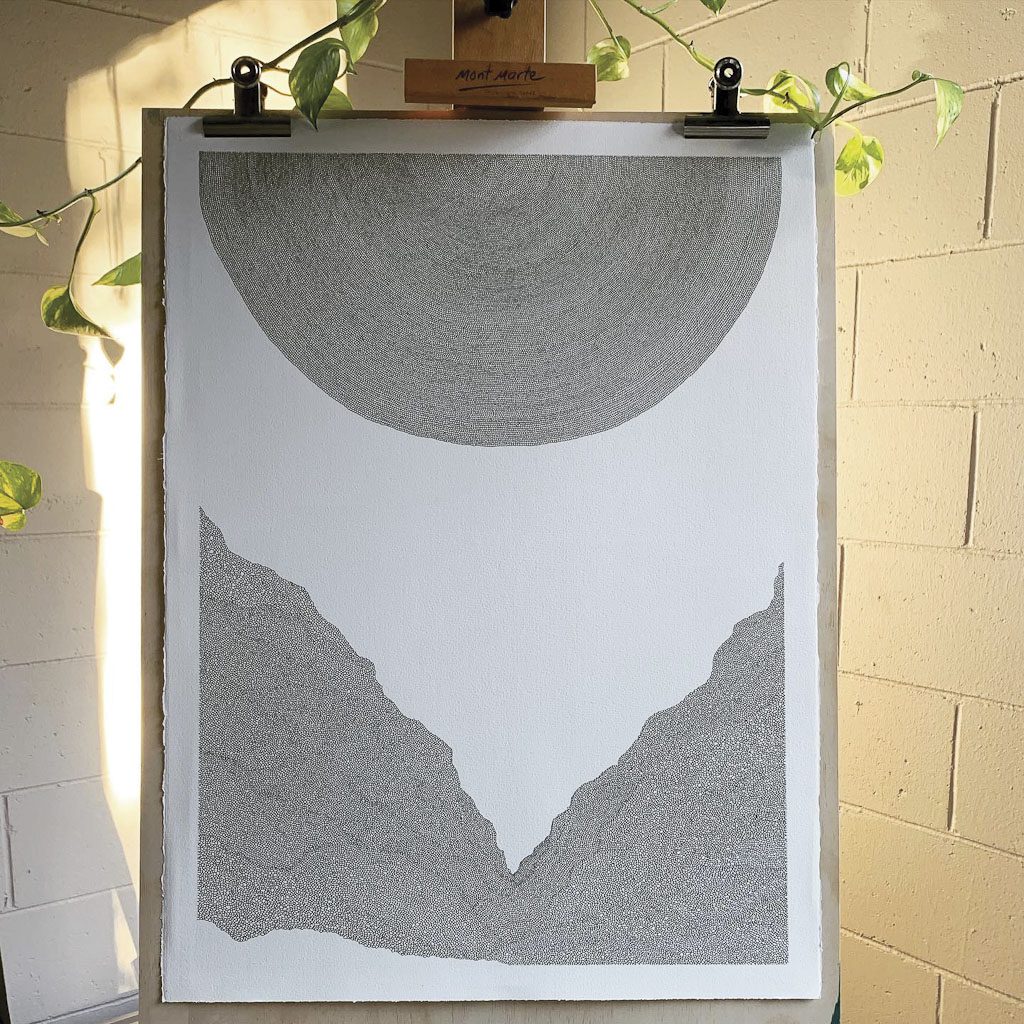 Ez Larmor: Artist/Illustrator
Insta: @_larmor
www.larmor.com.au
Ez's art has been described as the touchpoint of cubism, pop and contemporary and continues to evolve with every social and environmental encounter. "I grew up in Sydney's Eastern Suburbs at a time when its affluence was yet to dawn," Ez says. "My family home was near La Perouse, an area rich in Australian history for both the First Nations Aboriginal people and early western explorers. It was from here that I was schooled and found my love of art." Ez later travelled into the city's centre to work as a graphic designer and, after hours, to play guitar in a heavy metal band before moving to the Gold Coast "around the turn of the century". "While I had grown up around the ocean, it was on the Gold Coast where my passion for surfing would be sparked and its influence in my art would be ignited," Ez says.
Ez is continually inspired by the curves and flow of the ocean and its ultimate interaction with the harsh coastline and its surrounding man-made architecture. "My observations are then applied to various substrates including timber, foam and canvas using acrylics, spray paint, fibreglass, resin and pen. And in recent times working with fine porcelain."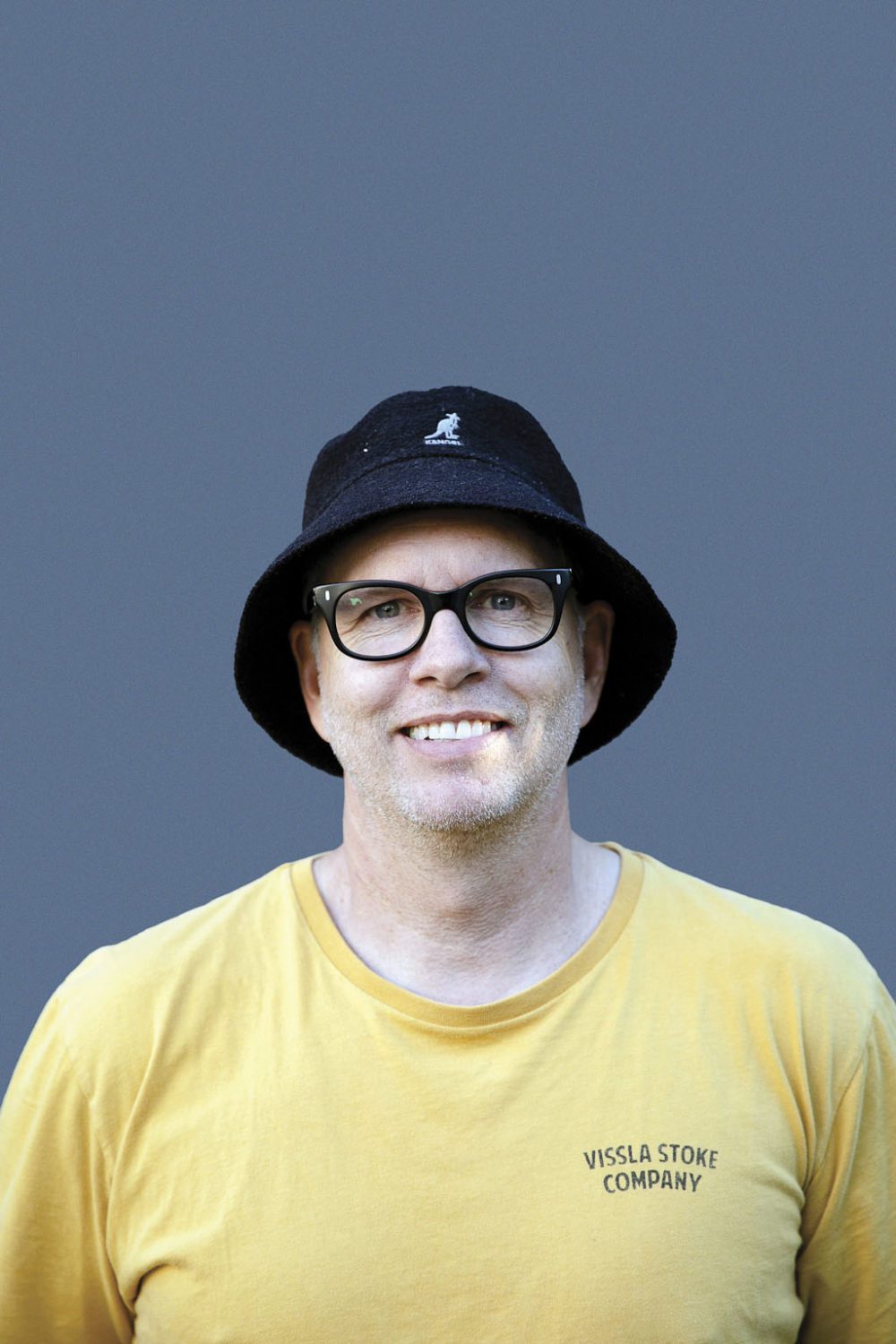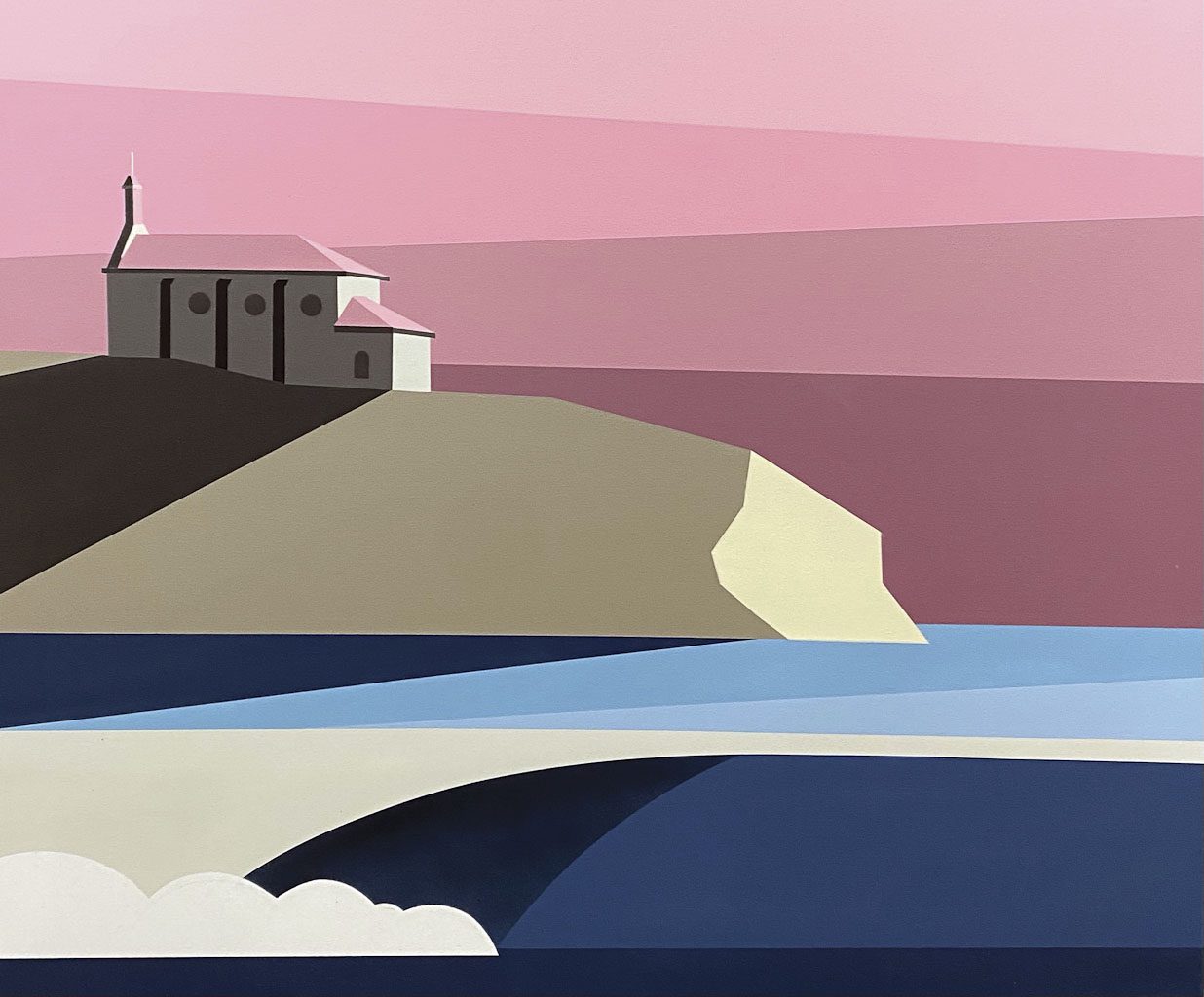 Mike Manuka: Muralist/Sign Writer
Insta: mikemanuka
Mike Manuka is a Gold Coast-based muralist and signwriter who mostly works with acrylic paints to incorporate a diversity of colour and typography. Mike focuses on customised murals that are eye-catching while also weaving in elements of brand representation and creative exposure.