One of the world's finest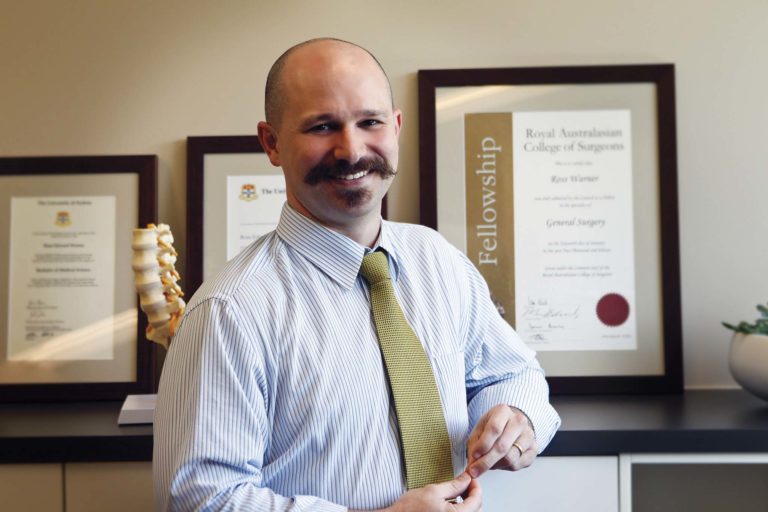 WORDS: PHOTOGRAPHY
Dr Ross Warner is leading the way in colorectal surgery. Meet the man whose innovative and advanced techniques are changing lives.
Growing up in Woronora a southern suburb in NSW, music was Dr Ross Warner's first passion. Fluent in both piano and cello, Ross paid his way through high school with a music scholarship and was selected to tour the UK with an Australian Symphony Orchestra.
Medicine, however, was his true calling and after completing a medical science degree, Ross completed a postgraduate degree in medicine at Sydney University before finding his feet at the infamous RPA hospital.
Over the years Ross has worked with a number of surgeons that have inspired his path to colorectal surgery. A pair of surgeons in Wagga Wagga showed Ross the balance between being both a great surgeon and approachable individual. The colorectal team at RPA also showed him what amazing things can be done in the field of colorectal surgeon and pushed him to strive for these heights.
Not many people know that colorectal cancer affects one in 12 Australians and kills more than breast or prostate cancer. Everyday conversations with friends and family don't often include topics around the anal area or simple changes in bowel habits, yet simply talking about it and raising awareness will go a long way in saving many more lives. Government screening programs are occurring, but these need to be expanded to screen more of the population and more often with education programs to educate people to the effectiveness of them.
The most rewarding part of Ross's practice is gaining the trust of his patients, with them having the confidence that he will do everything in his ability to make them feel at ease and get the best outcomes from their surgery.
For many of Ross' bowel cancer patients he says, "pretty much all of them are expecting the worst, however in the majority of cases it is quite the opposite. After meeting with me and when all of the information is presented and I explain what I can do to help them, you can see an enormous weight has been lifted. They leave my rooms feeling positive and reassured about the future". His ability to listen, together with empathy and effective communication, in an obviously stressful situation are as important as the technical skills required to perform difficult operations in an effective and efficient manner for best patient outcomes.
Ross's expertise is largely focussed on minimally invasive or 'Keyhole' surgery. After gaining his surgical FRACS he went on to complete three further years in laparoscopic colorectal training. His newest endeavour into this field is robotic surgery. To date Ross has completed over 100 robotic colorectal surgeries. Last year he performed a 10th of all robotic colorectal surgery in Australia and a third of all robotic colorectal surgery in Queensland. "The biggest and most important advance in colorectal surgery would have to be the Da Vinci robot. I am seeing patients recover much faster than other techniques and they are recovering with less pain and less time in hospital. A good example is a middle aged female patient who went home from hospital the next day and only needed Panadol for pain relief. If the operation was done by any other method she would have been in hospital for a minimum of five days".
The Da Vinci robot, which is one of the many technologies showcased at John Flynn Private Hospital, provides Ross with great ease, allowing much better vision and the ability to operate with greater accuracy. Patients were previously anxious about impending procedures however the technology and progressive skill that Ross provides allows patients to be treated knowing that there will be a lot less pain and discomfort and better outcomes.
The innovation used not only in surgery is extended to Ross's consulting rooms, with his established anorectal physiology lab. Without the need for a hospital visit, patients can have their pelvic floor and anal muscles tested for integrity and pressure, allowing for patients with incontinence that suffer in silence, simple solutions that can improve their symptoms over a short period of time.
Changing the lives of thousands of patients has changed Ross from being shy and introverted in his early years, to a vibrant, humorous and confident man that is a pleasure to work with. The great relationship that Ross had with his staff and colleagues motivates all of those around him. He credits his wife and four children as being his greatest inspiration. He and his wife, who is a GP in Kingscliff, balance family life with ferrying the children to school and activities with Ross particularly enjoying family down time and family overseas travel. Old cars have sparked a new love as well as undertaking the art of whisky appreciation, and enjoying every drop along the way.
If there is one piece of advice that Ross offer's people is for anyone, young or old, that experiences any change in bowel habits or bleeding that doesn't settle, to see your GP. If you want to contact Ross or his team please call 07 5598 0825 or coastcolorectal.com.au