ON THE ROAD with the The Feel Good Family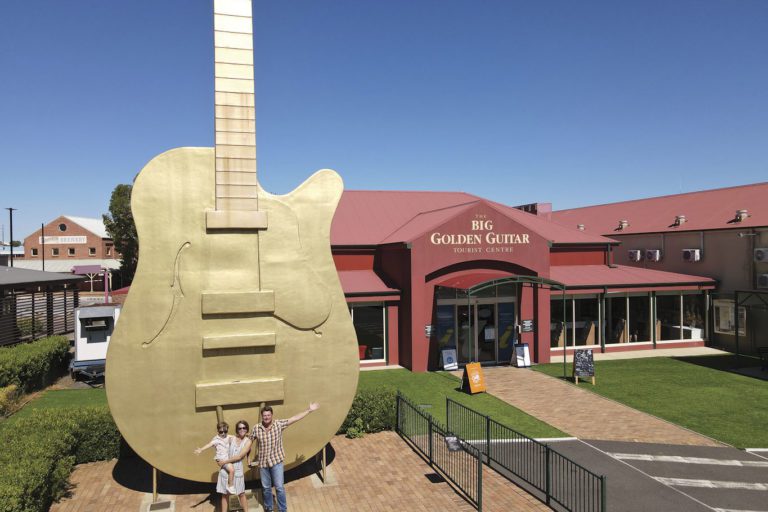 WORDS: Paul Guerin - The Feel Good Family PHOTOGRAPHY Supplied
COUNTRY CHARM
The Tamworth region of NSW boasts some of Australia's most spectacular countryside. Rightfully so, Tamworth is best known as the heart of Australian Country Music. Our week in this region uncovered a little-known secret that also offers rich history, incredible artworks, genuine storytellers and authentic country charm.
Only 575km from Brisbane, the road trip to Tamworth will take you through some wonderfully scenic destinations including the Southern Downs, Granite Belt and New England regions. So grab your Akubra and pack your bags to enjoy these four must-do experiences.
Big Golden Guitar and National Guitar Museum
Nothing screams 'Australia's Capital of Country Music' quite like the Big Golden Guitar. One of the most photographed landmarks in Australia, at 12m tall and weighing 500kg, the guitar's real treasures are found inside. They include the region's Visitor Information Centre, Strings N' Beans Café, Gallery of the Stars Wax Museum and the recently opened National Guitar Museum, which showcases more than 45 guitars played by some of the world's most famous music icons. If you need more of a country music fix, head to the Country Music Hall of Fame to witness the largest collection of country music memorabilia in Australia, housed in the unique guitar-shaped building on Peel Street.
         2. Power Station Museum
The only dedicated electricity museum in Australia, Tamworth's Power Station Museum shares the fascinating history of how this town became the first municipality in Australia to have electric street lighting – 15 years before Sydney.  Manned completely by passionate volunteers, the museum reveals a wonderful timeline of electricity and the appliances that have been created over decades to benefit from this remarkable invention. For history buffs, the real highlight is the two John Fowler Dynamos that have been fastidiously restored to perfect working condition.
         3. Barraba Silo Art
A recent addition to the incredible Australian Silo Art Trail, the Water Diviner by Sydney artist Fintan Magee took only four weeks and an astonishing 280 litres of paint to complete. A popular pilgrimage for art lovers and road trippers alike, the Silo Art Trail includes more than 120 epic artworks across Australia, including towering silos, water towers and more recently, street art towns. More than just a site to see, these impressive artworks are helping to provide welcome attention and a much-needed economic boost to each location.
Head out early to Barraba to capture the morning light that draws out the best of this impressive artwork and the rich, ever-changing colours of the countryside backdrop. We also stopped in Manilla for a wonderful morning tea and walked along its historic main street.
         4. The Peel Inn Nundle
An easy 60km drive through the beautiful surrounding countryside of Tamworth will lead you to the charming village of Nundle. With its rich history, unique community enthusiasm and one of the most unbelievable stories you'll ever hear, this hidden gem, surrounded by hills of gold, will beckon a return visit.
We all know the urban myths, unlikely tales of good fortune or incredible luck … well the thing that sets the story of the 170-year-old Peel Inn Hotel apart is that they are all true, part of the story of a publican who wagered his pub in a hand of poker and lost.
Being retained by the Schofield family for the past 150 years and once the largest rum pub in NSW, the Peel Inn, recently named one of the Top 5 beer gardens in Australia, is a welcome watering hole famous for its mouth-watering steaks.
Plan to stay for a couple of nights in one of the pub's rooms and allow time to explore the picturesque town and unique experiences of Nundle.
Filling up the tank for an inland road trip provides a welcome change of fresh country air, green open spaces and best of all, authentic Aussie characters who love showing off their patch and sharing a good yarn.
Follow #holidayherethisyear and visit Destination Tamworth for details www.destinationtamworth.com.au