New recipes which feature Bonne Maman's Blackcurrant and Mango & Peach Conserves
WORDS: Bonne Maman's Blackcurrant and Mango & Peach Conserves PHOTOGRAPHY Supplied
Recipe cards from Sophie and Nicholas Pearce (@recipearce)
Jerk Chicken
Prep Time: 20 minutes
Cook Time: approximately 1.5 hours
Serves: 8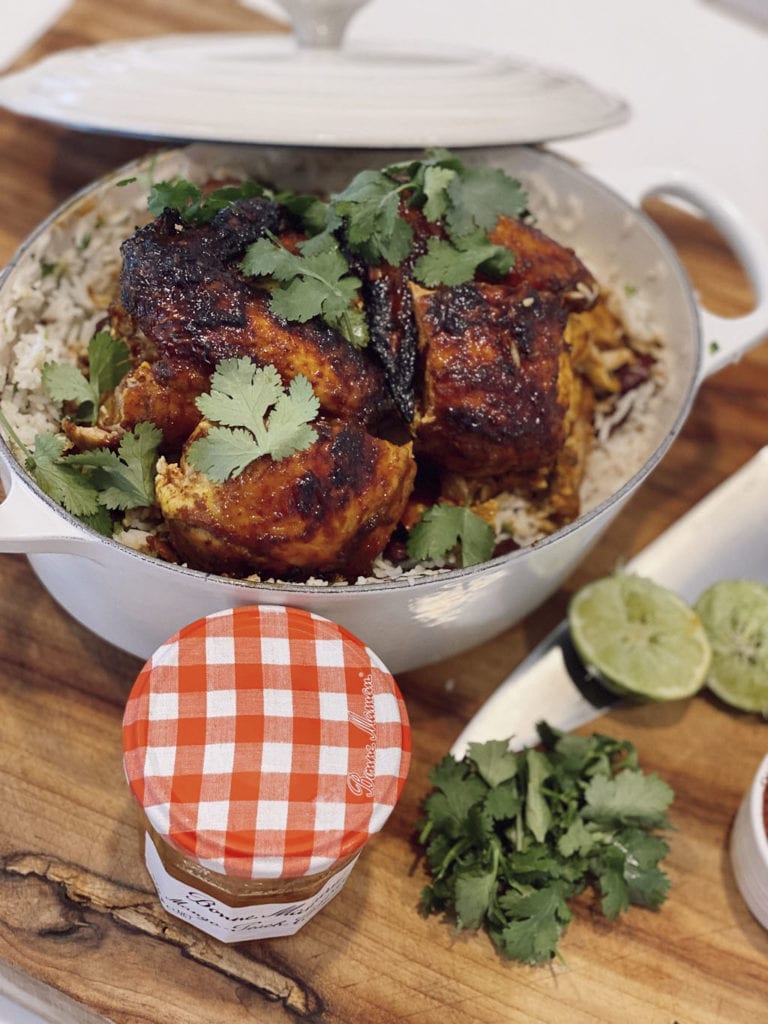 Ingredients
– 1 buttery whole chicken (ask your butcher, or watch Recipearce how-to video to do it yourself)
– 1/2 jar of Bonne Maman Mango & Peach Conserve
– 1 tablespoon of sumac
– 1/2 tablespoon of smoked paprika
– Coriander
– 400g tin of red kidney beans
– 2 cups of rice
– 400mL cocnut milk
– 2 limes
– 1 tablespoon of grated ginger
– 1 chilli (optional)
– Salt
– Pepper
– Olive oil
Method
1. First, buttery your chicken or ask your butcher to do this for you
2. In a mixing bowl, add half a jar of Bonne Maman Mango & Peach Conserve, sumac, tumeric and smoked paprika. Stir to combine
3. Peel and grate ginger, approximately 1 tablespoon, into bowl and mix
4. Add the chicken into the bowl and cover in the marinade. Note: you can leave chicken to marinade for 1-2 days for an even better taste!)
5. Put oven on fan force at 180C
6. Line a baking tray with baking paper or foil, lay chicken on tray brest side up, season with salt
7. Make sure the wings are tucked in and legs and stretched out so the chicken will cook evenly and at the same time
8. While chicken cooks, make coconut rice. Place 400mL coconut milk, 2 cups of rice, 2 cups of water, zest of 2 limes, 1 tin of red kidney beans and a pinch of salt into your pot
9. Put rice on stil and leave to come to boil with the lid on
10. Once rice has come to the boil, stir. Turn down to simmer and leave to continue to cook with no lid on for 10 minutes
11. Finely slice some chilli, then set tops of coriander to the side. Finely chop the middle third of the coriander
12. Remove rice from stove after 10 minutes and stir through coriander stalks and chilli
13. Pop the lid on the rice and set to the side for the wate to absorb
14. After 1 hour, remove chicken from the oven and leave to rest for 10 minutes
15. Place chicken onto chopping board (don't throw away juices in the bottom of the roasting tray)
16. Cut your chicken
17. Once rice has absorbed all the liquid, give it a u up with a fork
18. Add the juice of two limes to the rice
19. Place chicken on top of the rice and drizzle juice from roasting tray over
20. Dress with some fresh coriander and serve – enjoy!
Blackcurrant jam donuts
Prep Time: 2.5 hours
Cook Time: a couple of minutes!
Serves: 4

Ingredients
– 1 jar of Bonne Maman Blackcurrant Conserve
– 350g (+extra to our surface) of plain our
– 75g (+enough to cover outside of donuts) of caster sugar
– 2 eggs
– 7g dried yeast
– 1 vanilla bean pod
– 200mL milk
– Oil to fry (vegetable or canola prefered)
– Olive oil
Method
1. Heat up son milk on the stova top until it's luke warm, in a bowl add to your yeast. Stir and leave to the side for approximately 10 minutes
2. Into a mixing bowl, add 350g plain our, 75g caster sugar and 2 egg yolks
3. Start mixing together, intermittently adding your milk and yeast mixture
4. Once combined, leave to rest for 10 minutes
5. After it have rested, give it another mix for approximately 3 minutes until it becomes a dough like consistency
6. Spray or drizzle a bowl with olive oil
7. Shape dough into a ball, coat in the olive oil in the bowl. Cover bowl in cling lm and leave to rise (preferably in a warm spot) for 2 hours
8. After 2 hours, tip your dough our onto a oured surface
9. Stretch your dough out into a rectangle (don't use a rolling pin as you don't want to knock too much air out)
10. Use a circular cutter or a gladd to cut circles into your dough
11. Set your dough circles aside on an oven rack with a teatowel over the top for 30 minutes to rise again
12. Cover the bottom of a plate or shallow bowl with caster sugar
13. Scrape the vanilla seeds out of the pods and put through the caster sugar. Then set aside
14. Pour Bonne Maman Blackcurrant Conserve into piping back or make a DIY piping bag by pouring into the corner of a sandwich bag
15. Get oil in a pot up to 180C, add in donuts in small batches, continuously ip with 2 forks or a slotted spoon for they pu up and brown nicley on each side. This process should take approximately 2 minutes per donut
16. Once cooled a little bit, roll donuts in the vanilla sugar
17. With a knife make a hole in the side of the donut
18. Cut a small hole in the corner of the piping bag, put corner into the hole in the donut and ll with jam – enjoy!
Recipe cards from Anthea Cheng (@rainbownourishments)
Deep Dish Pizza with jammy caramelised pumpkin
Prep Time: 30 minutes
Cook Time: 25 minutes
Total Time: 55 minutes
Serves: 4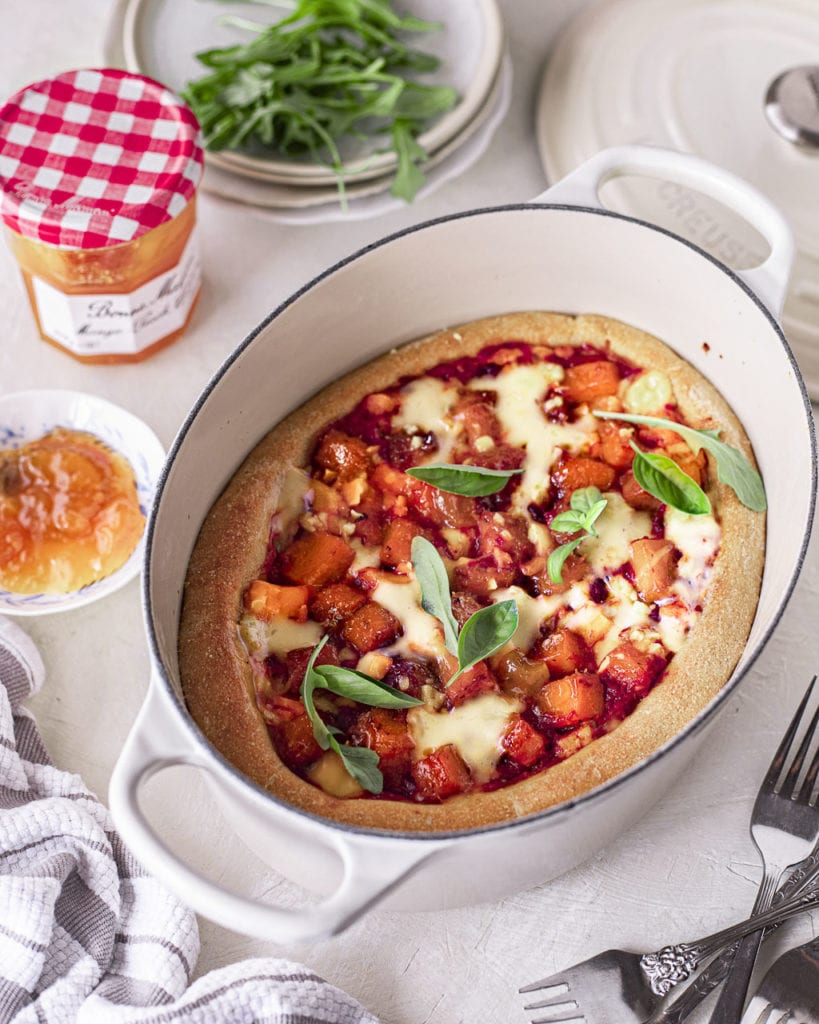 Ingredients
Pizza Dough
– 150g plain or wholemeal our, plus extra for dusting
– 2 teaspoons (18g) instant dried yeast
– 1/2 teaspoon of good quality salt
– 3/4 cup (180mL) warm water
– 1 teaspoon sugar or sweetner of your choice
– 1 tablespoon olive oil
Fillings
– 1 cup pumpkin, diced into 2cm cubes
– 1 small red capsicum, diced
– 1/2 cup cherry tomatoes, halved
– 1/4 cup Bonne Maman Mango & Peach
Conserve
– 1/2 cup chopped canned tomatoes
– 1 cup vegan cheese, cubed or shredded
– 2 teaspoons olive oil
Method
To make the pizza dough:
(1 hour beforehand or the day before you want to enjoy your pizza)
1. Add all ingredients to a stand mixer or mixing bowl. Knead the dough for 5 minutes or until it forms a smooth and cohesive ball. Add more our if the dough is sticky or add more water if the dough feels dry.
2. Leave the dough in the bowl and cover it with a damp tea towel. Place the dough in a warm spot in your home. Let it rest for at least 1 hour or until it's doubled in size.
To prepare the fillings:
(while the dough is rising)
1. Preheat the oven to 180°C (350°F)
2. Place an oven-safe casserole dish (or fry pan) over medium-high heat. Saute the capsicum with 1 teaspoon of olive oil for 3 minutes or until the capsicum is slightly softened but still crunchy. Set aside the capsicum.
3. In the same casserole dish (or fry pan}, saute the pumpkin with 1 teaspoon of olive oil for 5 minutes. Add around 1/2 cup of water to the casserole dish allowing the pumpkin to steam. When the water has evaporated and the pumpkin is tender, stir through the peach mango conserve. Allow the pumpkin to caramelise for 1 minute then set aside the pumpkin
4. If your casserole dish is dirty, wipe it clean.
5. To prepare the pizza sauce, combine the tomato paste with the chopped canned tomatoes. Set aside.
To assemble the pizza:
1. Dust a clean surface with our. Roll the dough on the oured surface so it's 5 cm larger than your casserole dish (or baking tin)
2. Carefully transfer the dough into the casserole dish. Gently press the dough against the bottom and sides.
3. Sprinkle 1/2 the vegan cheese on the base of the pizza Then sprinkle the tomatoes and capsicum Pour all of the prepared pizza sauce. Arrange all the pumpkin and cheese on top
4. Bake the pizza for 30 minutes or until the edges are golden brown.
5. Serve the pizza hot with a side salad. Store leftovers, if any, in the casserole dish with the lid on top.
Easy self-saucing pudding
Prep Time: 15 minutes
Cook Time: 15 minutes
Total Time: 30 minutes
Serves: 4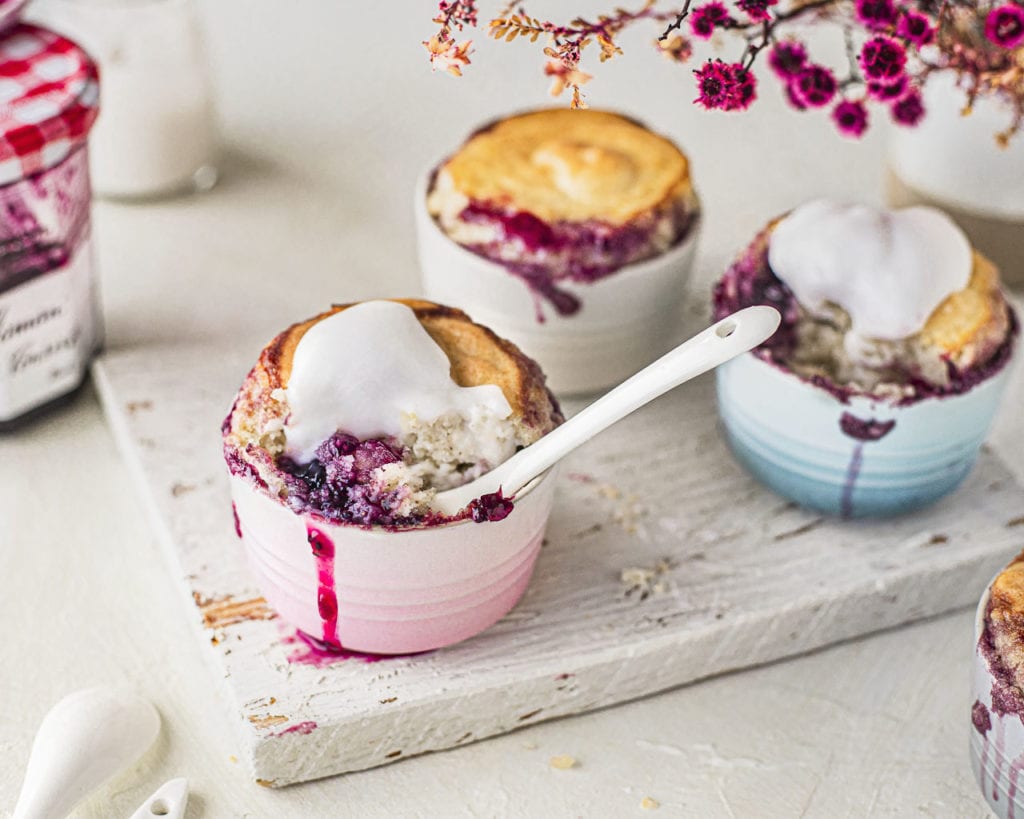 Ingredients
Sauce
– 1/4 cup Bonne Maman blackc urrant conserve
– 2 tablespoons water, room temperature
Pudding dry ingredients
– 1 1/4 cup plain or all-purpose our
– 2 tablespoons organic cane sugar , or coconut sugar
– 2 teaspoons baking powder
Pudding wet ingredients
– 2/3 cup plant-based milk, such as almond, soy or coconut
– 3 tablespoons light-tasting vegetable oil, such as sunower or rapeseed
– 1 teaspoons vanilla extract
Method
Preheat the oven to 180°C (350°F)
To make the sauce:
1. Combine the conserve and water in a small bowl
2. Divide the mixture into 4-6 mini ramekins
To make the pudding:
1. Add all the dry ingredients to a mixing bowl
2. Whisk until there are no bigl umps of our or baking powder
3. Add all the wet ingredients to the bowl
4. Mix until combined andl there are no more lumps of dry ingredients
5. Usingi a medium-size spoon, spoon the batter into the mini ramekins The blackcurrant sauce will oat up the sides of the ramekins which is ne!
6. Bake the puddings in the oven for 15-20 minutes. They are ready when the tops are golden and a slkewer can be inserted into a pudding and there is no wet batter on it
7. Enjoy the puddings immediatelly with a scoop or ice ueam or plant-based yoghurt
8. Leftovers (if any) can be stored in an airtight container in the fridge for up to 3 days.
Both conserves come in a 370g jar with RRP $5.49 and are available in independent supermarkets.