WORDS: Rosie Ball PHOTOGRAPHY Supplied
A new mural in Tugun has caught the eye of Gold Coasters – but the story behind the 40m wall will leave you speechless.
Aged care and disability provider Feros Care have designed and painted a new mural on the Gold Coast Highway, adjacent to the Tugun Community Village Hall, with the help of renowned international street artist Davey McElvenny (aka Teazer) and his creative protegee Jet Tiplady-Aldertona, who lives with autism.
The wall was a feature piece during the 2018 Commonwealth Games. However, due to recent vandalism, it has now been transformed into a colourful, pop-art-style artwork to highlight Feros Cares' Grow Bold brand ambassadors, like quadriplegic world adaptive surf champion Barney Miller.
Another special portrait on the far-right of the wall is Feros Care aged care resident Nina Marzi, who is 100 years old.
"When you get to my age, you don't expect a groovy street artist to paint your face on a wall," Nina Marzi says.
"However, the amazing Teazer has, and I am overwhelmed and in love with it. It looks fantastic and I hope Gold Coasters head down to Tugun to visit it.
"I am definitely enjoying my golden olden years with Feros Care."
Renowned international street artist Teazer says Feros Care are leaders in community engagement and their work, like this artwork, celebrated fellowship, richness of life and people feeling supported and loved.
"It was great to create a beautiful piece of art with my budding artist and mentee Jet Tiplady-Aldertona, who lives with autism," he says.
"Jet, now 20 years old, wouldn't leave the house a year before we started working together. We have now been working together for 18 months and I can already see a great change in his confidence with social interactions and his capability to complete creative tasks.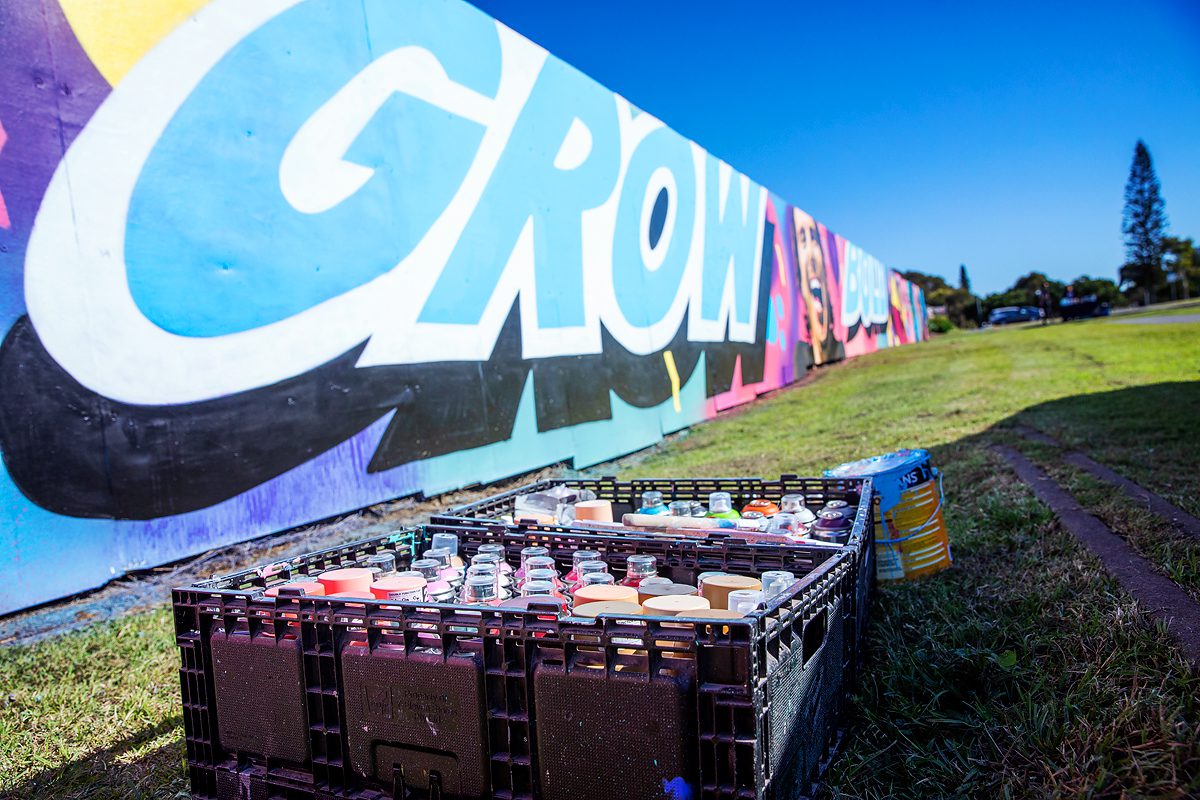 "It's been rewarding to be a positive role model for him, encouraging his talents and ambitions for street art and watching him make positive and healthy changes."
Jet and Teazer spent more than 20 hours on the project from Saturday, July 10 to Tuesday, July 13.
Jet, who resides in Lismore, NSW, tells Ocean Road Magazine the mural was big job, but a lot of fun.
"I am very proud of it," he says.
"I am glad I met Teazer, he is a great friend and mentor. We are now planning our next colourful project."
Feros Care spokeswoman Tarnya Sim says the agency is excited to show off their new Grow Bold mural to locals and holidaymakers.
"It's beautiful, just like our clients," she says.
"We hope everyone visits it. Teazer working and mentoring Jet aligns with our principle beliefs at Feros Care of empowering people to grow bold."
The mural on the corner of Coolangatta Road and Boyd Street is also resistant to graffiti.
To check out more of Teazer's artwork, head to @_teazer_ or www.feroscare.com.au