N MERINGUE TART, CLOTTED CREAM, LEMON SYRUP
WORDS: PHOTOGRAPHY
5 EGG YOLKS
1 WHOLE EGG
150 ML LEMON JUICE
150G SUGAR
150G BUTTER
500ML CREAM
1/2 TEASPOON VANILLA
LEMON SYRUP
100G SUGAR
80ML WATER
40ML LEMON JUICE
ZEST OF 1 LMON
2 BAYLEAF
MERINGUE
100G EGG WHITES
200G SUGAR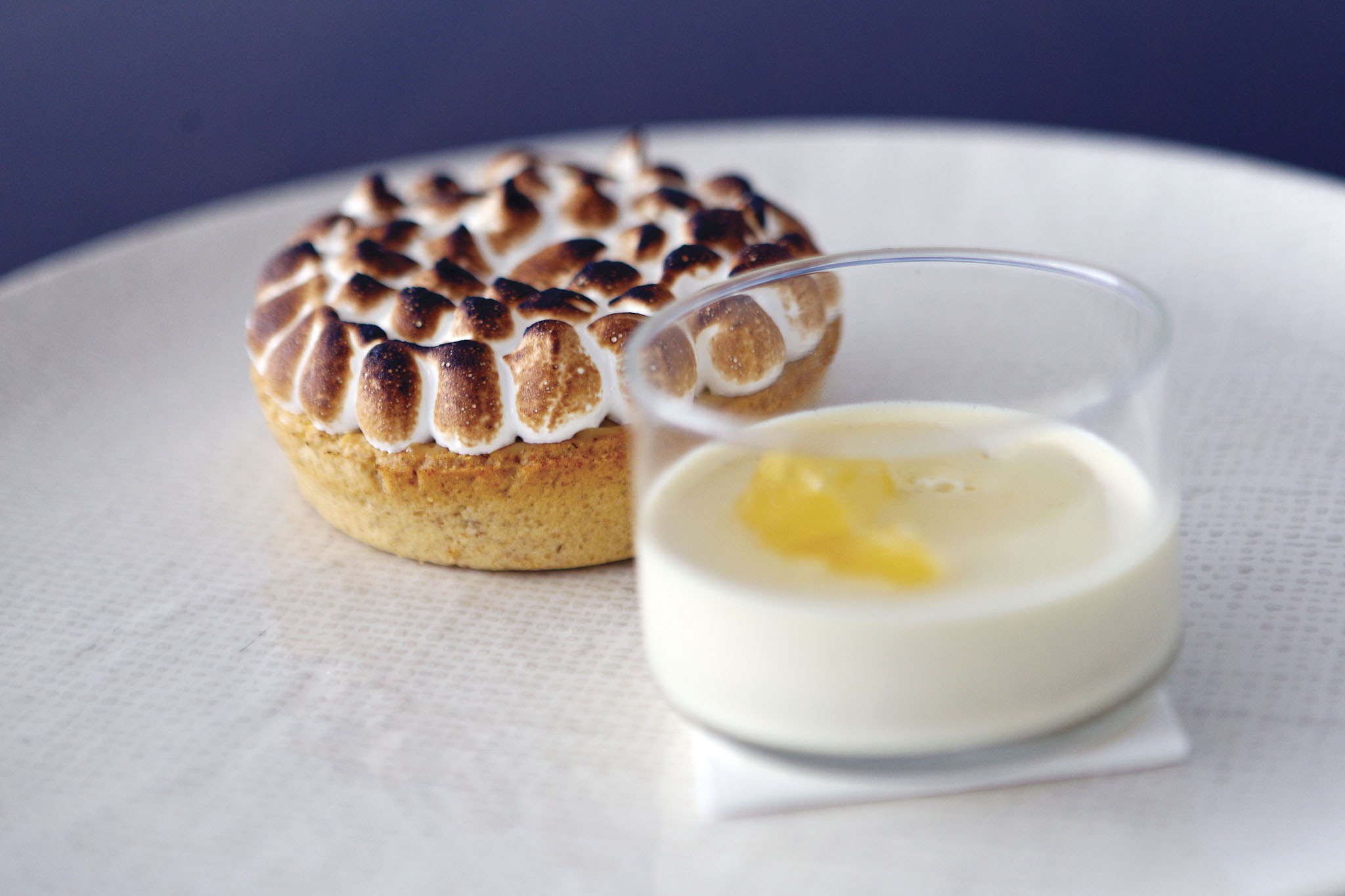 IN A BOWL COMBINE WHOLE EGG, YOLKS, LEMONJUICE AND SUGAR, WHISK OVER POT OF BOILING WATER WILL VERY THICK. (SABAYON RIBBON STAGE).
WHEN SABAYON HAS THICKENED, ADD BUTTER OFF THE HEAT. PLACE BOWL IN FRIDGE TO COOL.
POUR CREAM AND VANILLA INTO HEAT PROOF DISH. BAKE AT 120DEG CELSIUS FOR 1 HR
PLACE IN FRIDGE TO COOL.
FOR THE LEMON SYRUP, PLACE THE SUGAR, WATER, LEMON JUICE, BAYLEAF AND ZEST INTO POT AND BOIL FOR 2 MINUTES.
MERINGUE, PLACE EGG WHITES IN MIXING BOIWL WITH WHISK ATTACHMENT. BRING SUGAR TO TEMPERATURE OF 122 DEG CELCIUS, POUR OVER EGG WHITE WHILE MIXER IS WHISKING. BE CAREFUL. SCRAPE EGG WHITES INTO PIPING BAG.
PIPE LEMON CURD INTO TART SHELL, TOP WITH MERINGUE AND BLOWTORCH TILL COLOURED ENOUGH.
SPOON CREAM ONTO PLATE AND DRIZZLE ON LEMON SYRUP.