MEET AND GREET THE NEW BMW 7-SERIES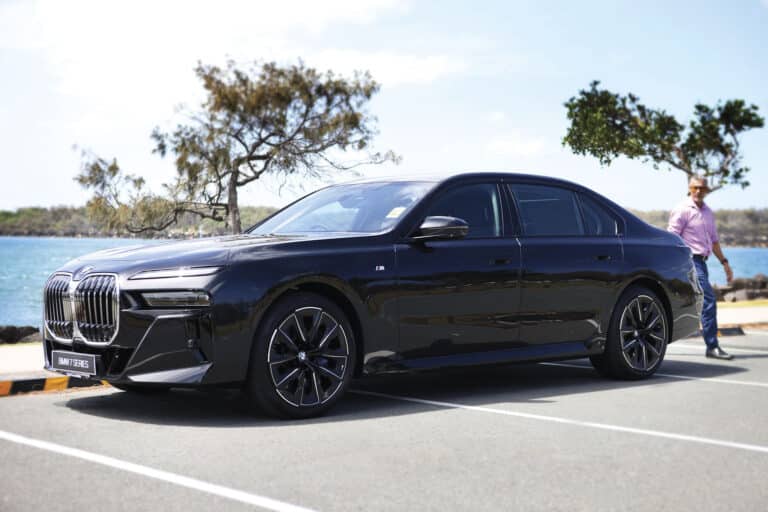 WORDS: Greg Pride PHOTOGRAPHY Supplied
It's been lauded by motoring experts as "the most luxurious car in the world".
It was fitting that the recent arrival of BMW's stunning all-new 7 Series sedan should be codenamed "Mission Luxury".
The first glimpse of this magnificent beast was ours for the taking at the spectacular Gold Coast BMW Showroom on Southport Nerang Road.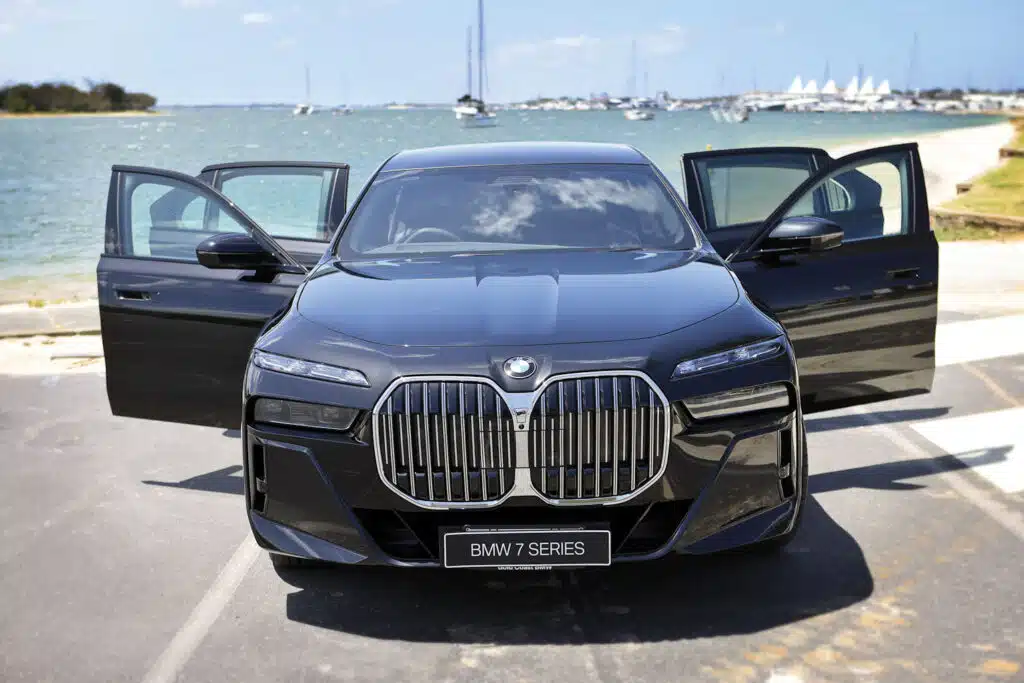 Actually, it was TWO magnificent 7s – the first-ever fully electric BMW 7 Series luxury limousine, the i7 xDrive60, and the equally spectacular petrol-powered BMW 740i, featuring the latest 48V mild hybrid drivetrain.
The i7 was snapped up by a lucky purchaser within days of the arrival.
That left Ocean Road to test-drive the 740i – not that we were complaining!
Our first glimpse of the shimmering black beauty that greeted us in the showroom at Gold Coast BMW immediately took our collective breath away.
Inspired by the grandeur of its sibling at Rolls Royce, this uber-luxurious limousine really is a sight to behold, inside and out, with features that have to be seen and experienced to be believed.
The 740i and i7 are all about the sevens. They're the 7th iteration of the iconic 7 Series, first launched by BMW in 1977. And it's fair to say that owning one is definitely going to put you in seventh heaven!
Exuding muscular sophistication through its sculpted 5.391m long body with distinctive "shark nose" front end, the M Sport-badged vehicle (standard with both the 740i and i7) is powered by a 3.0L TwinPower turbo petrol engine (incorporating 48V mild hybrid technology) that will get you from 0-100km/h in 5.4 seconds.
Striking first impressions are headlined by the "Grand Entrance" light show that greets you the moment you approach the vehicle.
The statement-making BMW "Iconic Glow" kidney grille and split headlights are embedded with Swarovski crystals and LED lights that dazzle by day and sparkle by night in an illuminated "welcome and goodbye" sequence, in symphony with a "light carpet" below the vehicle.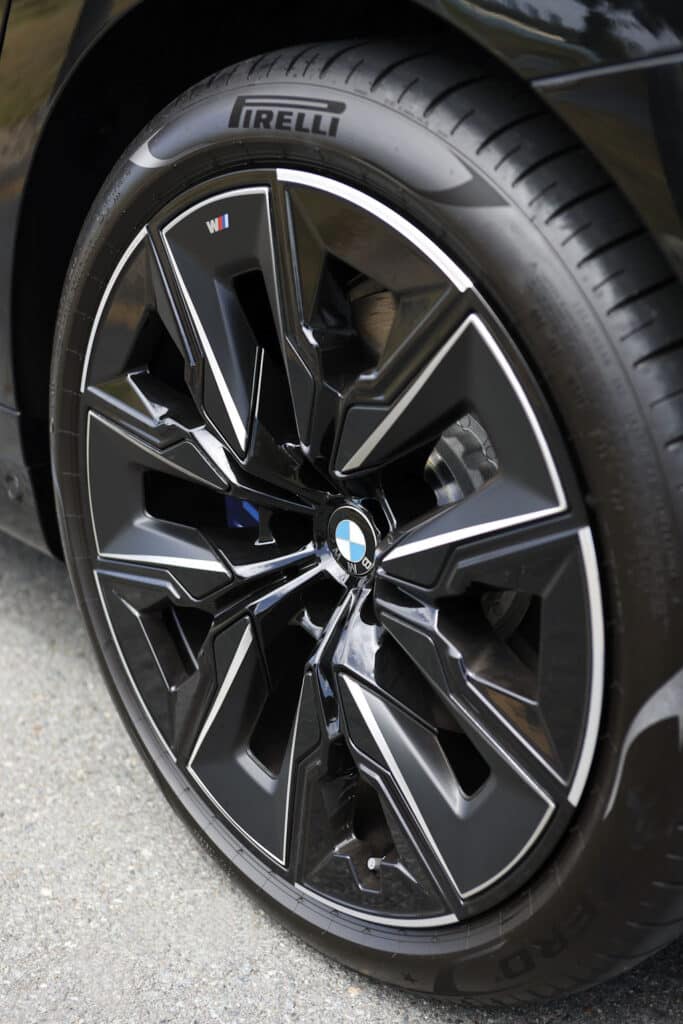 The flush-handle doors are automatic, able to be fully opened or closed using either the vehicle remote key, digital key (iPhone and Android) or simply by touch. It's also possible to operate the doors by voice command using the iDrive operation system whilst on board.
Inside the 740i and i7 is a level of luxury unprecedented even by BMW's lofty standards.
The driver's "cockpit" combines state-of-the-art tech with unmatched opulence, with a minimalist design creating grand open space and every touchpoint meticulously appointed and finished.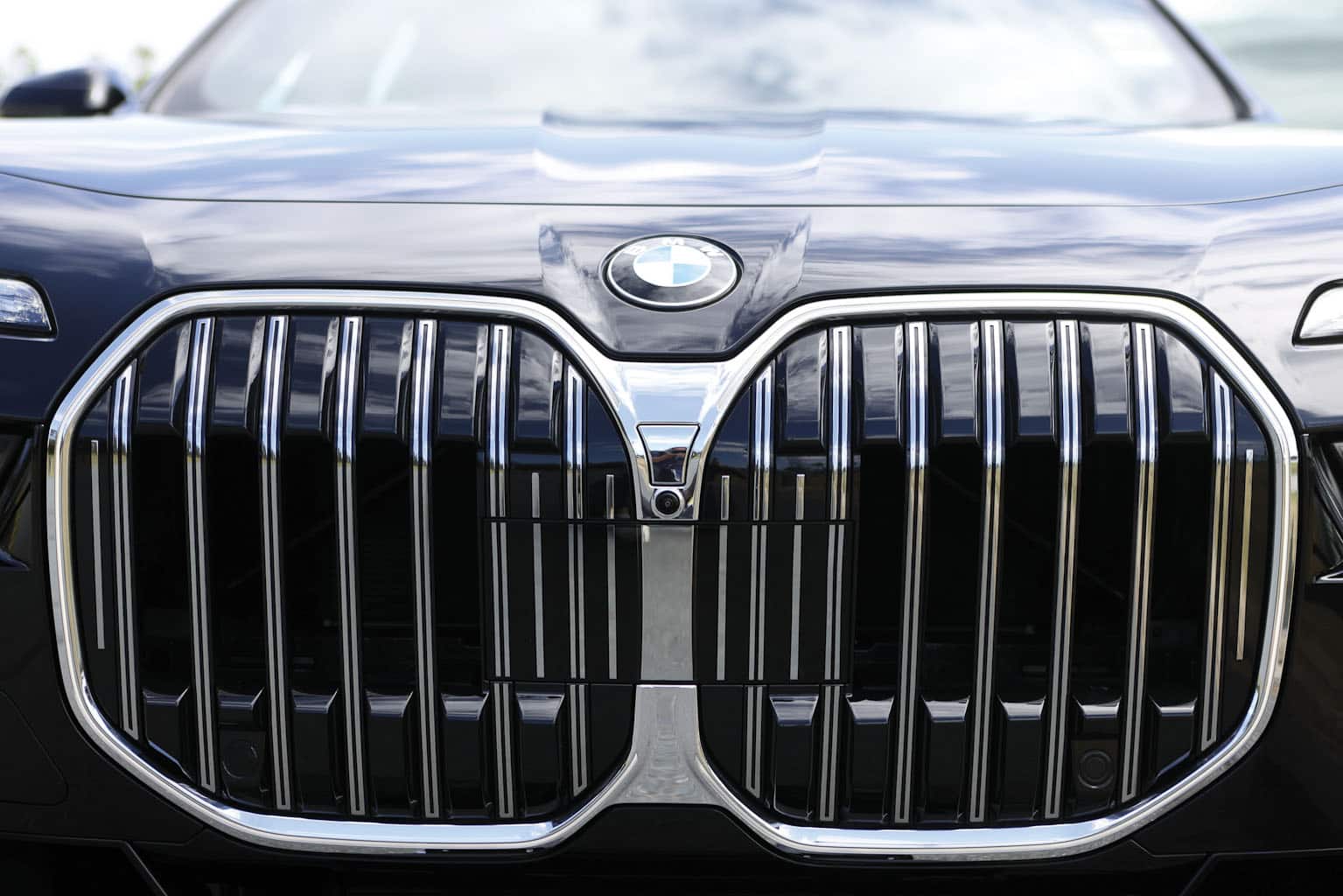 Resembling a piece of crystal jewellery, the BMW Interaction Bar spans the length of the instrument panel, displaying a crystalline-like ambient lighting in an innovation that goes beyond beautiful aesthetics.
Functions such as air-conditioning, doors and lights can be controlled by a touch of the Interaction Bar's shimmering and intuitive surface, which also cleverly renders air vents virtually invisible.
The 740i and i7 also feature a 14.9" curved control display with all controls at your fingertips at the touch of the screen, as well as a 12.3" digital instrument display.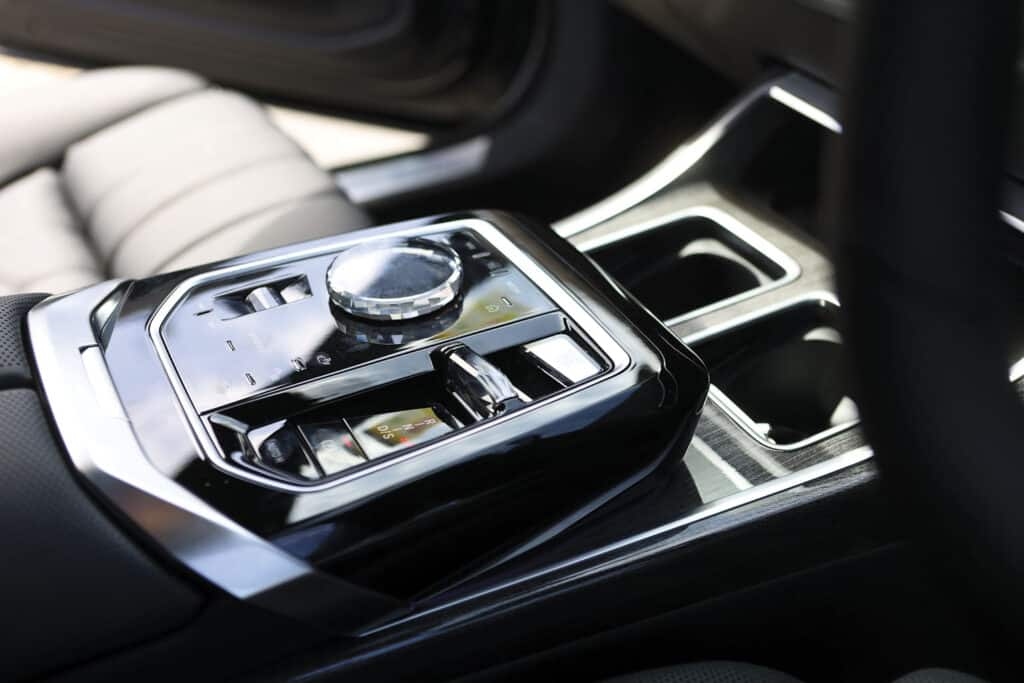 The BMW controller, start-stop button, volume controller, gear selector rocker switch and seat adjustment buttons are all encased in Swarovski crystal.
The M Leather, two-spoke steering wheel boasts a modern flat-bottom design with touch controls.
New multifunctional seats (lavish leather 'merino' in the 740i and luxuriant wool/cashmere in the i7) are also standard: think seat heating and active ventilation, massage function for driver and passenger, head restraint speakers and stylishly hidden USB ports behind the backrest for external smart devices.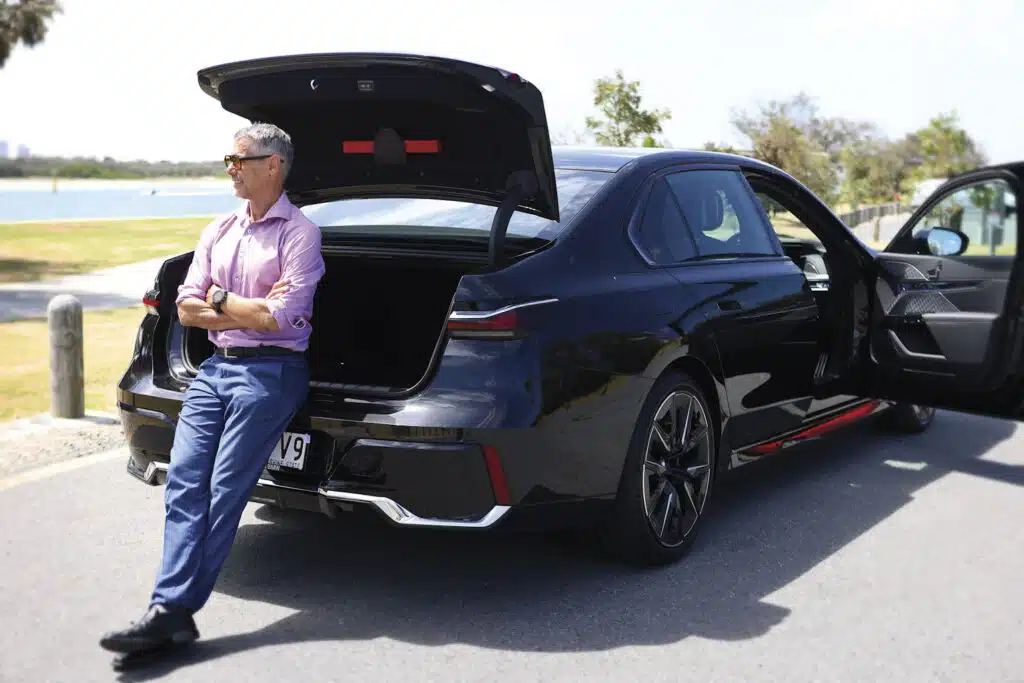 The rear executive lounge is like a luxury Gold Class cinema on wheels, headlined by a jaw-dropping 31.3″ theatre screen that folds down from the roof.
With an HD display resolution of 8K, passengers can enjoy a fully immersive cinematic experience or play games on the go. A personal eSim planned to be available in Australia this year will enhance the experience, allowing passengers to stream video content and play games via the in-built Amazon Fire TV.
The screen can be operated by new built-in touch screens in the rear door panels, which also control air-conditioning, roller blinds, rear seat adjustments, lighting, radio and paired smartphone.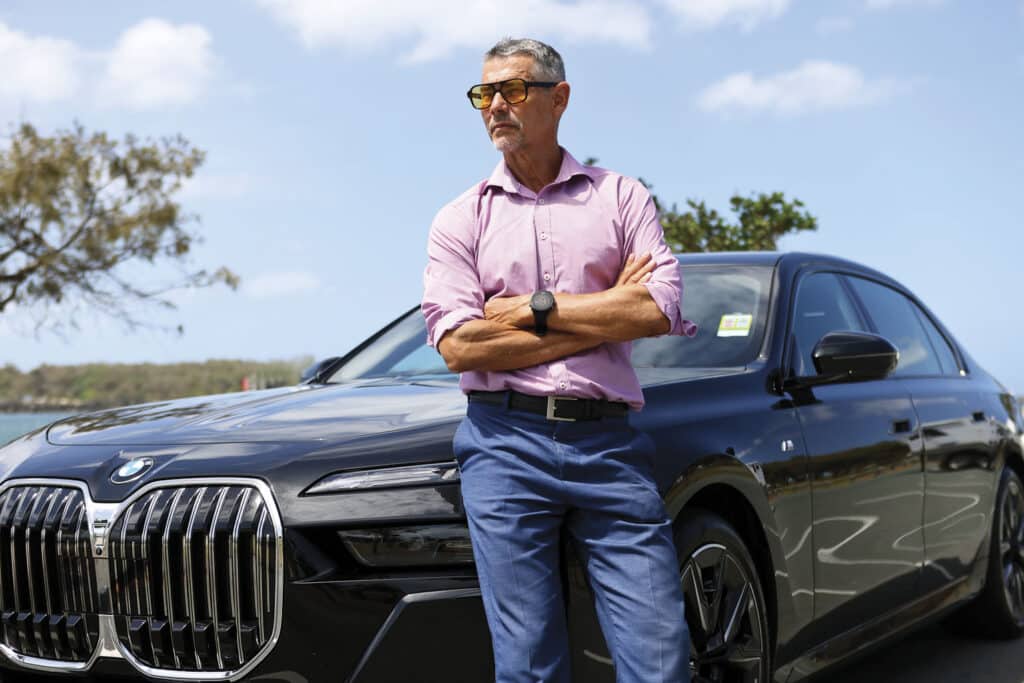 There's even an inbuilt camera that allows you to take a back-seat selfie!
These "BMW Touch Command" screens also enable the left rear seat to be transformed into a full recliner with leg and foot support, with a sophisticated centre console featuring drink holders and USB ports and smartphone dock.
Another interior star is the panorama glass roof "Sky Lounge" which illuminates at night in an enthralling LED light show, taking its cue from the My Mode feature which curates sound, light, suspension settings and seat functions to suit your motoring mood.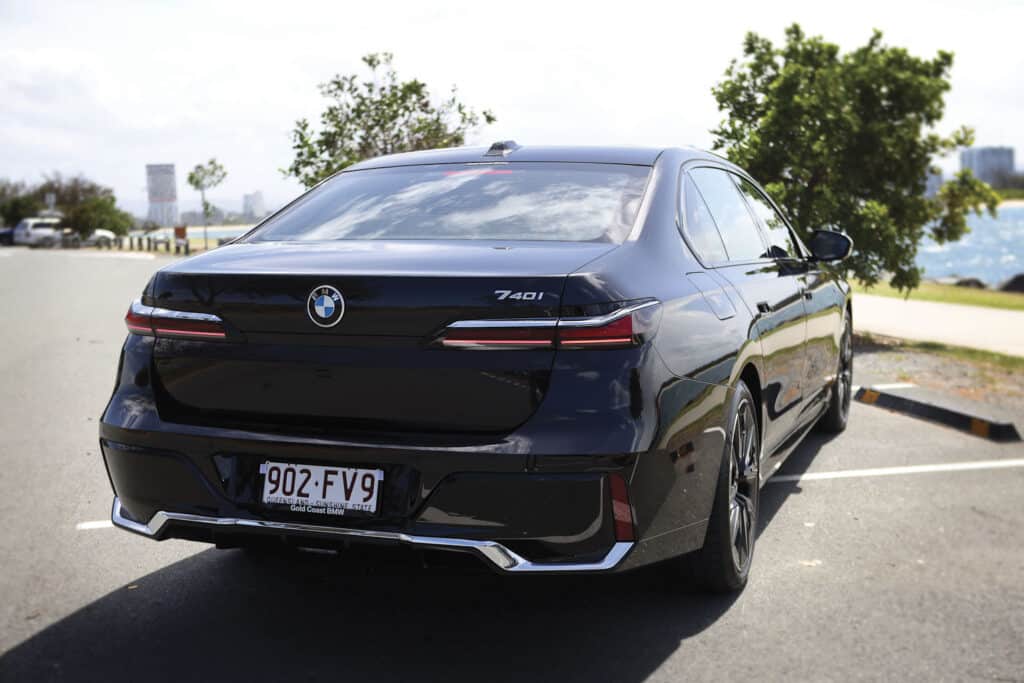 The new Parking Assistant Professional system in the 740i and i7 brings in additional sensor assistance from the four surround-view cameras and ultrasonic sensors, enabling three semi-automatic driver functions for parking, reversing and manoeuvring.
Our spin in the 740i to the Southport Spit and back to Gold Coast BMW gave us a tantalising taste of just some of the driving delights this majestic machine offers.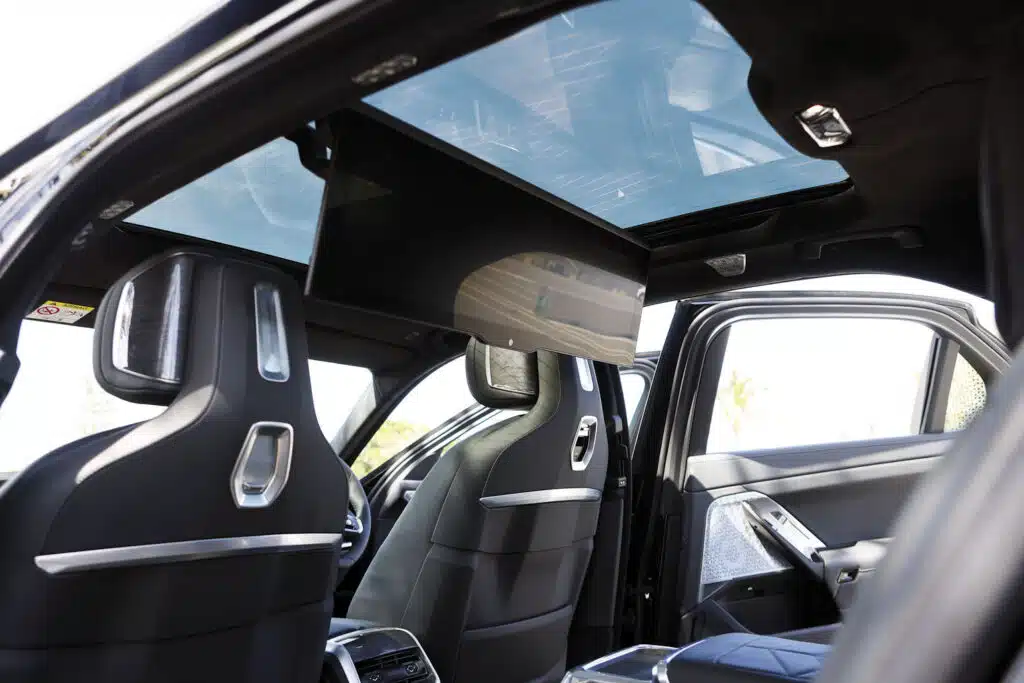 The most luxurious car in the world?
We're not about to argue.
The BMW 740i is priced from $268,900 while the i7 xDrive60 starts from $297,900. Test drive now at Gold Coast BMW.