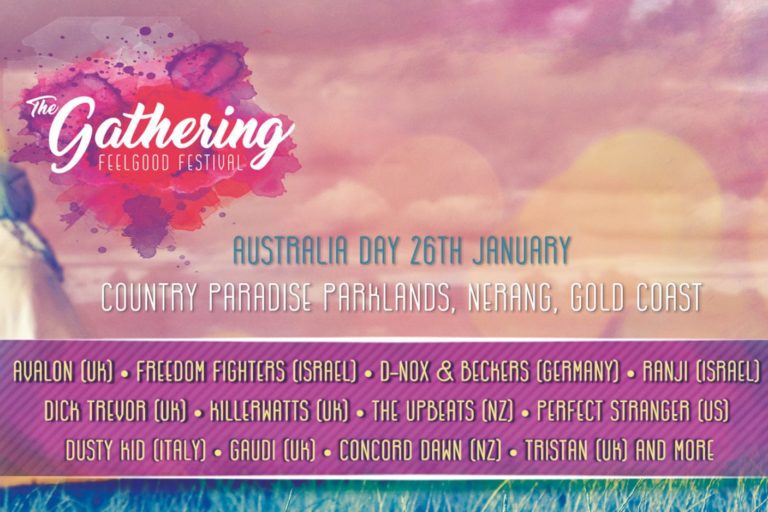 WORDS: PHOTOGRAPHY
Get excited as a brand new festival at the Gold Coast launches on Australia Day 2017: The Gathering, Feel Good Festival
The Gathering Feel Good Festival have just announced the release of their Super Early Bird tickets for their inaugural music festival, to be held at the Country Paradise Parklands, Nerang, on January 26, Australia Day 2017.
Get ready to be filled with inspiration and good vibes as you immerse yourself amongst a showcase of eclectic grooves, atmospheres and rhythms, brought to you by both local and international DJs, producers and artists. It will certainly be the place to party this coming Australia Day.
The concept of the festival was founded upon the intention of bringing back a feel good music festival culture to the Gold Coast.
With well over 20 producers, bands and DJ's across 3 stages, including Dick Trevor (UK), Ranji (Israel), Tristan (UK), The Upbeats (NZ), Dusty Kid, Perfect Stranger (US), Killerwatts (UK), Gaudi (UK) and many more.
The Festival will also provide a platform for feel good experiences including a Body Mind & Spirit Village, Health & Wellbeing Consultants, Lifestyle Coaches, Natural living insights / Tipi Village setup, Local Indigenous representation, Spiritual Insights & Guidance, Body Workers / Massage, Natural Clothing & Handmade Crafts from some of the best Natural Health & Wellbeing consultants in their field.
Tickets go on sale today 30 November 2016, with Super Early Bird tickets starting at only $49! Get in quick as these are limited. Further, convince your friends to buy a ticket and you could receive a part refund, or even get to come along free!
Further lineup announcements and VIP ticket information to come so watch this space!
For more information and to secure your ticket, visit us at www.gatheringfestival.com.au or like us on Facebook. Read our website for further information regarding ticketing rebates.
For any media enquiries, please contact Caroline Russo Enterprises PR, Media on [email protected]
0409451180