Margarita Cello: fresh and zesty, made with premium Aussie limes, three different citruses and its own triple sec.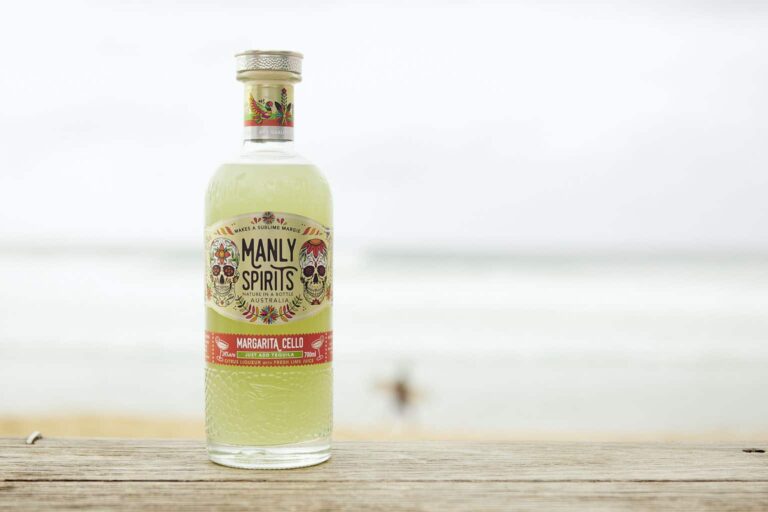 WORDS: Katie Lettice PHOTOGRAPHY Supplied
Manly Spirits Co, the liquor company known for its premium, handcrafted Australian Gin, Whisky, Botanical Vodka and Liqueurs, has extended its impressive range with the launch of Margarita Cello; a perfectly balanced citrus liqueur with fresh lime juice for the perfect 'margie' cocktail  – just add tequila and pour!
Tastebuds are in for a treat with this intense lime citrus backbone from fresh lime zest and juice, a floral Australian botanical nose of rainforest lime, lemon aspen and myrtle with a hint of sweetness in the body and subtle sherbety zesty finish. The home bartender simply pours, shakes and strains for a delicious cocktail, taking the hard work out of the process.
"Margarita Cello was created in Manly Spirits Co.'s on-site laboratory by our team of passionate experts. The process involves using the whole lime from zest and flesh, through to fresh juice. We steep lime, lemon and orange zest for a month, releasing the beautiful flavour profiles of the citrus fruits.
We then combine that with the native botanicals of lemon aspen and lemon myrtle, and fresh lime juice to create the balance of crisp zesty citrus and a sweet sherbet mouth feel." said Vanessa Wilton, Creative Director of Manly Spirits.
Margarita Cello ($60, 700ml bottle) can be purchased at select retailers and online via manlyspirits.com.au. Product is available for delivery nationwide.
Learn how to make delicious and refreshing cocktails at home today, with these Margarita Cello inspired recipes that won't disappoint!
Honey Bush Tommy's
Ingredients;
45ml Tequila
45 ml Margarita Cello
1 1/2 teaspoon bush honey
Method:
Shake all the ingredients, pour into a glass full of ice and garnish.
Garnish:
Lime Zest Glass: Rocks glass
Margarita Cello Paloma
Ingredients:
30 ml Tequila
30 ml Margarita Cello
10 ml sugar syrup
Top grapefruit soda
Method:
Shake the tequila with the Margarita Cello and the sugar syrup.
Pour into a glass, fill with ice and top with grapefruit soda.
Garnish:
Pink grapefruit wedge
 Glass:
Highball
Spicy Margarita
Ingredients:
45ml Tequila
45 ml Margarita Cello
1 slice bird eye chilli
1 slice green jalapeño chilli
Method:
Garnish your glass first.
Pour all the ingredients into a shaker, add the chilli and the jalapeño, and generally muddle.
Shake all the ingredients and strain.
Garnish:
Salt and salt bush rim
Glass:
Margarita glass
ABOUT MANLY SPIRITS CO. DISTILLERY:
Manly Spirits Co. crafts premium Australian whiskies, gins, liqueurs & botanical vodkas at Sydney's Northern Beaches' first artisan distillery. Capturing the harmony between carefree beach life and urban sophistication for which Manly is renowned, the Manly Spirits Co. range showcases the finest Australian malts and sustainably sourced native and marine botanicals from the stunning surrounds of the Australian eastern coastline. The full range of spirits is designed, distilled, and bottled at our urban distillery. Guests are welcome to visit for distillery tours, tastings, cocktails, and Gin school. Visit to discover our stunning, superior Australian spirits that will leave you yearning for just one more sip. www.manlyspirits.com.au
For more delicious recipe ideas, visit: www.manlyspirits.com.au