WORDS: PHOTOGRAPHY
What better way to make a splash in the Broadwater than with the RXTX RS 300…
When Oliver from JSW kindly offered the new 300hp Sea-Doo up to ORM for testing, I was quick to accept with a broad smile on my face.
Well, who doesn't love a morning out on the gorgeous Broadwater with the hottest and most powerful ski on the market?
One thing's for sure: this was one very special morning…
Make no mistake; this jetski has serious horsepower with serious looks to match!
You're sure to impress all your mates when you turn up on the 300hp RXTX RS with the stereo pumping.
Sea-Doo has an integrated Bluetooth sound system to follow you in your tracks, playing your favourite tunes through the two powerful 50 watt speakers. All of this is controlled at your fingertips while you cruise the stunning waterways.
So, I was all set… I had my music playing, the sun was shining, and it was time to put the ST3 hull to the test.
I gave it a squirt and I was at 96km/h within 3.6 seconds. No joke!
The performance and power output on this ski is amazing! I've ridden plenty of skis in my time, but I have to say, nothing compares to this. Nothing even comes close to this mind-blowing acceleration and handling with a sky large enough to take the whole family!
This is next generation Sea-Doo, designed for life at sea.
The ski has been especially redesigned for how you ride the newest Sea-Doo RXTX RS 300, and features more usable space, superior stability, easy access storage. And did I mention it has a sound system that sings?
Stretch your legs, head into our deep blue ocean, bring more snacks and play louder tracks — this is like a dream come true for all Sea-Doo lovers!
You'll find a stack of eye-catching details, including the radical new storage concept and modular seat design, Bluetooth sound system and a variety of aft cargo possibilities. There are so many options to choose from.
Still, the most impressive change above is to storage.
Gone are the days of stretching out over the handlebars and stretching to access a deep, front storage locker without taking water over the bow, or losing your balance and ending up in the drink.
Now, you can simply reach just forward of the saddle, pull up two catches with both hands and lift.
The entire steering assembly (and glovebox) lifts on a gas strut to reveal stowage directly in front of the seated driver.
Accessories simply slide into one of the mounts and then lock onto the other with a quarter-turn tab. All are surprisingly secure.
Within the engine compartment lays the same 1630 ACE, a 300hp super smooth and reliable engine, all activated through the normal VTS handlebar control. All automatically adjusts the trim angle.
The ski rails its way through turns once you give it a healthy dose of downward bow trim; now accomplished via a touchpad control adjacent to the left handgrip that also incorporated Sport and Eco mode settings.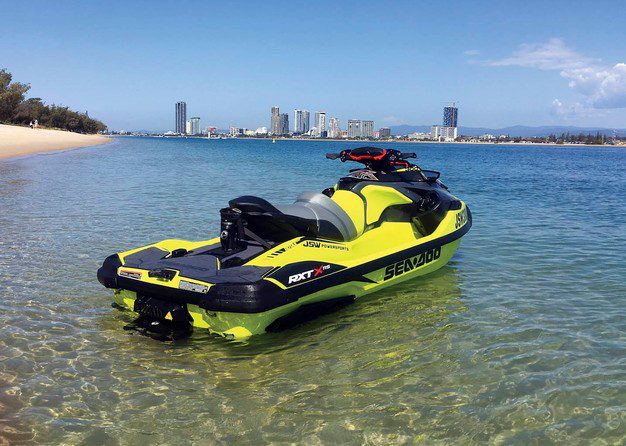 IBR? This 'Intelligent Brake & Reverse' is still integral to any Sea-Doo. In fact, it's now into its third-generation. Key changes are a redesigned reverse gate that funnels water to the sides for better steering control when backing.
Cruising the Broadwater was fun. Knowing you're on a reliable ski when you leave the flat water and head out to sea is, without doubt, one of the most important factors.
Sea-Doo is known for its reliability and easy servicing through JSW at Labrador. The team are amazing — and live and breathe this product daily. And of course, they hold the title of 'The World's Largest Sea-Doo Dealer'.
So if you're looking at upgrading, trading or simply in the market for a new ski, be sure to talk to Ant and the team about the next move for you.
All I can say is don't test-drive the 300 because you will never go back from here — it's mind-blowing!
* JSW Powersports, 3 Ereton Drive, Arundel, Q 4214. Phone 07 5529 2616.