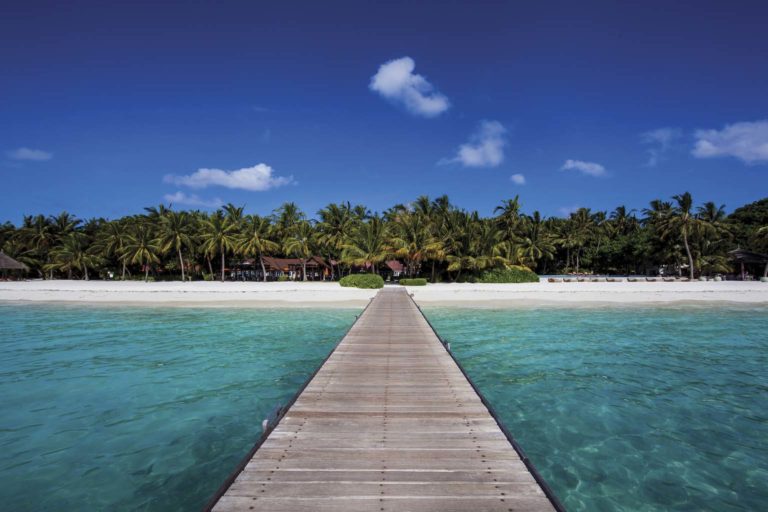 WORDS: PHOTOGRAPHY
Mention the Maldives, and most people immediately conjure idyllic images of heaven and honeymoons, sun and surf, beautiful beaches, fine food and wonderful wines … with a healthy pint of pampering in paradise for good measure. As it turns out … it's all that, and more! Join us as we explore one of the finest Club Med offerings in the world and discover the sunny side of life.
Scoot with style
The Ocean Road travel team – Brian, Melissa, Amber and myself – is extremely excited upon meeting for departure at Gold Coast Airport for our long-awaited trip to the stunning Maldives. Turning it up a notch further: we are informed we will be aboard the brand-new 787 Dreamliner for the first leg of the journey, to Singapore.
This proves refreshingly reinforcing news to one member of the team (not to mention any names), who can be a little terrified of flying – and the fact we are travelling Business Class provides the perfect distraction for this little phobia.
The flight is amazing to say the least: ultimate comfort, fantastic service and such an easy transition out of the Gold Coast – we simply drove to the airport's long-term parking area and, within minutes, we were enjoying a coffee in the waiting lounges – all as close as one can get to the magic word: 'effortless'.
It is a mere seven-hour flight to the modern Changi Airport Journey in Singapore where we meet the connecting flights to Male via Scoot's cousin, Tiger Airlines. Under four and a half hours later we get our first glimpse of the stunning turquoise water and it is like an instant injection of pure energy.
Our home for the next few days is just 25 minutes away from Male Airport – where instead of dreary cabs, there are beaming boats awaiting our arrival upon waters which almost make you double-check that someone didn't put colour contacts in your eyes while you weren't looking.
After being given a lovely scented towel and a bottle of water as we board, we are advised Club Med Kani was now only minutes away.
Mesmerising Club Med
Stepping off the transfer boat after a quick 20-kilometre cruise we are greeted by Club Med's Nikki  – our very professional and polite personal host who takes us on a welcoming tour and talks through the intricate details of this simply stunning resort.
In hindsight, Nikki could be forgiven for thinking either we were all a little weird as for being quite slow to react to her briefing, or she gets this type of reaction all the time from mesmerised new arrivals in this picture-perfect piece of paradise.
To be truthful, the entire environment is absolutely breath-taking – stylish, sophisticated and oh-so sublime. And the sands are as white as the smiles of the locals!
Nikki informs us we in fact just cruised past our overwater villas which we all agree are simply to die for. The Overwater Bungalows are in fact of the highest-standard accommodation on the island.  Approximately 75 of these exist, with exclusive benefits attached to this accommodation package when booking.
Love at first sight? Perhaps. But we soon have swim and cocktails written all over us.
Kani is very popular amongst those who appreciate the style and sensibilities of the exclusive Club Med resort chain. Our villas have swim platforms into the Indian Ocean from our own personal balconies, along with a convenient outside deck shower, thoughtful Nespresso coffee machine, unlimited mini-bar, four-post bed, bottle of chilled champagne, free WiFi (but work can wait) and the privacy of a massive bath with views forever into the ocean.
There are big, broad smiles within the first few minutes of checking in …  and it's clear to see why this is among the top honeymoon destinations in the world.
After wiping the smiles of our faces we decide to take a well-earned break and have several cocktails at the beach bar prior to our first formal dinner with Club Med's Marketing and Social Media Manager Chris Williamson. Chris's passion for the resort is second-to-none and both he and Nikki prove to be the perfect hosts throughout our entire stay.
Our very generous package is all-inclusive, which means you don't really need to pay for anything.  Refreshing beverages are included – basic spirits, boutique beers and … even cocktails – all 24/7. (Yes, you read this right!)
The Overwater Bungalows have a central lagoon bar with a private barman to serve you anything, anytime. We discover this is a very popular place to just go and chill out, with 360-degree views over the water and a private security officer at all times guarding the entrance, allowing only the patrons of the exclusive Bungalows access to these additional benefits.
It's fair to say that the concept of Happy Hour takes on a whole new meaning here …
Fast facts on Club Med Kani
Restaurants

Le Vehli – international and traditional Asian cuisine

Le Kandu – international cuisine

Bars

L'Iru Bar – perfect for cocktails

Sunset Bar – perfect for … cocktails

Sailing School

Swimming Pool

Ninja's surf break at your doorstep

Club Med Fitness Centre

75 Overwater Bungalows

135 Island Rooms and Suites

Daily Yoga

Snorkelling

Water Polo

Themed Nights

The Perfect Wave – boat at your doorstep each day.
Fantastic food
Considering the amazing restaurants we have available on the Gold Coast and the abundance of choice at our fingertips, we are very spoilt in our current day-to-day living. However, coming to a tropical island with such a reputation for its dining delights our expectations are, admittedly, rather high.
And we are certainly not disappointed – in fact we all agree it would be fair to say we are no less than amazed. The extensive menu includes fresh tuna that arrives at Kani every few days to provide a taste treat for sashimi lovers. Buffet meals and snacks are available most hours of the day at the very impressive Velhi Restaurant where, in addition to the abundance of European and Asian dishes available, each evening features a traditional national menu such as Indian, Thai, Korean or Italian.
You can also opt for a-la-carte dining at the sophisticated Kandu Restaurant overlooking a softly-lit lagoon which offers an alluring and intimate experience, and although this is is not part of the inclusive package, and although we have all added an extra 6kg to our weight since arrival, it certainly seems worth the effort.
A spa to replenish your soul
Revered and renowned, Mandara Spa is tucked away behind swinging Balinese doors at Club Med Kani – a hidden world of bliss offering an extensive treatment menu. Ocean Road's fashion and beauty editor Melissa Usher, and my partner Amber Hoy, are lucky to experience a signature Balinese massage each.
From the moment the girls walk through the swinging doors, they are transported to a place of sheer serenity, penultimate peace and heavenly harmony. The sound of running water, the aroma of local flowers and essential oils, and the sight of Balinese huts in amongst the trees, is genuinely magnificent.
The girls report that the attentive service is outstanding – beginning with some delicious ginger tea before being invited to sample several different oil blends from the sampling tray to decide on which one they would like for their treatment.
Mandarin blend is a popular choice, which smells divine and coincidently is made for deep hydration and sunburnt skin so it suits perfectly after lazing for too long in the sun – drinking cocktails, of course.
All treatments are carried out in the gorgeous Balinese huts, complete with thatched roofing, wooden floors and an attention to every minor detail that subtly reminds you that this is no less than Club Med. Fresh flowers line bowls underneath the treatment tables and the hut is set for two – a nice touch for couple's treatments.
The therapists are impeccably presented in traditional Balinese style and both ladies agree they are very well relaxed by this stage, and are also surprised by the duration of their massages – in fact it's over 90 minutes until they emerge in a heightened state of pure relaxation. How did the time slip by so fast?
The massage itself was Balinese in style and a perfect combination of swirling relaxation and deep tissue, using the blended essential oil that had been chosen earlier – and the report is that it certainly did sooth the ladies sunburn.
After the treatment, they are again ushered to the deck where they are offered teas and given some time to find their way back to reality in peace.
We raise the question: would you go again? The instant response: in an instant! A holiday in the Maldives for any female is never complete without indulging in some spa time – especially the Mandara Spa.
Both ladies declare they would love to make their way down the treatment list and they are both hopeful that they will have the opportunity to do so when we return to this amazing island again … because we will!
Yes, the Maldives has THE perfect wave
As a seasoned surfer, I had to sit down and really think, could it be true? Could it be that 'the perfect wave' has been waiting for me in the Maldives all along?
Many of those of us who profess our undying love for surfing have dreamed of being paid to go in search of the perfect wave … and could this actually be happening for me? Could it be that I'm about to find a secret treasure?
Of course, the Maldives – this serene sovereign island country and archipelago in the Laccadive Sea in the the Indian Ocean – has always been on the bucket list.
I had heard many stories about the magical Maldives waves and my first thoughts were:
I'm going to need a new board

I need to make sure I'm surfing the best breaks.
There were easy answers to both these issues.
Brian makes a quick call to Dan McDonald at DMS Surfboards. Dan has been shaping his boards for the past few years and Brian assures me he can source a new quiver that will perform to perfection in the reef waves of the Maldives.

Brian makes a call to Ben Horvath the Marketing and Business Manager of The Perfect Wave Surf Travel Company with the news: " Ben, we are going to the Maldives and staying at Club Med Kani Resort – any waves nearby?" To our great delight, Ben advises that The Perfect Wave runs a boat out of Club Med Kani and it is a very central location to a number of great breaks within half an hour's boat ride.
Everything is falling into place – the planets, stars and solar systems are aligning.
Ben's man on the ground at Club Med Kani is Thomas Schmidt – a German-born surf guide which is 'interesting", as I didn't know there was any surf in Germany. However, Thomas turned out to be the true waterman and knew the best breaks of the Maldives, the conditions and each day selected the best location on the wind and swell to ensure we had the best waves on offer.
As usual, surfers come up with some very interesting names for their favourite surf breaks: Ninja's, Chickens, Cokes, Sultans, Jails, Gurus, Foxy's and Riptide … to name but a few. We enjoyed a range of left and right-hand breaks with a different location each day just to keep it exciting and keep both the natural and goofy footers both happy.
Thomas was even good enough to pull out his camera and crack off a few shots on the lefts at Honky's so we had some evidence that we could actually surf … and that we did actually get some great waves.
For me, the highlight of the trip was the surfing. You can just never get enough waves in a place like this. It's like a scratch you just can't itch, you are never satisfied! I am certainly going to have to come back. For a surfer, this place is Utopia!
Special thanks to Daniel McDonald from DMS Surfboards. (The new quad was spectacular, mate!) and both Ben Horvath and Thomas Schmidt from The Perfect Wave for delivering exactly what their business name suggests: 'The Perfect Wave'. All I can say is this place is everything I expected and more.  But you be the judge. Grab yourself some flights from Coolangatta with Scoot Airlines to Singapore and a connecting flight with Tiger Air direct to Male, the Maldives. Club Med Kani is very central to all the surf spots and you can actually paddle out to Ninja's right-hander at the end of the island.  Bring some booties for the paddle out as the reef is really sharp and the last thing you want is a sliced foot.
Our Finolhu fantasy
When Marketing and Digital Manager Chris Williamson invited us over to view the new six trident Finolhu Villas, it was hard to decline after hearing so many amazing things about this new island.
This is definitely a step up and the most amazing villas we have ever seen in our lives.
The all-new Eco Nature Villas on the private and beautifully preserved island of Gasfinolhu in the heart of the Indian Ocean surround a fabulous 5-hectare lagoon. The resort has a welcome lounge, gourmet restaurant and magnificent bar around a spacious swimming pool. They have tennis courts, a fitness room, spa and pontoon for leisure and water sports.  The entire facility is eco-friendly and equipped with solar roofs that produce 100 per cent of the resort's energy requirements.
If you think you have experienced luxury within the tropical islands – wait until you see Finolhu.
Six-star is simply an understatement when you experience this one. Indeed, words simply can't describe the feel of this island. You might want to leave the kids at home, though, as this island is kid-free … only a five-minute boat ride from Club Med Kani.
Visit clubmed.com.au and book your Finolou escape.
Aaah, the memories
Just one week in this environment feels like a month of relaxation and the only sad part is leaving.
Our final day on the island was the best weather day we had experienced and our Boat trip back to the airport was like cutting glass on the water, it was so calm.
It is here that we have the chance to reflect on what we have experienced over the past seven days and – all being first-timers here – the consensus is that the Maldives has provided a lifelong memory.
The rooms over the water are something that only the fortunate few will ever experience and the surf – the big ticket item for us boys – was simply amazing every day. The girls, on the other hand, rate the spa and endless cocktails very highly.
For us all, the colour of the water will always be remembered along with the food and the friendliness of all Club Med Kani staff.
It was an absolute bucket list tick from all of us and we can't thank Chris and Nikki enough for having us for the week and to Dennis Basham for his wonderful service with Scoot Airlines and his 787 Dreamliner.
Stay tuned for more on Finolou as this piece of paradise deserves it's own story if we get to return in the coming months.