WORDS: PHOTOGRAPHY
Italians have an outstanding reputation for two things – exceptional style and remarkable coffee. So, if you like your authentic Italian coffee served by a stylish, soave Italian, then Semeraro Italian Café & Bistro which is opening soon in Southport could be just the classy caffeinated kick-start you are craving.
The exclusive, tranquilly designed bistro is the brainchild of Fabiano Semeraro and is, he hopes, the first in a series of ventures across the Gold Coast.
Fabiano hails from Ostuni, a small town in southern Italy, which is known for high-quality olive oil, wine – and of course, coffee. His father owns a successful coffee shop as well as a restaurant and cafe in the region and introduced his children to coffee when they were relatively young. "I started working in my father's shop in school holidays when I was around 12 years old. I loved it. Whenever I had time, I would work there," he tells ORM when we meet up to discuss the exciting new venture.
His passion for coffee started young, and remains one of his great loves. "I drink three espressos every day – and I mean, every day. I have one as soon as I wake up, another around 11am and one after lunch. Coffee is part of my day – every day! The whole Italian concept of espresso is that it is made in that moment, we create a moment and I'm very passionate about delivering that concept here."
Fabiano studied hospitality in Italy and worked at a series of hotels, restaurants and cafes in Rome for seven years before moving to Sydney in December 2014. A year later he made the move to Isle of Capri here on the Gold Coast, craving the more relaxed lifestyle we enjoy after years in the bustling cities of Rome and Sydney.
"The Gold Coast is a beautiful environment after the stress of city life. There is wonderful opportunity and a sense of vitality here. I have a very clear vision for this business, I want to bring sophistication and a touch of European elegance in a sleek, top-end café. I want to show the Gold Coast what I can do. We can't just rely on the Commonwealth Games to lead us forward, we need innovative business too. My bistro brings a touch of Italy to the Gold Coast; I want to bring something a little different to the Coast.
"I promise to bring quality, attentive service to customers and I have created a menu to reflect real Italian recipes. Our chef is Italian so everything is authentic. From coffee to deserts, salads to sandwiches – whatever you order here at Semeraro will bring a little taste of Italy to you."
And where better to open a new business venture than right in the heart of the CBD in Southport? "It's the perfect spot," Fabiano says with a broad smile. "It's busy, there are lots of office workers who need a pick me up during the day, something to give their day a little lift. With a passionately created coffee – plus a little conversation – I know I can deliver that!"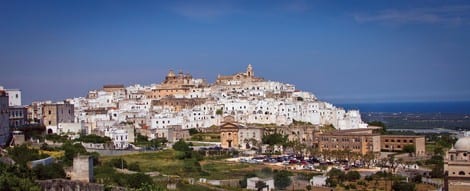 Caption for inset photo of Fabiano's home town
Authentico!
Fabiano Semeraro, owner of Semeraro Italian Café & Bistro was born and grew up in Ostuni, Italy. The small town has been inhabited since the Stone Age and is home to around just 32,000 inhabitants during winter which can increase to 100,000 during the tourist summer. Hospitality here is big business and Fabiano learnt from the best – his father.